December, 12, 2013
12/12/13
10:00
AM ET
IRVING, Texas -- The
Green Bay Packers
and
Dallas Cowboys
are two of the most storied franchises in NFL history, but with three games to play in the 2013 season both are on the outside of the playoff chase and in need of a win.
The Packers have fallen on hard times without
Aaron Rodgers
but won last week against the
Atlanta Falcons
. The Cowboys are coming off a humiliating loss to the
Chicago Bears
and have a short week to get ready.
ESPN.com Packers reporter Rob Demovsky and Cowboys reporter Todd Archer debate the matchup in this week's Double Coverage.
Archer:
I'll skip the "What's Aaron Rodgers status?" and ask about Ted Thompson's approach to the backup quarterback. The Cowboys pay
Kyle Orton
a lot of money to hopefully never throw a pass. Is there any regret form the Packers that they did not have a better backup quarterback situation behind Rodgers, considering their struggles without him?
[Editor's note: Rodgers was officially ruled out for Sunday's game on Friday.]
Demovsky:
Thompson admitted at the end of training camp that he probably should have signed
Vince Young
much earlier than he did, although after watching Young for about a month, I'm not sure he would have been any better had the Packers signed back in the spring. Where they probably erred was in not drafting a quarterback. They overestimated what they had in
Graham Harrell
and B.J. Coleman, and neither one developed enough. When Ron Wolf was the GM, he made it a regular practice to draft a quarterback in the middle-to -late rounds. Not all of them worked out, but guys like
Ty Detmer
,
Mark Brunell
,
Matt Hasselbeck
and
Aaron Brooks
all came up through the Packers' system.
Packers defensive coordinator Dom Capers said
Tony Romo
is "playing probably as good as he has in his career." Do you agree with that assessment?
Archer:
I'd agree with that, sure. It's hard to argue against his numbers. He has 3,244 yards passing with 27 touchdowns and seven interceptions. He's taking care of the ball. He had one really careless throw and it cost the Cowboys big-time in their loss to the
Denver Broncos
. Romo gets most of the blame for the December/January woes this team has had, but in his last 16 games he has 34 touchdowns and seven picks. It's hard to play better than that. But you know what? He has to. This defense is so bad that Romo has to be nearly perfect. There can be no poor drives. If they don't get points they at least need to chew up time because there's not an offense the Cowboys can slow down right now.
When the Packers won Super Bowl XLV at AT&T Stadium they were able to overcome so many injuries, especially on defense as we talked about. The difference this year is Rodgers missing time, but is there anything more to it than that?
Demovsky:
They did end up with 15 players in injured reserve in their Super Bowl season, and then during that game itself they lost
Charles Woodson
to a broken collarbone. But you know what? This defense played fine early this season and even during the stretch
Clay Matthews
missed because of his broken thumb. Capers said last week that losing Rodgers had nothing to do with the Packers' defensive slide, but I'm not buying it. The Packers' defense got four turnovers in the Thanksgiving game at Detroit and still got walloped 40-10 because the offense couldn't do a darn thing with them. To be sure, there are issues on defense. Their failure to address needs at safety has hurt them up the middle, where their inside linebackers also haven't played well enough.
It sounds like Monte Kiffin is already taking heat, but how much of it is personnel? When I saw Packers castoff
Jarius Wynn
playing Monday night against the Bears, to me that was a red flag that there are talent issues, perhaps some of them caused by injuries.
Archer:
There are talent issues and there are depth issues. Blame the owner and GM who constructed this team. Blame the coaches -- Kiffin and Rod Marinelli -- for saying the line was a position of strength. The Cowboys thought they had pieces to fit Kiffin's scheme at the start of the year.
DeMarcus Ware
has not been DeMarcus Ware in part because of injuries, but he acknowledged he has to play better.
Bruce Carter
was supposed to be the ideal weak-side linebacker and he just has not made any plays. The corners are more man corners and Kiffin has tried to play more man but all of them --
Brandon Carr
,
Morris Claiborne
and
Orlando Scandrick
-- have had issues.
Sean Lee
has been hurt and could miss Sunday's game with a neck injury. He's been good but the defense has been lit up with him on the field, too. It's just a mess. Until Jerry Jones realizes he needs better players, not necessarily better schemes, it will be a mess.
Let's stick with the defensive coordinators. From the outside looking in, it appears Capers is catching a lot of grief too. Are the Packers committed to the 3-4 regardless or could they pull a Dallas and move to a 4-3 in the future?
Demovsky:
When the cornerstone of the defense is Matthews, an outside linebacker, I would think they'd have to stick with the 3-4 even if they part ways with Capers, which I'm not sure will happen anyway. Mike McCarthy has continually praised Capers and the defensive staff. It's probably more about personnel. They need a few more playmakers to help out Matthews. They haven't gotten enough production from their defensive front. I'd look for an overhaul in personnel more than a coaching change.
Knowing the temperature in the Cowboys locker room like you do, how do you think they will react to getting steamrolled Monday night? Is this a group that will fight? Or will they pack it in?
Archer:
This is where I have to give Jason Garrett credit. This team has fought. Maybe they didn't fight all that much in the losses to New Orleans and Chicago, but they have not packed it in. You saw the last time the Cowboys packed it in in 2010 at Lambeau Field when Wade Phillips was the coach. The Cowboys lost 45-7 and were completely disinterested. Phillips was fired the next day and Garrett took over. There is some gumption to this team. They do work hard. They do the right things. I'll say it again: Most of it is a talent issue. I'd expect the Cowboys to come out with the effort Sunday because they're still very much in the playoff chase. But do they believe they can really make a run? I don't know about that.
July, 26, 2013
7/26/13
8:45
AM ET
We're Black and Blue All Over:

Training camp PUP lists can empty quickly as players prove they are healthy and/or pass conditioning tests, but based on the numbers at least, it's going to take a while for that to happen for the Green Bay Packers. On the eve of training camp, the Packers placed seven players on the PUP and an eighth (linebacker Jamari Latttimore) on the non-football injury list.
Jason Wilde of ESPNMilwaukee.com
has the full list, which includes important names such as running back DuJuan Harris (cyst) to offensive lineman Dererk Sherrod (leg) to defensive lineman/linebacker Mike Neal. Harris and Sherrod weren't a total surprise, but it's not clear what is Neal's ailment.
Often players are activated within days of the start of camp, so I wouldn't get too worked up yet. All four NFC North teams will have their first training camp practice Friday.
Continuing around the NFC North:
November, 9, 2012
11/09/12
9:45
AM ET
Wednesday morning, the
Chicago Bears
offense sat down to watch film of the
Houston Texans
' active and swarming defense. One of the games they watched was a Week 6 affair in which the Texans took their standard approach -- press coverage with a single-high safety -- and were torched by
Green Bay Packers
quarterback
Aaron Rodgers
for six touchdown passes and a total of eight explosive throws that traveled at least 16 yards.
Like the Packers, the Bears have the personnel to exploit single-high safety looks.
[+] Enlarge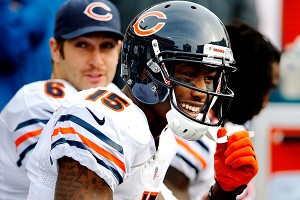 AP Photo/Joe HowellThe Bears have the personnel to exploit the single-high safety look the Texans will give them.
So for me, there are two questions that must be answered as the Bears and Texans prepare for Sunday night's showdown:
Will the Texans give the Bears the same look?
If so, will the Bears protect quarterback Jay Cutler enough to capitalize?
Texans defensive coordinator Wade Phillips
told reporters
-- jokingly, I assume -- that the Texans will double-team receiver
Brandon Marshall
on every play. Phillips made the convincing argument that the Bears "haven't thrown it to the other guys very much except the running back," but if form holds, Marshall will get more opportunities than he might ordinarily to make big plays downfield early in this game.
"We've been pretty good against single-high teams," offensive coordinator Mike Tice said this week. Added Marshall: "I'm going to get some single coverage."
As we noted earlier this week,
five of Marshall's seven touchdowns this season have come with the Bears leading by at least 17 points. Facing a deficit, opposing defenses have assumed the Bears would run to eat time off the clock and are bringing one of their safeties close to the line of scrimmage. That leaves the other safety in a "single-high" look that limits the attention paid to Marshall.
If the Texans open the game that way, the Bears could be in business if Cutler has enough time to throw. That's a big "if," of course, and not just because Cutler has been sacked 28 times this season. The Texans have arguably the NFL's best pass defense, allowing a league-low 17.4 QBR to opposing quarterbacks. Their standard four-man pass rush is averaging one sack per 11.7 dropbacks, the second-highest total in the NFL, and defensive lineman
J.J. Watt
has 10.5 sacks and nine tipped passes on his own.
With this game now two days away, I feel comfortable spending more time focusing on the Bears' offense than the rest of their team. Way back in training camp, as we noted, the Bears' confidence this season was based not just on their defense or special teams, but that they would finally have an offense to match those two long-running elite groups.
The Bears have started 7-1 without the strength of a consistently high-performing offense, but they are about to hit a stretch of games -- beginning Sunday night -- that will require the offense to be better. If the Texans play their single-high safety look, and the Bears protect Cutler, the offense has a great chance to do its part.
November, 20, 2010
11/20/10
12:00
PM ET
News and other priorities have forced us to cut back on weekend mailbags. I get the sense everyone is humming along in life just fine without them, but after taking a stroll through your mailbag comments, I wanted to respond to some of the more interesting rip jobs you sent my way.
Hang on.
Duane of Falls Church, Va.,
echoed a common complaint about
Wednesday's analysis
of the
Detroit Lions
' unforced errors, writing that it "violates basic statistical procedures, so your conclusions are likely wrong." The high frequency of right guard
Stephen Peterman
's penalties creates an anomaly that, subtracted from the total, would put the Lions closer to the middle of the NFL rankings.
Duane also suggested that we not use drops as a raw statistic, but instead compare it to the total number of passes. He concluded: "If you are going to use statistics don't use them like a uses drunk a light post to hold you up but like the light itself, to help guide you on your way."
Kevin Seifert:
I understand what you're saying Duane, but I would argue that in a team sport, the raw numbers are more important than whether they contain anomalies or the extent to which they're based on opportunity.
On the first point: Whether it's one player or spread equally among everyone, the most important factor is that penalties are occurring. They have the same impact on the team.
Instead of saying the Lions are a highly penalized team, should we say that the Lions are an average-penalized team with an out-of-control right guard? To me, the distinction is irrelevant. The team is still being hurt the same way, be it by one player or spread equally among everyone, If you want, we can say the Lions are impacted more by penalties than all but one NFL team. That's as far as I can go.
I realize Peterman has 11 penalties this season, a full 12.5 percent of the Lions' team total. But this isn't the same as a poll of, say, 53 citizens' participation in charity work. That is a measure of individual accomplishment, a measure that doesn't matter in a team sport.
I didn't suggest the Lions' have a roster full of undisciplined players. It doesn't matter who commits penalties in a team game. Games are won by collective effort and lost by collective mistakes, even if that collective average is weighed down by the disproportionate mishaps of one player. If anything, you wonder what it says about the Lions' regime that one player would keep his starting job despite so many penalties.
As for measuring drops based on opportunity: Generally speaking, I agree that context is important when using statistics. But to me, 27 drops are 27 drops. There are other teams with equal opportunities who have dropped far less passes. Drops are not something that should naturally increase with opportunities. They just shouldn't happen in high numbers -- at all.
---
Joe writes:
Your continued reference to Theatre of the Absurd with respect to the
Minnesota Vikings
is a bit insulting to the small percentage of your readers who actually understand what this movement was/is. Further, it's irrelevant to the Vikings situation if you were to properly understand this form's intent.
Kevin Seifert:
I figured this was coming. I know just enough about Theatre of the Absurd to realize that a dysfunctional football team isn't what the movement originally contemplated. The online dictionary defines it as "theater in which standard or naturalistic conventions of plot, characterization, and thematic structure are ignored or distorted in order to convey the irrational or fictive nature of reality and the essential isolation of humanity in a meaningless world."
No, that has nothing to do with the Vikings.
Seriously, while it's been fun to refer to the Vikings using a phrase that makes me look smarter than I am, it probably was never a good idea. Educated people and football people should never mix.
The Vikings have been great theater this year, and much of what has happened is in fact absurd. But it hasn't been true Theatre of the Absurd, and I apologize to the small percentage of readers who care.
I'm supposed to be a writer by trade, so by next week I'll have founded my own dramatic movement to more accurately describe the Vikings' season.
Suggestions are welcome
.
---
Metalsman of Ames, Iowa,
notes that some readers suggested I should have submitted to a Free Head Exam for passing up a trip to South Florida for Thursday night's game between the
Chicago Bears
and
Miami Dolphins
.
Kevin Seifert:
No loss. I heard it was 84 degrees and slightly overcast. That isn't beach weather.
---
Brett of Jacksonville, Fla.,
just had an epiphany: The Packers got one coach fired this year (Wade Phillips, result of a 45-7 shellacking). Can they make it two (Brad Childress, result of ???-? massacre)? You, our resident NFC North blogger and Viking-lover, would downplay this of course. But that would be an awesome record to have. Two coaches fired after losses to 2010 Packers.
Kevin Seifert:
Yes, because a midseason firing would leave me absolutely, positively nothing to write about. And despite the insistence of many to the contrary, that's all I ever root for: good material. As for the possibility of your dream scenario, I really don't know if that will happen regardless of the outcome of the game.
We now know that owner Zygi Wilf would owe Childress
a relatively reasonable $6.6 million
to settle up on his contract for 2011 and 2012. But I don't think money is at the top of Wilf's priority list right now. As we
discussed earlier in the week
, Wilf aggressively maintains continuity. I'm not sure he's going to give up on Childress in midseason unless it is for cause or if the situation grows much more hopeless than it already is.
October, 15, 2010
10/15/10
4:00
PM ET
»
NFC Final Word
:
East
|
West
|
North
|
South
»
AFC
:
East
|
West
|
North
|
South
Five nuggets of knowledge about Week 6:
The loser of Sunday's Panic Bowl between the Minnesota Vikings and Dallas Cowboys will be 1-4.
Since 1990, five 1-4 teams have gone on to the playoffs -- most recently
Brett Favre
's 2004
Green Bay Packers
. But I don't think anyone in Minnesota wants to see if the Vikings can make it six. Their offense provided a glimpse of how explosive it can be Monday night against the
New York Jets
, and there is some hope that another week of practice together will smooth out the rough edges. Receiver
Randy Moss
has never lost to the Cowboys in seven starts, and to use his word, the Metrodome figures to be "bananas" in his first home game there in six years. As it has all season, the Vikings' chances will rest on whether they can protect Favre long enough to get the ball downfield. Favre's ailing right elbow usually feels a lot better when he's not getting driven into the turf.
[+] Enlarge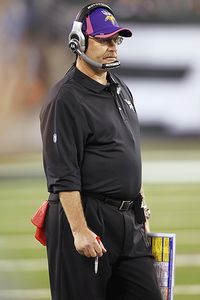 AP Photo/Paul SpinelliCoach Brad Childress was accused of running up the score on the Cowboys in last season's divisional playoff game.
Sunday's game at the Metrodome will carry any number of subplots.
Among them: lingering animosity from the Vikings' 34-3 playoff victory over the Cowboys last January. Cowboys linebacker
Keith Brooking
claimed after the game that the Vikings ran up the score, and Cowboys coach Wade Phillips said this week that continuing to push for points in the fourth quarter was "not something I would have done." Coach Brad Childress countered: "It'd probably be a good idea to cover somebody. Generally on defense, you've got to cover the deep plays." And you can always count on nose tackle
Pat Williams
to get involved in any exchange of hurt feelings. Hang on. This one should be fun.
A wild week of games and injuries left us vastly underplaying the Detroit Lions' status as the highest-scoring team in the NFC.
That's right. Their 126 points and 25.2 points-per-game average stand atop this conference. We all thought the Lions would have some high-scoring games this season, and they've run up their point total even after starting quarterback
Matthew Stafford
suffered a Week 1 shoulder injury. That said, the Lions will have their work cut out for them this week at the
New York Giants
. NFC North fans should be fully educated about the kind of pass rush the Giants can produce after seeing them put 10 sacks on the
Chicago Bears
two weeks ago. And even if he does play, receiver
Calvin Johnson
figures to be limited by a right shoulder injury. If the Lions can win Sunday, snapping a 23-game road losing streak, it will be quite an accomplishment.
There have been general statements of the Bears' fortunate scheduling over the next few weeks.
But I wonder if many NFC North fans know how rare it would be if the
Seattle Seahawks
pull an upset Sunday at Soldier Field. According to
NFC West colleague Mike Sando
, the Seahawks are 9-16 over the past six seasons when they play a road game in the early Sunday time slot -- a disadvantageous 10 a.m. Seattle time. Five of those victories have come against the
St. Louis Rams
, meaning they have lost 15 of 19 games over that span to the rest of the league. And to this early point in the Pete Carroll regime, the Seahawks have been a much different team away from Qwest Field no matter what time kickoff is scheduled for. In two road games this season, both losses, the Seahawks have averaged 8.5 points while allowing an average of 25.5 points per game. Suffice it to say, the Bears have a fortuitous matchup this week.
If the Packers are going to emerge from their injury morass, they're going to need much more production from receiver Greg Jennings.
Packers quarterback
Aaron Rodgers
has targeted him 31 times this season, but so far only 14 have gone for completions. With tight end
Jermichael Finley
(knee) likely out for the season, Jennings is the Packers' top scoring threat. Jennings' frustrations boiled over on the sideline during last Sunday's 16-13 loss to the
Washington Redskins
, but he's going to have to collect himself and re-emerge as Rodgers' go-to threat if the Packers expect their offense to resemble its previous incarnations. That could be a tough task against the
Miami Dolphins
' defense, which has two excellent and physical cornerbacks in
Jason Allen
and
Vontae Davis
.
February, 1, 2010
2/01/10
12:01
AM ET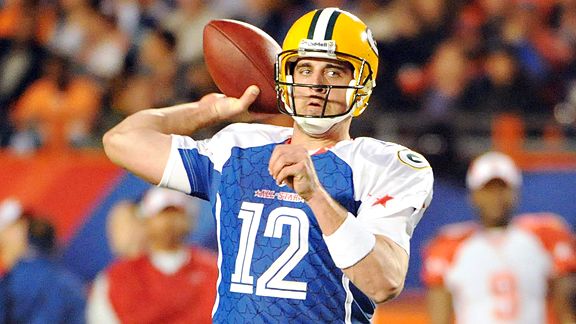 Kirby Lee/US PresswirePackers quarterback Aaron Rodgers threw for 197 yards and two touchdowns Sunday night.
MIAMI -- Some thoughts on the NFC's
41-34 loss
to the AFC in the Pro Bowl at Sun Life Stadium:
Green Bay's Aaron Rodgers completed 15 of 19 passes for 197 yards and two scores as the NFC's starting quarterback. He said he spent part of the week battling an illness, but added: "Overall, it was a great experience for me." It was interesting to see Rodgers throw a 7-yard touchdown pass to Philadelphia receiver DeSean Jackson in the second quarter. They would have been teammates for one year at Cal if Rodgers hadn't entered the draft after his junior season. "I was teasing him after I threw that quick screen for the touchdown," Rodgers said. "What could have been if I had stayed in my senior year?"
Jackson caught two touchdowns, including a 58-yarder from Donovan McNabb in which he ran away from the defense on a short screen. "It's been a dream all year to come out here and put on a show," Jackson said. The play spurred a discussion on our Pro Bowl live chat: Who was the fastest player on the field Sunday night? Jackson or Tennessee tailback Chris Johnson? On Sunday, it was Jackson.
Coach Wade Phillips called it a "no-defense game." The teams combined for 987 yards of offense. "They decided the defense was going to put their hands behind their backs, so you are going to have a lot of scoring. But that is what we wanted to see." If by putting "their hands behind their backs," Phillips meant "pass-rushers taking two steps and stopping," then I understand what he was talking about. Defensive linemen on both teams made almost no effort to get to the quarterback. That always happens in the Pro Bowl, but the level of disinterest was so high that it prompted Green Bay linebacker Nick Barnett to make the following observation via Twitter: "I promise this!! If I ever get in I don't care what is going on I will play like I always do!! One speed!!! Hard!!!"
Facing no pass rush, Phillips' team threw on 48 of 59 plays. That's a lot.
Let's make one exception to the defensive observation: Washington linebacker London Fletcher recorded the tackle on three of the NFC defense's first four plays, clearly excited to be making his first-ever Pro Bowl appearance. "Guys were saying this should have happened a long time ago," Fletcher said. "But it was a lot of fun and I'm blessed to have been here." Unofficially, Fletcher finished second among NFC defenders with five tackles.
There was a brief downpour prior to the game and misty conditions prevailed for much of the night. But the Super Bowl-ready field held up well and suffered minimal damage, according to players. "The field was great," Minnesota defensive end Jared Allen said. "It was great. It was wet out tonight, but no one was slopping and sliding."
The NFL sold and/or distributed 70,697 tickets, making for the second-largest Pro Bowl crowd ever. There were also 34 players originally named to one of the teams who didn't participate. In other words, more people watched more backups than at any point in history.
The Saturday dismissal of Minnesota left tackle Bryant McKinnie had its expected result: Philadelphia's Jason Peters played the whole game at left tackle and the New York Giants' David Diehl went the whole way on the right side. McKinnie's Vikings teammates didn't have much to say on the matter. "That's a personal issue for him," Allen said. "You have to check with him." Like Allen, tailback Adrian Peterson said he hadn't spoken with McKinnie. "You guys probably know more than me about the whole thing," Peterson said.
January, 13, 2010
1/13/10
1:00
PM ET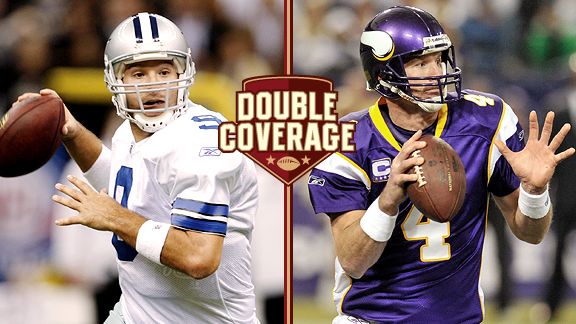 Icon SMIThe Vikings-Cowboys playoff matchup on Sunday will feature high-powered passing attacks led by Tony Romo and Brett Favre.
Here on the ESPN Blog Network, we're bracing ourselves for quite possibly the biggest divisional playoff game in the history of the 2010 postseason. Come Sunday afternoon at the Metrodome, Dallas and Minnesota will reprise a storied postseason rivalry -- sans (hopefully) whiskey bottles, push-offs and Hail Marys. (Well, at least the
push-offs
.)
ESPN.com's Matt Mosley and Kevin Seifert have spent most of the week buried in the film room -- er, basement -- refining the blogging plan for the rest of the week. As now they're ready to start breaking down this most critical game.
Kevin Seifert:
Greetings from the North Pole, Matt. Actually, you're going to get lucky this weekend. We're expecting unseasonably warm temperatures here this weekend, with highs in the 30s. Normally we call that "May" in Minnesota. Usually at this time of year, you can get frostbite on half your hand while walking from the parking lot to the media entrance at the Dome.
Matt Mosley:
I will look for any excuse to visit Minneapolis in mid-January and this game is as good as anything else I might come up with.
Sid Hartman
and I have been waiting on this postseason matchup for years. Jerry Jones tried to capture the "charm" of the Metrodome in his new Cowboys Stadium, but I'm not sure things worked out. And by the way, Drew Pearson told me to pass along his best wishes to Vikings fans.
KS:
OK, Matt. Let's get down to it. Everyone in the world thinks the Cowboys are going to win this game. Even
ESPN's Trent Dilfer
is convinced of it. You've been close to the Cowboys this season. Are they as hot as everyone says they are?
MM:
Kevin, in my eight years of covering the team, I've never been around a more confident bunch of players. I think they're the hottest team in the NFC right now because of something that took place last month in New Orleans. The players got sick and tired of all the talk of their December failures and went out and overwhelmed a Saints team in the Superdome. That game did wonders for the Cowboys' confidence. No quarterback in the playoffs has performed as well as
Tony Romo
over the past six games and he benefits from having a dominant defense. So yes, I think the Cowboys are as hot as everyone at the Mall of America is indicating.
KS:
Actually, Matt, you need to be more specific. We now have
Mall of America Field
here in addition to the
Mall of America
. At Mall of America
Field,
the conversation is revolving around two things: Are the Vikings willing to accept that they are a pass-first offense? And can their tackles,
Bryant McKinnie
and
Phil Loadholt
, keep
DeMarcus Ware
and
Anthony Spencer
at bay long enough for
Brett Favre
to get the ball downfield?
If they come out of the gates aggressively and use their full array of offensive weapons, I think they can put up some serious points against the Cowboys' defense. The Vikings are one of two teams in NFL history to have six players catch at least 40 passes. That's too many receivers for any defense to keep track of if the pass protection is there.
What's your take, Matt? Do you think Ware & Co. can be slowed down?
MM:
I agree with the aforementioned Dilfer that Loadholt and McKinnie are outmatched by the Cowboys' outside linebackers. Since the last time you saw this team, Spencer has become a force. Cowboys defensive coordinator/head coach Wade Phillips even lines them up next to each other at times.
Donovan McNabb
didn't have a chance against the Cowboys' pass rush and you can argue that
Jason Peters
and
Winston Justice
are superior offensive tackles to what the Vikings have to offer. The Cowboys' plan is to make sure Favre has to test those 40-year-old legs. The last time he saw this defense, he completed 5 of 14 passes and was intercepted twice before being knocked out of the game at Texas Stadium. He was of course with a 10-1 Packers team at the time in '07.
Keith Brooking
told me Tuesday that the Eagles and Vikings have similar offenses, but he alluded to the fact that Brad Childress is much more likely to use the running game than his mentor, Andy Reid. Of course, that's a lot easier to do when you have the pride of Palestine, Texas,
Adrian Peterson
, in your backfield. It's been quite a while since a team has put up points on this defense -- and that includes a Chargers team that was held to a season-low in points. I don't think we'll have a shootout on our hands, but Sid might have other ideas.
[+] Enlarge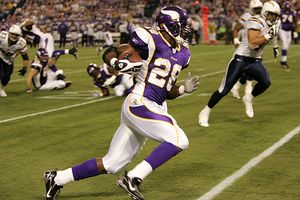 K.C. Alfred/Union-Tribune/Getty ImagesHow will Adrian Peterson figure into the Vikings' game plan against Dallas' tough run defense?
KS:
I'll check with Sid when I see him. In the meantime, Matt, we have two elephants crowding the room for this game: The head coaches. In Minnesota, there is an unspoken fear that Brad Childress will get in the way and try to force his power running game on the Cowboys. Prior to Favre's arrival, and at times this year, that has been Childress' preference. Childress also made a couple of questionable game-management decisions in last year's playoff loss to Philadelphia.
On the other side, however, is Phillips. Do Minnesota fans have anything to fear in this matchup?
MM:
Calling Phillips an elephant is a low blow, Kevin. The man might fill out a pair of Russell coaching shorts, but he deserves better from you. And yes, there's reason for Vikings fans to fear The Wade. No matter what you say about his head-coaching credentials, he's always been an excellent defensive coordinator. He puts players in position to succeed and he does a superb job of exploiting weaknesses. From reading your fine work on a regular basis, I'm aware that Vikings center
John Sullivan
isn't a large man. He'll be facing one of the best nose tackles in the game in
Jay Ratliff
. From time to time, the behemoth-type centers give Ratliff a little trouble. But he's been known to destroy the guys who are close to his size. Everyone's focused on the offensive tackles, but I could see the "Ratt" having a big game in the middle. It all starts with him in this defense.
KS
: Interesting. OK, Matt. This was great but is only a step in our coverage plan for this week. Keep checking back on the NFC East and NFC North blogs through Sunday.
MM:
Just to be honest, my coverage plan for Saturday is a little weak because of travel. But I've thoroughly enjoyed this tremendous show of synergy within the NFL Blog Network. Kevin, I arrive at 8:10 local time on American, so please pass that along to my driver. Peace and courage from the Beast.
February, 17, 2009
2/17/09
5:30
PM ET
Posted by ESPN.com's Kevin Seifert
So you think Chicago coach Lovie Smith might be overextending himself by taking over the Bears' defensive playing? You might want to check out what happened Tuesday in Dallas, where owner Jerry Jones confirmed that coach Wade Phillips would serve as his own defensive coordinator in 2009.
I've been told that things always get done bigger in Texas, and true to form, the Cowboys' move is a step beyond what Smith plans. Because Jones isn't replacing the fired Brian Stewart, Phillips will call the defensive signals and presumably be responsible for conceiving and implementing the defensive gameplan.
That's more than what Smith has laid out for himself. Smith has said he will call most of the defensive signals on game day and has assigned defensive coordinator Bob Babich to coach linebackers. But Babich also retained his title and will have some say in day-to-day management of the defense. Assistant head coach/defensive line coach Rod Marinelli will also have a level of authority.
(There have also been indications in Seattle that coach Jim Mora will handle a large portion of the defensive play-calling.)
I suspect that people who follow and write about the Cowboys will see this move as a subtle shift toward offensive coordinator Jason Garrett, and the politics of the situation make it almost apples and oranges in comparison to the Bears. But, as the season approaches, it'll be interesting to note that Smith is not the only head coach to have taken on additional defensive duties.