January, 24, 2012
1/24/12
1:00
PM ET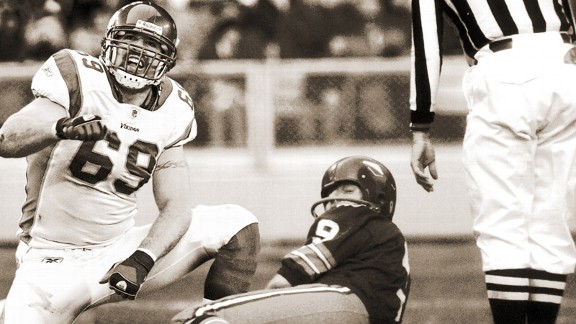 ESPN.com IllustrationJust imagine: Jared Allen relishes a sack of Hall of Famer Sonny Jurgensen.
Jared Allen
's eyes lit up last month upon learning that 20 Hall of Fame players had named him to
ESPN.com's Any Era team
, comprised of current players whose skills and mentality would have made them a success at any point in football history.
"Wow, that's great," Allen said. "That's why I play, to earn the respect of the guys before me."
Here's a sampling of what some of our panel said about Allen, whose 22 sacks in 2011 fell one shy of setting a league record:
MIKE SINGLETARY

"Jared Allen is going to will himself to get to the quarterback. I don't know how he does it. I can't even really explain it, but he lines up and the next thing you know, he's got the quarterback. The mentality and relentlessness that he approaches the game with is second to none."

WARREN MOON

"Jared Allen is just a tough, hard-nosed player. He's a defensive end who can get to the quarterback, but if he has to play in the trenches, he can. When he played at Kansas City, he played the run well. And in Minnesota, he is more of a pass-rusher. He is a throwback type of guy if you know him. He's like a big cowboy. He wears cowboy boots and tight jeans and he's a real throwback."

MIKE DITKA

"Jared Allen plays every down, hard and physical. He could've played in the '40s, '50s, '60s, '70s. He brings it on every play and gives all he's got."
In the video below, Hall of Fame receiver James Lofton applauds Allen for his performance as an emergency long-snapper during a Week 12 game against the
Atlanta Falcons
. "And he's covering punts, and he's running 100 miles an hour. That tells me right there: football player."
August, 5, 2011
8/05/11
10:00
AM ET
Former
Chicago Bears
defensive end
Richard Dent
will be inducted Saturday into the Pro Football Hall of Fame. And over at
ESPNChicago.com, Melissa Isaacson
offers a great read on how Dent rose from a skinny eighth-round draft choice to one of the best pass rushers in NFL history.
[+] Enlarge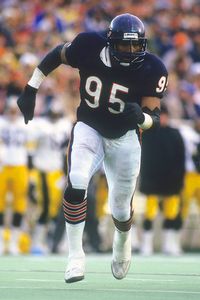 Getty ImagesRichard Dent went from an eighth-round pick to Hall of Famer, a feat not often repeated.
The Bears had a second-round grade on Dent, but he was available at the No. 203 overall position in 1983 mostly because he weighed about 215 pounds. He put on another 40 pounds after the Bears helped him identify some dental issues, and he was off to the races.
Isaacson's story got me wondering: How rare is it for an eighth-round draft choice to make it to the Hall of Fame?
Thanks to the Pro Football Hall of Fame website, we can pass along the answer. Dent will be the lowest-drafted player enshrined whose career began after the 1970 NFL-AFL merger.
(Over that time period, there have been three undrafted players elected: Jim Langer,
Warren Moon
and
John Randle
.)
Obviously, highly drafted players are more likely to get extended opportunities to play. But more than anything, I think this information shows that teams get the draft right more often than we might be willing to give them credit for. Below is the breakdown of where the NFL's post-merger Hall of Famers were drafted:
First round: 43 players

Second round: 11

Third round: 5

Fourth round: 3

Fifth round: 1

Sixth round: 0

Seventh round: 1

Eighth round: 1

Ninth-20th: 0

Undrafted: 3
A complete list of every Hall of Fame player's draft status
can be found here.
It should be noted that one of Dent's 2011 classmates, linebacker Chris Hanburger, was drafted in the 18th round in 1965 -- five years before the merger.
With the draft now limited to seven rounds, I think we can safely say Dent will be the last eighth-round pick to be enshrined to the Pro Football Hall of Fame.
February, 3, 2011
2/03/11
5:00
PM ET
IRVING, Texas --
Five hundred and three
. That's a "5" at the beginning, a "3" at the end and a "0" in the middle.
503
.
Pittsburgh Steelers
quarterback
Ben Roethlisberger
threw for 503 yards in one game last season against the
Green Bay Packers
, the most by an opposing quarterback in their 91-year history.
503
.
The total fell 24 yards short of the NFL record set 20 years ago by
Warren Moon
.
"It was a disaster," Packers cornerback
Tramon Williams
said Thursday.
What happened in that game? How did Roethlisberger put together one of the most productive games in NFL history? And why are the Packers so confident they are better equipped to defend him in Super Bowl XLV?
As usual, I have a few thoughts.
In speaking to Packers players and coaches this week, it seems clear they believe two factors were behind the onslaught. One was a perceived unfamiliarity with the still-new defense that coordinator Dom Capers was installing, leading to a vanilla game plan. The second was a series of personnel issues that left the Packers reaching deep into their roster for healthy defensive backs.
[+] Enlarge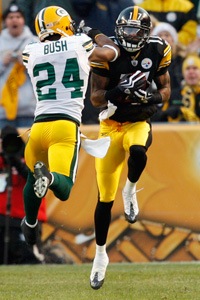 AP Photo/Gene PuskarMike Wallace hauled in two TDs against the Packers in Week 15 last season, including a 60-yarder on the Steelers' first play from scrimmage.
On the Steelers' first play from scrimmage in that game, Roethlisberger threw a 60-yard touchdown pass to receiver
Mike Wallace
. Defending on the play was nickelback
Jarrett Bush
, who made a poor adjustment as Wallace gathered in an underthrown pass.
And on their final play from scrimmage, Roethlisberger threw a 19-yard touchdown pass to Wallace. On that play, dime back
Josh Bell
was matched up in single coverage.
Bush and Bell were on the field only because of injuries to players who began the year ahead of them on the depth chart. Capers seemed to be protecting them for much of the game by limiting his normally thick playbook. Roethlisberger used his innate pocket elusiveness to buy more than enough time for his receivers to get open. The Packers estimate they missed at least five potential sacks in the game.
"My recollection was we didn't do much," cornerback
Charles Woodson
said. "We called maybe a few calls in that game. The few calls we made, we dropped a lot of those calls and dropped our coverages. We had opportunities on Ben to get him sacked and we couldn't get him down, and then he made some plays with his feet. He got the ball down to his receivers. That day, it seemed like we couldn't do anything right and we hope that won't happen again."
Sunday, the Packers will start three Pro Bowl players in their secondary: Woodson, Williams and safety
Nick Collins
. Rookie
Sam Shields
has locked down the nickel job; he and Williams have combined for five interceptions in the postseason.
As we've discussed
, Capers has unleashed his full repertoire of late.
"I think just understanding the defense better [has helped]," Woodson said. "And [also] the speed at which the young guys like Sam and Tramon have picked up the game has made it a lot better as far as corners are concerned. ... You just have guys up there who are communicating well and playing at a fast level because they understand the defense. We got guys who can make plays out there and have very good ball skills. That's why we're playing at a high level."
The Steelers won that game 37-36, but this season the Packers allowed the second-fewest points in the NFL. Opponents have scored more than 20 points in only five of the Packers' 19 games.
"I just think we've grown up from last year," linebacker
Clay Matthews
said. "We have a young team, same nucleus, same players. But we're playing some good ball. It's our second year in this scheme, and Dom really understands the strengths and weaknesses of each player and where to put him at times. We've been playing some real good ball and it's only fitting that we would be in this position."
December, 28, 2010
12/28/10
11:15
AM ET
Before it was delayed 48 hours by a massive snow flurry, the
Minnesota Vikings
' game at the
Philadelphia Eagles
wasn't shaping up as the most highly-anticipated matchup of the century. Now? Who knows what we'll see when both teams
finally
arrive at Lincoln Financial Field for an 8 p.m. ET kickoff.
A few thoughts:


1. Snowbound:
Vikings players and coaches spent two days watching free movies, eating free room service and passing the rest of the time as they, uh, saw fit. The Eagles opened their practice facility for a brief walk-through Monday. It's impossible to predict how the Vikings will react to the delay. Did they address two consecutive embarrassing performances in their time together in closed quarters? Or were they marking lines on the wall, keeping track of every minute that brought them closer to rescue? Tonight will mark the 20th game in NFL history to be played on a Tuesday, but the first since 1946. According to the Elias Sports Bureau, that game -- between the
New York Giants
and Boston Yanks -- had been postponed for one day because of rain. So we are in uncharted waters here.
2. Know your history:
There are all kinds of conspiracy theories about why this game was pushed back two days. (Apparently it sounds too convenient to cite National Weather Service forecasts of a blizzard, along with a state of emergency in the city of Philadelphia.) One is that the Eagles didn't think their speed-based offense would be at its best in the snow. I can only hope that isn't true. As we noted in what was
expected to be our Final Word
on this game, the Vikings have only one victory in the past 20 seasons in a prime-time game when the temperature at kickoff was below 40 degrees. Current forecasts call for 30 degrees at 8 p.m. ET in Philadelphia. The Vikings are 1-6 in such circumstances since 1991. After playing in a dome for 28 years, they are at a consistent and undeniable disadvantage in any and all cold-weather venues. The Eagles need not be concerned about the details.
3. FavreWatch:
Another conspiracy theory suggests the NFL wanted to give Vikings quarterback
Brett Favre
(concussion) enough time to be cleared to start. (Perhaps that would be his discipline for sending inappropriate photos and text messages to a former
New York Jets
sideline reporter.) Seriously, Favre wasn't cleared as of Saturday, and ESPN's Chris Mortensen reported there were no plans to give him another round of concussion tests in Philadelphia. But to be fair. the Vikings wouldn't be required to divulge that information because they listed Favre as "doubtful" on their injury report. By definition, that left him a 25 percent chance of playing. It's much more likely that rookie
Joe Webb
will get his first NFL start, but don't forget this tidbit: If Favre does start, he would break the record he currently shares with
Warren Moon
and
Vinny Testaverde
for most starts after turning 40.
4. FrazierWatch:
Interim coach Leslie Frazier has faced the mother of all curveballs in the past three weeks, trying to demonstrate his qualifications for the permanent job while the franchise literally collapsed around him. The Vikings won his first two games but have mailed it in since the Metrodome roof collapse. Should those performances count against Frazier? Does he get a pass under the circumstances? Those questions are difficult to answer, but owner Zygi Wilf will have to render judgment over the next 10 days.
5. Money matters:
This delay added to the financial issues the Vikings must sort out in the coming weeks. They've already lost game-day revenue associated with their past two "home" games, and University of Minnesota officials suggested the Vikings paid more than $700,000 to prepare TCF Bank Stadium for their Dec. 20 game against the
Chicago Bears
. I couldn't begin to estimate how much the Vikings had to pay out to house their team for two extra nights in a hotel, among other associated charges, but I would think it's not insignificant.
June, 10, 2010
6/10/10
7:25
AM ET
We're Black and Blue All Over:
It appears the Chicago Bears' defense is continuing to outperform their offense during organized team activities.
ESPNChicago.com's Jeff Dickerson's
most recent OTA report notes a rash of interceptions and broken-up passes during a 7-on-7 red zone drill.

Dickerson also reports it was a "rough afternoon" for backup quarterback Caleb Hanie.
It's always difficult to keep score during non-contact practices, some of which coaches intentionally rig to favor one side. But frankly, the Bears' once-proud defense needed a confidence boost after last season. If some big plays during OTAs can boost spirits and unity this spring, the Bears will have taken an important step prior to the start of training camp.
Continuing around the NFC North:
December, 20, 2009
12/20/09
10:21
PM ET
PITTSBURGH -- My column on Green Bay's
wild loss
at Pittsburgh will publish soon. For the time being, let's put in perspective the record-breaking performance of Steelers quarterback
Ben Roethlisberger
, who:
Became the 10th player in NFL history, and first in a Steelers uniform, to eclipse the 500-yard barrier.
Set the individual record for most passing yards against the Packers.
Joined Y.A. Tittle (1962) and Warren Moon (1990) as the only NFL quarterbacks to throw for at least 500 yards and three touchdowns without an interception in one game.
October, 8, 2009
10/08/09
11:25
AM ET

Posted by ESPN.com's Kevin Seifert
Circumstances prevented us from attending
Brett Favre
's weekly media gathering Wednesday, but the miracle of modern science (and team transcripts) allows us to join the throng in wishing him a happy 40th birthday Saturday. And, while we're at it, good luck.
Among all of his other potential accomplishments this season, Favre is hoping to become
the first 40-year-old quarterback
to start a playoff game in NFL history. Only one quarterback aged 40 or older, Warren Moon, has made a Pro Bowl. None has started 16 games in a season.
Speaking to reporters at Minnesota's practice facility, Favre said he gets no extra satisfaction from his early-season performance as he approaches the age milestone.
Favre: "I am pleased with the play I've played. It's four games. There are 12 games left. Hopefully we go on after that. Believe me, I know as well as anybody how long a season can be and more so, for an older guy mentally. Physically, you are going to feel the aches and pains. There is no doubt about that, but mentally, being able to overcome them and get through the week [are important]. So I don't know if there is any added feeling on my part that, 'Hey, look at me, I'm playing.' It's what I expected to do. It's what I've always expected to do. If I'm going to play, I want to play well. I can't use age as an excuse, although people want to do that, good or bad. So it just is what it is. I just hope I continue to play and lead at the level I have to this point."
In recent memory, one of the few graybeard success stories has been former
New York Giants
quarterback Phil Simms, who started 16 games and led the Giants to the playoffs at age 38 in 1993. The Giants were bounced from the playoffs before Simms was 39, however, and he retired that offseason.