July, 5, 2012
7/05/12
2:03
PM ET
In the union's continuing attempt to take the bounty appeals decision out from under the auspices of NFL commissioner Roger Goodell,
the NFLPA has filed a federal lawsuit
in the Eastern District of Louisiana. This suit is on behalf of three of the four suspended players --
Scott Fujita
,
Will Smith
and
Anthony Hargrove
.
Jonathan Vilma
has asked for similar relief in two lawsuits; the first of which -- his defamation lawsuit against Goodell -- Goodell moved to dismiss Thursday. The following is the essence of Thursday's filing by the NFLPA:
Hargrove
Fujita
The suit is an application to overturn the suspensions issued by Goodell based on what the NFLPA claims to be inherent and unfair bias by Goodell and all others involved in the process. It states in part: "The investigation and arbitration process that the Commissioner's public relations machinery touted as 'thorough and fair' has, in reality, been a sham."
Further, the NFLPA argues:
(1) The NFL violated the CBA by refusing to provide the players with access to critical documents or witnesses;
(2) Goodell launched a vast public relations campaign defending the punishments he intended to arbitrate, rendering him incurably and "evidently biased"; and
(3) Goodell lacked proper jurisdiction to rule on this case, as the system arbitrator -- law professor Stephen Burbank -- has exclusive jurisdiction to arbitrate the "pay-for-performance" conduct here.
The latter argument -- that this matter is a cap issue rather than a conduct issue -- was brought before Burbank last month and denied. It currently is on appeal to the NFL appeals panel, a group of three arbitrators still not formally constituted a year after its creation in the new collective bargaining agreement. Now, in addition to the appealing Burbank's ruling, the union argues Goodell may not seize Burbank's exclusive jurisdiction merely by labeling the matter "conduct detrimental."
The NFLPA claims it is not asking the court to "second guess" Goodell on the sufficiency of the NFL's evidence; rather, it is asking it to vacate the suspensions based on the "sham process from which it was born."
The suit's basic argument states: "It becomes more apparent with each passing day … that the NFL's objective was not to follow the CBA and provide a fair process, but to validate a biased investigation and to deprive the Players of any meaningful ability to defend themselves against a preordained result."
As I have discussed and written about here
, my sense is this will be an uphill battle for the players. Goodell's power over player conduct -- both the NFL and the system arbitrator have determined this to be conduct -- is well-established and secure in the new CBA. The issue of "fairness" is a relative one; it is the court of Goodell, not a court of law. Federal labor policy favors employers and especially employers resolving differences through a collectively bargained agreement rather than going outside that process into a court.
I admire the creativity and persistence of the NFLPA and its increasingly busy legal team -- the enduring theme of football this offseason is billable hours -- but ultimately they are trying to circumvent a process that they agreed to in the swirl of negotiations to achieve other gains in the CBA.
July, 3, 2012
7/03/12
4:37
PM ET
And here come the lawyers.
That's my guess, anyway, now that NFL commissioner
has upheld the eight-game suspension
of
Green Bay Packers
defensive end
Anthony Hargrove
and three other players in the
New Orleans Saints
bounty case. Saints linebacker
Jonathan Vilma
is already pursuing his legal options, and it wouldn't be surprising if Hargrove joined
Cleveland Browns
linebacker
Scott Fujita
and/or Saints defensive end
Will Smith
in considering legal alternatives as well to reverse the suspensions.
I don't think any final decisions about a lawsuit have been made. The NFL Players Association said in a statement that it would consider "all options." But if you look at
excerpts of Goodell's appeals letter
to the players, you can see the beginnings of a legal strategy on both sides.
*UPDATE:
ESPN's Adam Schefter reported that Hargrove, Fujita and Smith plan to file a temporary restraining order next week to have their suspensions lifted, presumably while further legal action takes place. All three players are eligible to participate in training camp and preseason games. Their suspensions aren't scheduled to begin until Week 1 of the regular season.
Goodell noted that none of the players mounted a defense in the appeals process. No one called a witness or testified or asked investigators a question during the hearing, according to Goodell. If any player reconsiders that approach, Goodell said, he would meet with them and consider changes if new facts are brought forth. That falls in line with the league's position that everything within the bounty investigation falls under the collective bargaining agreement (CBA) and is not for a court to decide.
The players, however, were in a tough position in the appeals process. If they defended themselves, they would have essentially been acknowledging Goodell's right to judge them in a matter they felt he was unlikely to change his mind on. While counterintuitive, such an attempt would have worked against them should they argue in court that Goodell has overstepped his CBA bounds in this case. Indeed, in its statement, the NFLPA noted it had concerns about the "lack of the jurisdictional authority to impose discipline under the collective bargaining agreement."
We've been through the NFL's flimsy case against Hargrove a number of times. But today's action means it will take a court ruling or a similar development to get him on the field before midway through the 2012 season.
June, 18, 2012
6/18/12
10:14
AM ET
We spent some time Sunday
discussing an extensive statemen
t released Sunday by the agent of
Green Bay Packers
defensive lineman
Anthony Hargrove
, one that questioned the NFL's evidence in the
New Orleans Saints
bounty case and called into question whether the league has been honest in its dealings with Hargrove and three other players suspended as part of the case.
Monday morning, minutes before the players' appeal hearing in front of NFL commissioner Roger Goodell, the NFL Players Association issued a similar statement on behalf of Hargrove,
Scott Fujita
and
Will Smith
. The statement furthered the suggestion that the NFL has publicly mischaracterized their actions and (in)actions and would continue if given the opportunity. Here's the full statement:
We have purportedly been disciplined by the Commissioner for alleged activities that the National Football League has grossly misrepresented to the public. We are in attendance today not because we recognize the Commissioner's jurisdiction to adjudicate regarding these specious allegations, but because we believe the League would attempt to publicly mischaracterize our refusal to attend. We will not address the substance of the NFL's case because this is not the proper venue for adjudication, and there has been no semblance of due process afforded to us.

As veteran players of 11, 9 and 9 years in this League, we are profoundly disappointed with the NFL's conduct in this matter. We know what the NFL has publicly said we did, and the Commissioner has chosen to try to punish us and disparage our characters based on semantics, not facts. Words are cheap and power is fleeting.

Shame on the National Football League and Commissioner Goodell for being more concerned about 'convicting' us publicly than being honorable and fair to men who have dedicated their professional lives to playing this game with honor.
Few expect Goodell to reduce the suspensions, which for Hargrove is eight games. But those are some strong words and accusations, suggesting this case will be far from closed whenever the NFL announces its decision. Seeing phrases such as "due process" suggests a federal lawsuit, one that would first seek an injunction lifting the suspensions, is a natural consequence. Stay tuned.
May, 10, 2012
5/10/12
8:45
AM ET
We're Black and Blue All Over:
Lost in a busy Wednesday of Minnesota Vikings
stadium news
and Adrian Peterson's
impromptu workout
was the first public statement from Green Bay Packers defensive end Anthony Hargrove since a declaration he signed about the New Orleans Saints' bounty program was leaked. Here's the full statement:

"I'm disappointed that 'the Declaration' was leaked. The intent of 'the Declaration' was to let the NFL know exactly what happened in March of 2010. Call me naive, but I did not expect them to publicize the fact that I had sent them 'the Declaration.' But since they did, and because they grossly mischaracterized my words, it obviously became a hot item and subsequently was leaked by someone. I do not know who leaked it, but I would have preferred for it to remain private between the NFL and me."
The key words in the statement, as far as I'm concerned, are "grossly mischaracterized." As we have noted, Hargrove revealed in the original declaration only that he was instructed by Saints assistant coaches to deny the existence of a bounty program.
The NFL's announcement
on Hargrove claimed the declaration "established not only the existence of the program at the Saints, but also that he knew about and participated in it."
I think that leap -- taking an admission of denying existence to mean a confirmation of participation -- is what Hargrove is referring to by "grossly mischaracterized." Hargrove, along with the three other suspended players, are appealing the discipline.
Continuing around the NFC North:
February, 4, 2010
2/04/10
12:00
PM ET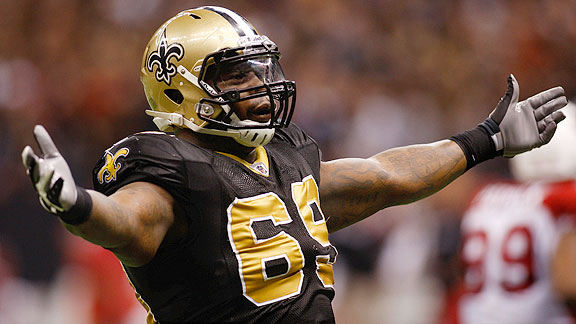 Chris Graythen/Getty ImagesAnthony Hargrove has taken advantage of the opportunity the Saints gave him entering this season.
MIAMI --
I was at a friend's house and I walked past a mirror. The person I saw, I didn't recognize. Dark eyes. Looking bad. I realized I had to do something different. Everybody has their moment when they say, "Man, I have to do something different."
For
Anthony Hargrove
, that moment came on April 4, 2008. A promising but troubled defensive end in St. Louis and Buffalo from 2004-07, he had been suspended from the NFL for multiple violations of its substance abuse program. It was time to get help.
What happened between that moment and today is one of the most compelling storylines of Super Bowl XLIV. Hargrove is now an important part of the
New Orleans Saints
, the only team willing to sign him last summer. He's a havoc-wreaking defensive tackle and a 300-pound cover man on special teams. He has spoken openly and eloquently about his journey, and so it seems appropriate to let him tell most of this story himself.
When you have the kinds of problems I did, you feel like you're locked in a closet. You're hoping someone will come by and let you out. Finally, somebody did.
Hargrove lost his mother to AIDS at age 9 and spent his childhood bouncing between family members and foster care. He believes God compelled him to see the ravages of drugs and alcohol when he looked in the mirror on that day almost two years ago. It directed him toward the Miami-based Transitions Recovery center for what turned out to be 10 months of rehabilitation.
When you go through a period like that in treatment, you see so much. I saw a lot of different things. I saw death. I saw people just giving up on life.
So you switch. You turn over. You say to yourself, I don't want to get to that point where I just give up on life, or I just throw in my cards and say, "I'm done with this." I'm always telling people, we can always do stuff with time. It's not over until we see 0:00 on the clock.
He watched the Super Bowl last year from Transitions.
It's quieter, I can tell you that. It's a lot quieter to watch a Super Bowl from rehab.
It was hard to watch the game because I wanted to be there. I was coming in and out of the room, doing laundry and whatever else. I really didn't want to watch it because I hadn't played that season. You get caught up thinking about all the stuff I did wrong to keep me out of the game.
While that game was going on, it was a reminder of all the stuff I did wrong to keep me out of the season and a reminder that I might not get back to it.
Days later, he met with NFL officials about reinstatement. His indefinite suspension was lifted after one year.
But now the hard part: How to convince a team to sign him? Playmaking defensive linemen are rare and valuable commodities. But who would want a player that two organizations already had given up on?
September, 15, 2009
9/15/09
6:46
PM ET

Posted by ESPN.com's Kevin Seifert
You've probably heard by now that NFL commissioner Roger Goodell has
delayed the suspensions
of two New Orleans players while awaiting a resolution of the Williams Wall case in Minnesota state court.
Indeed, defensive linemen
Will Smith
and
Charles Grant
will remain eligible to play in the interest of fairness. So in a way, the league is applying a stringent Minnesota labor law to the Saints players so that everyone involved in the case is treated with uniform discipline.
Minnesota defensive tackles
Kevin Williams
and
Pat Williams
are fighting four-game suspensions on the grounds that the league's testing policy for anabolic steroids violates Minnesota law. Tuesday's news brought to mind this story from Brian Murphy of the St. Paul Pioneer Press, which clearly explains the law in question.
If you're interested, here is the pertinent excerpt:
Under the 1987 Drug and Alcohol Testing in the Workplace Act, workers are allowed two tests before facing discipline while employers are prohibited from punishing employees who use legal products during non-work hours. Workers in Minnesota can explain why they failed a test before being disciplined. Companies must use specifically licensed or certified laboratories to confirm results and notify employees about a positive test within three working days. Those safeguards exceed protections in 49 other states…
December, 14, 2008
12/14/08
10:28
PM ET
| | |
| --- | --- |
| | |
| | Chris Morrison/US Presswire |
| | Minnesota quarterback Tarvaris Jackson played like the MVP candidate Sunday instead of Arizona's Kurt Warner in the Vikings' 35-14 win over the Cardinals. |
Posted by ESPN.com's Kevin Seifert
GLENDALE, Ariz. -- I walked out of Minnesota's locker room Sunday with one overwhelming thought: The Vikings are thinking big.
Yes, there were the requisite rounds of "one week at a time" quotes and most everyone pointed out they have yet to clinch a playoff spot, let alone the NFC North title. But after dismantling Arizona by three touchdowns in a 35-14 victory, at least one player was looking deep down the line.
"Let me ask you a question," the player said after a group interview dissipated. "What do we have to do to get the second seed?"
For a moment, I was totally vacant. (OK, perhaps that's my default position. But anyway....)
This franchise has made two playoff appearances during this decade and hasn't won a division title since 2000. And yet this year's collection of highly-paid veterans isn't going to be happy with a simple playoff appearance. They expect to make a postseason run as well. And after such a convincing victory over the NFC West champions, some Minnesota players are mentally calculating the odds of a best-case scenario for their season.
"As a whole, this is the best we've played," receiver Bobby Wade said. "This sets a standard for us. Coach [Brad Childress] is going to hold us to this high standard, and he should. There were mistakes that we made and nothing is ever perfect. But all in all, it's really exciting to win in the fashion that we did."
Indeed, the Vikings jumped to their biggest halftime lead in five seasons, a 28-0 advantage that could have been larger were it not for a red-zone fumble by tailback Chester Taylor. They made big plays -- including an 82-yard punt return from Bernard Berrian and two touchdown passes of more than 40 yards from Tarvaris Jackson -- and harassed Arizona quarterback Kurt Warner into an uncharacteristically hesitant performance.
The Vikings have now won four games in a row, the best active streak in the NFC, and overall they have victories in nine of their past 12 games. And since you asked, yes, they left the locker room Sunday knowing they could overtake Carolina for the No. 2 playoff seed in the conference if a series of outcomes fall in their favor. (More on those scenarios later this week, including one that would allow them to beat out the N.Y. Giants for the No. 2 seed should Carolina jump to No. 1.)
More immediately, however, the Vikings can clinch the NFC North as early as Sunday with a home victory over Atlanta. Even if the Falcons win that game, the Vikings would clinch with a Bears loss Monday night against Green Bay.
"We've got some good momentum," defensive end Jared Allen said. "Winning four straight, you like that. Obviously the goal right now is to get into the tournament. I'll say we're peaking at the right time when we get into the tournament and then deep into it in January and February. We've got a goal, and we're in a position where if we win, we'll meet those goals. We don't have to worry about any of this happening or that happening. We're in control."
December, 10, 2008
12/10/08
2:27
PM ET
Posted by ESPN.com's Kevin Seifert
For those of you keeping minute-by-minute track of the StarCaps saga, here is today's update: U.S. District Court judge Paul Magnuson won't issue a ruling before Friday at the earliest, according to Brian Murphy of the St. Paul Pioneer Press.
That timetable has double impact in the NFC North:
It means New Orleans will have running back Deuce McAllister and defensive lineman Will Smith for Thursday night's game at Chicago. (Defensive lineman Charles Grant, the other Saints player implicated in the story, is on injured reserve.)
The Vikings, on the other hand, can't be 100 percent certain they will have defensive tackles Kevin Williams and Pat Williams for Sunday's game at Arizona. Conceivably, Magnuson could issue a ruling Friday that upholds the players' four-game suspensions. They discipline would take effect immediately.
To be clear, there is no indication that Magnuson will definitely have a decision -- or a request for more testimony -- by Friday. It's just the earliest possible day that it could happen. So, as always, stay tuned.
November, 19, 2008
11/19/08
11:27
AM ET
Posted by ESPN.com's Kevin Seifert
Wednesday's statement from attorney David Cornwell, who revealed the NFL has long been aware that the StarCaps weight-loss supplement contains a banned diuretic, could have repercussions in the NFC North.
Cornwell is handling the appeals of New Orleans Saints players Deuce McAllister, Charles Grant and Will Smith -- all of whom have been suspended for testing positive for the diuretic bumetanide. Minnesota defensive tackles Kevin Williams and Pat Williams are facing a similar fate and are scheduled to have their appeals heard Thursday.
In its official steroid policy, the NFL offers to answer any questions players might have about a supplement. There is a telephone hotline as well as contact information for Dr. John Lombardo, the league's independent. administrator for the plan.
According to Cornwell's statement, Lombardo knew that StarCaps contained bumetanide but did not reveal it. Cornwell's implication is that Lombardo did not administrate the policy properly and thus eliminated the culpability of his clients.
If McAllister, Grant and Smith are exonerated as a result, it's possible that Kevin Williams and Pat Williams will be as well. Still, there are some unanswered questions that could mitigate Cornwell's argument. Namely:
1. Did any of those players specifically ask about StarCaps? The policy provides information to those who ask, but my understanding is that the NFL is not obligated to publicize a list of tainted supplements. The NFL does provide a list of supplements it has tested and approved. There is an important distinction here.

2. Would Lombardo's decision to withhold the information supersede the NFL's mandate that players are ultimately responsible for what they take? Remember, here is the wording from the NFL policy: "Players are responsible for what is in their bodies, and a positive test result will not be excused because a player was unaware that he was taking a Prohibited Substance."
If someone called Lombardo or the NFL hotline and got clearance to take StarCaps, then there is a legitimate problem here. But if the players are trying to smoke out Lombardo and the league for not independently informing them that StarCaps was tainted, they might not have a winning argument. Stay tuned.