September, 1, 2014
Sep 1
2:11
PM ET
LAKE FOREST, Ill. --
Chicago Bears
coach Marc Trestman drew laughs Monday attempting to repeat the word "trepidation" in response to whether he feels any regarding the defense, as the club prepares to open the regular season against Buffalo.
While the defense performed average to below average most of the preseason, Trestman remains unconcerned about the unit's ability to get the job done once the season kicks off.
[+] Enlarge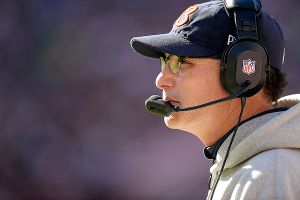 Patrick McDermott/Getty ImagesCoach Marc Trestman is hoping that the Bears' defense can build cohesion in the coming weeks.
"I don't feel that word trepi, trepi … what was it again?" Trestman asked, smiling. "Trepidation? If it's more than three syllables, I'm out of business. I don't feel that trepidation. The whole defense wasn't together at one time during [the preseason]. We're going to have to come together. It's going to be a process working together, getting to know each other, how each other works. But the talent level's there."
The Bears revamped the defensive line by adding
Jared Allen
,
Willie Young
and
Lamarr Houston
in free agency, in addition to drafting defensive tackles
Will Sutton
and
Ego Ferguson
. The club also signed several players to compete for two open spots at safety, and used its first-round pick to select rookie cornerback
Kyle Fuller
.
But throughout the preseason, the entire group hasn't performed together. Allen played in only the club's second preseason outing against the Jaguars after missing the opener due to family reasons and exhibition contest No. 3 due to a bruised shoulder. Safety
Chris Conte
didn't make his preseason debut until Aug. 22.
The Bears held out all the starters on defense for the preseason finale at Cleveland.
"There's always concern, but I think we're going to have our guys hyped up, ready to go," cornerback
Tim Jennings
said. "It's a full game. We're not going to just play a quarter here, two quarters here. We're going to play a whole 60 minutes of football. So this first one is a good test to see where we're at. It's still hard to tell [how good we can be] because we were missing Jared Allen some games. We finally are going to get everybody back together and play a whole game. We played one quarter, two quarters here, and Seattle was a tough test for us. It lets us know that we still have some work to do and we've got to get it together and work hard this week and see what we have for Buffalo."
Trestman declined to name the starters at safety, saying, "We'll talk more about that on Wednesday," while Conte hasn't yet been cleared to play after suffering a concussion on Aug. 22. Meanwhile, veteran linebacker
Lance Briggs
missed Monday's workout with Trestman saying his absence was excused.
"We think the talent level is in a place right now where we've got a chance to go out each and every week, get better and improve," Trestman said. "That's what we're going to try and do as we work through this week of practice and the start of the season."
August, 1, 2014
Aug 1
3:50
PM ET
BOURBONNAIS, Ill. -- A daily review of the hot topics coming out of
Chicago Bears
training camp:
The Bears cut practice 30 minutes short, and perhaps that spurred extra effort from the players on Friday as it was easily the club's most spirited workout of training camp. The defense outplayed the offense by far, and at the end of a tight red zone drill, Bears coach Marc Trestman made sure to congratulate the unit for its strong performance. The defense fit well against the run, but on passing downs the front four pressured Jay Cutler on numerous occasions, forcing him to throw the ball away multiple times. "Today in the tight red zone, the defense amped it up," Trestman said. "We had some contested throws, knockdowns, some real good plays defensively."
Veteran defensive end Trevor Scott hasn't received much publicity throughout camp, but he's proven deserving over the first several days of camp. In addition to size and physicality, Scott showcases a plethora of pass-rushing moves on a day-to-day basis that could make him a contributor to the rotation up front. One staffer called Scott "the real deal so far" at camp. A seventh-year veteran, Scott played four years in Oakland before joining the New England Patriots and later Tampa Bay. He's logged 16.5 sacks over six NFL seasons.
One good way to get an idea of how the 53-man roster will shake out is to pay attention to special teams as this is the facet of the game that often determines some of the final spots. The first-team kickoff return unit on Friday consisted of Danny McCray, Jonathan Bostic, Jordan Senn, Khaseem Greene, Brock Vereen, Tony Fiammetta, Scott, Matthew Mulligan, Dante Rosario, Josh Bellamy and Eric Weems.
Some of the stars from inside drills pitting offensive linemen against defensive linemen in one-on-one matchups included David Bass, Nate Collins, Will Sutton, and Ego Ferguson. Despite Sutton's reputation as a finesse rusher, he bull-rushed Ryan Groy to get into the backfield. Ferguson, meanwhile, appears to possess plenty of strength, but enhances it by rushing with solid leverage.
Veteran linebacker Lance Briggs broke up two Cutler passes during team drills. Briggs' second breakup resulted in a McCray interception. The INT represented the first all training camp by a safety working with the first-team defense.
The Bears held out Charles Tillman and Alshon Jeffery from practice with Trestman calling their inactivity a "coach's decision." Chris Conte (shoulder), Craig Steltz (groin) and Kyle Long remain out. Long will return to the practice field Saturday at Soldier Field. Center Roberto Garza was also excused from practice for personal reasons.
Chicago holds its annual Family Fest workout Saturday at 6:45 p.m. CT at Soldier Field.
July, 28, 2014
Jul 28
5:05
PM ET
BOURBONNAIS, Ill. -- A daily review of the hot topics coming out of
Chicago Bears
training camp:
Expectations are sky high for a Bears offense that ranked No. 2 in the NFL last year in points scored (27.8 per game) and No. 5 in passing yards (267.6 per game), but the opening four days of practice have produced a mixed bag of results from a unit that is expected to return all 11 starters. Monday's performance was no different. At certain points of the session, quarterback Jay Cutler ran the offensive scheme to perfection, firing completions to wide receivers Brandon Marshall and Marquess Wilson and tight end Martellus Bennett that went for huge gains. On the flip side, Cutler badly underthrew Marshall on a deep route into double coverage that should've been intercepted by Bears defenders who were stationed in the area. Veteran cornerback Kelvin Hayden later picked off a deflected Cutler pass in full-team 11-on-11, Hayden's third interception since the start of camp. There were also batted-down balls at the line of scrimmage and botched snaps from the center to the quarterback that resulted in Cutler describing the offense as "good and bad." Cutler continued: "That is to be expected taking the time off in July. We're getting better and better. There's been some sloppy stuff out there. We've got to clean it up. I think the guys are doing a really good job of just recognizing the plays and getting lined up and knowing the concepts and knowing the checks and everything. So if we just clean up some of the little things as we go, we'll be all right."
The Bears desperately need their top three draft choices to step in and make immediate contributions on defense. First-round pick cornerback Kyle Fuller looks the part and continues to receive extensive reps on the first team in base and nickel with Tim Jennings temporarily sidelined due to a sore groin. Third-round choice Will Sutton got thrown into the fire on Monday at three-technique defensive tackle as the coaching staff decided to give Jeremiah Ratliff a veteran's day off. Sutton appeared to hold up OK versus the heightened competition. Rookie nose tackle Ego Ferguson flashes the ability to get up-field in one-on-one individual pass-rush drills, but Ferguson has ended up on the ground on at least three separate occasions since the pads came on. Ferguson needs to find the perfect combination of speed and balance to ensure he doesn't take himself out of the play when games begin for real next month.
Fans chanted "Mega-Punt" whenever first-year punter Pat O'Donnell connected with the football on Sunday. Not to be outdone, punter Tress Way won the matchup between the two aspiring kickers on Monday. As a sixth-round draft choice, O'Donnell is considered the favorite to win the job, but Way has proved to those in the organization that he is an NFL-caliber punter. Even if Way is eventually released, he can still make it in the league. Former Bears "camp legs" have found gainful employment in the league: Spencer Lanning (Cleveland Browns) and Ryan Quigley (New York Jets).
Most of the wideouts competing for the final roster spots have done little to distinguish themselves. The two exceptions are Eric Weems and Chris Williams. Not only are Weems and Williams natural fits in the return game, they have managed to catch the football in camp. The other reserve receivers have been plagued by drops.
Pro Bowl right guard Kyle Long (viral infection) visited doctors on Monday, but the team cannot say if Long will be back on the field when it returns to work on Wednesday. With Long out, the Bears have worked various combinations at guard, with Eben Britton, Michael Ola and Brian de la Puente all seeing time with the starters.
Wide receiver Alshon Jeffery (sore foot), receiver Terrence Toliver (toe), safety Chris Conte (PUP) and safety Craig Steltz (PUP) were all spectators on Monday.
The Bears are off on Tuesday. The next practice is scheduled for Wednesday at 9 a.m. CT.
June, 17, 2014
Jun 17
5:56
PM ET
LAKE FOREST, Ill. --
Jordan Palmer
's return from a minor strain to his right throwing shoulder did little to clear up the Bears' fuzzy picture at the backup quarterback position.
Limited by the injury the last two weeks of organized team activities (OTAs), Palmer had full participation in the Bears' first of three mandatory minicamp workouts held on Tuesday, but he seemed to struggle with his accuracy at times, although Palmer reported no issues with his shoulder when he spoke with reporters after the practice.
"I felt great," Palmer said. "It was good to be back in the mix. I thought we had a pretty good practice today. [There wasn't] too much [rust]. It's still football. We're still wearing shorts and T-shirts, but it was good to be back out there with the guys."
[+] Enlarge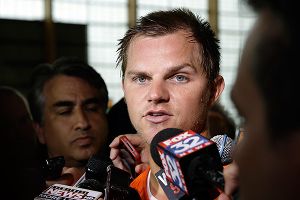 AP Photo/Nam Y. HuhWith the addition of Jimmy Clausen, the Bears now have quarterbacks under contract.
Meantime, newcomer
Jimmy Clausen
made the most of his limited reps, and even spent the end of practice occasionally working in with Palmer and starter
Jay Cutler
, while developmental quarterbacks
David Fales
and
Jerrod Johnson
took turns running the scout team offense on the other side of the field.
Clausen signed a one-year deal with the Bears on June 7.
"I watched Jimmy when he was at Notre Dame," Cutler said. "Liked him. He was in a tough situation out there in Carolina. Offensive line was pretty rough; he was getting hit a lot. The system turned over on him. He throws the ball well. I didn't have any input on bringing him here, though. Once he did get here, though, he was in the quarterback room over the weekend three straight days grinding way, trying to figure out this offense. He was peppering me and David Fales, [quarterbacks coach] Matt Cavanaugh, all questions. So he's been working hard. I think he likes the opportunity he has here. He's a little bit humbled going through the experience of being on the streets and getting picked up again. He's got a good attitude. Training camp and preseason, we'll see how it works out."
Clausen's first task is sticking on the roster long enough to report to training camp with the club on July 24. But the odds of that happening seem promising. However, with five quarterbacks currently under contract, the Bears are likely to jettison at least one reserve quarterback in the coming weeks.
"I don't know if that's ever happened [going to camp with five quarterbacks], not in the times I've coached the position," Bears head coach Marc Trestman said. "These next two days are certainly critical; we've got to continue to analyze the situation. It would be hard to, we need legs at camp, but we'll see. We'll make that decision, and we don't even have to make that decision this week, we'll make it before the start of training camp. I think we've got five viable guys. You take Jay out of it and we've got four guys that are really competing hard and all have the requisite skill set to play in the National Football League, we've just got to continue to watch it and see how it unfolds."
Here are other observations from the Bears' opening minicamp practice:
• The Bears rested starting right tackle
Jordan Mills
(foot) after the second-year offensive lineman returned from offseason surgery in May to participate in OTAs. Mills called his absence "precautionary," but wasn't sure if he'd practice on Wednesday or Thursday before the team breaks for the summer.
"It's just a little precaution, nothing major," Mills said. "I'm 100 percent. I was kind of mad I couldn't go out there and practice today with them but the trainers know best. They just wanted to rest my foot a little bit.
• Safety
Chris Conte
, linebacker
Khaseem Greene
and defensive tackle
Will Sutton
were all excused for "family reasons" according to Trestman.
Matt Slauson
(shoulder) was present but continued to sit out. Safety
Craig Steltz
took part in certain individual drills as he recovers from an offseason leg issue.
• Veteran
Kelvin Hayden
was the Bears' fourth cornerback when the team went to its dime package on defense.
• Trestman called D.J. Williams "the lead dog" at middle linebacker, but 2013 second-round pick
Jon Bostic
took reps with the first team at linebacker in the nickel package, and could definitely still challenge for the open outside linebacker spot if Williams manages to stay healthy and solidifies the middle in the club's base defense.
• Safety
Ryan Mundy
dropped an easy pick when a Cutler pass sailed off its mark close to the right hash.
• Linebackers
Jerry Franklin
and
Christian Jones
saw action with the No. 2 group. Jones, an undrafted rookie free agent out of Florida State, has opened some eyes in the offseason program.
• With Mills out,
Michael Ola
spent time at right tackle with the starters. Brian de la Puente continued to take reps at left guard.
• Converted running back
Jordan Lynch
ran a wheel route out of the backfield and caught a diving touchdown pass from Johnson late in the session.
• Rookie cornerback
Kyle Fuller
broke up a pair of passes in team drills.
•
Brandon Marshall
burned
Tim Jennings
for a long touchdown reception. On the play, the Bears had speedster
Chris Williams
lined up in the slot.
• The Bears invited numerous NFL player agents to Halas Hall on Tuesday to watch practice inside the Walter Payton Center. Agents are frequently spotted catching up with their clients at training camp, but rarely are large groups of agents permitted to observe a workout held at the team's facility.
May, 10, 2014
May 10
6:05
PM ET
»
NFC wrap-ups
:
East
|
West
|
North
|
South
»
AFC
:
East
|
West
|
North
|
South
LAKE FOREST, Ill. -- A wrap-up of the Chicago Bears' draft.
Click here
for a full list of Bears' draftees.
Bears general manager Phil Emery likes to say a team can never expect to fill all of its needs via the draft. Well, eight draft choices later, the Bears actually came close.
Best move:
Taking defensive tackles
Ego Ferguson
and
Will Sutton
with consecutive picks on Day 2. We don't know if Ferguson or Sutton will pan out, but the Bears had to keep strengthening the defensive line after last season. Ferguson and Sutton join new faces
Jared Allen
,
Lamarr Houston
,
Willie Young
,
Austen Lane
,
Trevor Scott
and
Israel Idonije
, who is back for his second tour of duty. The Bears also re-signed tackles
Jeremiah Ratliff
and
Nate Collins
to help fortify the trenches on defense.
[+] Enlarge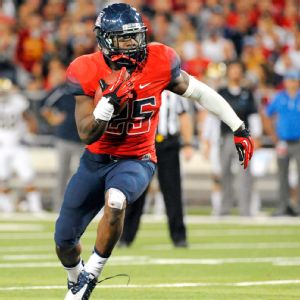 Casey Sapio/USA TODAY SportsArizona running back Ka'Deem Carey, a fourth-round pick by the Bears, has some question marks in terms of off-the-field incidents.
This reminds me of how Emery & Co. rebuilt the offensive line last offseason.
Riskiest move:
Arizona running back Ka'Deem Carey's (fourth round) on-field production speaks for itself: 4,239 yards, 48 rushing touchdowns and 77 receptions for 679 yards in three years for the Wildcats.
However, there are questions about Carey that extended beyond the football field. The 5-9, 207-pound tailback reportedly had multiple run-ins with the authorities, including a charge of assaulting his pregnant ex-girlfriend that was later dismissed.
Carey depicted himself as a high-character individual when he spoke to Chicago media members following his selection by the Bears at No. 117.
"As you guys are going to get to know me over the years; I'm an outgoing [person] who loves kids and is light-hearted," Carey said. "I would never do anything to harm people. I'm a loveful cat."
Emery is not afraid to draft or acquire players with questionable character. Wide receiver
Brandon Marshall
has rewarded Emery's faith in him by posting consecutive Pro Bowl seasons. On the flip side, 2012 fourth-round pick
Evan Rodriguez
lasted only one season before being cut after multiple run-ins with the law last offseason.
Most surprising move:
Emery told reporters before the draft that he rejected the notion of drafting a developmental quarterback in the later rounds with the intent of grooming him to be a future starter.
The Bears selected San Jose State quarterback
David Fales
in the sixth round (183).
Go figure.
File it away:
Time will tell if the Bears regret passing on a safety in the first round.
The organization continued its longstanding tradition of waiting until the later rounds to address the position when they moved back into the fourth round and traded away a pair of fifth-round selections to grab Minnesota's
Brock Vereen
at 131. Vereen does have an excellent NFL pedigree. His brother, Shane, a standout running back, was selected in the second round of the 2011 NFL draft by the
New England Patriots
. Their father, Henry, was drafted by the Bucs in 1979.
Vereen is a versatile player who lined up at all four defensive back spots over the course of his career with the Golden Gophers. He started 36 games and registered 200 tackles, four interceptions, 7.5 tackles-for-loss and one blocked kick.
"Brock is one of the smartest and most versatile players I have ever had the privilege of coaching and is an outstanding young man," Minnesota head coach Jerry Kill said. "He is the ultimate team player and will do whatever is needed to help the Bears win. I know he is going to make Chicago a better team and will also be a great teammate in the locker room."
But you can argue the Bears are in this mess at safety because the organization doesn't put a high enough value on the position.
May, 9, 2014
May 9
10:51
PM ET
LAKE FOREST, Ill. --
The pick:
Will Sutton
, defensive tackle, Arizona State.
My take:
The Bears poured a massive amount of resources into repairing the interior of the defensive line with Sutton and second-round pick
Ego Ferguson
of LSU. Sutton, a two-time Pac-12 defensive player of the year, had 13 sacks and 23.5 tackles for loss for the Sun Devils in 2012 and likely projects to line up at three-technique in the NFL.
Sutton's numbers dropped last year when he registered only 48 tackles, four sacks and 13.5 tackles-for-loss. Many draft analysts believe Sutton's decline in production was due to his being overweight. Sutton said he is currently at 290 pounds but can continue to drop weight if the Bears want him to.
The defensive tackle was declared academically ineligible in 2010.
Sutton obviously made a positive impression on the Bears and defensive line coach Paul Pasqualoni during his pre-draft visit to Halas Hall.
Double-dip:
The last time the Bears went back-to-back at defensive tackles in the early rounds was 2004 when former general manager Jerry Angelo selected
Tommie Harris
and
Tank Johnson
. When Harris and Johnson were healthy and focused, they comprised one of the best defensive tackle combos in the league. The Bears would be absolutely thrilled if one day Sutton and Ferguson can grow into that role.
Both players are expected to be part of a rotation in 2014, but Sutton and Ferguson could be the future starters at three-technique and nose tackle, respectively.
What's next:
The Bears hold four picks Saturday (Nos. 117, 156, 183, 191) but none in the seventh-round due to last year's trade with Dallas for tight end
Dante Rosario
. But the Bears do have an extra choice in the sixth round, courtesy of sending former first-round choice
Gabe Carimi
to the Bucs.
With cornerback and defensive tackle addressed, the Bears are expected to target help at linebacker, running back and perhaps safety, although the consensus top-five safeties are all off the board.