NFC North:

William Clay Ford Sr.
August, 7, 2014
Aug 7
8:00
PM ET
ALLEN PARK, Mich. -- A daily review of the hot topics coming out of Detroit Lions training camp:
With receiver Calvin Johnson and tight end Eric Ebron -- two of Detroit's biggest offensive pieces both physically and in terms of usage -- not practicing Thursday, there were more opportunities for others to try and stand out during practice. Joseph Fauria, who has been used with the first team often during the first two weeks of camp, saw a significant uptick in reps and appeared to fare fairly well. Fauria is going to make the team, but he needs to prove in this camp he has taken a step from last season, where he was primarily used in the red zone. If Ebron doesn't play Saturday, he'll have a large opportunity to do so before likely giving way to Jordan Thompson and Andrew Maxwell later in the game. Johnson, meanwhile, had an excused absence. With Johnson not at practice, Kris Durham appeared to receive more first-team reps than normal.
Speaking of Maxwell, the essentially unknown tight end had the play of practice in a rep with quarterback Matthew Stafford. Stafford fired the ball to Maxwell and it hit off of him. Then, it bounced off of safety Glover Quin and somehow right back into the hands of Maxwell, who made the catch and kept on running. It looked like one of those plays you'd see on an NFL Films highlight reel for years if it happened in a game instead of a preseason practice.
DeJon Gomes is making a strong push to win the fourth safety spot behind starters Glover Quin and James Ihedigbo and third safety/special teams leader Don Carey. Gomes has consistently backed up Ihedigbo, including when the starter briefly left practice after being kicked in the leg. Gomes has also shown up a lot on the first-team special teams units, which is critical for any depth player trying to make a roster.
As part of the veterans-getting-rest plan mentioned multiple times earlier in the week, rookie offensive lineman Travis Swanson has received a lot of time with the first-team offense, either at left guard spelling Rob Sims or at center, replacing Dominic Raiola. While there is no indication Sims or Raiola have anything to worry about when it comes to their jobs, this sort of experience can only provide value to Swanson both this season and down the road, when he eventually becomes a starter. Don't be surprised to see a lot of him Saturday night, perhaps in multiple positions.
The Ford family made another appearance at practice Thursday afternoon. While this is my first training camp covering the Lions, veteran reporter Dave Birkett noted the family has been out at camp more often than in the past few seasons. Of course, the team sort of changed ownership in the offseason after the death of William Clay Ford Sr. His wife, Martha, now is the owner of the team and she was at practice.
Darren Keyton missed another practice Thursday, as did Ezekiel Ansah, who continued doing side work. Also missing practice -- and not being in attendance at all -- was linebacker Cory Greenwood. Lions coach Jim Caldwell said Wednesday night that Greenwood has an excused absence. Both Ansah and receiver TJ Jones remain on the active PUP list.
The Lions have their final practice before the preseason opener at 8:30 a.m. Friday in Allen Park. It is not open to the public.
July, 29, 2014
Jul 29
8:50
PM ET
ALLEN PARK, Mich. -- A daily review of the hot topics coming out of
Detroit Lions
training camp:
One of the players making a big early impression in a position of competition is wide receiver Kevin Ogletree. Tucked in a tight battle with Kris Durham, Ryan Broyles, Jeremy Ross and Corey Fuller for receiving spots behind Calvin Johnson and Golden Tate, Ogletree has spent time with the top unit both days as the No. 3 receiver. This comes on top of offensive coordinator Joe Lombardi singling him out during the spring as someone who impressed him. Ogletree has speed as well as the ability to make catches both over the middle and the sideline. Johnson, meanwhile, called Ogletree "smooth" when discussing him Tuesday.
An interesting thing occurred during individual periods Tuesday. Instead of working on their own, the Lions split their tight ends up between the offensive line and with the pass-catching receivers and running backs catching passes. So Brandon Pettigrew, for instance, was working with the line blocking while Joseph Fauria and Eric Ebron were catching passes. This, Pettigrew said, was different than how the Lions operated under former coach Jim Schwartz."We rotate and go down there during periods," Pettigrew said. "We have five guys here, why not split it up and have some guys down there and some guys down here." Pettigrew sees this as not only helping his blocking fundamentals, but an aid to Ebron and Fauria as well.
It's early, but the kicking situation is going to be something to watch. Detroit hasn't done many pressure field-goal situations over the first two days, but the Lions did have both Nate Freese and Giorgio Tavecchio attempt a 49-yard field goal under pressure in the final moments of practice. It did not end well and went counter to their supposed strengths. Freese had the distance but missed wide left. Tavecchio was right on line -- but about a yard or so short. It's only one day, but this is going to be a major thing to pay attention to throughout the next few weeks.
It would appear the Lions are going to give both Corey Hilliard and LaAdrian Waddle an equal shot at right tackle. Hilliard worked with the first team during the first practice Monday and Waddle received the first-team snaps Tuesday. We'll have more on the offensive line Wednesday, but this appears to be the one true spot up for grabs on what is otherwise a fairly strong front five.
The Lions have managed to have fairly short practices the first two days, wrapping up in well under two hours. Some of it might come from the team still practicing without pads, but Lions safety Glover Quin explained the reason for the shorter practices is kind of simple: The team has plays they want to run through and things they need to accomplish. If they limit mistakes and run through the plays at a good pace, they finish quicker. It's a long way from the marathon practices of the past, although practices should get longer once the team goes into pads.
Ownership made its first public appearance at camp Tuesday as Martha Ford, the wife of the late William Clay Ford Sr., attended practice. Ford gained controlling interest in the team after her husband's death in the offseason. Also visiting practice Tuesday were some of Michigan State's football coaches, although head coach Mark Dantonio was not spotted, as he was in Chicago for Big Ten media days.
March, 9, 2014
Mar 9
8:40
PM ET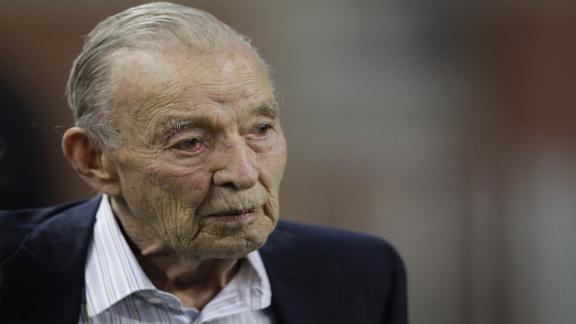 He was the man who paid Charlie Sanders' salary for years, the man Sanders looked upon as a father figure, a boss and a friend. He was the man Sanders wanted to have introduce him into football's greatest honor, enshrinement into the Pro Football Hall of Fame.
William Clay Ford Sr., who died of pneumonia on Sunday at age 88, embodied many things to Sanders, one of the best players in
Detroit Lions
history.
It was a different time in American sports when Sanders played and Ford was young enough to relate to the players he also paid. As rich as Ford was, as much as his last name was synonymous with the American automotive industry, Sanders knew him more as the guy he could talk to and befriend.
That is what he will remember. That is what stands out now, on the day Ford died.
"I think a lot of people look at him and just don't understand him, period," Sanders said during a conference call with Detroit media Sunday night. "Not just as far as football is concerned. To me, he was just a guy that wanted to be just one of the guys.
[+] Enlarge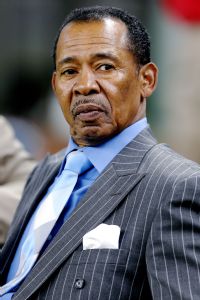 AP Photo/Scott BoehmCharlie Sanders asked William Clay Ford Sr., to introduce him for induction into the Pro Football Hall of Fame.
"Once you got beyond, you know, Ford and who he was in terms of the corporate world and try to get to know him as a human being, you realize that this guy is really just a simple sports advocate that happens to own the Detroit Lions. He was a very personable guy that you could get to know and you could learn a lot from."
It was a relationship that spanned 40 years, so Ford was the first person Sanders thought of when he found out he would be inducted into the Hall of Fame in 2007. Sanders just hoped Ford would be able to be there to do it -- and he was.
"It was as great an honor for me to be asked by Charlie to be his presenter as it was for him to be elected to the Hall of Fame," Ford said during Sanders' introduction speech in 2007. "We really chatted about it quite casually, but he kind of hemmed and hawed around a little bit.
"Finally, it dawned on me that, 'Gee, he'd like me to be his presenter,' and I can't think of anything nicer."
The quality of the man is what stood out to Sanders on Sunday, about how he would be generous with his money and his time to the players he hoped would one day give him the championship that eluded him throughout his 50-plus year ownership of the Detroit Lions.
Sanders said during his speech and again Sunday that he asked Ford to present him to the Hall of Fame because of who Ford was as a human being, not because of wins or losses or championships dreamed about but never won.
He saw a man who let his people work and take their own visions and try to implement them. He saw a man who didn't over-interfere, who just wanted to know what his employees were doing. He saw someone with a good heart and who cared -- an opinion shared by many who spoke publicly about Ford on Sunday.
And to those who look at the lack of titles and lack of wins and say,
like was written here earlier
, that Ford was too loyal, Sanders said his response would be unprintable.
"I understand the fans' side of it. They want a championship. I understand that. But so did he. And I know that," Sanders said Sunday. "I know that personally, that it was what he wanted more than anything in the world.
"And so I'm not going to let that be the one thing I remember this man by because there was so much, much more that he brought to this world other than a lack of a championship."
March, 9, 2014
Mar 9
2:38
PM ET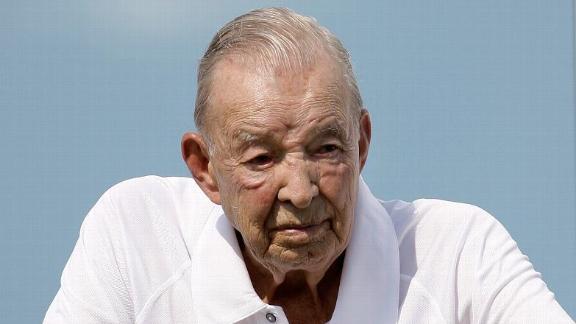 The legacy is complicated, one of both stability and ineptitude, of really wanting to win and being unable to come through on that desire.
William Clay Ford Sr., the only owner the
Detroit Lions
have had during the Super Bowl era, died Sunday at age 88. He had a passion for the Lions dating to his youth and had the money to own a franchise because of his family's ownership of the Ford Motor Company, one of the most well-known names in the automotive industry.
This is the tricky part of how Ford will be remembered. He did a ton for the American automotive industry, including steering the direction of one of its most popular brands. He showed a loyalty to a city that had struggled by staying steadfast with his ownership of both his car company and his football franchise.
That loyalty, for good and bad, transferred to the Lions.
Throughout his tenure as the owner of the Lions, Ford -- and his family -- showed extreme patience with his employees, from the coaches to the general managers. That loyalty, while well meaning, also came with a fault.
Sometimes it felt like coaches, general managers and front-office personnel -- particularly Matt Millen -- were employed way past their effectiveness. He left Millen employed for seven seasons, and the team never had a winning record. He also kept Russ Thomas employed as the team's general manager for 22 years despite an overall losing record of 139-175.
In many ways, that loyalty hurt Detroit as a franchise.
In the 50-plus years of Ford's ownership, the Lions won one playoff game, in 1991. The franchise had just 10 playoff appearances during his time as owner and only 14 winning seasons since 1964, his first full season owning the club.
His team employed arguably the greatest running back (Barry Sanders) and wide receiver (
Calvin Johnson
) in NFL history and has failed to reach a Super Bowl with either one, although they never played together.
These issues, though, were not lost on the Fords. They cared deeply about their product and franchise and had the respect of owners and general managers throughout the NFL. They were largely considered to be good people to work for, again because of their loyalty in a league and business where it is increasingly rare.
In recent seasons, Ford had less of a public presence. He would occasionally be spotted after games heading toward the Detroit locker room, but he was not in attendance on the day the team hired coach Jim Caldwell.
His son, Bill Ford Jr., took over much of the public persona of the Ford family the past few seasons, including meeting with Caldwell and other coaching candidates after the team fired Jim Schwartz in January.
The direction of the team will be in question now. Ford Jr., who is the vice chairman of the Lions and has been both the public face and a more public spokesman for the franchise in recent years, could end up taking over.
Though he would likely keep a lot of the same ideals as his father, he has appeared to be someone with more of a passion to win right away and to make decisive decisions to reach that point.
How the Ford family, which has owned the Lions for a half-century, handles the stewardship of the franchise in the next few months could end up bringing larger changes to the organization as a whole.
August, 30, 2012
8/30/12
7:45
AM ET
We're Black and Blue All Over
:

On Wednesday, Detroit Lions vice chairman Bill Ford Jr.
told fans at a season kickoff luncheon
: "We're going to bring you a Super Bowl." Ford added: "When the Lions win the Super Bowl, this city will have a party like we haven't seen before."
The statement wasn't uncommon for the kind of sports pep rallies you often see around the country, but it's pretty unusual for the Lions under Ford ownership. As it turns out, Michael Rosenberg posted
a really insightful column Wednesday
about Ford Jr.'s father, William Clay Ford Sr., and why his perceived passive approach to winning has made him "hated" in Detroit.
Rosenberg: "Ford bought the Detroit Lions in 1963. Since then, the Lions have won one playoff game. The losing alone does not explain the anger. No, what really has really driven people in Detroit crazy over the years is that Ford didn't seem to care as much as they did. Sometimes the Lions won, more often they lost, but either way Ford would wake up rich."
Ford Jr. appears to take a more outwardly passionate approach, and it's worth noting that his urging of his father to fire former general manager Matt Millen is what started this Lions renaissance. But I thought his Super Bowl comments provided an interesting juxtaposition with Rosenberg's column on his father.
Continuing around the NFC North after way too much early-morning thinking: