November, 20, 2011
11/20/11
5:36
PM ET
GREEN BAY, Wis. -- As fun-loving and entertainment-oriented as he is,
B.J. Raji
couldn't fathom it. There would be no Lambeau Leap, not on Sunday or any other day, after Raji scored on a 1-yard touchdown run in the first quarter of the
Green Bay Packers
'
35-26 victory
over the
Tampa Bay Buccaneers
.
[+] Enlarge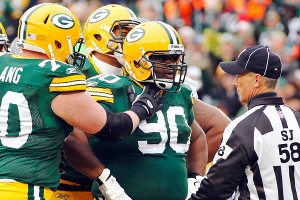 Jeffrey Phelps/AP PhotoB.J. Raji celebrates following his 1-yard rushing touchdown for the Packers.
"I thought about it for, like, less than a split second," Raji said. "Then I used my better judgment."
Listed generously at 337 pounds, Raji is nevertheless one of the Packers' better athletes and an obvious candidate for a backfield power formation. He long ago nicknamed himself "The Freezer" in homage to former
Chicago Bears
defensive tackle William "The Refrigerator" Perry, but Sunday was the first time he got a chance to emulate Perry as a ball carrier.
The play came at the end of the Packers' first offensive possession, part of a goal-line set that included three tight ends. Raji lined up offset as a fullback, with
John Kuhn
as the tailback. Quarterback
Aaron Rodgers
handed it to Raji on dive play behind right guard. It took a while for officials to unpile the players -- "B.J. was lying on top us," said center
Scott Wells
-- but eventually they awarded him a touchdown.
After passing on the Lambeau Leap, Raji launched into a modified midsection gyration of sorts. But he said he's considered some other touchdown celebrations as well and doesn't think Sunday will be a one-time deal. Asked if he would recommend his pickup to fantasy owners, Raji laughed and said: "I think it would be in their best interest to."
June, 28, 2011
6/28/11
2:00
PM ET
»
Best of NFC
:
East
|
West
|
North
|
South
»
AFC
:
East
|
West
|
North
|
South
As part of Best of the NFL Week on ESPN.com, here are five bests for the NFC North:
[+] Enlarge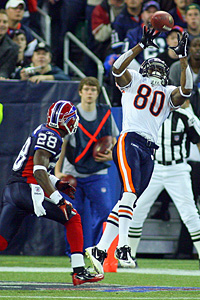 Rick Stewart/Getty ImagesEarl Bennett caught 46 passes for 561 yards for the Bears last season.
Best hands, Earl Bennett:
The NFC North has no shortage of elite receivers who have collected Pro Bowl honors, from Greg Jennings to Calvin Johnson to Sidney Rice. None of them displayed the kind of reliability Bennett achieved last season for the Chicago Bears. He
dropped only one of the 70 passes thrown his way
, according to ESPN Stats & Information, and caught 46. Jennings dropped five of the 122 passes thrown his way. Johnson also had five (on 134 targets). Rice was limited to five games.
Best nickname, B.J. Raji:
You've got two kinds of athlete nicknames: The ones they give themselves and the ones bestowed upon them. Last winter, we
tried our best to push "The Garaji" or "Raj Mahal,"
but ultimately what stuck was what Raji himself dreamed up during the Green Bay Packers' divisional playoff game victory over the Atlanta Falcons. After participating in a jumbo offensive package at the goal line, Raji began calling himself "The Freezer." As NFC North fans remember, William "The Refrigerator" Perry rose to cult status in a similar role 25 years ago.
Best tackler, Antoine Winfield:
Generously listed at 5-foot-9 and 180 pounds, Winfield needs perfect form and a fearless attitude to bring down ball carriers who sometimes outweigh him by 100 pounds. Winfield has both. He stays low, doesn't fall for open-field moves and wraps up legs as if he is filming a fundamentals video on every play. There aren't many players, whether they're speed- or power-based, who can elude him. Last season for the Vikings,
according to Football Outsiders
, Winfield tied for the NFL lead with 28 "stops" against the pass.
Best tweeter, Chris Harris
: The NFC North is packed with social media mavens. Packers quarterback Aaron Rodgers, for instance,
entertains the masses
with "Jack Handey" quotes whenever he's sitting in an airport. But Harris is probably the most prolific in our division,
using Twitter
to post
serious thoughts on important NFL issues
at one moment and then updating his diaper-changing failures in another. Just as important, Harris interacts with Chicago Bears fans on a near daily basis. Those of us who follow Harris feel like we know him.
Best comedian, Pat Williams:
We're still not sure if Williams will return to the Minnesota Vikings, but even if he departs via free agency, he'll leave behind a litany of hilarious moments, both intentional and otherwise. My personal favorite: Upon witnessing then-teammate Dwight Smith arrested in downtown Minneapolis, Williams identified himself as a reserve U.S. Marshal in Louisiana and offered to help "sort things out." It's true: Williams was involved in a reserve Marshal program at the time, but that's still a scene I wish I had been witness to.
Best best (bonus category):
Detroit Lions tailback Jahvid Best. Enough said. (Sorry, couldn't resist)
April, 5, 2011
4/05/11
7:43
AM ET
By
ESPN.com staff
| ESPN.com
When Tracy Forrest overheard her 10-year-old son Cliff on the phone trying to explain to someone that he
wanted to give William Perry his Super Bowl XX ring back
, she could tell Cliff was having a hard time being believed.
After all, what 10-year-old would give away something like a Super Bowl ring for nothing?
So Tracy got on the phone and lent an adult voice to her child's gesture of goodwill and generosity. That gesture culminated in Chicago on Saturday when Cliff handed the ring to the former Chicago Bears defensive tackle, whose battle against Guillain-Barre syndrome has been well documented.
April, 4, 2011
4/04/11
8:40
AM ET
By
ESPN.com staff
| ESPN.com
February, 7, 2011
2/07/11
1:00
PM ET
Amid the hoopla of Super Bowl XLV, you might have missed Tom Friend's stark weekend profile of
former Chicago Bears defensive lineman
William 'The Refrigerator' Perry, who continues to suffer from health and alcohol-related problems at age 48. Below is an excerpt of Friend's story, along with the video version of the piece.
Every day begins with William Perry needing help out of bed. Usually, it's 10 a.m. before he even gives it a try, and to support his 400 pounds, he shuffles to the living room on two legs that barely work and his sturdy black cane.

Once he sits down, he and his chair are in a long-term relationship. He doesn't move, except to go to the bathroom, and the concerning part is that he has no desire to move. A home gym is just 20 feet away from him, but he mostly scowls at it from a safe distance. A walking path is only 40 feet away, but he mostly hisses at it from the comfort of his seat.

His day consists of watching television and eating three or four meals prepared by his heart-broken wife, Valerie. She nags him to exercise, but says she gets "cussed out'' for it. She bugs him to take his medication but says she gets ignored over it. Her new trick, just to get him on his feet, is to tell him he has to come to the kitchen to eat his lunch. That's her best way to get "The Refrigerator'' to walk near the refrigerator.

Of course, then when she least expects it, her husband will hobble out the door and into his car. She knows exactly where he's headed: to the liquor store.

Because every day ends with William Perry needing a drink.
January, 25, 2011
1/25/11
12:00
PM ET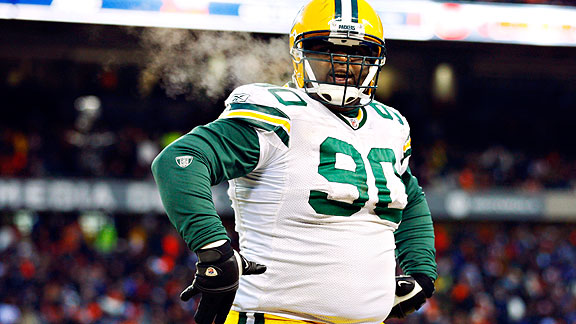 Jeff Hanisch/US PresswireB.J. Raji's interception return for a touchdown Sunday proved to be the game-winning score.
B.J. Raji
crossed into the Soldier Field end zone, glanced at the side judge to confirm he had just scored his first NFL touchdown and then made a startling realization.
He had nothing planned.
The
Green Bay Packers
' budding showman resorted to instinct, rolling his hips like a belly dancer while celebrating the score that proved the final margin of victory this past Sunday in his team's
21-14 victory over the Chicago Bears in the NFC Championship Game
. Listed at 337 pounds, Raji officially became the biggest man to score a postseason touchdown in NFL history, based on records kept by the Elias Sports Bureau. (You can
watch the video here
.)
"Football is a game of reactions," he said. "I just reacted and had fun with it."
American sports culture has long had, uh, a soft spot for large men who do surprising things. Exactly 25 years ago, William "The Refrigerator" Perry stole the show in the
Chicago Bears
' run-up to Super Bowl XX. Raji has better teeth and more of a nuanced personality, but otherwise the man who is calling himself -- yes -- "The Freezer" is set to emerge as one of the fresh personalities on the scene of Super Bowl XLV.
"The guy has some style," marveled Packers cornerback
Charles Woodson
.
[+] Enlarge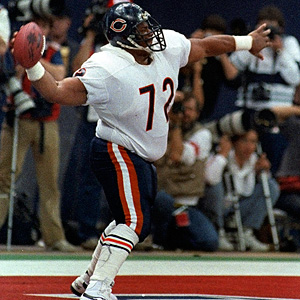 AP Photo/Amy SancettaB.J. Raji has drawn comparisons to William "The Refrigerator" Perry, who burst onto the scene during the Bears' run to the Super Bowl XX crown.
Before we get too carried away with the style, however, let's be clear about the substance: Raji had an exceptional inaugural season as the Packers' full-time nose tackle after making the move from defensive end. He ranked third among NFL interior linemen with 6.5 sacks and proved his durability by playing on nearly 85 percent of the Packers' defensive snaps, according to the trackers at
Pro Football Focus
. That percentage, based on a total that includes plays wiped out by penalty, was the third-highest in the NFL among defensive linemen.
Raji literally served as the rock of a defensive line that was otherwise debilitated by injuries to four players expected to play significant roles.
Cullen Jenkins
(five games),
Ryan Pickett
(two),
Mike Neal
(14) and
Justin Harrell
(15) were all sidelined for significant segments of the season. Raji, on the other hand, missed only an average of five plays per game.
You could attribute part of that durability to Raji's young legs. At 24, he is only two years removed from Boston College. But it should also dispel any notion that Raji is just a top-heavy, if lovable, big man. He is obviously well-conditioned and, despite the extensive workload, has appeared as spry as ever during the Packers' stretch run. In the Packers' past six games, in fact, Raji has four sacks, has knocked down three passes and intercepted a fourth.
"He's played tremendously for us [in that stretch] and been a real key factor," defensive coordinator Dom Capers told reporters on Sunday.
In fact, the Packers were so confident in Raji's conditioning that they recently added a Fridge-like role to his repertoire. In each of their past two playoff games, Raji has entered the game on offense as an extra fullback in the most jumbo-sized goal-line package you'll ever see. (It also includes reserve offensive lineman
T.J. Lang
as a tight end and fullbacks
Quinn Johnson
and
John Kuhn
as the other men in the backfield.)
Both plays have resulted in touchdowns. The first instance came in the Packers' Jan. 15 divisional playoff game at the
Atlanta Falcons
, a game for which Raji happened to be mic'd for NFL Films. If you haven't watched the resulting video,
it's worth your time
.
You'll see Raji admitting that "I didn't block nobody" after bursting through the line ahead of Kuhn on the result. Later, a Packers staff member approached Raji on the sideline and suggested he looked like the Fridge.
"I'm the Freezer," Raji responds.
Personally, I'm partial to "The Garaji" as a nickname, but I'm guessing "The Freezer" has already taken off.
"I was making a joke, just making light of the situation and having a good time with it," Raji said.
The same could be said of his post-touchdown celebration Sunday, which he said has generated "a slew" of offers for lessons and other suggestions to improve for the next time. Coach Mike McCarthy joked (I think) that he gave Raji "two minuses" on his grading chart on the interception -- one for holding the ball away from his body during the runback and another for the dance.
"The dance is a little bit undesirable," McCarthy said.
So what's next for Raji? Most importantly, the Packers are counting on him to anchor their defense against a
Pittsburgh Steelers
team that scored 37 points on them during a 2009 meeting.
Bleah.
That alone would be so
boring
.
Will Raji get a handoff out of that goal-line set? How about a play-action pass? Clearly he has the skills. And this week marks the 25th anniversary of Perry's 1-yard scoring plunge in the Bears' Super Bowl XX rout of the
New England Patriots.
At a listed 318 pounds, Perry had the record Raji now owns,
according to Elias
.
"B.J.'s a very good athlete," Packers general manager Ted Thompson said. "He's the kind of guy that despite his size, he's a pretty good basketball player, that sort of thing. He's blessed with a lot of God-given gifts."
I'm betting that includes the capacity for a better post-touchdown celebration.
"Who knows?" Raji said. "You'll have to see."
The world is waiting, B.J. The world is waiting.
January, 23, 2011
1/23/11
9:15
AM ET
We're Black and Blue All Over:
CHICAGO -- IT'S HERE.
WE MADE IT.
NO MORE TIME FOR TALK.
NO NEED TO DEBATE.
THE DAY HAS COME TO PLAY THE NFC CHAMPIONSHIP GAME.
GREEN BAY PACKERS.
CHICAGO BEARS.
LET'S DO THIS.
Sorry, my caps lock was jammed.
I'm writing from downtown Chicago, where we are getting a light dusting of snow that apparently will taper off in a few hours. Still, it has given us our own little white Christmas in the NFC North.
While we nervously pace the room, let's take a glance at some headlines from those who have been covering the Packers and Bears all season. I'll check back in with you from Soldier Field in a few hours:
July, 1, 2010
7/01/10
10:30
AM ET
Notable players:
Tailback Walter Payton; quarterback
Jim McMahon
; defensive linemen
Richard Dent
, William "The Refrigerator" Perry,
Steve McMichael
and Dan Hampton; linebacker Mike Singletary; safety
Dave Duerson
.
[+] Enlarge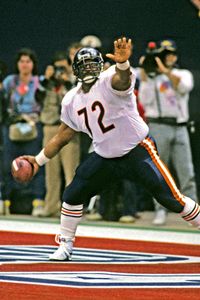 Al Messerschmidt/Getty ImagesRefrigerator Perry celebrates during Super Bowl XX against the New England Patriots.
The 1985
Chicago Bears
were known, in equal parts, for their dominant defense and outsized personalities. The Bears' blitz-happy "46" defense spurred them to a 12-0 start, a 15-1 regular season record and the largest margin of victory in a Super Bowl at the time. And a roster that included three Hall of Fame players, five All-Pros and nine Pro Bowlers gave us some lasting and unique images.
Who can forget Perry diving into the end zone on Monday Night Football or catching a touchdown pass at Lambeau Field? Many of us can still feel the tension between coach Mike Ditka and defensive coordinator Buddy Ryan, a dynamic that ultimately resulted in both men carried off the field after the Super Bowl. McMahon's message-laden headbands. And is there anything else to say beyond "Super Bowl Shuffle?"
Those sideshows were the grizzle on the meat of a team that was as talented, at least defensively, as any modern-day championship group. That collection of players gave the Bears the only championship they have known in the past 47 years.
Nearly half of the defensive starters made the Pro Bowl. Singletary and Hampton are in the Hall of Fame. One day, Dent will join them. Two players finished with double-digit sacks: Dent (17) and linebacker Otis Wilson (11). As a team, the Bears forced 54 turnovers. During one particularly dominant stretch, the Bears went two months without giving up more than 10 points in a game.
Their only loss came in Week 13 at Miami, which finished 12-4 that season. But the Bears rebounded from that loss, winning their final three games by an average margin of two touchdowns, and then elevated themselves to historic status in the playoffs.
On the way to Super Bowl XX, the Bears shut out the
New York Giants
(21-0) and Los Angeles Rams (24-0). The culmination of their season was a dominating 46-10 victory over New England in which the Bears set seven Super Bowl records.
Most impressive win:
It's hard to look past a 36-point victory in a title game of any kind. At the time, it was the largest margin of victory in a Super Bowl.
Quotable:
"In life, there are teams called Smith, and teams called 'Grabowski'....We're Grabowskis!" -- Ditka, painting his team as a blue-collar group that evoked Chicago's heritage. The nickname caught on.
Honorable mention:
1941:
Six future Hall of Fame players contributed to a 10-1 record and an NFL Championship. All of its victories were by more than a touchdown, and its only loss was by two points to Green Bay.
1940:
The same core of Hall of Fame players finished 8-3 and also won the NFL Championship. The title game was a legendary 73-0 defeat of Washington.
1942:
An undefeated regular season (11-0) featured four shutouts over its final six games. But this team lost 14-6 to Washington in the NFL Championship Game.
January, 28, 2010
1/28/10
11:30
AM ET
Thanks to everyone who offered up their
favorite NFC North Super Bowl moments
. As you recall, I offered up three suggestions Wednesday and left two spaces open for you to reach a total of five. Well, as the Supreme Ruler of all NFC North blogs on ESPN.com, I've made an executive decision to expand the list.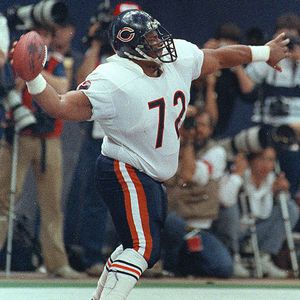 AP Photo/Amy SancettaWilliam Perry's celebration following a TD plunge is one of the enduring images of Super Bowl XX.
You brought up three really cool moments that I think belong on this list. I've published all six below, including your comments on the latest additions.
I realize this list doesn't include a moment from any of Minnesota's four Super Bowl appearances. There are a few reasons for that. First, the Vikings lost all four games. Second, their last appearance was 33 years ago. For most of us, there is a generational gap that has probably muted the progression of any highlights from those games.
OK, on with it:
1. Play:
Green Bay receiver Max McGee's one-handed, 37-yard touchdown reception in the first quarter of Super Bowl I.
Comment:
As the story goes, McGee didn't expect to play in the game and missed curfew while spending the evening on the town. He was, uh, not at full capacity at kickoff.
2. Play:
Green Bay kick returner Desmond Howard's 99-yard kickoff return in Super Bowl XXXI.
Comment:
The final score of the game sealed the Packers' victory.
3.
Play:
Devin Hester's 92-yard return of the opening kickoff in Super Bowl XLI.
Comment:
You can't start a game better than that.
4. Play:
William Perry's 1-yard touchdown run in Super Bowl XX.
Comment from Bshuma1:
You just can't beat the big guy's celebration and toothless smile after he owned that linebacker.
5. Play:
Brett Favre's 54-yard touchdown pass to
Andre Rison
on the Packers' second play in Super Bowl XXXI.
Comment from Capdogg13:
One of the best NFC North moments, what with Favre running up the field. That image, along with being one of the best Super Bowl images, defines exactly how Favre approaches the game, no matter his age.
6. Play:
Bears players carrying defensive coordinator Buddy Ryan off the field along with coach Mike Ditka after Super Bowl XX.

Comment from bcrawford85:
Awesome moment in Bears history, let alone the NFC "Central" history.
Comment from me:
I agree. It was the ultimate sign of respect and appreciation for the leader of one of the best defenses in NFL history.
June, 29, 2009
6/29/09
7:09
AM ET
Posted by ESPN.com's Kevin Seifert
Good morning. Hope everyone had a great weekend. We're gearing up for another mid-summer week in the NFC North, where news will be light but the blogging will never stop. (OK, it will, but we'll get to that later.)

Any football fan of the 1980s, Chicago or otherwise, will be interested to read this feature from Bob Gillespie of the The State. It details the disease and episode that landed former Bears star William "The Refrigerator" Perry in the hospital earlier this year.
Perry, who has Guillain-Barre Syndrome, had little money and no insurance when he began feeling sick, One of his brothers found him in bed -- dehydrated and only semi-responsive -- in April. The story chronicles the work of former Bears coach Mike Ditka to upgrade Perry's medical care.
Perry was released from the hospital in May and is under the care of another brother, former NFL player Michael Dean Perry. He has three more weeks of rehabilitation to go.
Continuing around the NFC North:
May, 22, 2009
5/22/09
9:41
AM ET
Posted by ESPN.com staff
Chicago Bears
Detroit Lions
Green Bay Packers
Minnesota Vikings
March, 10, 2009
3/10/09
7:06
AM ET
Posted by ESPN.com's Kevin Seifert
Admit it. You were virtually joining me Monday night by flipping between "Dancing with the Stars" (We call it DWTS on Disney-owned ABC!), "2001: A Space Odyssey" on the Encore Mystery Channel and that 1985 matchup between Chicago and Green Bay on the NFL Network.

I must say that the Packers' Jim Zorn era had totally passed from my consciousness. Took me multiple squints -- thank you, video degradation -- to realize that the left-handed quarterback wearing No. 18 was Zorn. I thought it was cool seeing Minnesota defensive coordinator Leslie Frazier playing cornerback for the Bears in what was his last NFL season, but one part of the game stood out most prominently for me.
As you recall, William "The Refrigerator" Perry caught a 4-yard touchdown pass from Jim McMahon just before halftime, his first scoring reception. I vaguely remembered that play. What came next, however, I did not. Perry returned to the sidelines, joined the special teams huddle -- led by unofficial Bears assistant coach Jeff Fisher, who was on injured reserve at the time -- and trotted back onto the field to cover the kickoff.

That's something you don't see in today's game: A starting defensive tackle covering kickoffs, let alone one who participated in the previous offensive play. The Fridge got down the field, too, and was near the tackle. Just one example of how the game has changed over the years.
Oh, the Bears went on to defeat the Packers 16-10.
End fantastical digression. On with our morning march around the NFC North:
October, 28, 2008
10/28/08
7:59
AM ET
Posted by ESPN.com's Kevin Seifert
At least the Detroit Lions are having a little fun. (Or at least, an ex-Lion. We understand that's a big distinction).
Former Lions receiver Roy Williams, traded earlier this month to Dallas, returned to Detroit on Monday to attend the team's annual Halloween party/charity fundraiser. How was he dressed? As former Lions running back Tatum Bell, who was involved in the well-documented disappearance of tailback Rudi Johnson's bags during the preseason.
If you recall, Bell said he grabbed the bags after mistaking them for those of another former teammate -- whom Bell had agreed to deliver to a local friend's house. Playing off that story, Williams wore a bellhop uniform to the event (with a "T. Bell" nametag in case someone missed the joke), and a pair of boxer shorts with "Rudi" on the front and "Johnson 32" on the back, according to Tom Kowalski of Mlive.com.
UPDATE: Thanks to reader Taha for forwarding us the link to some video of the party.
Continuing around the NFC North: