August, 1, 2011
8/01/11
12:15
PM ET
In the chaos of Scramble'11, the
Chicago Bears
added two big receivers in
Roy Williams
and
Sam Hurd
. They re-signed two important role players, defensive tackle
Anthony Adams
and cornerback/special teams ace
Corey Graham
. They even added the luxury of a third veteran running back,
Marion Barber
, who
might or might not help them in short-yardage situations
.
[+] Enlarge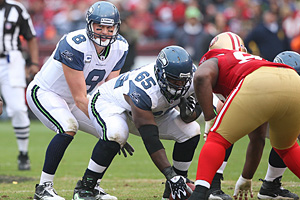 Tony Medina/Icon SMINew center Chris Spencer will have a short time to grasp Chicago's complicated scheme.
What they haven't done, however, is substantively address their universally acclaimed roster weakness. Other than
their much-debated swap
of center
Olin Kreutz
for
Chris Spencer
, the Bears haven't added a single guard or tackle to their roster. They
reportedly pursued
free agent tackle
Willie Colon
, but ultimately Colon re-signed with the
Pittsburgh Steelers
.
During a
news conference with reporters Sunday
, general manager Jerry Angelo suggested there aren't many intriguing possibilities left on the free agent market and implied the Bears were prepared to take their lumps while developing their own incumbents.
"These offensive linemen are tough to find," Angelo said. "We've got a good nucleus of young guys with traits we look for, but they've got to come together. We can't just run up and down the starting line, get a guy with a few games under his belt, and think that's the answer. They've got to come together. We like our young players. We need to develop some of them. How are you going to develop them if you don't play them? And if you don't play them, then how do they know you believe in them?"
"It's a catch 22. We brought in an experienced center who is in the prime of his career. That's the best we could do."
Angelo went on to chide reporters for identifying problems rather than offering solutions.
ESPN.com's free agency tracker
will show you all of the offensive linemen who re-signed with their previous teams and those who were willing to jump. That latter list includes guards
David Baas
(
New York Giants
),
Daryn Colledge
(
Arizona Cardinals
),
Harvey Dahl
(
St. Louis Rams
) and
Robert Gallery
(
Seattle Seahawks
).
But what's done is done. There is no sense harping on the Bears' decision/failure not to add experienced veterans to this group. It's more productive to look ahead at how the Bears will deal with the hand they've dealt themselves. In short, this situation gives offensive line coach Mike Tice the most difficult job of any NFC North assistant for the second consecutive season.
Once again, the Bears will ask Tice to build a line from scratch in the shortest timetable imaginable. Last season, it took nearly half of the regular season before the Bears found a happy medium between their scheme and personnel.
In addition to working Spencer into the mix, Tice will have to bring along rookie
Gabe Carimi
, who has opened camp as the second-team left tackle but almost assuredly will replace
Frank Omiyale
with the first team in short order. Tice will have to coax significant development from left guard
Chris Williams
and right tackle
J'Marcus Webb
, and he'll have to hope that
Roberto Garza
's shift between guard and emergency center doesn't set him back.
I'll agree with Angelo on this much: An aggressive move on free agency doesn't guarantee improvement. As it stands now, two of their five positions -- center and left tackle -- are likely to have been turned over by the start of the regular season. Is that enough? Or have the Bears sentenced themselves to another year of fits and starts on offense?
July, 27, 2011
7/27/11
4:42
PM ET

Like the
Detroit Lions
, the
Chicago Bears
have been quiet from a public perspective during the first two days of free agency. But ESPNChicago.com's Michael C. Wright
offers a sketch
of what the Bears have been up to behind the scenes.
Offensive line remains the Bears' top priority, and here's what Wright had to say:
For example, the Bears have made contact with Steelers tackle Willie Colon about the possibility of making a deal, according to an NFL source. But it's believed that Colon is actually more of a contingency plan for if the Bears are unable to land Saints tackle Jermon Bushrod.

Interestingly, though, the availability of Colon and Bushrod could potentially be determined by what happens in Atlanta with the Falcons trying to sign free-agent tackle Tyson Clabo, and guards Justin Blalock and Harvey Dahl. The Bears expressed interest in Clabo prior to the NFL draft, but obviously drafted Gabe Carimi in the first round.

Still, the team is interested in beefing up the offensive line because of the inexperience of Carimi and second-year man J'Marcus Webb, not to mention concern about the duo not being able to participate in a team-supervised offseason conditioning program. It's also worth keeping in mind that offensive line coach Mike Tice prefers to work with tackle types who can kick inside to guard.
If the Bears sign Bushrod or Colon, does that mean Carimi won't be a Week 1 starter? I don't know if we can answer that yet. Obviously he will start soon enough, presumably at one of the tackle positions.
So the Bears' line remains in flux pending the results of the next few days. The dominoes will really start to fall once center
Olin Kreutz
makes a decision. The Bears are working to re-sign him, but he has attracted attention from elsewhere and it's in no way a certainty that he will return to Chicago.
January, 31, 2011
1/31/11
11:00
AM ET
DALLAS -- As you probably know by now,
chances are slim
that
Pittsburgh Steelers
center
Maurkice Pouncey
(ankle) will play Sunday in Super Bowl XLV. Even if Pouncey pulls off a miracle return, he'll still be playing on a high ankle sprain and a fractured bone in his foot. Whether the Steelers start a highly limited Pouncey or backup
Doug Legursky
, it will be natural to assume a significant advantage will shift to the
Green Bay Packers
.
That might well be the case, and I'm sure the Packers are thrilled by the possibility of nose tackle
B.J. Raji
matching up against Legursky. But Pouncey's likely absence will have a less direct effect on what the numbers tell us is a bigger discrepancy -- one that favors the Steelers' running game.
[+] Enlarge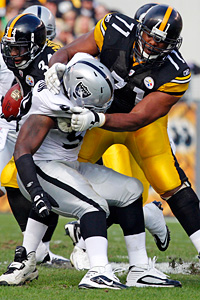 AP Photo/Gene J. PuskarPittsburgh has enjoyed success running behind Flozell Adams.
According to ESPN Stats & Information, the Steelers averaged 5.9 yards per carry during the regular season when they ran behind right tackle
Flozell Adams
, the second-highest total in the NFL. And for reasons that will be hard to pinpoint, the Packers' otherwise strong run defense allowed 5.2 yards per carry in that same direction during the season. That number placed them No. 26 overall among NFL teams in that category.
It's not uncommon for NFL teams to be "right-handed," meaning they run better or more frequently toward the right side. But the rankings of the Steelers and Packers in this particular slice of the game point to an important combination: something the Steelers do particularly well with an area the Packers have lagged on a relative scale. Surely the center has an important role on plays run off right tackle, but it's far enough from the point of attack to provide some protection for a backup who is facing a budding superstar.
The Steelers would have faced difficulty running the ball at Raji even if Pouncey were healthy and available. The Packers allowed only three touchdowns on middle runs this season, and opponents managed a first down on middle runs once every 6.4 plays -- the league's best ratio among defenses in the regular season.
Pouncey's status will be a hot topic this week, as it should, but I'm guessing it will overshadow this matchup on the right side. My
AFC North colleague James Walker
suggests Adams deserves plenty of credit for the Steelers' run success this season, especially after making the switch from left to right tackle following the loss of injured starter
Willie Colon
. But explaining the Packers' relative weakness from a defensive perspective is more difficult.
Technically, the Packers' starting left end (matching up against the opponent's right tackle) is
Ryan Pickett
, a 340-pound run-stopper. And if you go by their depth chart, their left outside linebacker is All-Pro
Clay Matthews
. But
as we've discussed before
, the Packers rarely play in their base 3-4 alignment. They used at least five defensive backs together on 75 percent of their defensive snaps, often cutting back to two defensive linemen. Matthews, meanwhile, lined up at multiple places on the field over the course of the season.
To borrow a phrase, sometimes a coordinator can "rob Peter to pay Paul." In other words, they sacrifice one area to fortify another based on matchups. Sometimes, a statistic can be skewed based on a couple of big plays. So I'm not ready to send out warning signals on the left side of the Packers' rush defense.
But I think we can agree on this much: If you're defensive coordinator Dom Capers and you're trying to anticipate where the Steelers might attack, you bypass all of the talk about Pouncey and presume a steady diet of runs behind Adams. If the regular-season statistics are simply a matter of personnel alignments, the adjustment should be easy.
February, 16, 2009
2/16/09
1:00
PM ET
Posted by ESPN.com's Kevin Seifert
As promised earlier, here is a look at the prominent and available offensive linemen who can play right tackle. Consider it one guide for Chicago's apparent task of replacing veteran John Tait, who reportedly is leaning strongly toward retiring.
I've organized this list in order of the grades our own Scouts Inc. gave each player. Here's the link to Scouts' offensive tackle page. Insider subscribers also can view expert analysis of each player.
Jordan Gross (Carolina)
Vernon Carey (Miami)
Stacy Andrews (Cincinnati)
Jon Runyan (Philadelphia)
Max Starks (Pittsburgh)
Jon Stinchcomb (New Orleans)
Richie Incognito* (St. Louis)
Willie Colon* (Pittsburgh)
Mark Tauscher (Green Bay)
John St. Clair (Chicago)
Trai Essex* (Pittsburgh)
Fred Miller (Chicago)
Erik Pears* (Denver)
George Foster (Detroit)
Ray Willis (Seattle)
Some notes on the list above:
Scouts considers anyone with a grade of 60 or above to be starter-caliber. To be safe, I included players who could fit in at right tackle with a score of 59 or above. If you think I missed someone, let me know.
Players listed with an asterisk (*) are restricted free agents. The rest are unrestricted.
The Panthers are expected to either sign Gross to an extension this week or make him their franchise player later this week.
It's conceivable that Carey could also be franchised.
Runyan has had microfracture surgery on his right knee and will need up to six months to recover. At 35, that's not a good combination.
Andrews had reconstructive knee surgery and might not be ready to start the season.
Tauscher is recovering from surgery to repair a torn anterior cruciate ligament in his left knee.
Incognito has mostly played center and guard in his career but could move outside. It's a long shot.
In general, this list shows why there are a lot of people suggesting the Bears really need to re-sign St. Clair. He's not the highest-rated player on the board, obviously, but he knows the offense and will need minimal adjustment to slide over to the right side.