NFC North:

Winston Justice
May, 8, 2013
5/08/13
7:40
AM ET
We're Black and Blue All Over:
If you wanted to make a documentary on how to destroy a career in less than 12 months, former Detroit Lions receiver Titus Young has provided all of the elements. As first reported Tuesday evening by
Paula Pasche of the Oakland Press
, Young was arrested
twice in a span of 15 hours
last weekend in southern California.
The first was for suspicion of driving under the influence and the second was for burglary because Young had jumped the fence of an impound lot and was attempting to retrieve his car.
I'm not sure the Lions' decision to draft Young in 2011 looks any different this morning than it did last week. They've already released him, eating the $1.8 million signing bonus they paid him as well as the value of the second-round draft choice they used to acquire him. It was already a disastrous decision. This most recent turn of events reinforces the dangerous and sad life spiral Young is still in.
Continuing around the NFC North:
December, 6, 2012
12/06/12
7:15
AM ET
We're Black and Blue All Over:
Well then. Wednesday evening got interesting pretty quickly. We weren't expecting Minnesota Vikings receiver Percy Harvin to be ready for Sunday's game against the Chicago Bears, but no one thought
he was headed for injured reserve
because of a sprained ankle, either.

Judd Zulgad of 1500ESPN.com
is among those who think there was more than a sprained ankle going on behind the scenes here. Zulgad termed the episode "another reminder of why the Vikings might be willing to sever ties with Harvin if he doesn't accept a contract on their terms."
Yes, Harvin has one year remaining on his contract and almost certainly is seeking an extension. The Vikings' hesitation could be simple business, but it could also reflect their concerns about his mercurial and eccentric personality.
Ultimately, Harvin proved himself a highly valuable asset this season on the field. You would think his performance would trump all. We'll see if the Vikings offer any context Thursday.
Continuing around the NFC North:
December, 3, 2012
12/03/12
9:05
AM ET
We're Black and Blue All Over:
GREEN BAY, Wis. -- It's amazing how much happened Sunday between about 3:45 p.m. ET and 4:30 p.m. ET.
In that window, the Green Bay Packers cemented a 23-14 victory over the Minnesota Vikings, their sixth victory in seven games. The Chicago Bears lost a fourth-quarter lead, made a dramatic dash to tie the Seattle Seahawks just before the end of regulation and then lost on the opening drive in overtime. A few minutes later, the Detroit Lions lost on the final play of regulation to the Indianapolis Colts.
So as our
ESPN.com playoff standings reflect
, the Packers' 8-4 record puts them atop the NFC North. If the postseason began today, they would be the NFC's third seed while the Bears would be the first wild card and the No. 5 seed overall. The Vikings' 6-6 record in essence puts them two games behind in the wild-card race because they lost earlier this season to the Seahawks (7-5).
No NFC North team can clinch a playoff berth in Week 14. If you want to project beyond that point, feel free to use
the ESPN.com Playoff Machine
.
Let's take our morning tour before I begin the trek back to NFC North headquarters:
January, 21, 2011
1/21/11
12:30
PM ET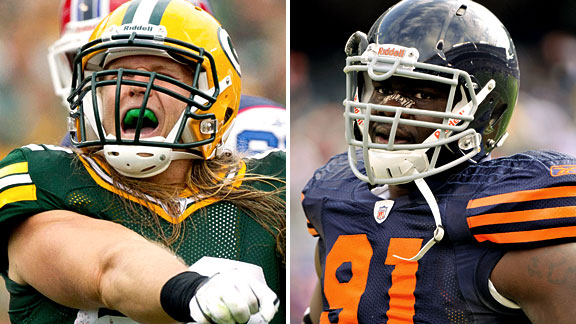 US PresswireClay Matthews, left, and Tommie Harris will play important roles in Sunday's playoff matchup.
As we approach the NFC Championship Game -- anyone else feel like we're on sundial time? -- I'm dealing with a smash-up of post ideas. So let's combine a few angles into a look at four players who can be tied together in a unique way.
Listed below are four big-time performers who, for various reasons, have been overlooked in the hype of Sunday's matchup between the
Green Bay Packers
and
Chicago Bears
.
Player:
Bears defensive tackle
Tommie Harris
2010 season highlight:
Three sacks in the Bears' past two games, including two in last Sunday's divisional playoff victory against the
Seattle Seahawks
Important because:
A havoc-wreaking "three-technique" defensive tackle is a boon to any defense, especially one that uses a four-man rush as much as the Bears (nearly 75 percent of the regular season). Whoever plays that position for the Bears has a tremendous opportunity, given the attention most opponents pay to defensive end
Julius Peppers
.
Overlooked because:
A three-time Pro Bowler, Harris lost his starting job this season because of low productivity. According to
Michael C. Wright of ESPNChicago.com
, Harris urged coaches to reinstall him as a starter last month. He already has more sacks in the playoffs (two) than he had during the entire regular season (1.5).
Quotable:
"It's great. When Tommie is Tommie, he's good. He's really good. He played great last week. I think the last couple of games coming into the playoffs he was playing well, too. If we can get him playing to his level, he's like [Peppers]. You have to double team him or he's going to get a sack on you. It's good to have him back." -- Bears linebacker
Brian Urlacher
[+] Enlarge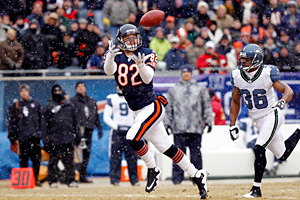 Mike DiNovo/US PRESSWIREBears tight end Greg Olsen caught this 58-yard TD pass in the first quarter of Chicago's divisional playoff game against Seattle last Sunday.
Player:
Bears tight end
Greg Olsen
2010 season highlight:
A 113-yard performance in last Sunday's victory against the Seahawks, including a career-long 58-yard touchdown reception.
Important because:
The Packers' injuries at linebacker and safety this season have at times left them vulnerable against tight ends, as
Football Outsiders noted last week
. (We should point out that
Atlanta Falcons
tight end
Tony Gonzalez
managed only one catch last Saturday, however.) In two regular-season games against the Packers, Olsen caught 10 passes, including one for a touchdown.
Overlooked because:
As a tight end in Mike Martz's offense, Olsen has had to wait his turn and block more than at any point in his career. He caught 41 passes, a record for a Martz tight end, but still the fewest in a season since his rookie year.
Quotable:
"It's a game of momentum. You get that confidence and that going forward definitely comes week to week. I don't expect the game plan, just like it wasn't really different for the most part last week. Each week, guys have different opportunities to make plays. Each week we don't go in saying, 'Hey, we're going to try to focus on getting the ball to him or whoever.' Last week it happened to be me that got some chances to make some big plays. I would welcome those chances again, but you never know who it's going to be." -- Olsen
Player:
Packers linebacker
Clay Matthews
2010 season highlight:
Three sacks in each of the Packers' first two games this season. Finished the year with 13.5, fourth in the NFL.
Important because:
It goes without saying that an outside pass rusher is one of the most valued commodities in the NFL. Bears quarterback
Jay Cutler
will know where Matthews is on every play. Although he slowed down during the middle of the season, Matthews has four sacks in the Packers' past three games. He overwhelmed
Philadelphia Eagles
right tackle
Winston Justice
in the wild-card round, forcing Eagles coaches to bench him in the fourth quarter.

Overlooked because:
Matthews had six sacks in the first two weeks of the season and then 6.5 over the following 14. A shin injury limited his practice time and effectiveness, taking a bit of the public focus off what was still an All-Pro season.
Quotable:
"Just had a tremendous start. He was pushing through the leg injury, and he missed a bunch of practice time there in the middle of the season, and of late has been able to get the practice reps that he needs and has really picked his game back up here down the stretch." -- Packers coach Mike McCarthy
[+] Enlarge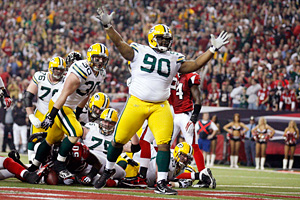 Josh D. Weiss/US PRESSWIREB.J. Raji has quietly been a force in the middle of Green Bay's defensive line this season.
Player:
Packers nose tackle
B.J. Raji
2010 season highlight:
From an entertainment standpoint, Raji's most memorable play might have been his debut as a goal-line fullback last week against the Falcons. But his best game was probably a two-sack performance against the
New England Patriots
in Week 15.
Important because:
As with Harris, Raji stands to benefit from attention paid to the defense's premier pass rusher, in this case Matthews. Raji has been a durable and active pass rusher, and his 340-pound frame makes it tough to move him out of running lanes. He is a rare three-down player on a defense filled with personnel specialists.
Overlooked because:
Nose tackles in a 3-4 scheme don't get many opportunities and therefore little attention. But the reality is the Packers ran their nickel defense nearly 75 percent of the time this season, moving Raji to his more natural position over the guard. He won't be a national secret much longer.
Quotable:
"He's been tremendous. Obviously he's really continued to progress his game this year, taking it to what I believe is a Pro Bowl level, how he performs on the field. He is making plays in the backfield, not only in the pass game but is being disruptive in the run game as well. He's only helping guys like myself out tremendously in the fact that all 3-4's start with a big guy in the middle who can eat up double-teams and get pressure and collapse the pocket. That's what he's been doing as of late, and I look for him to continue his progression as well with him and myself only being second-year players." -- Matthews
January, 10, 2011
1/10/11
1:30
PM ET
After the Green Bay Packers' 21-16 victory against the Philadelphia Eagles, here are three issues that merit further examination:
Kevin SeifertFollowing their playoff win against the Eagles, the Packers take their turn in the examination room.

So you're worried about quarterback Aaron Rodgers in the playoffs? Here's what he has done in the first two postseason starts of his career: 613 yards, seven touchdown passes, one interception and a completion percentage of 66.7. That translates into a 122.4 passer rating. According to the Elias Sports Bureau, Rodgers is the first quarterback in NFL history to throw at least seven touchdown passes over his first two playoff starts or have a 120-plus passer rating in each game. Those numbers speak for themselves, and Rodgers' response to the now-irrelevant issue of his playoff performance was respectful. "In all my time being a football fan, I've never seen one player win a game all by himself," he said. "It's a good team win for us."

I'm glad the Packers didn't pretend to portray running back James Starks' 123-yard game as a product of active game-planning. "He established a hot hand early and I rode it," coach Mike McCarthy said. "James did a good job of hitting the holes and running after the first hit." Earlier Monday, we noted Starks' success in the Packers' three-back set. But it's also worth reiterating McCarthy's point: Starks was running hard. He looked like a player with fresh legs who understood not only the difference between the college and the pro game, but also the distinction between the regular season and the postseason. "He really has learned the last month or so how to be a professional," Rodgers said.

You probably noticed that linebacker Clay Matthews was in coverage a decent amount Sunday as coordinator Dom Capers did his best to mix his scheme from play to play. But when Matthews was part of the Packers' five-man blitz, he wreaked complete havoc. According to ESPN Stats and Information, Matthews rushed the passer as part of a blitz on nine Eagles dropbacks Sunday. Quarterback Michael Vick completed only one of the five passes he got off in that situation and was sacked twice, once by Matthews. It got to the point where the Eagles were forced to bench right tackle Winston Justice to shield him from further embarrassment. "It's nice to know that you wore someone down and they couldn't finish the game," Matthews said. "I'm not going to sit here and say why, but it's nice to know that you're creating fits for the opposing teams."
And here is one issue I don't get:
McCarthy said that receiver James Jones "has a thumb he's dealing with" when asked about Jones' drop of what would have been a touchdown pass just before halftime. McCarthy added: "He'll fight through it. He's a warrior. He takes great care of his body, but he'll be the first to tell you that he needs to make that catch." I'm not sure if McCarthy was covering for Jones of if the injury is hampering Jones' ability to catch the ball. But the injury isn't serious enough to have limited his practice time, so he wasn't on the injury report last week. And it wasn't the first drop of Jones' career by any stretch.
January, 9, 2011
1/09/11
11:31
PM ET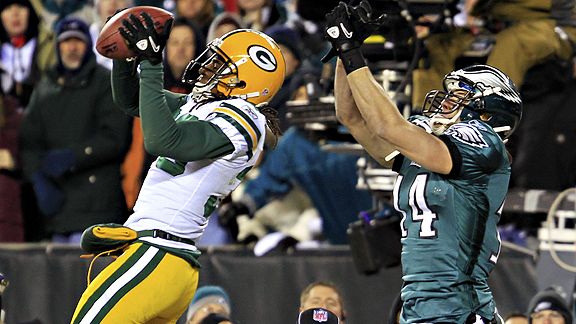 Chris Trotman/Getty ImagesPackers cornerback Tramon Williams' interception sealed Green Bay's 21-16 win over the Eagles.
PHILADELPHIA -- Forty-four seconds remained Sunday at Lincoln Financial Field. The
Philadelphia Eagles
were out of timeouts but only 27 yards away from a potential winning touchdown. Big-play receivers
DeSean Jackson
,
Jason Avant
and
Jeremy Maclin
were spread out, from right to left, across the formation.
Green Bay Packers
cornerback
Tramon Williams
, however, found himself lined up against reserve receiver
Riley Cooper
, a 6-foot-3 backup who caught only seven passes during the regular season and had been targeted on only two end zone throws. At the snap, Cooper began running a half-speed go-route that looked for all the world like a backside decoy. Surely, the Eagles wouldn't look his way and ignore their big-play trio.
Williams wasn't buying it, and the reason helps explain why the Packers were in position to take
a 21-16 wild-card playoff victory
.
"We watched these guys on film and they do a lot of that," fellow cornerback
Charles Woodson
said. "You have to pay attention to them. A lot of their deep routes, they kind of come off lackadaisical and then they take over. ... Maybe he tried to put Tramon to sleep. But obviously Tramon woke up pretty early this morning."
Indeed, Vick took a chance that Cooper could outjump Williams for the ball. But Williams calmly turned around, established position and intercepted the ball to clinch the game. That play is the best way I can illustrate why the Packers advanced to Saturday's divisional playoff round against the
Atlanta Falcons
. Unlike their 2009 postseason flameout, the Packers have both the skill and the scheme to play elite-caliber defense in the playoffs.
Their cornerback depth dropped off significantly beyond Woodson last season, and it showed in a 51-45 wild-card loss to the
Arizona Cardinals
. Sunday, however, Williams was the best pure cover man on the field. And the Packers' film study last week had prepared him for the exact situation he faced in the most crucial situation of the game.
"We know what kind of team we are," Williams said. "That's the frustrating part when you go out and put a performance up like the Arizona game last year. We came back this year and learned from it. We were put in a position to win the game by making a play defensively, and we won it."
A week ago, we
put some pressure on the Packers' offense
to step up after it managed 10 points in a playoff-clinching victory over the
Chicago Bears
. Against the Eagles, tailback
James Starks
broke through for 123 rushing yards and quarterback
Aaron Rodgers
threw three touchdown passes. It might not have been the kind of explosive performance that fantasy players have come to hope for from the Packers' offense, but it was more than enough for a Packers defense that has been remarkably stout all season.
The Packers, in fact, have scored at least 21 points in 10 games since the start of the regular season. They've won nine of them, thanks to a defense that has come of age.
[+] Enlarge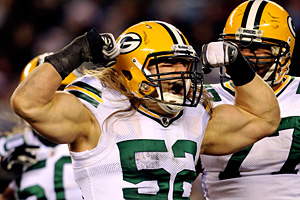 Al Bello/Getty ImagesIn 2009, New England traded the pick that became Clay Matthews and ended up with Darius Butler instead.
"We've had some ups and downs on this roller coaster of a year," said linebacker
Clay Matthews
. "But hopefully we're peaking at the right time. ... You can say we're dangerous, but we're just playing at the level that we know how. It shouldn't surprise anybody the way we played."
Yes, Williams' interception was but the pinnacle in an all-day harassment of the Eagles' offense. It began on the first play from scrimmage, when linebacker
Desmond Bishop
broke free on a blitz and sacked Vick for a 9-yard loss. It continued with Matthews' embarrassment of right tackle
Winston Justice
, a one-sided slaughter so severe the Eagles finally benched him in the fourth quarter.
Vick threw for 292 yards and rushed for 33 more, but the bottom line for any defense is points. The Eagles' point total was 40 percent below their season average of 27.4, and it's worth noting that one of their two touchdowns came after they recovered a Rodgers fumble at the Packers' 24-yard line in the third quarter.
"We knew coming in that we wouldn't stop Vick," defensive lineman
Ryan Pickett
said. "We just wanted to contain him. We always said, 'Make him earn every yard.' That was our thing coming into the game. I think that's what we did. ... He was pretty beat up by the end of the game. We got some licks on him. Vick is a tough guy. We got to him a lot. Our coaches did a lot to mix him up and confuse him."
And so it's instructive to look at how Packers defensive coordinator Dom Capers approached Vick.
From the outside, it appeared the Packers' overriding goal was to give Vick as many different looks as they could.
"You've got to use all of your calls in a game like this," Woodson said.
According to ESPN Stats & Information, the Packers used at least five defensive backs on 57 of the Eagles' plays. (The other three came in short-yardage packages.) That personnel usage was almost identical to the teams' Week 1 meeting, a 27-20 Packers victory in which they used at least five defensive backs on every defensive snap, but they blitzed considerably more Sunday.
Within that nickel scheme Sunday, Capers offered every combination imaginable. He sent at least five pass-rushers on 41.9 percent of Vick's dropbacks. On eight plays, Capers rushed three or less men. Vick completed six of eight passes against that look, but I would argue the variety paid dividends in the long run.
"You can't bring pressure every time," Matthews said. "He's going to pick you apart. You can't drop into coverage every play. He's going to do the same thing. So what we had was a good balance of both."
I'm not letting the Packers' offense off the hook here. It'll need to do its part. But what the Packers demonstrated Sunday was simple. They are playing a brand of defense that can lead the way in a playoff game and -- provided adequate support -- win every time.
That's a combination that could take a team places. Next stop for the Packers: the Georgia Dome.
April, 5, 2010
4/05/10
8:46
AM ET
We've spent some time discussing where Chicago will position new defensive end Julius Peppers. Coach Lovie Smith said last month he envisioned Peppers rotating between both sides of the line. The release of veteran right end Alex Brown suggested Peppers might ultimately spend most of his time there.

Dan Pompei of the Chicago Tribune
, however, suggests the best option is on the left side:
Bears coach Lovie Smith has talked about moving Peppers around, and that's a fine idea. But the truth is the bulk of his snaps and starts are going to come at one position, and that should be left end. Putting Peppers on the left side would be going against the trend, and that would benefit the Bears. For a while, teams were putting their best rushers on the left side, but all the NFL's best are right ends now. Thus every pass protection scheme in the league is set up to contain the right end against a 4-3 defense. Looking at the Bears' upcoming opponents, it's clear Peppers would have more advantages as a left end.
It's not a bad idea. As Pompei notes, would you rather have Peppers playing against, say, Philadelphia's Pro Bowl left tackle (Jason Peters) or against its right tackle, Winston Justice? It's a point worth noting.
Continuing around the NFC North:
January, 13, 2010
1/13/10
1:00
PM ET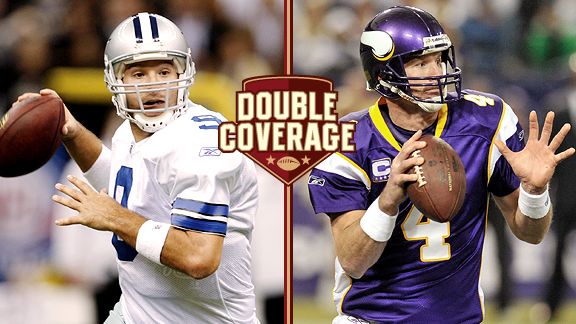 Icon SMIThe Vikings-Cowboys playoff matchup on Sunday will feature high-powered passing attacks led by Tony Romo and Brett Favre.
Here on the ESPN Blog Network, we're bracing ourselves for quite possibly the biggest divisional playoff game in the history of the 2010 postseason. Come Sunday afternoon at the Metrodome, Dallas and Minnesota will reprise a storied postseason rivalry -- sans (hopefully) whiskey bottles, push-offs and Hail Marys. (Well, at least the
push-offs
.)
ESPN.com's Matt Mosley and Kevin Seifert have spent most of the week buried in the film room -- er, basement -- refining the blogging plan for the rest of the week. As now they're ready to start breaking down this most critical game.
Kevin Seifert:
Greetings from the North Pole, Matt. Actually, you're going to get lucky this weekend. We're expecting unseasonably warm temperatures here this weekend, with highs in the 30s. Normally we call that "May" in Minnesota. Usually at this time of year, you can get frostbite on half your hand while walking from the parking lot to the media entrance at the Dome.
Matt Mosley:
I will look for any excuse to visit Minneapolis in mid-January and this game is as good as anything else I might come up with.
Sid Hartman
and I have been waiting on this postseason matchup for years. Jerry Jones tried to capture the "charm" of the Metrodome in his new Cowboys Stadium, but I'm not sure things worked out. And by the way, Drew Pearson told me to pass along his best wishes to Vikings fans.
KS:
OK, Matt. Let's get down to it. Everyone in the world thinks the Cowboys are going to win this game. Even
ESPN's Trent Dilfer
is convinced of it. You've been close to the Cowboys this season. Are they as hot as everyone says they are?
MM:
Kevin, in my eight years of covering the team, I've never been around a more confident bunch of players. I think they're the hottest team in the NFC right now because of something that took place last month in New Orleans. The players got sick and tired of all the talk of their December failures and went out and overwhelmed a Saints team in the Superdome. That game did wonders for the Cowboys' confidence. No quarterback in the playoffs has performed as well as
Tony Romo
over the past six games and he benefits from having a dominant defense. So yes, I think the Cowboys are as hot as everyone at the Mall of America is indicating.
KS:
Actually, Matt, you need to be more specific. We now have
Mall of America Field
here in addition to the
Mall of America
. At Mall of America
Field,
the conversation is revolving around two things: Are the Vikings willing to accept that they are a pass-first offense? And can their tackles,
Bryant McKinnie
and
Phil Loadholt
, keep
DeMarcus Ware
and
Anthony Spencer
at bay long enough for
Brett Favre
to get the ball downfield?
If they come out of the gates aggressively and use their full array of offensive weapons, I think they can put up some serious points against the Cowboys' defense. The Vikings are one of two teams in NFL history to have six players catch at least 40 passes. That's too many receivers for any defense to keep track of if the pass protection is there.
What's your take, Matt? Do you think Ware & Co. can be slowed down?
MM:
I agree with the aforementioned Dilfer that Loadholt and McKinnie are outmatched by the Cowboys' outside linebackers. Since the last time you saw this team, Spencer has become a force. Cowboys defensive coordinator/head coach Wade Phillips even lines them up next to each other at times.
Donovan McNabb
didn't have a chance against the Cowboys' pass rush and you can argue that
Jason Peters
and
Winston Justice
are superior offensive tackles to what the Vikings have to offer. The Cowboys' plan is to make sure Favre has to test those 40-year-old legs. The last time he saw this defense, he completed 5 of 14 passes and was intercepted twice before being knocked out of the game at Texas Stadium. He was of course with a 10-1 Packers team at the time in '07.
Keith Brooking
told me Tuesday that the Eagles and Vikings have similar offenses, but he alluded to the fact that Brad Childress is much more likely to use the running game than his mentor, Andy Reid. Of course, that's a lot easier to do when you have the pride of Palestine, Texas,
Adrian Peterson
, in your backfield. It's been quite a while since a team has put up points on this defense -- and that includes a Chargers team that was held to a season-low in points. I don't think we'll have a shootout on our hands, but Sid might have other ideas.
[+] Enlarge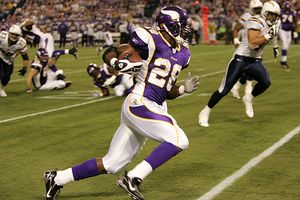 K.C. Alfred/Union-Tribune/Getty ImagesHow will Adrian Peterson figure into the Vikings' game plan against Dallas' tough run defense?
KS:
I'll check with Sid when I see him. In the meantime, Matt, we have two elephants crowding the room for this game: The head coaches. In Minnesota, there is an unspoken fear that Brad Childress will get in the way and try to force his power running game on the Cowboys. Prior to Favre's arrival, and at times this year, that has been Childress' preference. Childress also made a couple of questionable game-management decisions in last year's playoff loss to Philadelphia.
On the other side, however, is Phillips. Do Minnesota fans have anything to fear in this matchup?
MM:
Calling Phillips an elephant is a low blow, Kevin. The man might fill out a pair of Russell coaching shorts, but he deserves better from you. And yes, there's reason for Vikings fans to fear The Wade. No matter what you say about his head-coaching credentials, he's always been an excellent defensive coordinator. He puts players in position to succeed and he does a superb job of exploiting weaknesses. From reading your fine work on a regular basis, I'm aware that Vikings center
John Sullivan
isn't a large man. He'll be facing one of the best nose tackles in the game in
Jay Ratliff
. From time to time, the behemoth-type centers give Ratliff a little trouble. But he's been known to destroy the guys who are close to his size. Everyone's focused on the offensive tackles, but I could see the "Ratt" having a big game in the middle. It all starts with him in this defense.
KS
: Interesting. OK, Matt. This was great but is only a step in our coverage plan for this week. Keep checking back on the NFC East and NFC North blogs through Sunday.
MM:
Just to be honest, my coverage plan for Saturday is a little weak because of travel. But I've thoroughly enjoyed this tremendous show of synergy within the NFL Blog Network. Kevin, I arrive at 8:10 local time on American, so please pass that along to my driver. Peace and courage from the Beast.