September, 25, 2013
Sep 25
1:30
PM ET
GREEN BAY, Wis. -- Remember when one of the biggest concerns about the
Green Bay Packers
was their field goal kicker?
Less than a month ago, questions remained about whether
Mason Crosby
would be back for a seventh season in Green Bay.
Crosby not only emerged from an intense training-camp competition with Giorgio Tavecchio (and Zach Ramirez for three days), but he may have come out of it a better kicker.
Crosby has made all four of his field goals this season, including a 3-for-3 performance in Sunday's 34-30 loss at Cincinnati.
Not convinced that's a large enough sample size to have faith in Crosby?
Dating back to last season and including this preseason, Crosby has made his last 16 field goals. He finished the 2012 regular season by making four in a row and went 2-for-2 in the playoffs. In preseason games this summer, he made all six of his attempts.
"Mason's hitting the ball very well," Packers special teams coach Shawn Slocum said this week during the team's bye. "I think he's got great rhythm. I thought his three field goals [on Sunday] were done the right way. He looked good."
To be sure, it's hard to forget Crosby's meltdown during the Packers' scrimmage on Aug. 3, when he missed five of his eight field goals, and he hasn't been tested from long distance yet this season. His longest field goal was a 41-yarder against the Bengals. His other kicks so far were from 19, 26 and 28 yards.
Still, there's reason to believe Crosby has put last season, when he ranked last among NFL kickers with a 63.6 percent conversion rate, behind him.
How did he do it?
"Hard work and professionalism, and I think a strong will," Slocum said. "That says a lot about the guy."
Crosby
restructured his contract
last month, taking a $1.6 million pay cut, but the deal will allow him to earn back all of that money through incentives. At this point, he's on pace to do just that.
August, 27, 2013
Aug 27
7:04
PM ET
GREEN BAY, Wis. -- Perhaps the best thing that could happen now for
Mason Crosby
is that there are no field goals to even attempt in Thursday's preseason finale at Kansas City.
Things can't get any better for the seventh-year kicker, who is trying to win back his job.
When he woke up on Monday morning, he was one of three kickers on the Green Bay Packers' roster. By the end of Tuesday, he was the only one.
In successive days,
the Packers cut
kickers
Giorgio Tavecchio
and
Zach Ramirez
.
[+] Enlarge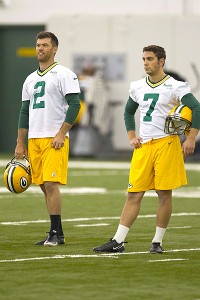 AP Photo/Mike RoemerMason Crosby (2) beat out Giorgio Tavecchio (7) and Zach Ramirez, not pictured, for the Packers kicking job, but may still have work to do.
On Tuesday, Crosby drilled all 14 of his field goals, half of which were into a strong wind.
Meanwhile, Ramirez, who was signed on Sunday, failed to back up his
10-for-11 performance
from practice two days earlier.
Ramirez made only 6-of-16 field goals. He got two more attempts thanks Crosby in the second of the two kicking periods because special teams coach Shawn Slocum wanted him to finish on a make. But he couldn't do it, missing three straight to finish the period.
While coach Mike McCarthy refused to declare the kicking competition over shortly after practice, less than three hours later Ramirez was released.
It's always possible the Packers will watch the waiver wire and add another kicker before the regular-season opener at San Francisco on Sept. 8. But as long as Crosby doesn't stumble against the Chiefs, he may have won his job back.
Since Ramirez's arrival, Crosby has missed just one of 25 field goals.
On Tuesday, Crosby made kicks of 33, 37, 40, 42, 45, 48 and 58 yards into the wind and 35, 40, 44, 47, 51, 54 and 64 yards going downwind. He improved his camp-long mark to 67-of-81, not including 4-of-4 in preseason game action.
"I thought Mason hit the ball very well this week," McCarthy said. "As you look forward, that's what he's done in the early part of his career. I've been very impressed with Mason in his last two kicking opportunities, lining up with a three-way competition on Sunday and then today. So, he's had a very good week."
In one practice, Ramirez missed more kicks than Tavecchio did the entire training camp before he was released on Monday. Tavecchio was 56-of-64 in practice/scrimmage situations and 1-of-2 in preseason games, and the Packers
left open the possibility of bringing him back
.
Kicking from the same distances as Crosby but with two extra attempts from 58 yards at the end of practice, Ramirez only put the ball through the uprights from 33, 37, 40 and 45 yards into the wind and from 40 and 51 yards downwind.
"He's only been here three days," McCarthy said. "He really didn't have the rhythm and cadence and the snap down. I think it affected him on the first set of kicks, and it carried over the to the second."
In other developments on Tuesday:
Quarterback Aaron Rodgers took all of his snaps with the scout team for the third straight game, which is an indication he may not play in the preseason finale. "There's a couple of conversations we need to have before we determine the play time for all those guys," McCarthy said.

Rookie receiver Tyrone Walker closed out training camp by making another impressive catch. On second-and-10 from the defense's 25-yard line, Walker ran a fade route against cornerback Loyce Means and made an over-the-shoulder catch against tight coverage before he went out of bounds at the 3-yard line.

Not only did quarterback B.J. Coleman put the ball right on the money to Walker but on the next play, he completed the drive with a 3-yard touchdown pass to tight end Brandon Bostick.

Despite practicing in pads, there were no one-on-one pass rushing/passing blocking drills for the seventh straight practice. The last time they conducted the highly-competitive drill was on Aug. 14, meaning there was no change to the one-on-one statistics since the last time they were updated. Said defensive coordinator Dom Capers: "This has been a short week, so we've tried to eliminate a few of those things this week."

Following practice, most players walked along the fence in front of the stands on the East side of Ray Nitschke Field and thanked the fans by giving them high fives.
Medical report:
Linebacker
Dezman Moses
returned to practice after dropping out a day earlier because of a toe injury.
That was the only change.
Those who did not practice were WR
Kevin Dorsey
(toe), CB
Jarrett Bush
(ankle), CB
James Nixon
(ankle, knee), S
Sean Richardson
(neck), CB
Casey Hayward
(hamstring), S
Morgan Burnett
(hamstring), LB
Jarvis Reed
(ankle), LB
Brad Jones
(hamstring), OL
J.C. Tretter
(ankle), T
Bryan Bulaga
(knee), T
Derek Sherrod
(leg) and DE
Jerel Worthy
(knee).
What's next
: Wednesday is a travel day in advance of Thursday's preseason finale at Kansas City.
August, 27, 2013
Aug 27
6:15
PM ET
GREEN BAY, Wis. -- Less than three hours after his woeful performance in practice, kicker
Zach Ramirez
was released by the
Green Bay Packers
.

Ramirez, who missed 10-of-16 kicks during Tuesday's practice, was the only cut among the Packers' nine roster moves that got them down to 75 players. Their remaining moves were injury related.
Just two days earlier, the Packers had three kickers on their roster. But after releasing
Giorgio Tavecchio
on Monday and Ramirez on Tuesday, they had only veteran
Mason Crosby
.
I'll have more on whether Crosby nailed down the job or not in my practice report, which will be posted shortly.
To get down to the NFL-mandated 75 players by 4 p.m., the Packers placed four players on season-ending injured reserve: tackle
Bryan Bulaga
(knee), receiver
Kevin Dorsey
(toe), running back
DuJuan Harris
(knee) and linebacker
Jarvis Reed
(ankle). And they moved four players to reserve/physically unable to perform: safety
Sean Richardson
(neck), tackle
Derek Sherrod
(leg), tackle
JC Tretter
(ankle) and defensive end
Jerel Worthy
(knee).
Players on PUP can begin practicing after Week 6 of the regular season and then have a five-week window during which they can return to practice. Once they begin practicing, teams have three weeks to decide whether to activate them. ESPN's Mike Sando has
the full explanation of the PUP rules
.
UPDATE:
Per the NFL's official transaction wire, both Dorsey and Reed were waived/injured. That means the team will eventually work out injury settlements with both players, which would pay them for a portion of the regular season that they would have missed due to their injuries. While it's possible the Packers could re-sign them, injury settlements often mean the end of a player's career with that team.
August, 26, 2013
Aug 26
5:14
PM ET
GREEN BAY, Wis. -- As entertaining as it was to see
three kickers go head-to-head-to-head
in practice on Sunday, there's a reason teams don't usually bring more than two of them to training camp.
There just aren't enough reps to go around, which would explain why the
Green Bay Packers
released
Giorgio Tavecchio
on Monday -- one day after they added
Zach Ramirez
to the kicking competition.
The Packers signed Tavecchio on March 26 to compete with veteran
Mason Crosby
, who was coming off his worst season. Crosby made an NFL-low 63.6 percent of his kicks last season.
But before you write of Tavecchio, who actually outkicked Crosby in practice this summer, he might not have been on a one-way ticket out of town.
"The kicking competition is not over," Packers coach Mike McCarthy said Monday. "We feel like we have a very good handle on where Giorgio is as far as his capabilities, his performance. There is a case, a scenario where we may bring him back."
It seems a little far-fetched, but here's one scenario that could play out: Suppose Ramirez doesn't kick well enough this week, and the Packers decided to stick with Crosby. Then, Crosby struggles like he did last season, and the Packers decide they can't live with him anymore. They could then reconsider Tavecchio.
Tavecchio made 56-of-64 field goals (87.5 percent) in practices/scrimmages and 1-of-2 in preseason game action, while Crosby converted 53-of-67 (79.1 percent) in practices/scrimmages and all four of his preseason game kicks.
What separated Crosby -- and for that matter Ramirez -- from Tavecchio is leg strength. Shortly after he arrived on Monday, Ramirez matched Crosby in both accuracy -- both made 10-of-11 in a field goal period -- and distance. Both made from 60 and 63 yards, the two longest attempts of the drill. Tavecchio couldn't make the 63 yarder.
For now, the Packers want to see as much of Ramirez as possible. Special teams coach Shawn Slocum has another extended kicking period scheduled for Tuesday's practice and then would like to see how Ramirez, a rookie from Portland State whose only previous NFL experience was on a tryout basis in the
Seattle Seahawks
rookie minicamp this past spring, reacts in Thursday's preseason finale at Kansas City.
When asked why they signed Ramirez so late in training camp, Slocum said: "We were not satisfied that we had someone win the job yet."
August, 25, 2013
Aug 25
6:15
PM ET
GREEN BAY, Wis. -- Now we know exactly when the
Green Bay Packers
decided they needed another kicker in training camp.
Zach Ramirez, the free-agent kicker the Packers signed on Sunday, said he received a phone call from the Packers last Thursday morning.
"They woke me up and told me, 'Would you like to come kick for the Packers?'" Ramirez said. "And I said I would love to."
That means it was likely the woeful performance by incumbent
Mason Crosby
late in Wednesday's practice, when
he missed three straight field goals
, which led the Packers to finally start looking at other options.
Ramirez, who kicked at Portland State University and went to the
Seattle Seahawks
' rookie minicamp this past spring on a tryout basis, said he flew to Green Bay on Saturday and was one of two kickers to work out for the team on Sunday morning. He outkicked another street free agent, Delbert Alvarado, and
was signed to the roster shortly before practice.
Perhaps the most unusual part of the situation is that the Packers now have three kickers on their roster. Not only did they keep Crosby, who steadied himself by making his only kick (a 38-yard field goal) in Friday's preseason game against Seattle, but they still have first-year kicker
Giorgio Tavecchio
in camp.
And all three went through an extended kicking period during Sunday's practice, and it was quite the unusual sight seeing three kickers attempt field goals from the same distances, which in order were: 35, 41, 45, 48, 50, 34, 39, 47, 53, 60 and 63 yards. Every attempt during the 33-kick period was with a strong helping wind.
The results looked like this:
Crosby, 10-of-11 (lone miss was wide left from 53 yards).
Tavecchio, 9-of-11 (missed wide right from 45 yards and wide left from 63).
Ramirez, 10-of-11 (lone miss was wide right from 45 yards).
As far as leg strength goes, the 23-year-old Ramirez had no trouble matching Crosby, who is considered one of the strongest kickers in the league. Both had plenty of distance from 63 yards.
"Most recently, I've hit a 72 yarder, but it was off a regular tee, no holder, no snapper," Ramirez said.
In fact, Ramirez made
a video that is posted on YouTube
, in which he shows off his distance.
Ramirez made 28-of-34 field goals during his junior and senior seasons at Portland State but missed part of his senior season (2012) because of a knee injury.
With only one week remaining in the preseason, it's worth wondering if Ramirez has enough time to impress the Packers. Coach Mike McCarthy wouldn't say whether the Packers would take all three kickers into Thursday's preseason game at Kansas City. They still have to make 10 more roster moves to get down to the mandated 75 by Tuesday.
"This is a different situation," said Crosby, the seventh-year veteran who is in a kicking competition for the first time since 2007. "I never question what the thoughts are upstairs. For me, it's just focus on what needs to be done. I want to make this team, and I've got to keep kicking like I did today. For me, that's all I can think about. But yeah, it's definitely a different situation as far as bringing him in right at the end, but we'll see what happens."
August, 25, 2013
Aug 25
1:20
PM ET
GREEN BAY, Wis. – Remember when
we told you last week
that
Green Bay Packers
general manager Ted Thompson was noncommittal when asked if he was sure he had his opening-day kicker on his roster?
Now we know why.
In a twist to the kicking competition between incumbent
Mason Crosby
and challenger
Giorgio Tavecchio
, the Packers on Sunday signed rookie kicker Zach Ramirez of Portland State. He was with the
Seattle Seahawks
briefly this spring as a tryout player in their rookie minicamp.
What's perhaps most surprising about the move is that neither Crosby nor Tavecchio was released, meaning the Packers have as many kickers on their roster as they do quarterbacks.
Also on Sunday, they made the release of quarterback
Graham Harrell
official. They also released receiver
Alex Gillett
, receiver
Omarius Hines
, running back
Angelo Pease
, defensive tackle
Gilbert Pena
and receiver
Justin Wilson
.
We'll have more about Ramirez and the entire kicking situation after this afternoon's practice.