March, 12, 2014
Mar 12
4:45
PM ET
METAIRIE, La. --
Jairus Byrd
said it was the "winning culture" that drew him to the
New Orleans Saints
in free agency.
Byrd obviously had a number of interested suitors once he hit the open market. But he scheduled his first visit to New Orleans and was barely off the plane before he agreed to a six-year contract. Obviously it didn't hurt that the Saints offered a whopping $54 million, with $28 million guaranteed, according to ESPN NFL Insider Adam Schefter.
Byrd
"The winning culture. What coach [Sean] Payton has done and what
Drew Brees
has done here," Byrd said when asked why he chose the Saints during a conference call with the New Orleans media on Wednesday.
Byrd said he likes the "yin and yang" relationship he sees between the Saints' dynamic offense and up-and-coming defense.
"Anytime you have that explosive offense, it always helps," Byrd said. "If you're a guy on defense and you know a team is able to get leads on people, jump out to early leads, that bodes well for guys like me who want to get turnovers and create turnovers because it makes another team one dimensional. That's a really big factor and what allowed me to weigh all my options and think about what the best situation was for myself."
The idea of forcing turnovers must be music to the Saints' ears. As good as their defense was last year (fourth in the NFL in yards allowed, second in pass defense), they struggled to force turnovers during the second half of the season. They finished fourth from the bottom in the league standings with just 19 takeaways.
Byrd, meanwhile, has snagged 22 interceptions and forced 11 fumbles during his five-year career.
According to ESPN Stats & Info, Byrd's 22 interceptions rank second in the NFL over that span, behind only cornerback
Asante Samuel
(25).
"That's what I pride myself being able to do is create turnovers -- force fumbles or whatever it might be," Byrd said. "That's something I'm looking forward to coming in and doing. Just doing what I normally do -- and that's what I do."
Byrd didn't reveal too many details about how the deal came together so quickly. He said his agent Eugene Parker and Saints contract negotiator Khai Harley worked out the finer points.
But Byrd said he made the choice to make his first visit to New Orleans because of how much he liked the potential fit.
Byrd said he hadn't had a chance to talk specifics with new defensive coordinator Rob Ryan yet (they were planning to meet shortly after his conference call once Ryan and coach Sean Payton returned from Alabama's pro day). But Byrd said he got a good firsthand impression of the Saints' defense when the Bills lost to New Orleans 35-17 in Week 8 last season.
"Just from watching, it seems aggressive and attacking," said Byrd, who also liked the impression he got from New Orleans' home-crowd atmosphere in the Mercedes-Benz Superdome.
"That was big. Playing here last year, I saw how the atmosphere was. It was electric," Byrd said. "They're really behind their team. The Dome was rocking when I was here. They feed off that, and I think that's really big. Anytime you're playing football on defense you always want to have that noise. That's big."
December, 1, 2013
12/01/13
2:30
PM ET
By
ESPN.com staff
| ESPN.com
Join our ESPN.com NFL experts as they break down the Atlanta Falcons' visit to the Buffalo Bills. Contribute your thoughts and questions beginning at 4 p.m. ET. And, be sure to visit our
NFL Nation Blitz page
for commentary from every game, as well as fan photos and the latest buzz from Twitter. See you there.
November, 29, 2013
11/29/13
10:00
AM ET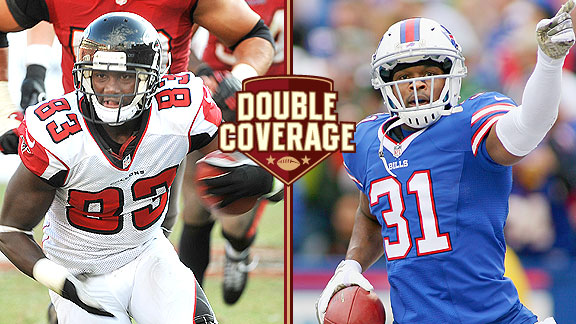 Getty ImagesHarry Douglas and the Falcons will look to dash the slim playoff hopes of Jairus Byrd and the Bills.
You might say that they're "livin' on a prayer."
At 4-7, the
Buffalo Bills
will likely need to win all of their remaining games if they want a shot at the playoffs. Coming off their bye week -- and refuted reports that Jon Bon Jovi
hopes to one day own the team
-- the Bills begin their final five-game stretch Sunday when they make their annual trip to Toronto.
This is the sixth consecutive season the Bills will play a regular-season game at the Rogers Centre. They've won just once -- a 23-0 shutout of the
Washington Redskins
in 2011 -- something that CEO Russ Brandon said Wednesday must change.
"We're trying to make it a home-field advantage by playing better," Brandon told WGR 550 in Buffalo. "We have not played well up there."
Meanwhile, the 2-9
Atlanta Falcons
became the first NFL team eliminated from the playoffs last weekend and are in the mix for the top selection in April's draft.
ESPN.com Bills reporter Mike Rodak and Falcons reporter Vaughn McClure discuss the matchup:
Mike Rodak:
Vaughn, I'm not going to lie: I thought the Falcons would be a whole lot better than they have been this season. What's gone wrong? I know there have been significant injuries, but that can't be the whole story, right?
Vaughn McClure:
I think injuries are a big part of the story, yes. You can't overstate how much losing an explosive receiver such as
Julio Jones
means to a high-powered offense. And the loss of defensive end
Kroy Biermann
after Week 2 had a major impact, too, considering the Falcons' inability to generate consistent pressure up front. Not to mention nagging injuries suffered by both star receiver
Roddy White
and running back
Steven Jackson
. Head coach Mike Smith refuses to use injuries as an excuse, but there's no doubt this team would have been much better with healthy players. The offensive line's inability to consistently protect quarterback
Matt Ryan
or open holes in the running game, as well as the defense's tendency to give up explosive plays, also contributed to the Falcons' demise.
The Falcons could use a player such as
Mario Williams
. He seems to be back to his old, dominant self. Is that correct, Mike?
Rodak:
For the most part. Williams came on particularly strong in the middle of the season, notching 6.5 sacks in Week 4 through Week 8. A lot of the credit for the Bills' 23-21 win in Miami in Week 7 can go to Williams, who strip-sacked
Ryan Tannehill
in the fourth quarter to set up a game-winning field goal. On the season, Williams has 11 sacks, which is tied for third in the NFL. However, Williams hasn't recorded a sack since Week 8. It's debatable whether that's a cause for concern, but from a purely statistical standpoint, the Bills will need Williams to keep up the pace down the stretch.
Overall, the Bills' pass rush has been consistently good all season. Their 37 sacks are tied for the most in the NFL, the result of pressure from
Kyle Williams
,
Jerry Hughes
and
Marcell Dareus
, and not just Mario Williams. Buffalo will have a legitimate shot at breaking the previous team record of 49 sacks in a season, set in 1995.
Vaughn, a pair of rookies seems to be making an impact on the Falcons' defense. Cornerback
Desmond Trufant
, a first-round pick, and linebacker
Paul Worrilow
, an undrafted rookie, are names that jump out at me on the stat sheet. How have they played?
McClure:
Good observation on both Trufant and Worrilow, Mike. I think Trufant has displayed great ball skills for most of the season. Even last week against the Saints, he had a tough start against
Marques Colston
, injured his thigh in a collision with teammate
William Moore
, then rebounded to make some outstanding plays on the ball in the second half. Carolina wide receiver
Steve Smith
told me he had much respect for Trufant's game, which is saying a lot coming from Smith.
As for Worrilow, he was undrafted coming out of Delaware but quickly made a name for himself. The guy had back-to-back, 19-tackle performances against Carolina and Seattle, then followed up with 25 total against Tampa Bay and New Orleans. The future looks bright for the defense, with those two players coming of age.
Speaking of rookies, has quarterback
EJ Manuel
's knee recovered enough for him to beat the Falcons with his legs come Sunday?
Rodak:
I think Manuel has put his knee injury in the rearview mirror. He said last week during the Bills' bye week that his knee "feels fine," which is welcome news as the Bills look to keep their rookie passer healthy. To that end, though, I don't think we'll see too much of Manuel as a runner anytime soon. The Bills want him to go down and protect himself as much as possible, and he has done more of that in his two games since returning. So instead of Manuel beating the Falcons with his legs, I think the bigger threat to Atlanta's defense is the big play. The Bills have done much of their scoring this season on big plays, so the Falcons' secondary should be on high alert against speedsters
Marquise Goodwin
and
T.J. Graham
.
Vaughn, now that the Falcons are out of the playoffs, what do they need to do to get back into the contention next season? What positions might this team look to improve through the draft and free agency?
McClure:
There's no question the Falcons have to upgrade along both the offensive and defensive lines. It wouldn't be a surprise to me if they ended up selecting South Carolina defensive end Jadeveon Clowney if they get one of the top three picks. The need for quarterbacks among some of the other lower-tier NFL teams might allow Clowney to fall to the Falcons, provided they don't secure the No. 1 overall selection.
It might be hard to address the offensive line via free agency, but the Falcons had better try. I covered the
Chicago Bears
last season and saw how much of a difference it made for them to add former Saints left tackle
Jermon Bushrod
this season. I think the Falcons also need to look to add depth at the safety position, and they might want to find other options at tight end with
Tony Gonzalez
set to retire.
Regardless, whether it's the draft or free agency, I expect the Falcons to be somewhat active. They were too close to the Super Bowl last season and want to be back in position in 2014.
October, 27, 2013
10/27/13
10:00
AM ET
By
ESPN.com staff
| ESPN.com
Join our ESPN.com NFL experts as they break down the Buffalo Bills' visit to the New Orleans Saints. Contribute your thoughts and questions beginning at 1 p.m. ET. And, be sure to visit our
NFL Nation Blitz page
for commentary from every game, as well as fan photos and the latest buzz from Twitter. See you there.
October, 25, 2013
10/25/13
10:00
AM ET
METAIRIE, La. -- The
New Orleans Saints
are well aware of the challenge they'll face Sunday when
Buffalo Bills
pass-rusher
Mario Williams
comes to town. The Saints got to know the 6-foot-6, 292-pounder up close and personal during his years with the
Houston Texans
from 2006-2011.
During that span, they faced Williams twice in the regular season and four times in the preseason. The Saints and Texans also got together for a week of joint practices in three straight preseasons from 2008-2010.
Veteran players and coach Sean Payton all agreed, however, that Williams is playing as well as ever now in his eighth NFL season. Williams has already racked up 10 sacks -- including a game-changer last week that forced a fumble and led to the Bills' come-from behind win over the
Miami Dolphins
.
Here's what the Saints have been saying about Williams this week:
Payton:
"You know, he plays that weakside/outside linebacker position which can put him right or left based on your formation in the base. In the nickel snaps, he's more to our right and to his left. He's had an exceptional season. He's had sacks from inside. He's had sacks from outside. He's someone who is comfortable on either side of the tackle. So you've seen that production. He's healthy. He's long. Certainly he is a player that you have to account for because he changed the game last week, we saw in the final snaps. He's really playing well."
Offensive tackle Zach Strief:
"The scouting report? He's really big. He's a really good athlete for a guy with that kind of size. He's moving well, he's really productive this year. I think you see him, he's given a couple teams a lot of trouble. So he's a guy, you don't want him to get going.
"Obviously he's highly talented, and I think they're putting him in good positions out there to rush the passer. And he's responded. I think he's a better rusher from their left, and he's been more productive there. And obviously there's a lot of things you can do games-wise, movement, to get a guy in a good matchup, to keep him away from double teams. They've done a good job with that. And at the end of the day, he's beat a lot of blockers.
"And I think it's probably nice for him to be healthy. I think last year he dealt with some things. I think you're seeing someone playing healthy, and that helps a lot."
Saints quarterback Drew Brees:
"Yes (this is the best he's looked). We played against him a lot, practiced against him a lot when he was with the Texans at those training camps and we played against him, that type of thing. He's always been a physical presence, but over time you just develop certain skills and techniques and master certain things. And I definitely think he's gotten better as the years have gone on. He's always had that big physical presence, but he has the tools to go along with it and you see the results."
Guard Jahri Evans:
"Oh, man, he's one of those guys like (Julius) Peppers, man. He's a freak of nature. Just one of those guys who can really dominate up front and do a lot of things well. And I think it's showing in their play this year. He's just a great competitor."
October, 24, 2013
10/24/13
5:00
AM ET
ORCHARD PARK, N.Y. -- It's been five years since Doug Marrone served as the offensive coordinator in New Orleans, but when he heard the familiar voice of
New Orleans Saints
coach Sean Payton on a conference call with
Buffalo Bills
reporters Wednesday, he couldn't resist the chance to poke fun at his former boss.
"This is Doug Marrone from the Bronx Times," the now-Bills head coach said, leaning into the speakerphone.
"I recognize that voice," Payton responded. "They just let anybody in there, don't they?"
Earlier in the call, Payton noted that Marrone -- along with
Oakland Raiders
head coach Dennis Allen -- were among coaches who helped get the "program" off the ground in New Orleans. The Saints wound up winning a Super Bowl the year after Marrone departed for Syracuse in 2009, but the two maintain close ties.
"Sean and [general manager] Mickey [Loomis] and the guys there made me feel more a part of [the Super Bowl win] than I probably was," Marrone said. "They called me, invited me, come to the Super Bowl. Asked me if I needed anything. 'Miss you, you're a big part of this, we want you to know.' I think that's the type of people they are. They're just good people. They didn't have to call; they didn't have to say anything. They didn't have to make me feel that way. Those are the types of people they are and I have a great appreciation for that."
Marrone said he couldn't make the trip for the Saints' win over the
Indianapolis Colts
because he was on the recruiting trail, but had he had time, he would have joined Payton in Miami.
Shortly after Payton and Marrone joined the Saints in 2006, they invested heavily in
Drew Brees
, who arrived via a free-agent deal from San Diego. Brees has gone to six Pro Bowls since and is held in highest regard by his former coach, Marrone.
"[The success of the Saints offense] starts with Drew. I think he's an outstanding competitor. I was very fortunate to be around him," Marrone said. "Many people don't know that he defeated Andy Roddick in tennis when he was in high school. That's the type of athlete and competitor that he is."
Now running the show in Buffalo, Marrone has taken on the challenge of developing a rookie quarterback,
EJ Manuel
. In doing so, he hopes to draw the experience of coaching Brees from 2006-2008.
"When you think about it, people like Drew, and I can't speak for
Tom Brady
and
Peyton Manning
because I haven't been around them in that type of setting, but when you look at what does a quarterback need to do to get himself ready, how does he handle his business off the field as well as on the field, how about his leadership?" Marrone said. "I always feel fortunate to be with someone like that because at least you know how it should be done."
With an injury sidelining Manuel for the next several weeks, Marrone must prepare
Thad Lewis
, in just his fourth career start, to go head-to-head with Brees in the Superdome.
It's not an easy task, but for Marrone, whatever success he achieves as a head coach he will one day trace back, in part, to his days in New Orleans.
"I always appreciated, one Mr. Benson and I were kind of back to back, I always appreciated what he did for me," he said. "Sean and I, we had a working relationship and we had a close friendship. To be close to him and see what he went through as a head coach was obviously very helpful. ... I was very fortunate to have that and it's been a big part of who I am today and what I've learned."
October, 23, 2013
10/23/13
9:35
PM ET
METAIRIE, La. –
Buffalo Bills
coach Doug Marrone was once declared "
America's friendliest football coach
" by ESPN The Magazine, when he agreed to record two personalized voice-mail messages for a fictitious fan while working at Syracuse. And Marrone has always had a friendly rapport with the New Orleans media – including a humorous conference call on Wednesday.
But "friendly" is not the first word that comes to mind when the
New Orleans Saints
' veteran offensive linemen think back to Marrone's years as their offensive coordinator and offensive-line coach from 2006 to 2008. When asked if he used to think Marrone was too nice to become an NFL head coach, Saints offensive tackle
Zach Strief
practically did a spit take.
"Too nice?!" Strief said. "There's a lack of perception right there."
[+] Enlarge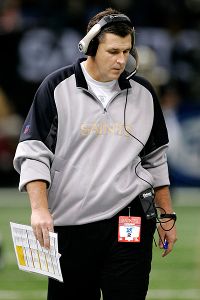 AP Photo/Ann HeisenfeltDoug Marrone was on the coaching staff that rebuilt the Saints in the wake of Hurricane Katrina. He'll return to New Orleans on Sunday as the Buffalo Bills' head coach.
He was at least partly joking.
Both Strief and guard
Jahri Evans
remain close with Marrone and insist he was instrumental in their development during those years. They both described him as a great teacher and great coach.
"It's hard to say enough good things about what he meant to me and to Jahri," Strief said.
But they also remember Marrone as a "grinder" who worked around the clock and never let up on his players – especially in that first year of the team's rebuilding project under new coach Sean Payton in 2006, in the wake of Hurricane Katrina.
"Yeah, we must have been a steppingstone for him," Evans said, laughing, when asked about Marrone's "nice guy" reputation.
Evans also credited Marrone for teaching him the technique and fundamentals that helped turn him into a four-time first-team All-Pro.
"He was a good coach for me, telling me, 'Hey, you're doing good out there. But imagine how much better you could be if your technique was sound, if you took this step and not that step,' and just not really letting you slide on it," said Evans, who became a starter as a rookie out of Division II Bloomsburg in 2006. "The best way I can explain him – and not all coaches are like this – you could make a great block but something technical was wrong. Your first step, your second step, your hand placement. And he wouldn't talk about the good block you had, but talk about the technique which could have not allowed you to have a good block.
"So just that mind frame of him knowing in Year 6 or 7, that might not work. Or late in the fourth quarter of a game, when you're tired and not as athletic as your first snap, you'll rely on your technique."
Strief compared Marrone to his college coach at Northwestern, Randy Walker, who Strief said had the perception of being a "mean, tough guy."
"Ultimately, a lot of times those guys that are tough want you to be good, and they want to push you, and they want to drive you," Strief said. "As a young guy in this league, I think I kind of saw it as, 'Man, this guy's rough, he's really hard on me.' And yet [Marrone] walks away, and the same as when I left Northwestern, you realize, 'Boy that guy made me a lot better by pushing me to points that maybe I wouldn't have done on my own.'"
Strief continued: "Then when he goes to Syracuse and gets that job, you immediately see that different personality, you know, his character kind of come[s] out. And I think he really thrived in that role. Honestly, it was probably a better fit for him than being a coordinator. I think he's a natural kind of leader. And it's good to see him succeed."
Payton said it "absolutely" struck him early in his relationship with Marrone that he might become a head coach one day. And he said he was very fortunate to land Marrone on that first staff. Marrone had to get out of his contract as the New York Jets' offensive-line coach to take the promotion to offensive coordinator in New Orleans.
"That initial staff, a lot of those guys came with promotions. We weren't winning many jump balls, if you will, in the hiring process," Payton said – again, only half-joking. "He was very involved in our talent evaluation. He was very thorough and is a great worker. … He was a big part of us having early success, and it's good to see him doing the same there."
Naturally, Marrone also looks back on those years in New Orleans fondly. He spoke very highly of the relationships he developed with people such as Payton and general manager Mickey Loomis, and he marveled at what it was like to be a part of the city in the wake of Katrina.
"I say this all the time, having gone down there post-Katrina and having really been a part of something that special is always going to be a special part in my life and in my family's life," Marrone said. "What everyone did and the resiliency of the people to build back a region, and I tell that to people all the time, was just an unbelievable, incredible experience."
September, 15, 2013
9/15/13
9:55
AM ET
By
ESPN.com staff
| ESPN.com
Join our ESPN.com NFL experts as they break down the Carolina Panthers' visit to the Buffalo Bills. Contribute your thoughts and questions beginning at 1:00 p.m. ET. See you there.
September, 12, 2013
9/12/13
12:00
PM ET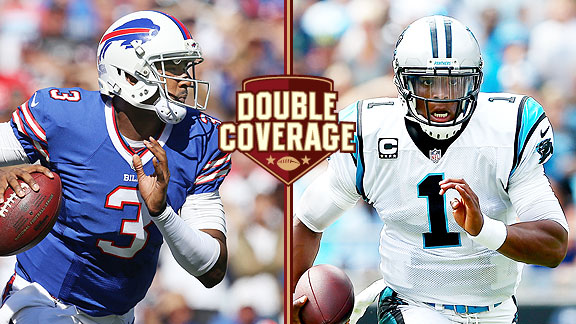 Getty ImagesRookie QB EJ Manuel guides rebuilding Buffalo; Cam Newton's under pressure to win now in Carolina.
Following tough home losses Sunday, the
Buffalo Bills
and
Carolina Panthers
look to get back on track in Week 2.
This game offers an intriguing quarterback battle between Bills rookie
EJ Manuel
, selected 16th overall this year, and the Panthers'
Cam Newton
, the top overall pick in 2011.
We'll hit on that matchup and more in our weekly "Double Coverage" conversation, so let's get it started:
Mike Rodak:
David, it seemed like the Bills and the Panthers opened their seasons in similar ways. Both teams faced superior opponents: The Patriots and Seahawks are near the top of the AFC and NFC, respectively, while the Bills and Panthers are bottom-dwellers in their conferences. Yet, both teams kept it close. The Bills lost by two points on a late field goal, while the Panthers kept it within five points. There is a cautious sense of optimism around the Bills locker room right now. Is that also true down in Charlotte?
David Newton:
Definitely optimism, which wasn't necessarily the case a year ago. The team feels it has more of an identity, an awareness of where it can go from here. Much of that identity is based around the defense, which established itself as one of the more solid units in the league by holding the potent Seattle offense to 12 points. Wide receiver
Steve Smith
, whether he was trying to inspire the rest of the team or because he actually believes it, set the tone by predicting that the Panthers will face Seattle again deep in January. I still don't see Carolina as a playoff team based on what its offense showed, but there is potential.
So both teams played top opponents close and lost. Now what? Is this a must-win for both if they have any hopes of being playoff contenders?
Rodak:
I think it's more of a must-win for Carolina. You look at the NFC South, and it's stacked. If the Panthers want a shot at a wild-card spot, they might need to finish ahead of either Atlanta or New Orleans, and that's a tall task. The Bills are in a weaker division, where an 0-2 start could have less of an impact. But still, not a good sign for Buffalo if it drops its first two, both at home.
The Bills spent a first-round pick this season on a quarterback in Manuel. The Panthers selected a quarterback, Newton, first overall in 2011. He's now entering his third season. How does the team (and fans) feel about Newton's development?
Newton:
Agreed, it's much more of a must-win game for Carolina. An 0-2 start after getting out of the gate 1-6 a year ago will have the vultures swarming for coach Ron Rivera. It will have the critics pounding on Newton. As new general manager Dave Gettleman said before the season, it's time for Newton to win. Buffalo can write this off as a rebuilding season with a rookie quarterback; Carolina can't do that with Newton. I said before the season the Panthers had to start no worse than 2-1 to have a chance to be successful. The Seattle loss, as close as they came to pulling it out, wasn't unexpected. Sunday's is one of those winnable road games they can't afford to lose. There aren't many out there.
So what do you see this game coming down to?
Rodak:
I think the Bills will need a better game out of
C.J. Spiller
. If he can get it going -- the Patriots shut him down Sunday, holding him to less than 3 yards per carry and per catch -- it opens up the Bills offense and gives Manuel a chance to take more shots downfield. The Panthers held the Seahawks to just 70 yards rushing and have one of the better defensive lines in the NFL, so it won't be easy. If Spiller has another quiet day, not only will it upset his fantasy owners, but it will also be tough for the Bills to win.
What about for the Panthers?
Newton:
It's going to come down to the Carolina offensive line and whether it can establish the run as well as New England did in Week 1 against the Bills. Right guard
Garry Williams
is gone for the year with an ACL/MCL tear. His replacement,
Chris Scott
, played well against Seattle. But Scott started on the left side, where
Amini Silatolu
was out with a hamstring injury. Silatolu is expected back this week, so if he holds up, the Panthers should be OK. But Carolina has to run effectively to make the offense under new coordinator Mike Shula click.