NFC South:

New England Patriots
August, 28, 2014
Aug 28
6:53
PM ET
TAMPA, Fla. – He wore a
Buccaneers
hat and decked his children out in the colors of his new team. But it was pretty obvious Thursday night that
Logan Mankins
still is processing the trade that brought him from the
New England Patriots
, the only team he ever has played for.
Mankins was introduced to the Tampa Bay media before the preseason game with Washington. During the 10-minute session, Mankins looked and talked like a man still in shock.
Mankins
"I knew what I had there, but I don't know what I have here," Mankins said. "Only time will tell."
Mankins sounded like a man whose mind still is in two places. That's understandable, as the trade happened only two days ago.
"It's a sad day not to be with those guys," Mankins said. "But I've got new teammates here that I'm looking forward to developing relationships with."
A six-time Pro Bowl guard, Mankins is going to have to start developing those relationships quickly. The Bucs open the season in just over a week against the
Carolina Panthers
. Mankins said it will be a challenge to quickly build chemistry with a new offensive line.
"It's going to be tough," Mankins said. "We've got a week until the first game. I'm going to try to take it in stride. I've got the weekend to try to get down some of the mental part of it and then all next week at practice. I'm sure the guys are going to help me as much as possible and I'm going to try my best."
Since the trade, there have been suggestions in the New England media that Mankins, 32, is in steep decline and cite that as a reason why the Patriots were willing to let him go.
"I might be in a little decline," Mankins said. "I don't know. How many guys that have played 150 games are still on the upswing? I've played a lot of games, a lot of snaps. But I feel like I still have something to give this game and give to this team. I'll try my hardest for them. If it's not good enough, it's not. If it is, it is."
Mankins might not have been wanted in New England any longer. But his arrival has been greeted warmly by Tampa Bay fans, who had been worried about the Bucs' situation at guard. If Mankins is anything close to what he used to be, he should solidify Tampa Bay's offensive line. And Mankins doesn't want to let his new team down.
'When someone invests in you, I don't want to disappoint them," Mankins said. "I want to be the player they think they're getting. I hope I can deliver what they expect."
November, 18, 2013
11/18/13
7:00
PM ET
By
ESPN.com staff
| ESPN.com
Join our ESPN.com NFL experts for "Monday Night Football" between the New England Patriots and the Carolina Panthers.
Contribute your thoughts and questions beginning at 8:30 p.m. ET. See you there.
October, 13, 2013
10/13/13
2:30
PM ET
By
ESPN.com staff
| ESPN.com
Join our ESPN.com NFL experts as they break down the New Orleans Saints' visit to the New England Patriots. Contribute your thoughts and questions beginning at 4:15 p.m. ET. And, be sure to visit our
NFL Nation Blitz page
for commentary from every game, as well as fan photos and the latest buzz from Twitter. See you there.
October, 11, 2013
10/11/13
12:00
PM ET
.
The
New England Patriots
are coming off their first loss of the season, and questions are mounting about the team's revamped offense. There are no such questions right now for the
New Orleans Saints
, who are 5-0 and have looked like one of the NFL's best teams.
That sets the stage for Sunday's highly anticipated matchup between these teams at Gillette Stadium in Foxborough, Mass.
"They're a good solid football team all the way around. They've been impressive," Patriots coach Bill Belichick said of the Saints. "We're going to have to play a good 60-minute football game on Sunday; that's what it is going to take."
In some ways, the Patriots will see a mirror image of themselves when looking at the Saints.
"I've said this before, when we started in 2006, we tried to look closely at the franchises that were having a lot of success and study closely what they were doing. New England was one of the main ones we looked at," Saints coach Sean Payton said. "These guys have been to five Super Bowls and won three [under Belichick]. That is pretty amazing."
Patriots reporter Mike Reiss and Saints reporter Mike Triplett break it down:
Reiss:
Let's start at the top with this one, Mike, and focus on the coaches. Patriots followers know they have one of the best coaches in the history of the game. Now in his 14th season, Belichick has the Patriots consistently contending. For the Saints, what stands out from here is what a difference it's been to have Payton back on the sideline this season. What is it about Payton that makes him one of the NFL's best coaches, and how has this turnaround from last year's disappointment unfolded?
Triplett:
You're right to start there. It's remarkable how much of an impact Payton's return (and his absence last year) has made on this team. Earlier this season, I would've answer that question by talking more about intangibles. Having Payton in charge clearly gives the Saints a confidence and puts them in a comfort zone that was lost last year. I think that helped them win two early games that came down to the wire. But lately, it's Payton's offensive genius that has been making the biggest impact. He's always stood out as arguably the best schemer and playcaller in the NFL. And that's been on full display the past two weeks – first when the Saints picked apart the
Miami Dolphins
at home on a Monday night, then when they won last week at Chicago with a patient, ball-control game plan. Giving Payton toys like
Jimmy Graham
and
Darren Sproles
in recent years – not to mention quarterback
Drew Brees
– has been almost unfair to the rest of the league.
Since we're on the subject, can you try telling me, in this brief format, what makes Belichick special? The Patriots seem to keep winning even while switching out 50 players on their roster over the years. I know that's something the Saints have always admired and tried to emulate.
Reiss:
Mike, I think the foundation of Belichick's success has been what we remember from the start of Super Bowl XXXVI, in the Superdome, prior to the Patriots' upset victory over the Rams in the 2001 season. The Patriots were introduced as a team before that game, as we all remember. There are obviously a lot of reasons for Belichick's success, and books have been written about it, so it's nearly impossible to narrow it down in a few sentences. But that's where I'd start – the focus on the complete team in a salary-cap era that makes it hard to remain competitive year in, year out. There are many layers to that, and it obviously helps to have a quarterback like
Tom Brady
, but Belichick is also a teacher at heart. So team-first, where the 53rd player has a similar level of importance as a player in the 1-10 range. Then the fact he's a teacher with an incredible knowledge of football.
This week, there has been plenty of teaching as it relates to how they might be able to slow down the Saints' offense. What has been the most effective approach you've seen teams employ against Graham and Sproles?
Triplett:
There haven't been many effective approaches against Graham. The
Chicago Bears
last week followed the formula that has worked best against the Saints over the years – a lot of Cover 2 zone defense that forced the Saints to settle for checkdown passes. But the Saints did a better job than I can ever remember of staying patient, settling for those short throws and avoiding turnovers. And Brees still completed 10 passes for 135 yards to Graham. Tampa Bay's defense rattled the Saints in Week 2 by hitting Brees a lot with a good rush from their front four. But Graham still caught 10 passes for 179 yards and a touchdown. And if a team wants to totally take Graham away, like Miami did in Week 4, the Saints are happy to exploit that, too. Sproles had seven catches for 114 yards in that game before Graham caught a single pass. And Graham still finished with four catches for 100 yards and two touchdowns.
So how do you think the Patriots might approach it? They do have a better defense than most of the ones the Saints have faced this season.
Reiss:
In a flip of the script that we had mostly seen from 2007 to 2012, the Patriots' defense is carrying the team right now. The Patriots rank second in the NFL in points allowed per game (14.0 avg.), and that includes a Week 1 touchdown the Bills scored on a long fumble return. The key, from this view, has been the Pro Bowl-level play of cornerback
Aqib Talib
. As for this specific matchup, I've wondered about the possibility of Talib on Graham, similar to how we saw him almost exclusively cover Buccaneers receiver
Vincent Jackson
(Week 3) and Bengals receiver
A.J. Green
(Week 5). Usually you don't see a cornerback matched up against a tight end, but maybe that outside-the-box thought is something the Patriots consider this week. Regardless, I expect the Patriots to be in their sub defense for most of this game. Their big linebackers don't look like a good matchup against Sproles, so it's imperative to get more speed on the field. I could see their top draft choice, speedy and athletic linebacker
Jamie Collins
, used more this week with Sproles in mind.
Speaking of defense, tell us more about how the Saints are getting it done on that side of the ball.
Triplett:
Obviously a ton of credit goes to new defensive coordinator Rob Ryan. He's been pushing all the right buttons as a schemer and a motivator. Players have loved playing for him for both reasons. It's reminiscent of the years when Gregg Williams was here, when they played with a ton of confidence. And he mixes up formations quite a bit – blitzing on occasion, but also rushing only two or three guys at times. Last week he caught the Bears off-guard early with some blitzes he hadn't shown much yet. Just as key, though, has been the emergence of young pass-rushers
Cameron Jordan
and
Junior Galette
. Jordan is a power-rushing 3-4 end, and Galette a speed-rushing 3-4 outside linebacker. But they've mostly lined up on the edges of a four-man rush. When teams can count on their four-man front as much as the Saints have this season, any scheme will be successful. The talent in the secondary is also solid across the board, especially now that they added veteran corner
Keenan Lewis
and rookie safety
Kenny Vaccaro
.
So what will they be facing in Brady this week? I know he hasn't looked like himself at times, but I'm still expecting him to hold his own in this high-profile duel with Brees.
Reiss:
The Saints will see a frustrated Brady, and that's often a dangerous Brady. The Patriots scored just six points in Sunday's loss to the Bengals, and Brady's streak of 52 straight games with at least one touchdown pass was snapped. That had a Saints tie-in, of course, as Brees holds the record at 54 straight games. Brady is obviously still one of the best quarterbacks in the NFL and is as competitive as they come. I'm sure he's aware that in three previous games in which he's squared off against teams led by Brees, he's 0-3. Brees has thrown eight touchdowns in those games, compared with three for Brady. Furthermore, Brady has thrown three interceptions in those games, while Brees hasn't thrown a single pick. Obviously, the quarterbacks don't face off against each other, but knowing Brady's competitiveness that still doesn't sit well with him. Expect his best, and the potential return of tight end
Rob Gronkowski
would obviously help.
I was curious about your thoughts on how the Saints might look different, if at all, when playing outdoors. Obviously they are awfully tough in the Superdome, but last week's game in Chicago didn't seem to affect them.
Triplett:
The Saints have definitely had a few off-days outdoors over the years, especially in colder weather or rain (playoff losses at Chicago, Seattle and San Francisco come to mind). They've had a lot of good days in those elements, too, though. They have the best road record in the NFL since 2009 (23-11, one more win than the Patriots). And they've got two outdoor wins this season (the Chicago game and an ugly 16-14 win on a rainy day at Tampa Bay). So I don't think it will be some sort of mental hurdle, and it's not like they're lost when they're outside of the Superdome. But it will certainly be a hurdle they have to overcome. They're definitely even more dangerous at home.
I was stunned to see how dominant New England has been at home, by the way (31-3 since 2009). Brees rattled off that statistic Wednesday – obviously it's one that's been drilled into players this week. What makes the Patriots so good at home?
Reiss:
When I think of decisive home-field advantages, with the crowd truly dictating aspects of the game such as false-start penalties, I wouldn't put Gillette Stadium in the same category as a place like Seattle. But like you said, home has been good to the Patriots, and I think the comforts of being in that environment, coupled with having good teams, getting better as the weather gets colder, acing critical situations and playing in a division where the other three teams have fallen on some hard times in recent years has contributed to that as well. I'm guessing that Saints offensive coordinator Pete Carmichael, who grew up in nearby Medway, Mass., might agree with the thought that Sunday has all the elements for what can make this a special time of year in New England for fans of the game: crisp but comfortable fall weather and two talented, well-coached teams playing at a high level going head-to-head. I'm excited for it, Mike. What about the matchup are you most looking forward to?
Triplett:
Easy. Brees vs. Brady. I'm sure I could give a more "under the radar" answer. But watching two of the best quarterbacks of all time going head-to-head is as good as it gets. And I think both of them will be fired up for this one for different reasons. Should be an intense fourth quarter.
.
September, 29, 2013
9/29/13
6:00
PM ET
By
ESPN.com staff
| ESPN.com
Join our ESPN.com NFL experts as they break down the New England Patriots' visit to the Atlanta Falcons. Contribute your thoughts and questions beginning at 8:30 p.m. ET. And, be sure to visit our
NFL Nation Blitz page
for commentary from every game, as well as fan photos and the latest buzz from Twitter. See you there.
September, 27, 2013
9/27/13
12:00
PM ET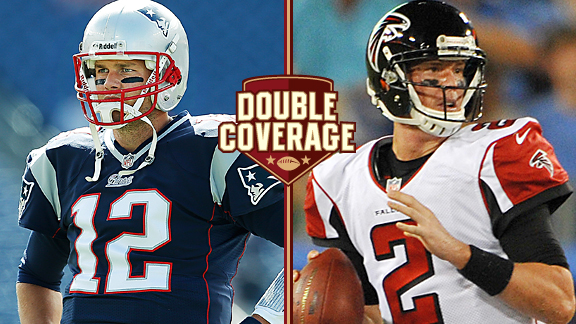 Getty ImagesTom Brady and Matt Ryan have both come in for heaping praise ahead of Sunday's meeting.
ATLANTA -- There are $100 million reasons why
Matt Ryan
should be talked about among the NFL's elite quarterbacks. One thing the
Atlanta Falcons
quarterback doesn't have that his Sunday-night counterpart possesses is a Super Bowl ring.
Ryan's showdown with
New England Patriots
star
Tom Brady
is sure to be a hot topic throughout Week 4. He already lost one such head-to-head matchup, when
Drew Brees
and the
New Orleans Saints
got the better of Ryan and the Falcons in the season opener (23-17).
So how will Ryan fare against the Pats? He'll need help from all phases, something he didn't receive in last week's loss to the
Miami Dolphins
.
ESPN.com Falcons team reporter Vaughn McClure and Patriots reporter Mike Reiss break it down:
McClure:
The Falcons were touted as a Super Bowl contender -- and possibly a favorite -- going into the season. But now, at 1-2, they find themselves in almost a must-win situation at home. How will the Patriots respond to the hostile environment they'll enter Sunday night at the Georgia Dome?
Reiss:
With 13 rookies on the 53-man roster -- including receivers
Aaron Dobson
(second round) and
Kenbrell Thompkins
(undrafted), who are playing key roles -- there is an element of unknown for the Patriots when projecting how the team will respond. Some of these players simply haven't experienced this environment and prime-time stage. It's rare for a Patriots team to be relying on such a large number of rookies for significant contributions, and that is one of the interesting storylines from a New England perspective this week. Other storylines are if this might be tight end
Rob Gronkowski
's season debut, if receiver
Danny Amendola
will also return after missing two games with a groin injury and if the defense -- which has been solid against lesser competition (
Jets
,
Bills
,
Buccaneers
) -- can limit an explosive passing game that is easily the best the unit has seen to this point in the season. Give us a feel for how things are going for the Falcons on offense.
McClure:
Not too well, at the moment. Head coach Mike Smith's biggest complaint is how inefficient his team has been in the red zone. During the Week 3 loss to the Dolphins, the Falcons were 2-of-5 in red zone opportunities. For the season, they are 6-of-12 (50 percent) in terms of touchdowns in the red zone, but offensive coordinator Dirk Koetter wants that number to be a bit higher. Having bruising running back
Steven Jackson
in the lineup would no doubt help in goal-line situations, but Jackson will miss Sunday's game while nursing a hamstring injury. Receiver
Roddy White
is also a solid red zone target, but White is not 100 percent healthy coming off a high-ankle sprain. Ryan still has
Julio Jones
and
Tony Gonzalez
as primary scoring weapons. How do you think the Patriots will keep up with the speedy receiver and ageless tight end?
Reiss:
I think it starts with how they decide to match up against the Falcons' "11 personnel" (one back, one tight end), because that looks like the most explosive package -- receivers Jones, White and
Harry Douglas
, with Gonzalez at tight end and either
Jacquizz Rodgers
or
Jason Snelling
at running back. Last Sunday against the Buccaneers' "11 personnel," the Patriots stayed in their base defense but played with three cornerbacks in the secondary -- their way of staying sturdy against the run but adding a coverage element to the secondary. I'd be surprised if we see that this week because the Falcons are much more potent in the passing game. So I could envision the Patriots turning to a coverage-heavy dime defense (six defensive backs), specifically with Jones and Gonzalez in mind, with the thought that a lighter box might be enough to limit the running game. For the Falcons, how are things shaping up on defense?
McClure:
The defense has had its issues. Take the Miami game, for example. The Falcons held a 23-20 lead with just less than five minutes remaining in regulation. The defense needed to close, needed to put pressure on Dolphins quarterback
Ryan Tannehill
, needed to lock down the receivers. Instead, the Falcons played soft coverage after the Dolphins reached midfield and couldn't disrupt Tannehill's rhythm. In the end, Tannehill engineered a 13-play, 75-yard drive that ended with his game-winning touchdown pass to
Dion Sims
. Not playing tight coverage and not wrapping up on tackles cost the Falcons in that game, and it could cost them the rest of the season if they don't find a way to correct those problems immediately. They could use their defensive leader, linebacker
Sean Weatherspoon
, who was placed on injured reserve (foot) with a designation to return in Week 11. One other aspect noticeable in Miami was how the Dolphins tight ends won their one-on-one matchups against the Falcons on that final drive. That being said, will Atlanta have to contend with one of the best tight ends in the league, Gronkowski?
Reiss:
We might not know the answer for sure until 90 minutes before kickoff, but things have been pointing in that direction. The one area the Patriots could use Gronkowski most, at least initially, is in the red zone. One season after ranking first in the NFL in red zone touchdown percentage (which we acknowledge isn't a foolproof stat), the Patriots rank last (4-of-13). It's going to be hard to win a game like this settling for field goals. Speaking of which, let's not overlook special teams. The Patriots are getting good contributions in that third phase of the game, with a 53-yard field goal by
Stephen Gostkowski
a highlight in Sunday's victory over the Buccaneers. How about the Falcons?
McClure:
Yet another area in which the Falcons could use much improvement. Against the Dolphins, returner Douglas fumbled a punt he admitted he shouldn't have fielded in the first place. It translated into a Dolphins touchdown three plays later. The usually reliable
Matt Bryant
missed a 35-yard field goal in the fourth quarter. And the Falcons had three penalties on special teams: two holds and an illegal block above the waist. Through three games, the Falcons are ranked 26th in punt return average and 30th in kickoff return average, although they've returned just one kickoff. Those special-teams issues are enough to cause special-teams coordinator Keith Armstrong to blow a gasket. Speaking of that, is Brady still yelling at his receivers?
Reiss:
Could you hear him down there in Atlanta? That was probably the most talked about storyline after New England's 13-10 win over the Jets on Sept. 12, whether Brady's on-field frustrations were making things tougher on the young receivers than they needed to be. But it was mostly yelling at himself this past Sunday. He was upset with an end zone interception he said he shouldn't have thrown. And he missed some open receivers, too. So while Brady's stats were better last week, his performance wasn't up to his own high standard, and it was actually more about him than the young pass-catchers, who turned in their best performance of the season. What is Ryan saying about this matchup?
McClure:
Ryan said plenty about the Patriots when he addressed the media in the locker room Wednesday. He said he expects to see a lot of man-to-man coverage and complimented the Patriots for being very sound with their technique. He believes the front seven does a great job of creating pressure in both the run game and against the pass. Of course, Ryan gave much credit to Brady for being one of the top quarterbacks in the league for such a long time. In fact, Ryan joked that he hoped to be around as long as Brady. And Ryan singled out
Vince Wilfork
for not only being a disruptive force up front, but for being a 325-pound guy who plays a lot of snaps. So what's the word from Bill Belichick?
Reiss:
Belichick complimented Ryan, saying among other things that Ryan has very few bad plays. He shared his belief that consistency is the mark of any great player and Ryan is "pretty consistent -- every play, every game, every series." And, according to Brady, Belichick said the following to players this week: "If you love football, then Sunday night at 8:30 in Atlanta will be the place to be." Hard to imagine many would disagree about that. This is going to be fun.
.
September, 22, 2013
9/22/13
6:10
PM ET
FOXBOROUGH, Mass. -- This time, it was not some last-second loss. This time, the bulk of the blame cannot fall on
Josh Freeman
.
This time, the
Tampa Bay Buccaneers
simply played a horrible game and showed that, contrary to popular belief, Freeman isn't the root of all their troubles.
[+] Enlarge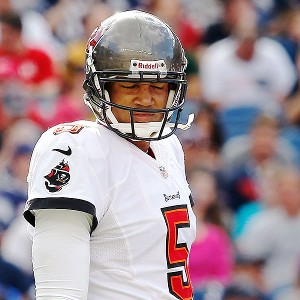 Jim Rogash/Getty ImagesJosh Freeman and the Buccaneers are now 0-3 after falling to the Patriots 23-3.
Sunday's 23-3 loss to the
New England Patriots
at Gillette Stadium showed the 0-3 Bucs have major problems in many areas. Their season already has been a soap opera with reports that Freeman and coach Greg Schiano don't get along and that some prominent players don't like Schiano's militaristic approach.
Now, there's material for many more episodes of the soap opera.
Start with kicker
Rian Lindell
, who set the tone for the day by missing a 38-yard field goal on Tampa Bay's first drive. Lindell also missed a field goal in last week's loss to the
New Orleans Saints
and you have to wonder if his shakiness was why Schiano decided not to go for it, rather than attempt a long field goal, twice in the first half.
Don't be surprised if the Bucs have a new kicker next week. Some new receivers also might be a good idea. There receivers failed to catch four very catchable balls. The biggest drop came on Tampa Bay's second drive -- when Freeman had the team moving better than it has all season -- as a pass in the end zone went off tight end Tim Wright's hands and the Bucs had to settle for a field goal.
"The plays you have control over, you have to make," Schiano said. "When you have a situation that you're in control of and you don't make it, then you're living on borrowed time.''
Tampa Bay's time to win the game disappeared in the second quarter. That's when
Tom Brady
and his young receivers started clicking and that's when Tampa Bay's defense showed some holes.
"You can't pinpoint any one thing,'' defensive tackle
Gerald McCoy
said. "The defense, we gave up 23 points. If we hold them to zero, we win, 3-0. We didn't do what we were supposed to do.''
Holding the Patriots to zero points would be a major accomplishment for any defense. You cannot pin this one on the defense, just like you cannot pin it all on Freeman, who completed 19-of-41 passes for 236 yards.
Freeman is not completely blameless. He did throw an interception to former Buccaneer
Aqib Talib
late in the second quarter to set up a field goal that helped the Patriots to a 17-3 halftime lead.
Throw in an offensive game plan, some play calling that was questionable, and a rib injury that kept top receiver
Vincent Jackson
out of the game for most of the second half and the Bucs seem to have all the elements of disarray.
"We've got to get better,'' Schiano said. "There's no magic pill."
It's hard to look at the Bucs and see this season suddenly turning around. The first two losses were close. This one wasn't and it looks like things are only getting worse for the Buccaneers.
September, 22, 2013
9/22/13
12:40
PM ET
By
ESPN.com staff
| ESPN.com
Join our ESPN.com NFL experts as they break down the Tampa Bay Buccaneers' visit to the New England Patriots. Contribute your thoughts and questions beginning at 1 p.m. ET. And, be sure to visit our
NFL Nation Blitz page
for commentary from every game, as well as fan photos and the latest buzz from Twitter. See you there.
September, 21, 2013
9/21/13
8:00
AM ET
Three things to watch from the
Tampa Bay Buccaneers
as they play the
New England Patriots
at 1 p.m. Sunday:

Josh Freeman and the circus
. The Tampa Bay quarterback hasn't looked sharp in the preseason and the first two regular-season games and there's been a report he may demand a trade. The pressure on Freeman is at an all-time high as speculation continues that he and coach Greg Schiano aren't on the same page. Another loss and poor performance by Freeman could prompt Schiano to turn things over to rookie
Mike Glennon
after the Week 5 bye.
Doug Martin vs. the New England run defense.
The Patriots haven't been very good against the run so far. They've allowed an average of 133 rushing yards in their first two games. Tampa Bay's run-blocking could get a big boost if guard
Carl Nicks
is healthy enough to play.
Tampa Bay's defense.
There really has been only one bright spot for the Bucs and that's the defense. Defensive tackle
Gerald McCoy
, defensive end
Adrian Clayborn
, linebackers
Lavonte David
and
Mason Foster
and the secondary are all off to good starts. New England's offense hasn't been spectacular, so Tampa Bay's defense could keep the Bucs in the game.
September, 19, 2013
9/19/13
12:00
PM ET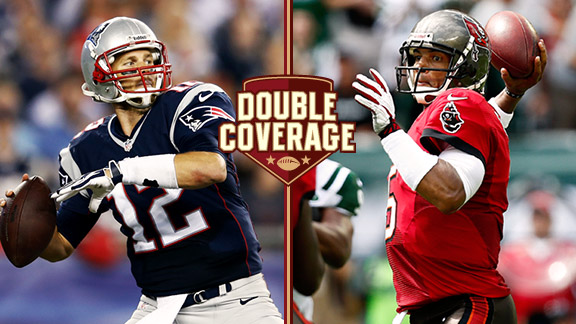 Jim Rogash/Getty ImagesTom Brady, left, and Josh Freeman both hope their respective offenses can get on track on Sunday.
In mid-August, the
New England Patriots
welcomed the
Tampa Bay Buccaneers
for three days of joint practices before the teams played each other in a preseason game. Now they meet again.
"I think the work we did against them in training camp was good for our development as a team, but I'm not really sure how much carryover that will have into the game other than just the familiarity with some of the players we went up against," Patriots coach Bill Belichick said this week. "Scheme-wise, it's all game planning now. It's not just going out there and working on the things that both teams are working on. I'm sure it will be geared very specifically, both ways, toward the opponent."
Here's a breakdown of the matchup from both sides:
Reiss
: When discussing Sunday's matchup between the 2-0 Patriots and 0-2 Buccaneers, Belichick said he views the Buccaneers more as a 2-0 team than an 0-2 team. That might not go over well with Hall of Fame coach Bill Parcells, who once said, "You are what your record says you are." Pat, you've seen the Buccaneers up close in their last-second losses to the Jets and Saints, so we'll ask you the question: What are the Buccaneers?
Yasinskas
: Mike, quite simply, the Bucs are a team in disarray. Coach Greg Schiano and quarterback
Josh Freeman
aren't on the same page, and that situation seems to grow more combustible each week. If the Bucs start off 0-4, I anticipate that they'll turn things over to rookie quarterback
Mike Glennon
after the bye. But the problems aren't just the quarterback play. The whole team is dysfunctional and the Bucs aren't playing smart football. Schiano prides himself on having a disciplined team, but that's not what the Bucs are right now. They've had more than 100 yards in penalties in each of their first two games, and you're not going to win many games that way. Speaking of a team being what its record says it is, the Patriots haven't been dominant, but they are 2-0. How good are they?
Reiss
: The story of the first two games of the season has been the struggles of the once-lethal passing game.
Tom Brady
's frustrations boiled over at times in last Thursday's 13-10 victory over the Jets. He had developed an early chemistry with
Danny Amendola
, but Amendola is sidelined with a groin injury. Since tight end
Rob Gronkowski
has also been hurt and missed the first two games, the Patriots were without two top weapons in Week 2, so Brady was throwing mostly to five-year veteran
Julian Edelman
and rookies
Kenbrell Thompkins
(undrafted),
Aaron Dobson
(second round) and
Josh Boyce
(fourth round). The defense has kept them in games, but it also seems fair to ask the question: Would the results would have been different if the opponents had been stronger than the Bills and Jets? From afar, it seems that the Buccaneers' defense has some good things going. Is perception the reality on that side of the ball?
Yasinskas
: Tampa Bay's defense has been a bright spot. The revamped secondary is holding up well and the Bucs are generating a pass rush. Defensive end
Adrian Clayborn
, defensive tackle
Gerald McCoy
and linebackers
Mason Foster
,
Lavonte David
and
Dekoda Watson
are playing very well. This defense is good enough to keep the Bucs in any game. But the problem has been the offense. There's been no rhythm to the passing game, and I suspect the Bucs may rely even more on
Doug Martin
and the running game. How is New England's run defense?
Reiss
: In the season opener, New England was in its sub-defense for all but two snaps and did an excellent job on dangerous Bills running back
C.J. Spiller
(2.4-yard average). Last Thursday against the Jets, there was some more base defense, and I thought it was an off day for Pro Bowl defensive tackle
Vince Wilfork
, who is the anchor of the run defense. The Jets had success. Similar to the plan against the Bills, I'd imagine the Patriots will make limiting Martin priority No. 1, and then they figure to pay extra attention to receiver
Vincent Jackson
. With two top-of-the-line skill-position players in Martin and Jackson, why have the Buccaneers struggled so much on offense through two games?
Yasinskas
: They really miss left guard
Carl Nicks
, who has been out with an MRSA staph infection. But there seems to be some optimism that Nicks might be able to play this week. If he does, it will mark the first time the Bucs have had Nicks and
Davin Joseph
together as their starting guards. That's a scenario the Bucs dreamed of when they signed Nicks as a free agent last year. But Joseph went down with a knee injury last preseason and missed the season, and Nicks missed half of the season with a foot injury. If Nicks and Joseph are healthy and on the field together, they could be the league's best guard tandem, and that's going to help Tampa Bay's run and pass blocking.