November, 3, 2013
11/03/13
11:30
AM ET
By
ESPN.com staff
| ESPN.com
Join our ESPN.com NFL experts as they break down the New Orleans' visit to the New York Jets. Contribute your thoughts and questions beginning at 1:00 p.m. ET. And, be sure to visit our
NFL Nation Blitz page
for commentary from every game, as well as fan photos and the latest buzz from Twitter. See you there.
October, 31, 2013
10/31/13
12:00
PM ET
This hasn't been the best of weeks for
New York Jets
coach Rex Ryan. His defense was embarrassed this past Sunday in a 40-point loss to the
Cincinnati Bengals
, and now he has to regroup for the explosive
New Orleans Saints
. And, oh yeah, he has to face his twin brother, Rob, the Saints' defensive coordinator.
Forget the Ryan Bowl. This is the Desperation Bowl for the Jets (4-4), who face the Saints (6-1) Sunday at MetLife Stadium. ESPN.com Jets team reporter Rich Cimini and Saints team reporter Mike Triplett break down the matchup:
Cimini
: Let's start with the family ties, Mike. How do you think Rob is approaching this game? He and Rex are fiery competitors, and I'm sure Rob wants this game badly, especially since he's 0-2 against Rex and the Jets. I can tell you this much about Rex: He will try to downplay the whole brother thing, trying to keep the focus on the game. A few years back, when Rob was the
Cleveland Browns
' defensive coordinator, Rex showed up to his midweek news conference wearing a wig and pillow stuffed under his shirt, impersonating Rob. That won't happen again.
Triplett
: I don't expect those theatrics this week, either, since the Saints don't promote that kind of stuff. But clearly Rob is a guy who is not afraid to wear his emotions on his sleeve -- with the media or his players. So I'm sure they'll know how much it means to him.
He's 0-4 overall against Rex in their NFL careers, dating back to Rex's days with the
Baltimore Ravens
. Clearly, this is Rob's best shot yet, not only because of the Saints' dynamic offense, but because Rob has his defense playing great. They've really responded to his versatile schemes. Young pass-rushers
Cameron Jordan
and
Junior Galette
, in particular, are having a breakout season.
They'll obviously try to rattle rookie quarterback
Geno Smith
by mixing up looks and pressures. Rich, what do you expect out of him after one of his roughest performances?
Cimini
: The early trend on Smith is that he responds well to bad games, but this will be a tough assignment because the Saints are playing so well. He can get rattled when he sees a different look for the first time. It happened Sunday against the Bengals, who recorded two early sacks on safety blitzes from the slot. He didn't react well. He also has to do a better job with his eyes, looking off receivers. He has a tendency to stare down receivers, telegraphing his passes. It's one of the reasons he has three pick-sixes in the past two games. All things considered, he's showing gradual signs of improvement, especially in the area of ball security. He's not fumbling as much as he did early in the year.
What can you tell me about
Drew Brees
other than he's terrific and throwing for a lot of yards and touchdowns?
Triplett
: I see you've been studying up on Brees. He's coming into New York in a really good groove right now. He just threw for 332 yards and five touchdown passes Sunday against the Bills. And even when he hasn't had his best days, he has come up with big fourth-quarter rallies. He and coach Sean Payton are back in sync. Together they're so good at exploiting mismatches. This past Sunday, Brees completed passes to 10 different receivers. The fact that the Saints' defense is playing so well has really benefited Brees, too. He's not pressing as much as he did last year and trying to do everything by himself.
The tough thing about playing the Saints is trying to find guys who can cover unique matchup problems like
Jimmy Graham
,
Darren Sproles
,
Marques Colston
and others. Can the Jets do that?
Cimini
: No, Mike, I don't think they can. Without
Darrelle Revis
, the Jets' pass defense is struggling. Funny thing is, they're getting a better pass rush than previous years and the run defense is No. 1 in the league. In theory, those factors should help them against the pass, but they're not. They have too many vulnerable areas, especially in the secondary, and I don't see how they can cover Brees' many weapons. If it were just one or two threats, yeah, I think they'd be fine, but Brees distributes the ball so well.
Antonio Cromartie
, the Jets' No. 1 corner, is having an off year. Rookie
Dee Milliner
, benched against the Bengals in the second quarter, has been a disaster. Safety
Antonio Allen
had a nice game two weeks ago against
Rob Gronkowski
, but Graham might be a tougher assignment because of his athleticism.
To win the game, the Jets' young, talented defensive line needs to dominate. And I noticed the Saints had some pass-protection issues on Sunday. Are they vulnerable up front?
Triplett
: The Saints' offensive line hasn't been as good as years' past, but they're still pretty solid for a team that passes the ball so much. The game against Buffalo was probably a good approximation of this matchup. The Saints gave up four sacks and were flagged for three holding penalties. But Brees still had great time to throw on four of his five TD passes and escaped the pocket to throw the fifth one on the run.
The Jets' best bet against the Saints' offense will be to control the clock and keep them off the field. New Orleans' run defense is pretty middle-of-the-pack. Will their old friend
Chris Ivory
make them pay for trading him to the Jets?
Cimini
: It's an interesting possibility. Now that he's healthy, Ivory is becoming a bigger factor. He was huge two weeks ago against the Patriots, rushing 34 times for 104 yards. He didn't get many chances this past Sunday because they fell behind so early and had to abandon the running game, but I could definitely see him being a big part of the game plan. It's hard to ignore the fact that the Saints are allowing a league-high 4.8 yards per rush.
I had to laugh the other day when Ivory said this game has no special meaning to him. Of course it does. I remember having a chat with him in the preseason about his time with the Saints. He felt he never got a fair shake because of politics, the organization preferring drafted players over him. Now he gets a chance for a little payback. You already know this, Mike, but Ivory runs like he's trying to hurt people. Tough dude.
The one thing the Jets can't do is give up on the running game and start throwing, because it sounds like Jordan & Co. can really get after the passer.
Triplett
: It sounds like Ivory's tenure in New York has been a microcosm of his time in New Orleans. He had trouble staying healthy, but when he turned it on he was a force. He was very popular with the fan base here. So that will be a fascinating subplot. Interestingly enough, the Saints used the draft pick they acquired from the Jets to trade up for big nose tackle
John Jenkins
, who has been a key addition. Those two will get to meet head-to-head.
You're right about the Jets playing right into the Saints' hands if they're forced to abandon the run. Jordan and Galette are two bona fide playmakers. And the Saints aren't afraid to throw in some safety blitzes. They have 24 sacks this season, one fewer than the Jets.
Speaking of which, I just had a conversation with someone putting together a midseason All-Pro team. They had the Jets'
Muhammad Wilkerson
written in pen and were debating between Jordan and
J.J. Watt
for another D-line spot. What's made Wilkerson so special?
Cimini
: He's a three-down player who can play anywhere on the defensive line. He's listed as an end, but the Jets play multiple fronts and he lines up over the guard at times, even over the center in certain packages. Ryan has compared him to
Richard Seymour
and
Trevor Pryce
; Wilkerson is a 300-pound man who moves like a 275-pounder. He's very good against the run and he has improved as a pass-rusher, evidenced by his seven sacks, already a career high. He's the best player on the team and I'm sure the Jets will try to lock him up long term after the season.
We've talked a lot about the strengths of these teams. In closing, can you touch on a couple of weaknesses? Jets fans aren't too optimistic this week, Mike, so they need a little something to rally around. What have you got?
Triplett
: The Saints' biggest weakness has been running the ball. They've been better in recent weeks, but they're still inconsistent. So they might be pretty one-dimensional on offense against this Jets defense that's so good at stopping the run. Of course, the Jets will still have to slow down the Saints' passing attack. The defenses that have had the most success against New Orleans' passing game this year have been the ones that could get physical with receivers in man-to-man coverage and chip and jam at the line of scrimmage. And as we said, Brees has taken more hits than usual this year.
Also, the Saints' run defense hasn't been great this year. So if the Jets can keep the game close and stay patient with the run game, that's something they might be able to exploit. And if anyone knows Rob Ryan's weaknesses, it's gotta be Rex, right?
September, 8, 2013
9/08/13
12:45
PM ET
By
ESPN.com staff
| ESPN.com
Join our ESPN.com NFL experts as they break down the Tampa Bay Buccaneers' visit to the New York Jets. Contribute your thoughts and questions beginning at 1:00 p.m. ET. See you there.
September, 5, 2013
9/05/13
12:00
PM ET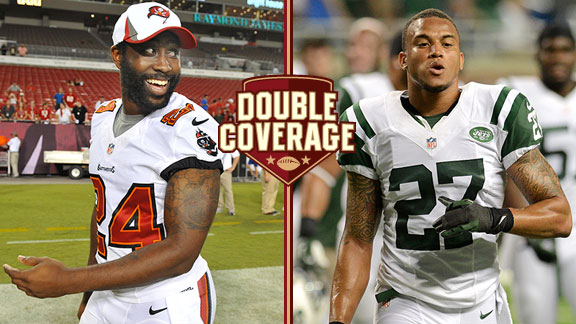 Getty ImagesDarrelle Revis is now with the Buccaneers and rookie Dee Milliner is helping to take his place.
The NFL knows how to create a dramatic storyline, and it created a dandy for opening day -- the Tampa Bay Buccaneers at the New York Jets, meaning the return of star cornerback
Darrelle Revis
.
For the Jets, Revis symbolizes good times from the past. They enjoyed a lot of success together, everything but a Super Bowl, before the ugly divorce last April. Things aren't looking so good for the Jets anymore. For the Bucs, Revis represents hope, perhaps the final piece in an expensive championship puzzle.
Rich Cimini and Pat Yasinskas, the Jets and Bucs team reporters, respectively, discuss Sunday's matchup at MetLife Stadium:
Cimini
: There will be a lot of "24" jerseys in the crowd, as Revis was an enormously popular player in New York. The success-starved fan base embraced the "Revis Island" concept, convinced he was theirs forever. Forever ended when owner Woody Johnson refused to pay $16 million a year and traded him. New Yorkers know what Revis can do when healthy, but that's the question: Is his surgically repaired knee all the way back? No one has seen Revis in a game for nearly a year, so there's a natural curiosity. Will he be the Revis of old? Will he play his customary role, covering the No. 1 receiver? Do tell, Pat.
Yasinskas
: Rich, the Bucs are fully convinced Revis can be what he used to be. He's had nearly a full year to rehab after surgery and there have been no setbacks. It's true the Bucs have brought him along slowly. He was limited at the start of camp and didn't appear at all in the preseason games. But the Bucs were deliberate in increasing his workload throughout the summer and it was clear all along that the goal was to have him ready for the season opener. The Bucs have high hopes for Revis and believe he'll help fix a pass defense that ranked No. 32 in the league last season. The belief is that Revis can shut down the other team's No. 1 receiver and also allow linebackers and defensive backs to blitz quarterbacks. The Bucs would have drafted a cornerback if they had stayed put at No. 13 in the draft. But they felt Revis was better than any corner they could have selected. They used their second-round pick on cornerback
Johnthan Banks
, who may be in the starting lineup Sunday. If he is, both the Bucs and the Jets will be starting a rookie cornerback. How has
Dee Milliner
been doing so far in New York?
Cimini
: I'd love to tell you how he's doing, Pat, but I haven't seen a whole lot of him lately. Milliner missed the last two preseason games with a strained calf, although he told us Monday he'll definitely be ready to play. Obviously, he'll be rusty and his conditioning could be an issue as well. In his last game, nearly three weeks ago, he appeared tentative in coverage. Maybe he was concerned about the calf, I don't know, but he gave way too much cushion. Rex Ryan wants his corners to be aggressive in man-to-man coverage, and Milliner was anything but that. In fact, he received an earful from fellow corner
Antonio Cromartie
during the game. Obviously, the Jets think Milliner has a ton of talent or else they wouldn't have drafted him ninth overall, basically handing him a starting job even though he showed up a few days late because of his contract. But he has a lot to learn. I think he'll have problems with
Mike Williams
, assuming Cromartie covers
Vincent Jackson
. But I wonder, can the Bucs get consistent quarterback play out of
Josh Freeman
to exploit the Revis-less defense?
Yasinskas
: Consistency is the big issue when it comes to Freeman. He got off to a great start last year and had the Bucs at 6-4. At that time, it looked like the Bucs certainly wold lock up Freeman with a long-term contract. But Freeman cooled off late last season. He had 10 interceptions over three disastrous games. That convinced the Bucs to hold off on signing him for the long term. They're letting him go into a contract year and it's a "prove it" situation, especially after the Bucs used a third-round pick on
Mike Glennon
. But Freeman's the starter for now and I think he's ready to become a good quarterback. He has good talent at the skill positions and needs to rely on those players instead of trying to carry the team by himself. In the past, that's when Freeman has gotten himself in trouble. Speaking of quarterbacks, how ready is
Geno Smith
to lead the Jets?
Cimini
: First, a quick story about Freeman. The Jets' scouts actually had him graded higher than
Mark Sanchez
before the '09 draft, but they adjusted the grades after Sanchez's personal workout and interviews. I wonder how things would've played out if the Jets had picked Freeman. As for Smith, he's not ready, no way, but the Jets have no choice because Sanchez's throwing shoulder is banged up. Smith played less than four quarters in the preseason (69 snaps, to be exact) and he played poorly in his only extended outing -- three interceptions and a safety. He could've benefited from a few weeks on the bench, learning his craft. He has no experience in a pro-style offense. At West Virginia, he played in the "Air Raid" attack, working exclusively out of shotgun. The coaches will simplify the game plan, but he'll still be seeing a lot of stuff for the first time. He has an electric arm, but there will be growing pains.

NFC SOUTH SCOREBOARD
Friday, 8/22
Saturday, 8/23