Breaking down Drew Brees' deal
July, 13, 2012
7/13/12
6:01
PM ET
The deal is finally done. After two years of haggling, the
New Orleans Saints
and
Drew Brees
have reached common ground. Let's go inside the deal, looking at the numbers provided by a league source:
Year 1
[+] Enlarge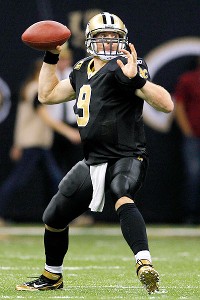 Derick E. Hingle/US PresswireDrew Brees will earn up to $40 million for his 2012 earnings.
Brees was carrying a one-year franchise tag number of $16.371 million. That is no longer.
Brees will receive a staggering $37 million signing bonus, to be paid in full over the next six months. And for the 2012 season, Brees will receive a salary of $3 million, bringing his 2012 earnings to $40 million. This represents the highest one-year earnings in the NFL.
As the signing bonus is prorated over the contract term of five years, Brees' cap number this year consists of the prorated bonus amount ($7.4 million), plus the salary ($3 million). This $10.4 million compares favorably to the $16.371 cap number that the Saints were carrying on Brees, a savings of almost $6 million to the Saints' tight cap.
Year 2
When the 2013 waiver period begins after the Super Bowl -- held in New Orleans this year -- the Saints will have three days to release Brees. Should they do so (highly unlikely), he will become a free agent with $40 million in his pocket for his 2012 services.
If the Saints do not release him, a $15 million guarantee activates -- $10 million in 2013 and $5 million in 2014.
Thus, Brees' two-year earnings are $50 million, but the functional amount is really $55 million as an additional $5 million for 2014 is guaranteed with no offset. That means if Brees is released before 2014 and signs with another team, he would keep the entire $5 million from the Saints in addition to his earnings from a new team.
Year 3
Similar to 2013, the Saints will have three days to either release Brees -- letting him walk with $55 million earned over two seasons -- or activate another $5 million guaranteed. That would put Brees' total guarantee at $60 million, another NFL record. And, for good measure, he has a $1 million salary in 2014, bringing his three-year earnings to $61 million.
The $61 million over three years is -- technically -- not the highest three-year amount in the history of the NFL. That honor goes to the contract signed 11 months ago between the Colts and
Peyton Manning
, with three-year earnings of $70 million. However, as we know, that contract never saw Manning play a game and was terminated in March, allowing Manning to become a free agent and sign with the Broncos.
Years 4 through 5
There are similar triggers relating to the remaining $39 million of the contract -- $19 million in Year 4 and $20 million in Year 5. Of course, these triggers become more relevant than the earlier ones in the contract, as there is more risk later in the deal. It is hard to forecast the future, but the deal sets up for another negotiation three years from now, with perhaps a different leverage equation.
The Manning factor
In any negotiation there is always a contract that becomes a focal point for the talks. In this case it is the freshest data point in the marketplace, the contract in March between the Broncos and Manning. Manning makes "only" $18 million in the first year, but he is coming off a season where he didn't play due to a neck injury.
The fulcrum of Manning's contract is for Manning to pass a 2013 physical, activating $40 million of guarantees for Years 2 and 3, meaning Manning, if healthy, will make $58 million over the first three years of his deal, all guaranteed. Now Brees, 33, who is three years younger than Manning and obviously healthier, will make $61 million over the same period.
Outlook
We knew this deal was going to get done and we knew the magic number of $20 million per year was a target for the Brees camp. The devil was always in the details -- Year 1 money, guarantee triggers, three-year value, etc.
Brees, who was discarded by the Chargers in 2006 and turned down by the Dolphins in free agency that year, now becomes the highest-paid player in the history of football. And no one is arguing that he shouldn't.