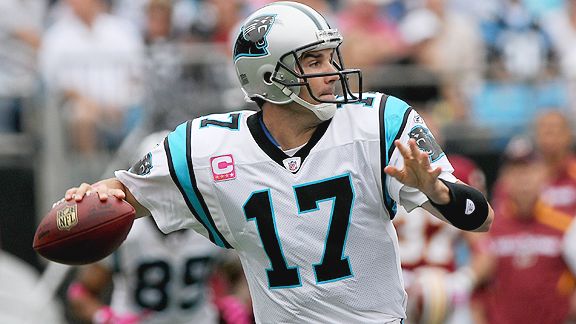 Sam Sharpe/US Presswire
Jake Delhomme, who has struggled this year, will likely not be the starting quarterback for Carolina next year.
With Thursday's news that the Panthers are placing Jake Delhomme on injured reserve, there's really only one thing left to discuss about the Carolina quarterback.
Will he be the -- or a -- Carolina quarterback next season?
The Panthers will finish out this year with Matt Moore as their starter. Moore has started the past three games since Delhomme broke a finger on his throwing hand. Moore was going to start the final two games even if Delhomme's finger suddenly healed up because the Panthers are out of the playoff picture and it makes sense to take a look at Moore, who has done some good things but has given no indication that he's a rock-solid starter.
The Panthers already know what they have in Delhomme and I think it's safe to say he won't be the starting quarterback next season. And I'm making that statement with this addition -- no matter if John Fox is still coaching this team or someone else is.
Let's face it, if Fox stays, there's really no way he can sell owner Jerry Richardson and the fan base on sticking with Delhomme. Fox has been intensely loyal to Delhomme and that may end up being part of his downfall. Long before the broken finger, Delhomme was struggling mightily.
If Fox stays, he's got to do something dramatic at quarterback -- like draft one or find one in free agency or in a trade. And we're not talking drafting a Stefan LeFors or trading for a Josh McCown, who has spent most of this season on injured reserve. We're talking a legitimate starting NFL quarterback.
Do you really think Richardson will let Fox stay if his plan is to let Delhomme, Moore and McCown battle it out in training camp?
I don't. And, if Fox goes, you can bet a new coach is going to go out and get a new quarterback.
So is this the end of the Carolina road for Delhomme? Maybe and maybe not. Like I said, I can't picture him returning as the starter under any circumstances. But there is the little matter of his contract (the Panthers gave him an extension in the offseason). Carolina's on the hook for about $13 million for Delhomme for next year.
It might be tough to cut him and swallow the salary-cap implications, but it is supposed to be an uncapped season next year. It's at least possible the Panthers let Delhomme go and just start over.
It's also possible that he could stick around as a backup, but do you pay a backup $13 million? And, as good a guy as Delhomme is, you have to worry about his presence possibly dividing the locker room.
There's one other scenario out there that might be the most graceful ending for everyone involved. By no means am I saying this will definitely happen, but what about Delhomme retiring? He is about to turn 35 and he's had major elbow surgery. A retirement could prevent a lot of salary-cap issues. I have no idea what Delhomme's feelings on retirement would be because he always has been a competitor.
Just saying that's a scenario Delhomme, Fox or whoever else might be running the show next year and the entire organization need to at least consider.