NFC South:

2010 Camp Confidential
August, 17, 2010
8/17/10
1:00
PM ET
ESPN.com NFL Power Ranking
(pre-camp): 30
TAMPA, Fla. -- New construction in these parts largely has halted due to the economic situation over the past couple of years. So what's that structure going up on the practice fields right behind One Buccaneer Place?
It's the new
Tampa Bay Buccaneers
. There still is a lot of work to be done. But, unlike last year, you can see a foundation. Just look at the quarterback,
Josh Freeman
. When it comes right down to it, he really is all the Buccaneers are looking at. Yeah, guys like
Gerald McCoy
,
Donald Penn
,
Barrett Ruud
and
Aqib Talib
might also be viewed as possible cornerstones in the blueprints. But Freeman is the 6-foot-6 beam the Bucs are counting on to support this entire franchise.
Count last year as a redshirt season for Freeman and the Bucs. The team went 3-13 and Freeman really didn't get to play until the second half of the season. Now, he's been through an entire offseason. Now, the offense is his. Now, it's time for Freeman and the Bucs to grow and make some sense out of the youth movement the franchise decided to begin last year.
"The most obvious thing that I hope people are noticing is we are giving Josh Freeman tools around him that he can grow with,'' general manager Mark Dominik said. "We have
Kellen Winslow
and the tight end is important whether you have a young quarterback or an experienced one. And we wanted to put in a receiving corps that can grow together so their timing can be consistent. When you look back through NFL history, you see that consistently with the successful teams. You put two or three receivers together with the same quarterback for five, six or seven years and they become a timing machine and that's what we wanted to do.''
To that end, the Bucs drafted receivers
Arrelious Benn
and
Mike Williams
in the first four rounds. They also traded for receiver
Reggie Brown
and they still have
Sammie Stroughter
, who might have been the steal of last year's draft class.
Yeah, the Bucs also did some work on the defense. They used their top two draft picks on defensive tackles McCoy and
Brian Price
in an attempt to stop getting abused by running games. Their linebackers aren't bad and the secondary has some potential. This defense isn't anything close to the defense of Tampa Bay's glory days, but it has possibilities.
The offense isn't anything like in the glory days and that's the way the Bucs want it. With Freeman, the Bucs believe the offense can be better than it ever has been. The belief is Freeman can be the first true franchise quarterback this team has had since Doug Williams.
The potential is there and the Bucs have put some parts around Freeman. Now it's time for him to put this franchise on his back.
"Nothing can replace game time,'' Dominik said. "But I will say, for an offseason, for a young quarterback, I could not have asked for more. He did everything we expected and more. I don't remember him missing an offseason day and he was a sponge in the meeting rooms. His leadership has come through in that way. He's got a natural charisma that you see guys want to bond with him and follow him.''
THREE HOT ISSUES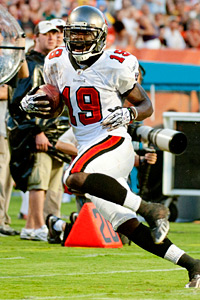 Gary Rothstein/Icon SMIRookie Mike Williams appears to be on track to earn a starting job.
1. What's the receiving corps going to look like?
That still is being sorted out, but Williams, the fourth-round draft pick, appears to be on his way to a starting job. He's shown a knack for big plays ever since his arrival and seems to have developed a quick chemistry with Freeman. Benn started a little slower, but has come on of late. But Brown might open the season as the other starter.
Pair Williams and Brown with Winslow and Freeman suddenly might have a better cast of receivers than he did late last year when No. 1 receiver
Antonio Bryant
was pouting his way out of Tampa Bay. The Bucs have been cautious with Winslow and his knee throughout camp, but the belief is he'll be ready for the regular season and that will provide Freeman with a go-to guy.
But the Bucs aren't going to be running the West Coast offense they did with Jon Gruden and they certainly aren't going to use the ball-control system that Tony Dungy ran. They've got a quarterback with big-play ability and they're going to take their shots down the field. Williams, Brown and Benn all can go downfield and make catches in the possession game. But the real downfield threat might be Stroughter. He had an excellent rookie season, already has a rapport with Freeman and can make a lot of things happen as the slot receiver.
2. How much will the arrival of the two rookie defensive tackles help?
McCoy and Price should be an instant upgrade over former starters
Chris Hovan
and
Ryan Sims
, who got pushed all over the field last year. The Bucs also plan to use
Roy Miller
in the rotation. That's a pretty promising trio of young defensive tackles.
But it remains to be seen if this group can be dominant right from the start. The standard for defensive tackles in Tampa Bay is Warren Sapp. He might be ticketed for the Hall of Fame, but the fact is Sapp struggled as a rookie and took time to develop into a force.
The Bucs think McCoy should be fine from the start. Price got off to a great start in camp, but an injury has forced him to miss some time and that may set him back a bit. The Bucs are going to ask a lot of McCoy, Price and Miller. They want them to clog things up against the run and free up Ruud to make plays. They also need a strong interior pass rush because there's no real force on the outside. Ready or not, McCoy and Price will have the opportunity to shine right from the start.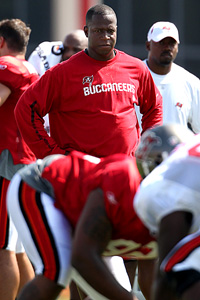 Cliff Welch/Icon SMIThings have been quieter in Raheem Morris' second offseason as the Bucs head coach.
3. Is this team headed in the right direction with coach Raheem Morris?
The Bucs were in a state of chaos through much of last year. Morris fired coordinators Jeff Jagodzinski and Jim Bates early, changed defensive schemes early in the year and ran a quarterback competition that's only real purpose was to make sure Freeman didn't get on the field too soon. The results weren't pretty.
But Morris' second offseason has been one of peace and quiet and it only takes a few brief glances out at the practice field to see that the Bucs are much more organized than last year. Morris knows he made mistakes last season and he's learned from that.
He's running the defense now and believes he put Freeman in good hands with offensive coordinator Greg Olson and quarterbacks coach Alex Van Pelt. The Bucs still may need another offseason to get the talent level to where they really want it, but there are some parts in place and Morris needs to start showing some progress.
BIGGEST SURPRISE
Aqib Talib, cornerback.
The physical talent always has been there with Talib. But his first two seasons were rocky because of off-field issues and a feeling that he wasn't always focused on football. However, the coaching staff is quietly buzzing because a new side of Talib has emerged throughout the offseason and carried over into camp. He's more focused and more mature. The Bucs are keeping their fingers crossed on this one, but there is a belief that Talib can become a Pro Bowler very quickly if he stays on his current path.
BIGGEST DISAPPOINTMENT
Stylez G. White, defensive end.
The Bucs know White never has been a very good practice player. But they thought he might come in with some inspiration this camp because he has a chance to be the top pass-rusher on team that doesn't have any proven star in that area. That hasn't happened. White's been very ordinary in practice and doesn't seem interested in being a leader for a young defensive line. Is that enough to cost him a starting job? Probably not because the Bucs really don't have much behind him. They're hoping White steps things up when the regular season arrives, but they're a little worried that might not happen.
[+] Enlarge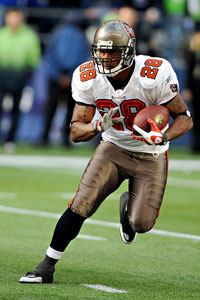 Steve Dykes/US PresswireDerrick Ward has struggled to make an impact since his arrival in Tampa.
OBSERVATION DECK
August, 16, 2010
8/16/10
1:22
PM ET
ESPN.com NFL Power Ranking (pre-camp): 8
FLOWERY BRANCH, Ga. -- The leadership seen on the
Atlanta Falcons
' practice field these days was hatched in the locker room of a former Arena Football League team.
Two years ago, that's where
Matt Ryan
,
Curtis Lofton
,
Sam Baker
,
Harry Douglas
,
Kroy Biermann
,
Thomas DeCoud
,
Chevis Jackson
and a handful of others dressed. Now, Ryan's the quarterback, Lofton's the quarterback of the defense, Baker and DeCoud are key starters and Douglas, Biermann and Jackson are expected to play bigger roles.
"We're a super-tight group,'' said Lofton, who has started at middle linebacker since his rookie year and has used camp to emerge as the unquestioned leader of the defense. "When you're a rookie, you don't get to be in that [main] locker room. You're down in the Georgia Force locker room. That's where it started for us. It's kind of like we had our own little team. All of us went through our ups and downs, and we all leaned on each other and it's just continued that way.''
[+] Enlarge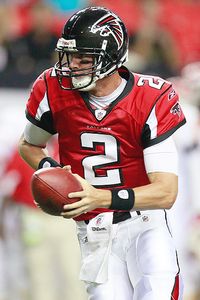 Kevin C. Cox/Getty ImagesQuarterback Matt Ryan and the rest of the Falcons' "Class of 2008" believe they will make noise in their third year.
The Force is gone and the Class of 2008 has taken over the main locker room. This class already has done some very good things, namely leading the Falcons to the first back-to-back winning seasons in franchise history. But last year's 9-7 campaign was a bit of a disappointment for a team that had hoped to follow an 11-5 season in 2008 with another playoff berth.
This offseason, the team's marketing department came up with a new advertising campaign, "Rise Up.'' The slogan is plastered on billboards in the Atlanta area, and a television commercial with actor Samuel L. Jackson passionately delivering the message plays frequently on stations throughout the market.
"I think 'Rise Up' is a good theme for our organization,'' Ryan said. "I've been here for two years, and I feel like we've done a good job. But I feel like we have the kind of talent to take it to the next level.''
In other words, the Class of 2008 believes the third year is when it's time to take over the real locker room and fully take control of what happens on the field. That's why the Falcons are embracing, not running away from, the "Rise Up'' campaign.
"We have something special going on here,'' Lofton said. "Everyone knows it. We feel like we're about to rise up to the occasion and hopefully make it to the Super Bowl.''
THREE HOT ISSUES
1. Is the defense really ready to rise up?
The Falcons' defense was not very good the past two seasons. The front office and coaching staff are well aware, and that's why the defense has looked different in camp.
[+] Enlarge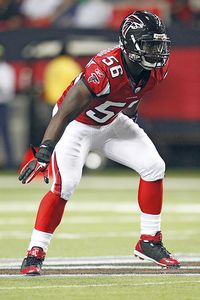 Todd Kirkland/Icon SMIFalcons rookie linebacker Sean Weatherspoon has a good chance of grabbing a starting role.
There are many positive signs. The Falcons aim to be more aggressive. The overall team speed is better. The energy and enthusiasm the defense shows is reminiscent of New Orleans last preseason when new Saints defensive coordinator Gregg Williams had his unit chasing after every loose ball. There also seems to be a growing swagger to a defense that simply had none the past two years. Part of that is coming from rookie linebacker
Sean Weatherspoon
, a talking machine who seems destined to be a starter at one of the outside spots. Weatherspoon's energy seems to be rubbing off on Lofton, who seemed a bit stoic in his first two seasons. They celebrate after big plays, a trend that's spreading throughout the defense.
Atlanta's secondary has been revamped, with the signing of cornerback
Dunta Robinson
to a big free-agent contract being the key addition. There is a lot of work to be done, but the early impression is the defense has a whole new look and attitude
"We can be great,'' DeCoud said. "We can be one of the best defenses in the league. If everyone builds the confidence and the swagger and keeps building up each other, we can be one of the elite defenses in this league.''
2. Where will the pass rush come from?
The biggest moves the Falcons made in the offseason were adding Weatherspoon and Robinson. That should help the secondary and linebacker corps. But the Falcons didn't make any dramatic moves at defensive end after a season in which the pass-rush production was disappointing.
The Falcons studied that area closely and decided to stick with the ends they already had. Atlanta firmly believes that veteran
John Abraham
(who dropped from 16.5 sacks in 2008 to 5.5 last season) still has plenty left. He came to camp in outstanding shape and has shown signs he can return to dominant form. The Falcons also believe Biermann has grown in his first two seasons and might be ready to emerge. They think second-year pro
Lawrence Sidbury
is still a work in progress, but believe he's about ready to start delivering results.
But the biggest reason the Falcons didn't import any defensive ends is because they believe players at other positions will help make the rush better. With defensive tackle
Peria Jerry
returning from injury and the arrival of third-round pick
Corey Peters
, the Falcons believe they can create more of a surge in the middle, freeing up the ends. Weatherspoon also has the speed to apply pressure on blitzes, and coaches believe the arrival of Robinson and improved play in the secondary will create more opportunities for coverage sacks.
3. Are Ryan and the offense ready for the next step?
Many thought Ryan took a step back in 2009 after a stellar rookie season. The Falcons don't think Ryan regressed, but they do expect him to take a big step forward this season.
Ryan and the offense were handcuffed from the start last season.
Harry Douglas
, expected to be a big factor as a slot receiver, went out with a knee injury early in camp. Running back
Michael Turner
, who admits he didn't take great care of himself last offseason, got banged up early and missed close to half a season. Ryan also dealt with a toe injury and the offense never really hit its stride.
Douglas, Turner and Ryan are healthy and the presence of Pro Bowl receiver
Roddy White
and tight end
Tony Gonzalez
means the Falcons should be able to do what they want on offense. They still are going to be a run-heavy team because of Turner's skills. But Douglas' return gives the Falcons someone who can stretch the field and open things up for White and Gonzalez. Look for offensive coordinator Mike Mularkey to structure this offense to play more to Ryan's strength as a passer.
BIGGEST SURPRISE
[+] Enlarge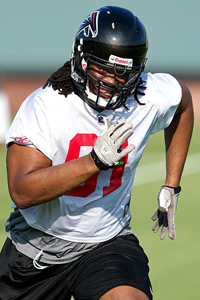 Dale Zanine/US PresswireFalcons third-round pick Corey Peters has been better than expected in training camp.
Defensive tackle Corey Peters.
With Jerry coming off the injury and
Jonathan Babineaux
suspended for the season opener in Pittsburgh, the Falcons used a third-round pick on Peters. They thought they were getting depth, but they might have more than that. Performing better than expected, Peters can play the run and generate pass-rush push in the middle and could be in the starting lineup on opening day. Even if he's not, Peters is going to get a lot of playing time because the Falcons are serious about rotating defensive linemen. They'll also slide defensive end
Jamaal Anderson
inside at times, giving them four quality defensive tackles.
BIGGEST DISAPPOINTMENT
Strong safety William Moore.
After missing almost his entire rookie season with an injury, the Falcons hoped Moore would grab the starting job. But Moore has been banged up again and hasn't had a lot of practice time. The Falcons thought Moore could provide an upgrade over veteran
Erik Coleman
. But, at least in the short term, it looks as if the Falcons will be sticking with Coleman as the starter.
OBSERVATION DECK
August, 5, 2010
8/05/10
2:58
PM ET
ESPN.com NFL Power Ranking (pre-camp): 22
SPARTANBURG, S.C. -- In the kindest of terms, fans and media are referring to the
Carolina Panthers
as a team in a youth movement.
There's some basis for that as they opened camp with the league's third-youngest roster after saying farewell to popular veterans such as
Julius Peppers
,
Jake Delhomme
and
Brad Hoover
.
In the harshest of terms, fans and media have referred to those departures as a "bloodletting'' and are talking about the Panthers as a team without an identity, a team that's not going to be very good.
Now, let's turn to two guys who beg to differ.
"How do you say we're going through a youth movement, when we beat those teams late in the season using the same key components?'' running back
DeAngelo Williams
said. "People can say what they want to say. But we know what it takes to win and we have what it takes to win.''
"The way I look at it is, I like our core guys,'' linebacker
Jon Beason
said. "I think we have a great nucleus. Now we're looking for a few good men, a few young guys who are talented. For those young guys, it's an opportunity to come in and do great things.''
Maybe Beason and Williams have valid points. They're two team leaders with a pretty good feel for the pulse of the locker room. They also have impressive résumés. Williams was one of two Carolina running backs (
Jonathan Stewart
was the other) to run for 1,100 yards last season. Scouts, coaches and players everywhere will tell you Beason is one of the best linebackers in the NFL.
Can you really call the Panthers a team without a face?
That's kind of a difficult statement to make when you look at Carolina's roster and see Beason and Williams. Then, keep looking and you see Stewart, left tackle
Jordan Gross
, center
Ryan Kalil
, right tackle
Jeff Otah
, receiver
Steve Smith
and cornerbacks
Chris Gamble
and
Richard Marshall
. Those are all guys the Panthers view as core players. Look around the league and see how many teams have that many core players in place.
"There are question marks, sure,'' coach John Fox said. "Anytime you have question marks, the expectations on the outside might not be that high. But on the inside, we know we've got some very good core players and those core players are going to have to have big seasons.
THREE HOT ISSUES
[+] Enlarge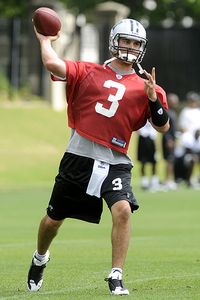 Sam Sharpe/US PresswireThe Panthers' confidence in quarterback Matt Moore appears to be growing.
1. Can this team win with Matt Moore as the quarterback?
Let's cut to the chase. This team already has won with Moore as the quarterback. Moore started the final five games of last season after Delhomme was injured. The Panthers won four of those games and Moore looked sharp the entire time.
Sure, that's not the longest of track records and the Panthers did draft
Jimmy Clausen
in the second round. But this isn't the Carolina camp of 2001, where the Panthers were kind of expecting Jeff Lewis to fail and to hand the job to rookie Chris Weinke.
Williams' point about the youth movement taking place last year might be right. Moore won this job with his play down the stretch and, so far in camp, the team's confidence in him is only growing.
"Matt Moore is a gamer,'' Williams said. "When he mentally locks in, the game comes easy for him. All quarterbacks in the league are pretty much the same. They can all throw the ball or they wouldn't be here. The thing that separates the good ones from the bad ones is decision making. Matt Moore can make decisions. Matt's going to be fine.''
Let's keep one other thing in mind. With an excellent offensive line, two very good running backs and Smith at wide receiver, Moore has a pretty strong supporting cast. He doesn't need to be
Peyton Manning
or
Drew Brees
. He just needs to keep mistakes to a minimum and the job can be his as long as he wants.
2. Can the defensive line be any good?
For much of Fox's tenure, the defensive line has been the foundation of the team. But Peppers was the last in a line of supernovas that used to include
Mike Rucker
,
Kris Jenkins
and
Brentson Buckner
. There are no current stars on this defensive front.
But Fox and the Panthers don't appear to view that as a bad thing. They're not expecting any single guy to come in and replace Peppers. They believe they can get quality out of quantity and are hoping the defensive front can attack in waves. They've got high hopes for
Charles Johnson
and
Everette Brown
, and rookies
Eric Norwood
and
Greg Hardy
have been very impressive in camp. They brought back
Tyler Brayton
for a bit of continuity, but they feel they've got some pass-rushers who can emerge.
They also have a better feeling about defensive tackles
Louis Leonard
,
Tank Tyler
and
Ed Johnson
than a lot of people realize. This might not be the traditional Fox defensive front with a huge run-stuffer in the middle and a big name on the outside. But, keep in mind, the Panthers brought in Ron Meeks as defensive coordinator last year and his system is based more on speed than power up front.
"We were eighth in the league in defense a year ago with a new scheme,'' Fox said. "It's kind of early to tell, but we should be better with our scheme the second time around.''
[+] Enlarge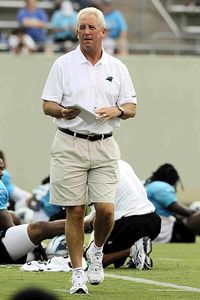 AP Photo/Chuck BurtonJohn Fox owns a 71-57 record in eight seasons with the Panthers.
3. Does all this talk about Fox being in the last year of his contract really make a difference?
Not at all. Fox is a creature of habit and he's going to coach the way he always has coached.
He's a confident guy with a pretty solid résumé. He's not losing sleep because he knows he can get another job if it comes to that. But he wants to make it work in Carolina, a place where his family has set down roots. Keep in mind, Fox never has had a truly bad season. There have been some disappointing years, but the record's always been close to or above .500. He's sometimes stumbled a bit when expectations were high, but he always has done his best job when people weren't counting on much out of the Panthers.
BIGGEST SURPRISE
Greg Hardy. The defensive end was a sixth-round draft pick because his college career didn't end all that well. But the Panthers took a shot because they thought there was uncommon physical talent sitting out there late in the draft. So far, they feel as if they might have hit a home run. Hardy has looked great in camp. Coaches are noticing him and so are other players. There were some questions about Hardy's ability to focus on football at the pro level. But so far, so good on that end. Brayton, Johnson and Brown are competing for the starting jobs, but Hardy appears to be carving out some playing time.
BIGGEST DISAPPOINTMENT
Dwayne Jarrett
. As they've been doing for his entire career, the Panthers are hoping the light suddenly comes on for this wide receiver. He's still running with the first team, but all indications are it's just not happening for Jarrett. There's still some work to be done and polish to be added, but the Panthers are starting to think rookie
Brandon LaFell
is their best option at the starting position opposite Smith. Jarrett basically is fighting for a roster spot at this point. The fact he's still making mental mistakes this far into his career means there's a good chance he's gone before the preseason is over.
[+] Enlarge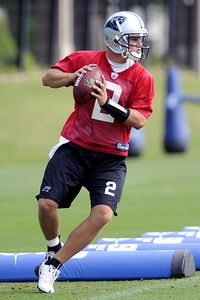 Sam Sharpe/US PresswireCarolina has been pleased with how Jimmy Clausen has looked in the early part of camp.
OBSERVATION DECK
As mentioned above, the Panthers are singing Moore's praises and that's all very legitimate. But behind the scenes, the Panthers also are thrilled with what they've seen from Clausen. His physical skills and mechanics are as solid as expected and Clausen's doing everything right on and off the field. There's not a sense of urgency to play him because Moore has looked so solid. But the Panthers believe they got a steal when they took Clausen in the second round.

There's been a lot of hype about third-round draft pick Armanti Edwards. Understandable because he was a college quarterback and came from Appalachian State, which automatically makes him popular in the Carolinas. The Panthers aren't disappointed with Edwards by any means, but the reality is he's just feeling his way as a receiver and a return man. Don't look for him to be a huge contributor instantly. There's big upside here because Edwards is so dynamic and he might be in a few packages early on. But it's going to take some time for him to become a staple in this offense.

The Panthers let go of Keydrick Vincent, who played every snap at right guard last season, for a reason. He was older and they had Duke Robinson waiting in the wings. Coaches, players and the front office believe Robinson can be a punishing run-blocker. Put him on the right side with Otah and the Panthers believe that side of the line can be just as good as the left, where Gross and Travelle Wharton are outstanding.

If you're looking for a long shot to make the roster, I'll throw out Trent Guy's name. This is a tiny wide receiver, but every time I looked up during my visit to Wofford College, Guy seemed to be making a play. He's got rare speed and good hands, and also could be a factor in the return game.

Thomas Davis, who had major knee surgery in June, has been hanging around at camp and working hard at his rehab. The Panthers haven't ruled out a possible return for him later this season, but I don't see that happening for a guy who has torn his ACL twice in less than a year. The Panthers wouldn't have moved Beason from the middle to the weak side unless they thought he'd stay there for the long haul. At the moment, they're happy with what they've seen from Dan Connor in the middle and James Anderson on the strong side. That better stay that way because, aside from Jamar Williams, there's no real depth at linebacker.

A lot of people have questioned why the Panthers would take Beason out of the middle where he's been such a dominant player. The answer is simple. Under Meeks, the Panthers run the "Tampa 2'' defense. In that scheme, everything goes through the Will linebacker. Think Derrick Brooks.
July, 31, 2010
7/31/10
12:25
PM ET
ESPN.com NFL Power Ranking
(pre-camp): 2
METAIRIE, La. -- As the
New Orleans Saints
finished their first camp practice Friday morning, defensive coordinator Gregg Williams, a man known for holding back nothing on or off the field, unloaded. He wanted to get something off his chest. Heck, out of his body, out of his mouth and out into the open.
Without ever really being asked anything that would prompt the issue, Williams started talking about why the Saints can repeat as Super Bowl champions. He's tired of hearing the reasons they can't and the repeated reminders that the follow-up season hasn't been good to many Super Bowl teams in recent history.
"I keep on hearing you guys talk about this Super Bowl hangover and it's starting to chafe me a little bit,'' Williams said. "It really is and I'm being real honest. The reason being is, if you could see behind the scenes of our offseason program from April 19 and to see every single practice we've had, I don't have any qualms about the way our defense is because all they did was show up with more hunger, more fire, wanted me to be a bigger jerk and get on their (butt) more. They begged for me to get on their (butt) more. So far, I've seen nothing that would indicate that we can't make another run at this.''
Williams may be one of the organization's more vocal figures, but you quickly get the feeling he's not alone on this idea. Sure, the Saints spent a good portion of the offseason celebrating the first Super Bowl title in franchise history. Sure, recent history is stacked against them. No team has repeated since the 2004 Patriots.
Confidence -- some even have suggested arrogance -- was a big part of the reason the Saints won the Super Bowl last season. That hasn't changed. Unlike a lot of recent Super Bowl teams, the Saints really didn't lose much in free agency and they didn't have their coaching staff picked apart. There really hasn't been much turnover of faces or attitude.
"There was a really good locker room here before I got here,'' Williams said. "There's a better locker room now. The guys that we brought in this year, they fit into that locker room because Jon Vilma and
Drew Brees
aren't going to let the wrong kind of people be in that locker room. They're just not going to do that.''
THREE HOT ISSUES
[+] Enlarge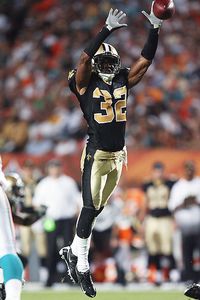 Doug Benc/Getty ImagesA healthy Jabari Greer could help the defense be more consistent.
1. Can a defense that was opportunistic but far from dominant become more consistent?
Sure, there is some bravado that comes with Williams. That's part of his nature and it's part of what makes him a good coach. But what he's saying isn't just bluster.
The Saints really should be much better on defense this season. All they really lost was linebacker
Scott Fujita
and defensive end
Charles Grant
. They showed Grant the door and probably upgraded the position by signing veterans
Alex Brown
and
Jimmy Wilkerson
. They'll line up on the other side from
Will Smith
. Brown and Wilkerson aren't dominant pass-rushers, but they're consistent in that area and play the run very well. Fujita was a key contributor, but the Saints believe they have a group of promising linebackers (
Troy Evans
,
Jo-Lonn Dunbar
and
Stanley Arnoux
) and believe one of them will rise up.
Plug in a healthy
Sedrick Ellis
in the middle of the defensive line and the Saints should have a solid front seven. But the defensive backfield is where the Saints really could be outstanding. They've assembled one of the best collections of secondary talent in the league.
Jabari Greer
and
Tracy Porter
might be the best cornerbacks no one outside of New Orleans has heard of. When healthy, they both can be shut-down guys. Both were banged up last season, and that's one of the reasons the Saints drafted cornerback
Patrick Robinson
. That move also has allowed them to move last year's first-round pick,
Malcolm Jenkins
, to free safety, where he might get the chance to beat out
Darren Sharper
. If you can put Sharper, a possible future Hall of Famer on the bench, that's a pretty big statement. People talk about New Orleans' offense being explosive, but the defense has a chance to be every bit as dynamic.
2. Can the offense live up to last year's standards?
Brees remains the quarterback and, as long as that's the case, this offense is going to be great. Brees clearly is in his prime and his pairing with head coach/offensive genius Sean Payton makes magic possible on every play.
This is an offense that can hit you from every angle -- Brees throwing short or long,
Pierre Thomas
running inside and
Reggie Bush
outside and an offensive line filled with Pro Bowlers. Keep in mind that the Saints had some injuries at the skill positions last year, but they still were phenomenal on offense. If they can keep Bush, Thomas,
Marques Colston
,
Heath Evans
and
Jeremy Shockey
healthy, last year's production could be eclipsed.
[+] Enlarge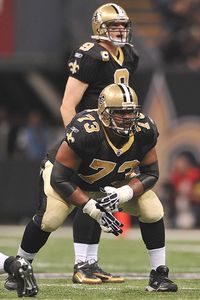 Larry French/Getty ImagesJahri Evans is part of a dominant offensive line that makes up for any weakness at left tackle.
3. Is left tackle really that important?
The Saints used to have a Pro Bowl left tackle. His name was
Jammal Brown
and they traded him to Washington in the offseason. That happened after Brown missed all last season with an injury and the Saints got by with
Jermon Bushrod
quite nicely.
The Saints aren't touting Bushrod as a franchise left tackle, although he's the favorite to be the starter. They also drafted
Charles Brown
, and
Zach Strief
, who filled in when Bushrod slumped a bit last season, also is in the mix. The Saints gave Bushrod plenty of help last season and they're prepared to do it again for him -- or for Brown or Streif. But the lesson that came out of last year is, in this offense, it's not a necessity to have a dominant left tackle.
But that's partly because the Saints have the league's best guard tandem (
Jahri Evans
and
Carl Nicks
), a Pro Bowl right tackle (
Jonathan Stinchcomb
) and an excellent center (
Jonathan Goodwin
). Throw anyone out there at left tackle and the rest of the line and Brees will make him look good.
BIGGEST SURPRISE
Jimmy Graham.
The Saints took what seemed like a bit of a leap when they drafted the tight end in the third round. He played basketball at the University of Miami before deciding to switch to football in his final year. The conventional wisdom was that Graham would be a bit of a project and would take a year or two to really have an impact. But there already is a buzz among the coaching staff and other offensive players about Graham. Everyone knew he had great athletic ability coming in, but he's picked up things faster than anyone expected and he got some first-team work with Brees in June workouts. He might play a bigger role faster than anyone expected.
BIGGEST DISAPPOINTMENT
Clint Ingram.
When the Saints signed Ingram, a lot of fans instantly thought he would be the automatic replacement for Fujita. Ingram had been a starter in Jacksonville, so the logic was solid. But Ingram was injured when the Saints signed him and he still hasn't been on the practice field, except while riding a stationary bike. That has allowed Troy Evans, Dunbar and Arnoux time to make a good impression. Unless Ingram gets healthy very soon and makes a huge impression on the field, he might not even get a roster spot.
OBSERVATION DECK
James Lang/US PresswireDarren Sharper wore down toward the end of last season and had offseason microfracture surgery.

I know this might sound like blasphemy to Saints fans because Sharper is very popular and had a huge impact last year. But the fact is he's 34 and coming off micro-fracture knee surgery. I've suggested before I think there's a good chance Jenkins takes his place in the starting lineup. But I'll take it one step further here and say -- I'm not promising this will happen -- I can see a scenario where Sharper doesn't even stay on the active roster. The Saints are high on Jenkins. They also like Usama Young and are hopeful about Chip Vaughn, who missed his rookie year with an injury. Ideally, the Saints would like to keep Sharper around for his leadership. But if his knee doesn't come along, he could spend part of the season on the physically-unable-to-perform list, the injured-reserve list or maybe even be released or retired. Even with all his credentials, Sharper can't contribute if his knee isn't right. The Saints have a lot of other safeties with young legs.

The Saints used a three-headed backfield with Bush, Thomas and Mike Bell last season. Bell is gone, but the playing time division should be pretty similar this year. Just plug Lynell Hamilton into Bell's place. The Saints wouldn't have let Bell go if they didn't think Hamilton was ready. I don't want to tease you and say this is the year Bush shows he can run between the tackles. But remember how well he ran in the playoffs and how he was more physical than at any time in his career? That was because he was completely healthy. That seems to still be the case, so don't be surprised if you see Bush's numbers go up a bit. This guy can do a little bit of everything.

Shockey's always been an easy target and there's no doubt he's brought some of that on himself. But he appears to be in very good physical shape. Shockey hasn't really been a distraction in New Orleans like many thought he was when he was with the Giants. He's just been banged up for much of his time with the Saints. Maybe –- and I'm just saying maybe -- Shockey might have matured and might be taking better care of himself in an effort to stay on the field.

It really didn't get much attention, but the best move the Saints made in the offseason might have been signing Patrick Ramsey to serve as Brees' backup. Veteran Mark Brunell was a good fit in that role for a couple of years, but the Saints needed to get a little younger. The Saints hope and pray nothing ever happens to Brees. But, if he were to miss some time, the New Orleans offense might not suddenly fall apart. Ramsey's a guy who has bounced around the league. He got messed up by Steve Spurrier early in his career in Washington, but he still has some talent. This is a quarterback-friendly offense with all sorts of weapons and Ramsey could win games for the Saints -- if that ever becomes necessary.

For a couple years, special teams were a bit of a question. That has changed. Kicker Garrett Hartley and punter Thomas Morstead were heroes in the Super Bowl. They're still young and should only continue to get better.

It's very early in camp, but one player who has intrigued the coaching staff is defensive end Junior Galette. He's an undrafted rookie and very undersized at 258 pounds. But this guy is showing great speed and there's a chance he could land a job as a pass-rush specialist. Yeah, Bobby McCray also is supposed to fit that description. But McCray had 1.5 sacks last season and actually was cut because of a high salary before he basically begged his way back (at a reduced salary). If the Saints cut McCray once, there's no reason why they couldn't do it again.