NFC South:

2010 Midseason Report NFC South
November, 10, 2010
11/10/10
2:00
PM ET
Power Rankings:
Preseason: 7.
This week: 3
.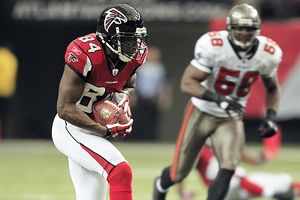 AP Photo/David GoldmanRoddy White has caught at least four passes in every game this season.
2010 schedule/results
Where they stand:
They're 6-2 heading into a Thursday night game against Baltimore. They have sole possession of first place in the division, but coach Mike Smith isn't happy with how his team has played in the first half of the season. That's actually a good thing because the Falcons want more. The offense, defense and special teams each have had good and bad moments. The three units have yet to put it all together in the same game. But you get the feeling that might be coming.
Falling:
Peria Jerry
. There were high hopes for the 2009 first-round draft pick to come back strong after a knee injury cut short his rookie season. But Jerry hasn't been that much of a factor. He's getting some playing time in the defensive tackle rotation, but he's clearly a backup. Rookie
Corey Peters
is starting ahead of Jerry and it's not as if Peters has been dominant. The Falcons never have gone into complete detail about Jerry's knee injury and that leaves the possibility that he might get better with time. But at the moment, Jerry's not playing like a first-round pick.
Rising:
Curtis Lofton
. He has been the starting middle linebacker since his rookie year and has been pretty good. But Lofton clearly has become the leader of the defense this season. He's starting to produce big plays and he makes the guys around him better.
Midseason MVP:
Roddy White
. He has been a very good wide receiver the past few years, but he has become a great one this season. You can make an argument that White has been the league's best wide receiver this year.
Outlook:
The Falcons appear to have an excellent chance to set a franchise record with their third consecutive winning season, but their goals are a lot higher than that. Smith is right in his belief that there's room for improvement because there are tough games such as Baltimore on Thursday night and Green Bay, Tampa Bay and New Orleans later in the season. For the Falcons to win the division and have a high seeding, they'll need to put it all together in at least some of those games. But that seems entirely possible because this team is relatively healthy and seems to be building momentum.
November, 10, 2010
11/10/10
2:00
PM ET
Power Rankings:
Preseason: 2.
This week: 9
.
2010 schedule/results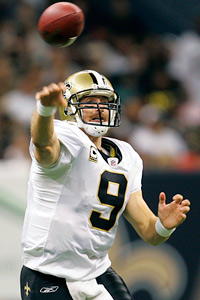 Matt Stamey/US PresswireDrew Brees hasn't been able to match his phenomenal 2009 season, but he's still one of the league's best QBs.
Where they stand:
They're the defending Super Bowl champions, but you wouldn't know it from listening to their fans, coaches and players. The Saints haven't been nearly as dominant as last year, when they won their first 13 games. The offense hasn't been nearly as explosive and the defense hasn't been as opportunistic. But the fact is, the Saints are 6-3. They're only a game behind division leader Atlanta in the loss column and no NFC team has won more games than the Saints.
Falling:
Pierre Thomas
. The running back was one of the unsung heroes in the Super Bowl run. He was an important role player last year, but he has become a non-factor this year. Thomas suffered an ankle injury early and hasn't been able to get back on the field. There have been some rumblings out of New Orleans that the coaching staff and front office aren't very happy with Thomas and he might not have much of a role when he comes back. He's not under contract for next year, so it's not looking like Thomas has much of a future in New Orleans.
Rising:
Sedrick Ellis
. The Saints took a lot of criticism for using a first-round pick on Ellis during his first two years. He didn't have great production, but that mostly was because he was hurt a lot. Ellis has been healthy this year and it's looking like the Saints didn't make a mistake in using a first-round pick on him.
Midseason MVP:
Drew Brees
. No, the quarterback isn't having the same kind of super-human season he did a year ago. But Brees still is pretty darn good and one of the best quarterbacks in the league. Nobody said defending the title would be easy, but the Saints are still very much in the mix, which is more than can be said for a lot of other recent Super Bowl champions. That's largely because Brees, the unquestioned leader of this team, has helped the Saints stay focused.
Outlook:
As inconsistent as the Saints have been at times, they actually are in very good shape. They have a bye this week and that should help running back
Reggie Bush
and a few other injured players get healthy. Look at the schedule after the bye. The Saints play Seattle, Dallas, Cincinnati and St. Louis. If they simply do what they should do, that will put them at 10 wins before they close with Baltimore, Atlanta and Tampa Bay. With the talent the Saints have, it's entirely possible they could be clicking by the time they face those late-season challenges and that could put them well into double-digit wins.
November, 10, 2010
11/10/10
2:00
PM ET
Power Rankings:
Preseason: 30.
This week: 13
.
[+] Enlarge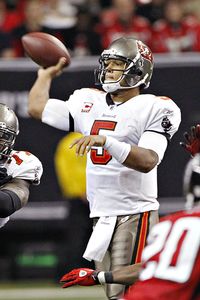 AP Photo/John BazemoreJosh Freeman has led the Bucs to a 5-3 record.
2010 schedule/results
Where they stand:
They're 5-3 and that's light years ahead of last year. That's mostly because second-year quarterback
Josh Freeman
has turned the corner faster than anyone could have reasonably expected. Freeman has been carrying this team and pulling off some last-minute heroics. He has showed the Bucs were right when they traded up to get him and immediately declared him a franchise quarterback. Freeman's supporting cast is still a work in progress, but the quarterback has been good enough to make this team very respectable.
Falling:
Cadillac Williams
. The veteran running back is one of the most respected players in the locker room. He has come back from two major knee injuries, but he simply hasn't been very effective as a runner in the first half of the season. The team has turned most of the carries over to undrafted rookie
LeGarrette Blount
, who has performed well. Williams still has a job, but he's pretty much a role player.
Rising:
Mike Williams
and
Arrelious Benn
. The Bucs knew they had to get Freeman some weapons and that's why they took Benn in the second round and Williams in the fourth. Williams has been the No. 1 receiver since opening day and Benn is now starting. Williams is a legitimate candidate for offensive rookie of the year and already has caught five touchdown passes. Benn started off a little slower, but has come on in recent weeks. It looks like the Bucs might have found two guys who can be good targets for Freeman for a long time.
Midseason MVP:
Freeman. This one's not even close. Freeman makes big plays, has a natural savvy and has willingly embraced his role as the team leader. The best news of all is that he's only going to keep getting better.
Outlook:
The playoffs certainly aren't out of the question, and Sunday's narrow loss to Atlanta showed the Bucs can hang with just about anyone. Young players are rising up all over and we're seeing the youth movement really taking hold. There still are some issues on the defensive line and a few other shaky spots. But the arrow is definitely pointing up for this team. If the Bucs don't make the playoffs this season, they may be only a few offseason moves away from being a very serious contender.
November, 10, 2010
11/10/10
2:00
PM ET
Power Rankings
: Preseason 23.
This week: 31
.
2010 schedule/results
[+] Enlarge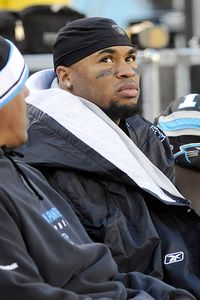 Sam Sharpe/US PresswireWideout Steve Smith hasn't had a touchdown catch since Week 2.
Where they stand:
It's chaos in Carolina. The Panthers are 1-7 and things aren't going to get any better this year. The youth movement simply has not worked. Maybe it's a case of veterans not stepping up to help ease the process. But more likely it's that the young players just aren't all that talented. After all the offseason talk about jazzing up the passing game, it hasn't happened. The Panthers don't have anything resembling an NFL passing game and no one has stepped forward at quarterback.
Falling:
Steve Smith
. Not all that long ago, Smith was as talented as any receiver in the game. The talent may still be there, but the production is not. In Sunday's loss to New Orleans, Smith had one catch for 9 yards. You can put most of the blame on the quarterback struggles or the fact the Panthers don't have a lot of other threats at wide receiver. But the bottom line is the Panthers aren't getting the type of production they should from Smith. He hasn't had a 100-yard receiving game and hasn't caught a touchdown pass since Week 2.
Rising:
Charles Godfrey
, safety. He has a team-high four interceptions and has been a playmaker in the secondary. Godfrey had only two interceptions in his first two seasons. He has shown a nose for the ball that even the Panthers didn't think he had. Godfrey also has been a solid tackler. The only downside to his performance is that he hasn't had an interception since Week 5, but that's largely because the Panthers have been falling behind and opponents aren't throwing a lot.
Midseason MVP:
Linebacker
James Anderson
. You have to look long and hard for bright spots, but Anderson is one. In his first year as a full-time starter, he has shown a knack for making plays. He has 2.5 sacks, a forced fumble, an interception and 77 tackles.
Outlook:
There are no sudden cures on the way. In fact, it's likely things will get even worse. With head coach John Fox almost certainly gone after the season, there is the potential for things to get even uglier. Fox always has had control of his team throughout his tenure. But his lame-duck status jeopardizes his power. If the losing continues, it might get to a point where owner Jerry Richardson pulls the plug on Fox and finishes the season with an interim coach. That's not a real attractive option, but all the Panthers really have to play for the rest of the way is draft position in 2011.