NFC South:

2011 Camp Confidential NFC
August, 17, 2011
8/17/11
12:10
PM ET
TAMPA, Fla. -- Sit down with Mark Dominik even for just a few minutes and you'll quickly hear his theory on why the term "youth movement'' shouldn't come with negative connotations.
"Don't confuse youth with immaturity,'' the general manager of the
Tampa Bay Buccaneers
said. "There's a big difference between those two things. I'm sure we've all met 23-year-olds that act like they're 28 and we've met people that are 28 but act like they're 23. I feel like we're a mature, young football team, which is important.''
Yes, the Bucs, who were the NFL's youngest team last season, are going to be young again. They have only three players 30 or older and they're counting on big things from a lot of rookies and second-year players.
But this is a team that won 10 games last season with a lot of young players in key roles, and all of them should be a year better. That experience only encouraged the Bucs to continue with their youth movement and steer clear of making any dramatic moves in free agency. Instead of worrying about regressing, like a lot of fans and media are predicting, the Bucs fully expect to take another step forward.
"It doesn't matter how old you are,'' quarterback
Josh Freeman
said. "It matters how well you're playing and if you have the ability to step up in big situations.''
Freeman epitomizes what Dominik was talking about. The quarterback is 23, but spend a few minutes with him or think about how he led his teammates through workouts during the lockout and you'd swear he was 28. Or 38.
"It's about the type of player we're looking for,'' Dominik said. "Certainly, the skill level has a lot to do with it. But it's also very much about the type of player we're looking for in terms of their demeanor. Plus, I have a lot of confidence in our coaching staff as far as getting guys prepared.''
The Bucs hit it big when they drafted Freeman, and pickups such as receiver
Mike Williams
and running back
LeGarrette Blount
have made quick impacts. That's part of the reason why they plan to plug rookie
Adrian Clayborn
in as an immediate starter at defensive end and why they're willing to put rookie
Mason Foster
at the all-important middle linebacker position.
"When we talked to Adrian Clayborn and Mason Foster in the draft process, we felt that sense of someone who was wise beyond his years," Dominik said. "It gives you confidence to be able to see a young man who takes his game and his craft seriously and puts time into it and it's important to him. That's the kind of thing that's important to us. We have a young team that we like very much and we look forward to it growing older together."
THREE HOT TOPICS
[+] Enlarge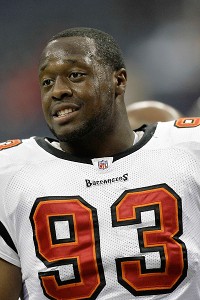 Brett Davis/US PresswireThe Buccaneers have invested several high draft picks in their defensive line, including the No. 3 overall pick in 2010 on defensive tackle Gerald McCoy.
1. Where will the pass rush come from?
The Bucs were among the worst in the league at pressuring quarterbacks last season. That's why they drafted Clayborn in the first round and fellow defensive end
Da'Quan Bowers
in the second in April. A year ago, the Bucs used their top two draft picks on defensive tackles
Gerald McCoy
and
Brian Price
.
There's a lot invested in those young defensive linemen and the Bucs expect immediate results. Sure, they wouldn't mind getting some sacks from blitzes by their linebackers or defensive backs, but it's not like the Bucs have some other pass-rushing defensive end hidden up their sleeves.
Throughout camp, Clayborn's looked even better than the Bucs thought he was when they drafted him. Bowers, coming off knee surgery in January, hasn't been quite at Clayborn's level. But he has looked better than the Bucs expected him to be at this point. At worst, Clayborn will start right away and Bowers will be used as a situational rusher. At best, Bowers might get on the field more than that and show every team that let him slide to the second round that his knee is fine.
2. Can Blount be a complete running back?
That's the hope and the plan, but Blount is a work in progress. We learned quickly last season that he can run between the tackles. He didn't take the starting job from
Cadillac Williams
until midseason, but he still managed to rush for 1,007 yards.
Williams thrived as a third-down back last season, but he left via free agency, creating a void. When Blount was on the field last season, it was pretty obvious the Bucs were going to hand the ball to him. He caught only five passes and the team was hesitant to rely on Blount to pick up on blitzes on pass plays.
Earnest Graham
and
Kregg Lumpkin
can do some of those things, but the Bucs have been working hard to make Blount a more balanced player. The coaching staff said he's now up to speed on pass blocking and he has worked a lot on catching the ball out of the backfield in camp. If Blount can do everything this season, Tampa Bay's offensive intentions no longer will be telegraphed.
3. Was Freeman's first full season as a starter misleading?
Not at all. He threw for 25 touchdowns with only six interceptions and pretty much carried an offense that had to do a lot of shuffling through a series of injuries.
Freeman took over as leader of the team last season, and he only reinforced that with the way he kept the Bucs together during the lockout. Those workouts only improved his chemistry with Williams,
Arrelious Benn
,
Sammie Stroughter
and tight end
Kellen Winslow
. Freeman is capable of throwing for 30-plus TDs and passing for more than 4,000 yards.
BIGGEST SURPRISE
[+] Enlarge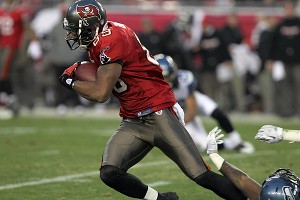 Kim Klement/US PresswireTampa Bay is counting on a big contribution from receiver Dezmon Briscoe this season.
The Bucs had a pretty strong feeling about receiver
Dezmon Briscoe
when they made the unconventional move of signing him to the practice squad, but paying him like he was a member of the regular roster at the start of last season. Briscoe later earned his way onto the regular roster and has made the Bucs look like geniuses throughout camp and in the first preseason game. The team believes Benn is coming along well after suffering a torn ACL late last season. But the Bucs don't want to rush Benn. That's why Briscoe could end up starting at the "Z'' position opposite Williams early in the season. The long-range promise of Briscoe is off the charts because he can play all three receiver spots.
BIGGEST DISAPPOINTMENT
It's not so much that the Bucs have been disappointed with what they've seen from McCoy and Price when they've been on the field. The problem is the two second-year defensive tackles simply haven't been on the field a lot. The hopes are still high for these two, but Price is coming off a rare surgery on his pelvis and is being brought along slowly. McCoy, who had his rookie season end with a triceps injury just when he was starting to blossom, has missed some of camp with a shoulder injury.
Roy Miller
is a consistent player and the Bucs don't mind starting him. But they need McCoy and Price to be on the field and making big plays.
OBSERVATION DECK
The arrival of Clayborn and Bowers also helps the offensive line. In the old days, left tackle Donald Penn rarely had to break a sweat in practice because he worked against Stylez G. White.
There's concern on the outside about depth in the secondary. A lot of that concern stems from the uncertain situations of cornerback Aqib Talib and safety Tanard Jackson. Talib could face suspension by the league for an offseason incident in which he was charged with aggravated assault, and Jackson is out until at least late September as he finishes a one-year suspension for violating the NFL's substance-abuse policy. The Bucs have no idea what's going to happen with Talib. If Jackson returns to them, they view it as a bonus. But the team isn't nearly as concerned with the depth situation as fans are. Coaches are comfortable with Sean Jones and Cody Grimm as starting safeties and think they've found quality backups in Larry Asante and Corey Lynch. At cornerback, the Bucs believe E.J. Biggers could step into a starting role if anything happens to Talib, and there's hope that second-year pro Myron Lewis could succeed as a nickelback.
The Bucs like what they've seen from Lumpkin during camp and think he might be a reliable backup for Blount. But Graham is a nice fallback option. He's been playing fullback, but played tailback earlier in his career. With Erik Lorig getting time at fullback last season, the Bucs have flexibility to move Graham around.
Although Foster is expected to start in the middle, the Bucs aren't going to overload the rookie. At least in the short term, outside linebacker Quincy Black will wear the radio helmet and call the defensive plays. Part of that is because Black will be on the field all the time, and Foster will come out when the Bucs go to the nickel package.
Attention, fantasy football players: Consider drafting Winslow. He was good last season, despite missing a lot of practice time with an achy knee. Winslow said the knee feels better than it has in years. He spent most of the offseason working out with Freeman in Tampa and their chemistry should be even better than last season.
August, 12, 2011
8/12/11
10:45
AM ET
METAIRIE, La. --
Jonathan Vilma
grabbed the question and treated it much the same way he would a running back.
He grabbed it forcefully and drove it straight to the proper destination.
"It's really very, very simple,'' the middle linebacker for the
New Orleans Saints
said. "If we want to get back to being the Super Bowl champions, we have to play defense the way we played it in 2009, not the way we did in 2010. We have to go out there and start making turnovers happen again.''
[+] Enlarge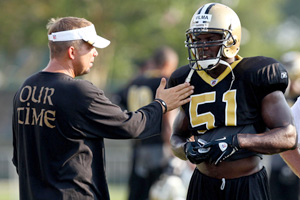 Derick E. Hingle/US PresswireJonathan Vilma, right, wants the Saints' defense to return to its 2009 playmaking form.
It's not as though the 2010 season was a complete disaster for the Saints. They went 11-5 and made the playoffs. But they went out to Seattle for the first round of the postseason and got upset by a team that didn't even have a winning record. That ended New Orleans' defense of its first Super Bowl championship, and Vilma put the reason for that squarely on the defense.
"Look, we still had [quarterback]
Drew Brees
and all sorts of weapons on the other side of the ball,'' Vilma said. "Last year's problem wasn't our offense. It was our defense. We just didn't make things happen the way we did in 2009. We played well at times, but we also left a lot of big plays on the field because, for whatever reason, we just didn't make the same plays we did the year before.''
Vilma pointed to one statistic to demonstrate his point. In 2009, the Saints were plus-11 in turnover ratio. In 2010, they were minus-6.
They have the personnel to reverse that trend, and Vilma said a little more help from the defense could be all it takes to get back to the Super Bowl.
"You think of McDonald's and you think of Burger King, you know what you're going to get across the world,'' Vilma said. "So we want people to think of Saints defense, you know what you're going to get. You're going to get takeaways, hitting, relentlessness, running to the ball. I think we're starting to build that brand, we are still working toward it, and one thing we won't do is take a step back."
THREE HOT ISSUES
1. Can the defense really get back to 2009 form?
Yes, it's very possible. Gregg Williams is one of the league's best and most aggressive defensive coordinators. When I visited camp recently, the defensive players were picking up every loose ball, even well after plays were done. That's something Williams brought when he arrived in 2009. It didn't really stop in 2010. But you can tell the Saints are approaching loose balls with much more gusto in this camp.
That's great, but just taking that mental approach won't be enough. The Saints have made some personnel moves that should make the overall defense better and should help produce turnovers. The Saints added defensive tackles
Shaun Rogers
and
Aubrayo Franklin
and suddenly are much bigger on the defensive line. Rotate Rogers and Franklin with a healthy
Sedrick Ellis
, and the Saints suddenly could be much stronger than they've been in the middle of the line in recent years.
That should help the pass rush, particularly
Will Smith
,
Alex Brown
and rookie
Cameron Jordan
. Smith and Brown didn't get as much pressure on opposing quarterbacks as the coaches would have liked last season. Pressure is the key to a Williams' defense. If the Saints can get pressure, the turnovers will come naturally.
2. Is the defense really to blame for last year?
Not quite as much as Vilma claims. He's right that the defense wasn't the turnover machine it was in 2009. But the offense wasn't exactly the perfectly tuned machine it was in the Super Bowl season. The Saints scored 64 touchdowns in 2009 (and five of those came on interception returns by the defense), but that number dropped to 44 last season. Maybe the defense could have helped a bit more with field position, but this offense had some flaws.
It's tough to criticize Brees, who has carried the Saints since his arrival in 2006. But numbers don't lie, and they'll tell you Brees had an off year last season. His passing yardage and touchdowns were similar to 2009, but the huge difference was interceptions.
Brees threw only 11 interceptions in 2009 but had a career-high 22 last season. He never missed any playing time or complained about it, but Brees never seemed to be quite the same after injuring his knee in a Week 3 game with Atlanta. That might have had more to do with his "slump'' than we'll ever know.
But Brees has had a whole offseason to recover, and I expect him to bounce back. His cast of receivers remains largely the same, and replacing center
Jonathan Goodwin
with
Olin Kreutz
should not hurt an offensive line that already is very good.
[+] Enlarge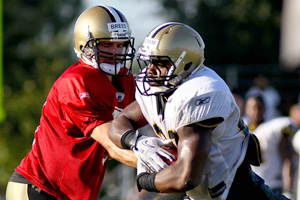 Derick E. Hingle/US PresswireMark Ingram, right, should become a workhorse for the Saints right away.
3. How will the Saints use their running backs?
Whether you loved him or not,
Reggie Bush
is gone, and that's going to have an impact. Although he never put up huge numbers, Bush was the kind of player who made defenses account for him every time he was on the field.
It's easy to say the Saints will try to replace Bush by committee and, to some degree, that's true. They brought in
Darren Sproles
to do a lot of what Bush did -- run outside, catch passes out of the backfield and work as a return man. They also have
Pierre Thomas
and
Chris Ivory
, who are pretty solid all-around backs.
But the biggest offensive move the Saints made this offseason was drafting
Mark Ingram
. He's a running back who can do everything well, and he'll probably be used the way
Deuce McAllister
was in the early years of coach Sean Payton's tenure. Sproles will inherit the packages Bush was in on, but Ingram's going to get most of the playing time -- and carries.
BIGGEST SURPRISE
Nobody got very excited when the Saints added
Will Herring
. That's understandable, because he spent four seasons in Seattle as a backup linebacker and special-teams player. Herring has only seven career starts, but a coaching staff and front office that have been known to find some steals might have another one. Herring has been getting most of the first-team work on the strong side in training camp, and the coaches have been raving about him. He's quick and he's smart, and the change of scenery apparently has him playing better than ever.
BIGGEST DISAPPOINTMENT
When he's healthy and on the field,
Tracy Porter
is a solid cornerback. But Porter hasn't been on the field this training camp. He's been walking around the sidelines with his left knee wrapped as he recovers from offseason surgery. There's hope Porter will be ready for the regular season, and there is even higher hope he'll be motivated to have a huge year because he can become a free agent after the season.
But there's also some skepticism, because this isn't the first injury for Porter. He missed four games last year and four the year before. Fellow starter
Jabari Greer
also has a history of injury problems. If Porter and Greer have more problems, the Saints could be thin at cornerback. They signed veteran
Fabian Washington
, but he has missed some camp time with an injury.
The upside is the absence of Porter and Washington has given second-year pro
Patrick Robinson
and rookie
Johnny Patrick
more work. Williams has been praising both of them. If either or both continue to impress and Porter's recovery lingers, we could see a change in the lineup. That also wouldn't help Porter's chances of earning a big contract and staying with the Saints next season.
OBSERVATION DECK
Wide receiver Robert Meachem was a close runner-up for the biggest-surprise category above. Meachem is coming off ankle surgery for an injury that slowed him last year, and he's having an excellent camp. He has caught just about every pass thrown his way and seems to be moving much better than a year ago. Meachem was a force as a deep threat in 2009, and it looks as if he might be returning to that form.
Herring has been working on the strong side and Scott Shanle on the weak side. But nothing's settled yet. Herring appears headed for a starting job, but Shanle is aging. The Saints have liked what they've seen from Clint Ingram and Jonathan Casillas, and they know what they have in Jo-Lonn Dunbar. They'll probably go through several preseason games before deciding firmly on their starting linebackers. Even then, they could still rotate linebackers because the coaches view all of them as pretty close to equal.
One linebacker who is struggling a bit is third-round pick Martez Wilson. You can see he has good athleticism, but he looks lost at times during team drills. The Saints aren't anywhere close to being ready to give up on him, because he has lots of upside. But a lot of fans thought he'd be an instant starter. That's not going to happen.
The Saints never have been afraid to take a shot on a reclamation project, and that's what they did with Rogers at defensive tackle. He came into the league with a lot of hype back in 2001 but has spent his career stuck with some pretty bad teams in Detroit and Cleveland. Rogers even lost his starting job with the Browns last year, and there have been questions about his conditioning and attitude throughout his career. But this might be a perfect fit. Rogers is on a good team for perhaps the first time in his career, and Williams is a master motivator. Even if Rogers doesn't work out, I like how the Saints hedged their bet by bringing in Franklin.
The Saints also took a shot on another former first-round pick. That's offensive tackle Alex Barron. But he's not off to a great start. He has been sidelined by injury, and unless he comes back soon and makes a big impression, he probably won't make the roster.
Since entering the league in 2009, punter Thomas Morstead has been known as a guy with a big leg. That hasn't changed. But Morstead put in a lot of work on his directional punting in the offseason, and you can see the results in practice. That should help the defense with field position.
August, 7, 2011
8/07/11
1:00
PM ET
FLOWERY BRANCH, Ga. -- Every morning since training camp started,
Matt Ryan
has walked into the quarterbacks room and seen the same two messages on the board.
They were written by quarterbacks coach Bob Bratkowski, who was not with the Falcons last year. But maybe an outsider's point of view is what the Falcons need to take the next step in a process that's seen them post winning records the past three regular seasons but fall flat when January rolls around and the playoffs start.
"It's kind of those two things that, more so than anything else, are important to us,'' Ryan said. "The one is 'The most important thing you bring to work every day is your attitude.' Great. The second thing is 'It's not so much what happens to you, but how you respond to what happens to you that defines who you are.'"
What happened to the Falcons last year was that they cruised through the regular season. They went 13-3 and claimed the No. 1 seed in the NFC.
"And, then, bam, we just got shell-shocked in the playoffs," cornerback
Dunta Robinson
said.
The 48-21 loss to Green Bay in the Georgia Dome still weighs heavily on the Falcons. They're not dwelling on it but are trying to use it for motivation and growth.
That's why Bratkowski's message about responding hits Ryan so hard. The Falcons have made big personnel moves, drafting receiver
Julio Jones
and signing free-agent defensive end
Ray Edwards
. They fit the profile of the "explosive'' players coach Mike Smith and general manager Thomas Dimitroff talked so much about in the offseason.
The physical pieces might be in place. But for the Falcons to take the next step -- winning some playoff games and maybe a Super Bowl -- they know they have to deal mentally with the lingering aftermath of the Green Bay loss.
"Sometimes, you have to make mistakes to kind of push you forward,'' Ryan said. "We need to take what we learned from that game and apply it to this season so we can hopefully go deeper than we have before.''
THREE HOT ISSUES
[+] Enlarge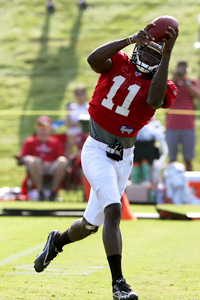 Daniel Shirey/US PresswireThe addition of Julio Jones should open up opportunities for Atlanta's other playmakers.
1. How is the offense going to get more explosive?
It's not as though Smith and coordinator Mike Mularkey have torn up the playbook and drawn up a whole new one. They've done some things really well in the past, but they've made some personnel changes and some tweaks in philosophy in an effort to get more plays of 20 yards or more.
Ryan has the arm to throw downfield, but other than
Roddy White
, he didn't have a deep threat last year. Jones' presence should change that, and we're not talking just about the explosive plays he will make. Having him should open things up for White and may allow the Falcons to sneak tight end
Tony Gonzalez
down the field more often. It also allows
Harry Douglas
to concentrate solely on playing the slot, a position where he can have the most impact.
With all that passing going on, defenses might not be as focused on the running game, which may allow
Michael Turner
and rookie
Jacquizz Rodgers
to break off some longer runs.
2. How much will Edwards help the defense?
There's a bit of a misconception out there that the Falcons expect Edwards to come in and suddenly put up 15 or 16 sacks. That's not realistic for a guy who never put up more than 8.5 sacks while playing opposite
Jared Allen
in Minnesota. Edwards will be playing opposite veteran
John Abraham
, and it's possible Edwards could get to double-digit sacks.
But the Falcons will be happy if Edwards simply can provide some balance in the pass rush. They've got a good interior pass-rusher in tackle
Jonathan Babineaux
and are hoping 2009 first-round pick
Peria Jerry
is finally healthy and can generate some push from the other tackle position. For too long, Atlanta's been relying almost exclusively on Abraham for a pass rush.
Now, the Falcons think they've got four guys who can pressure quarterbacks. If that's the case, you're going to see more mistakes by offenses, and that's going to mean more big plays for guys such as linebackers
Sean Weatherspoon
and
Curtis Lofton
and cornerbacks
Brent Grimes
and Robinson. Edwards doesn't have to come in and be a one-man show. He just needs to play a role, and that will make the entire defense better.
3. Does Ryan really have what it takes to win some playoff games and firmly establish himself as an elite quarterback?
Absolutely. Ryan's been very solid in each of his first three seasons. But the supporting cast always has been lacking in one way or another.
Now, all the tools are there, and the Falcons may turn Ryan loose more than ever. White's made some comments about how the Falcons could be like the old
St. Louis Rams
when they were known as the "Greatest Show on Turf." That might be a bit of a stretch because the Falcons don't have a running back quite like
Marshall Faulk
. But then again, they've got tons of talent, and that should allow Ryan to really shine.
BIGGEST SURPRISE
[+] Enlarge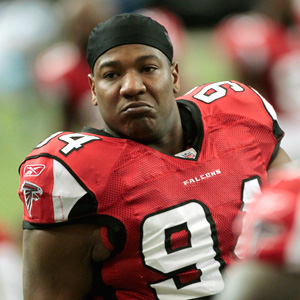 AP Photo/Dave MartinPeria Jerry, a 2009 first-round pick, has looked sharp in camp so far.
After returning last season and playing a limited role as a backup, Jerry has been flying around the field in the early part of camp. The defensive tackle has shed the knee brace he wore all last year and appears to be playing with confidence. Rookie
Corey Peters
did well in a starting job last season, but he was simply a role player. If fully healthy, Jerry has the potential to be a dominant defensive tackle. The Falcons drafted him because he could get penetration against the run and also put pressure on the passer. If he really is healthy, Jerry can create negative plays by an offense and help produce turnovers.
BIGGEST DISAPPOINTMENT
Although the Falcons were happy when running back Jason Snelling agreed to a one-year deal Sunday morning, they're not happy he missed so much time from training camp. Snelling has been the top backup to Turner and the Falcons view him as an important part of their offense. They're making some tweaks to their system and Snelling will be well behind the rest of the running backs in terms of knowing the new parts of the offense. Snelling's absence also allowed Rodgers to get lots of work early in camp and the rookie has made a good impression. Snelling is a power runner like Turner and will remain the top backup in running situations. But Snelling used to be the top receiving threat out of the backfield. Rodgers could take that role away from him.
OBSERVATION DECK
August, 4, 2011
8/04/11
8:49
AM ET
SPARTANBURG, S.C. -- You've heard plenty about the lockout over the past few months, but it actually was in effect in Charlotte since 2008.

The moment owners opted out of the previous labor agreement,
Carolina Panthers
owner Jerry Richardson realized there were tough financial times ahead. He immediately decided he wasn't going to spend big money on long-term deals for players or coaches (the Panthers didn't add a single unrestricted free agent in 2009 or 2010) because Richardson wanted to protect everyone else who worked for his franchise during these tough times.
That's why defensive end
Julius Peppers
was allowed to walk in free agency last year. That's why John Fox was allowed to be a lame-duck coach entering a 2010 season that turned into a nightmare. Despite having a roster filled with a reasonable amount of individual talent, the Panthers went 2-14 and fan apathy reached an all-time high.
But Richardson's entire philosophy changed the moment the labor situation was resolved. He took the lock off his checkbook and began paying huge money to keep players such as defensive end
Charles Johnson
, running back
DeAngelo Williams
and linebackers
Jon Beason
,
James Anderson
and
Thomas Davis
. He added free agents such as kicker
Olindo Mare
and traded for tight end
Greg Olsen
. Including rookies, Richardson already has written checks for more than $100 million in signing bonuses.
Throw in the fact that Ron Rivera has replaced Fox and the Panthers chose quarterback
Cam Newton
with the first pick of the draft, and there suddenly is optimism the Panthers can quickly escape the label of being one of the league's worst teams.
"That's the one thing I've learned from being a Carolina Panther for going on nine years is that you never know what kind of a team we're going to field from year to year,'' veteran left tackle
Jordan Gross
said. "Things can change dramatically, and I think they are going to here. I love Coach Rivera's philosophy and the staff he's put together. They're committed to winning, and the organization has shown that as well with what it has done with getting new guys and re-signing our own guys. I think we can be as good as we want to be.''
[+] Enlarge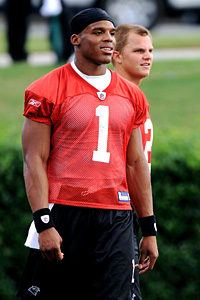 Streeter Lecka/Getty ImagesAs the No. 1 overall pick in April's draft, it is inevitable that Cam Newton will at some point start for the Panthers at quarterback.
THREE HOT ISSUES
1. Will Newton be the savior of this franchise?
It's way too early to even have a clue if the guy who played only one full season at Auburn will succeed in the NFL. But the most important thing to keep in mind is that the Panthers aren't asking Newton to be their savior -- at least not right away.
The hope in Carolina is that Newton will get a reasonable grasp of the offense in training camp and show it in preseason games. If he does, he'll be the opening-day starter. The Panthers don't want to prolong the inevitable and start the season with
Jimmy Clausen
because Newton clearly is their future.
The playbook can expand as time goes on, but the organization believes that Newton can step right in behind an offensive line that should be good and can take advantage of a strong running game, very good tight ends and wide receiver
Steve Smith
.
2. What will the new offense look like?
The popular thing to do in Carolina is assume that the departure of Fox and offensive coordinator Jeff Davidson means the Panthers are suddenly going to start throwing the ball all over the field.
They will throw more, but the Panthers won't pass as often as people think. That would be foolish with a rookie quarterback and it would border on insanity to keep the ball out of the hands of running backs Williams and
Jonathan Stewart
. Under new offensive coordinator Rob Chudzinski, there will be significant differences from the Fox/Davidson era.
Chudzinski came from San Diego and plans to use an offensive scheme that's based on what the Chargers do. You'll see more passes to the tight ends, a big reason the Panthers brought in Olsen and
Jeremy Shockey
. You'll see plays designed to get Smith away from double coverage. But don't expect Newton to step right in and immediately be
Philip Rivers
.
3. What will the defense look like?
Rivera has a defensive background. His coordinator is Sean McDermott, who spent time in Philadelphia. Some personnel changes in the middle of the defensive line will allow Beason, Anderson and Davis to again become play-making linebackers. That's going to make this defense look a little like Fox's defense of a few years back. But the real change will be a new philosophy that involves taking risks and being aggressive. The Panthers didn't blitz much last year and didn't have much success when they did. That's going to change. McDermott's going to use those athletic linebackers as blitzers, and with Johnson and
Greg Hardy
already up front, Carolina suddenly could have a dynamic and disruptive pass rush. The secondary is not loaded with big-time talent, but it could look a lot better if quarterbacks are forced into mistakes.
BIGGEST SURPRISE
[+] Enlarge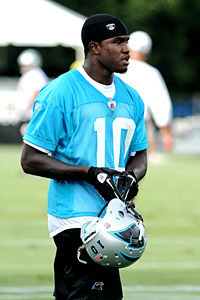 Joshua S. Kelly/US PRESSWIREArmanti Edwards reached out to punter Jason Baker during the offseason to work on fielding punts.
Granted, it's early, but the Panthers are hopeful receiver/return man
Armanti Edwards
will make an impact. A second-round pick last year, Edwards was a nonfactor as a rookie. That was largely because Fox believed the former college quarterback did not belong in the NFL. He barely let Edwards on the field as he made a statement to an owner and front office that wanted the lame-duck coach to embrace a youth movement. But Fox is gone and there's sudden optimism about Edwards. The team didn't know it until after the lockout ended, but it was delighted to find out that Edwards reached out to veteran punter
Jason Baker
during the offseason. The two worked out together frequently and Edwards made dramatic improvement in his ability to catch punts. There's a good chance he could be the main punt and kickoff returner this season. He also could be involved in certain packages as a wide receiver.
BIGGEST DISAPPOINTMENT
The perception is the Panthers have done just about everything they've wanted to in free agency. But that's not quite reality. According to a league source, the team made a strong play for free-agent receiver
Santana Moss
, offering him a three-year deal worth $15 million. Moss took the deal back to the Redskins, who matched it, so he elected to stay in Washington. That one shook the Panthers a bit. Although they have high hopes for young receivers
Brandon LaFell
and
David Gettis
, they want to pair a proven veteran with Smith to start the season. Look for them to bring in another veteran at some point before the start of the regular season.
OBSERVATION DECK
Keep your eye on the cornerbacks who remain on the market or come available over the next few weeks. The Panthers let Richard Marshall leave via free agency. They still have Chris Gamble and Captain Munnerlyn, but a team that has been so aggressive this offseason isn't going to sit still at this position. The Panthers will sign a cornerback with starting experience at some point. They're just waiting for the right guy at the right price.
The Panthers pushed veteran kicker John Kasay out the door and handed Mare a $4 million signing bonus. Kasay, 41, remained accurate on field goals, but the feeling was that he no longer had the leg strength to make long kicks. Mare's 38 and still can make long field goals. But the biggest reason the change was made wasn't about field goals. It was about kickoffs. The Panthers carried a kickoff specialist the past few years and didn't want to waste a roster spot by doing that again. With the league moving kickoffs up 5 yards this year, the team believes Mare can produce a lot of touchbacks.
Don't overlook running back Mike Goodson. As long as Williams and Stewart are healthy, he's not going to get a bunch of carries. But Goodson was one of the few bright spots from last season and the new coaching staff noticed him on film. He can do a lot out of different things out of the backfield, and the coaching staff believes there's a role for Goodson. Think of a scaled-down version of what New Orleans did with Reggie Bush and plans to do with Darren Sproles.
Perhaps the most unsung move the Panthers made all offseason was hiring Mike Shula, the son of legendary coach Don Shula, as quarterbacks coach. He's had ups and downs as an NFL coordinator and college head coach at Alabama. But Shula has grown from it all and is a very good quarterbacks coach and teacher. If Shula can develop Newton or Clausen into a big-time quarterback, the world finally might give this guy his due.
The return of right tackle Jeff Otah is more significant than many realize. Otah missed all of last season with a knee injury but is fully healthy now. That's going to have a huge impact on the running game.
Ryan Kalil signed his $10 million franchise tender and the team hasn't talked to him about a long-term deal. But that's simply because the front office has been so tied up making other moves. This team realizes Kalil is still young and already considered one of the best centers in the game. As soon as things settle down a bit, expect Kalil to be offered a big long-term deal.