NFC South:

2011 NFL owners meetings
March, 23, 2011
3/23/11
7:30
AM ET
NEW ORLEANS --
Jeremy Shockey
has been a controversial figure throughout his career, but he got a glowing sendoff from one chapter Tuesday morning.
It came from
New Orleans Saints
coach Sean Payton, who made the decision to release Shockey before the lockout.
"It was probably more difficult for me because of my relationship with him going back to New York,'' said Payton, who was an assistant coach with the Giants in Shockey's rookie season. "He's one of my favorite players ... and he plays with passion. He brought a swagger to what we do.''
Shockey signed with Carolina and Payton was happy to give a detailed scouting report of what the tight end can bring to the Panthers. And continued raving about Shockey's swagger.
"It's an aspect of his game where it's almost calming to everyone around him because he can kind of take on that role and make the big catch and be ready to come up with the big play,'' Payton said. "I think it's a little contagious as well. He has got strong hands in traffic. He's bigger than anyone ever thinks until you see him and you're up next to him and you realize this guys is big. He's a big target with strong hands and he has got that ability to, fourth-and-four, to win the game, he has that ability and sees himself making that play and that has never changed.
"To his credit, he'll come into training camp in great shape. He's something. He's a rare athlete and someone, and I've seen Year 1 to where he's at now, and there are aspects of what he does and what he brings to the table. I also think he's a great teammate.''
Payton said he's happy he'll still get to see Shockey twice a year.
"What was best for him, even if it wasn't as good for the Saints, made me happy,'' Payton said. "He's in our division obviously, and you respect him and you understand the threat he presents. But more than anything else, I was happy mostly for him.''
March, 22, 2011
3/22/11
8:30
AM ET
NEW ORLEANS -- When the
Atlanta Falcons
drafted
Peria Jerry
in the first round in 2009, they thought the defensive tackle would be a force by his third season.
That hasn't happened -- and we'll explain why in a minute -- but the Falcons still believe Jerry will be a force in 2011. Yeah, that may seem a little strange since Jerry spent last season as a backup to 2010 third-round pick
Corey Peters
.
But there's much more to this story and that's why the Falcons are expecting much more from Jerry next season.
"We have big expectations for him to continue to evolve into a legitimate contributor for where we drafted him,'' Atlanta general manager Thomas Dimitroff said during a break in the NFL owners meeting. "This is a big year for Peria, as we all know.''
Jerry's first two seasons have been far from big. Jerry injured his knee early in his rookie season and returned last preseason. But he wasn't able to claim a starting role. The Falcons said that's because Jerry still was recovery from his injury.
"Peria was healthy enough to be on our 45-man roster week in and week out, but he was never 100 percent,'' coach
Mike Smith
said. "I believe he got stronger as the season went on. We saw progress from him from week to week, but I'm excited about this season for him. You hear so often that the second year after a knee injury is when they're really back at 100 percent. They might be back on the field in a year, but they're not really back until they've had a season under their belt.''
Dimitroff admitted the Falcons went into last season knowing they might have to proceed slowly with Jerry.
"Any time you have a big man having a significant knee injury, it's going to take time,'' Dimitroff said. "We were very aware of that and he was going to have to be worked back into the rotation. Corey Peters stepped up and really hung in well for us. That allowed us to step back a little on Peria and make sure he was healed properly. A lot of people are wondering how Peria's coming along. I can tell you he is a guy who is very focused on returning to his full ability and we think that will happen.''
March, 21, 2011
3/21/11
9:45
PM ET
NEW ORLEANS -- The Glazer family, which owns the
Tampa Bay Buccaneers
, often gets labeled as reclusive by fans and the media.
That's kind of strange, because the guy I just spent 20 minutes talking to might have been the most gregarious person I ran into all day. That would be Bucs co-chairman Joel Glazer.
At an NFL owners meeting, where a lot of people are walking around looking worried or sad about the labor situation, Glazer was a notable exception. He spent time individually with reporters from the two main newspapers in the Tampa Bay area and with the NFC South Blog. In my portion, which was roughly 20 minutes, Glazer was almost effervescent.
[+] Enlarge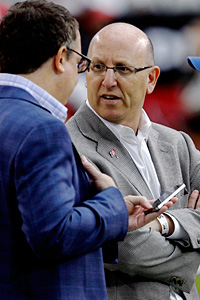 AP Photo/Ross D. FranklinTampa Bay Buccaneers co-chairman Joel Glazer is excited about the future of his team.
He did most of the talking and was animated and happy almost the entire time. There's a reason for that. Glazer, along with brothers Bryan and Ed, is presiding over a team that's clearly in a good spot. Glazer didn't want to talk much about the lockout but said he's confident the labor situation will be resolved at some point and his team will be ready to jump out of the gate.
"I couldn't be more excited about where this team is at,'' Glazer said. "When we set out on this path two years ago, there was a plan in place. We said we're going to be disciplined in that plan. We're not going to deviate from that plan. The one thing we recognized was when you're doing something like this, you have to have thick skin and endure the early part of the plan. There are a lot of people with opinions. Their opinions are immediate and reactionary. To see the plan to start unfolding and for last year to play out like it did was one of the most exciting, fun seasons I've ever experienced in football.
"What's most exciting is the fact that we're the youngest team in the National Football League and the exciting players we have and where we can go from here.''
You know the story, so we'll keep the recap very short. After a 9-7 season in 2008, the Buccaneers fired coach Jon Gruden and general manager Bruce Allen and replaced them with Raheem Morris and Mark Dominik. Veteran players like
Derrick Brooks
were shown the door and, at times, Morris and Dominik looked like they didn't know what they were doing.
The Bucs went 3-13 in 2009, but things turned in a big way last season, and the Bucs went 10-6.
The Glazers get labeled as detached owners because they're not as visible as some others in the league. But I think that's a huge misconception. Although you don't see the Glazers on the sidelines like some others, they're far from absentee owners. It's not unusual to run into them at One Buccaneer Place or see them roaming Raymond James Stadium. Back when Malcolm Glazer, the father of Joel, Bryan and Ed, first bought the team, one of the reasons he cited for making the move was his sons' love of the game.
"I love football,'' Joel Glazer said. "I haven't missed a Tampa Bay Buccaneers game since we've owned the team and gone all the way to Japan. I live for Sundays. I live for the wins and can't stand the losses. Anybody who knows myself or knows my family knows this is a true love. To have a young team that you know is going to get better and to compete for the ultimate prize, that's what you're in this for and that's why it's so exciting.''
Glazer even is excited about the one thing that wasn't a positive last season -- attendance. The Bucs didn't sell out a game at Raymond James Stadium, and none of their home games was shown on local television. Before last season, the Bucs had sold out every home game since their stadium opened in 1998.
"Our new sales in January, February and March have been stronger than I ever remember them being,'' Glazer said. "Renewals are extremely high. The sense you get is that the community is reacting to what they saw last year. That excitement is starting to percolate throughout the community, and it is translating into ticket sales.''
Glazer's not ready to guarantee sellouts, but he's optimistic things are headed in the right direction.
"There's still a lot of work to do,'' Glazer said. "Even before the season ended, we sat down and we started to change our pricing to reflect the economy and what's going on and trying to find ways to make something available for everybody. The one thing that hasn't been lost on us is Florida has been hit very hard. Unemployment is very high in Florida. You can't just ignore that. You have to adapt to the situation.''
By the way, you're going to hear a good bit more from Glazer in the coming days. He filled up my tape recorder, which is something reclusive people generally don't do. But, hey, maybe, as Glazer said, he and the Bucs are adapting to the situation.
March, 21, 2011
3/21/11
4:17
PM ET
NEW ORLEANS – I just reported over on our news side that the
Tampa Bay Buccaneers
appear to be a leading candidate to be featured on HBO's "Hard Knocks'' series this summer.
That, of course, comes only if there is a labor agreement and teams go to training camp in July or August. But the Bucs have been involved in talks, although no deal has been finalized.
This would make plenty of sense for the Bucs. They're a team that struggled with attendance last season. Not a single game sold out at Raymond James Stadium and segments of the team's fan base have not been positive about ownership.
Putting an outgoing head coach like Raheem Morris on the show could boost Tampa Bay's national exposure. The Bucs also could use the show to help market some rising young stars like quarterback
Josh Freeman
, running back
LeGarrette Blount
and receiver
Mike Williams
.
March, 21, 2011
3/21/11
11:38
AM ET
NEW ORLEANS -- Two months have passed since a disappointing playoff exit and
Atlanta Falcons
coach Mike Smith is still looking back at what happened in a home loss to the
Green Bay Packers
. That might be the best or the only way to move forward.
[+] Enlarge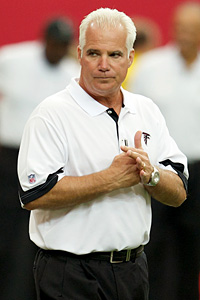 Dale Zanine/US PresswireCoach Mike Smith says the Falcons' methodical offense must find a way to deliver more plays of 20-plus yards next season.
In a hotel ballroom Sunday afternoon, Smith gave plenty of praise to the Packers. Then he took one finger and pointed it at the person he believes is the main culprit for the 48-21 loss to Green Bay. The finger stopped about three inches from Smith's chin.
"You can get paralysis from analysis,'' Smith said. "We analyzed a lot in those two weeks of our preparation. Even though our players were off for part of that time, I think as a coaching staff, we tried to turn over every stone and look in every corner. I think there's a point of diminishing returns in terms of your preparation.''
In other words, Smith believes he and his coaching staff outthought themselves after they went 13-3, earned the No. 1 seed in the NFC and prepared for a game in the Georgia Dome against the sixth-seeded Packers.
"As a coaching staff, the first thing you have to do is make sure that you have the plan in place that gives you the best opportunity to succeed,'' Smith said. "I think that sometimes you make the scope too big, especially when you have the opportunity to have extra time to prepare. I think that you have to stay with the things that have gotten you to where you're at.''
That's one of the things I admire about Smith. He's as honest a coach as you'll find, and he'll throw blame at himself. The other thing I came to admire about Smith came moments after he talked about sticking with the things that the Falcons do best. He didn't veer off that, but at least acknowledged there have to be some minor tweaks.
Smith and the Falcons have been a success story. The franchise was in disarray when Smith was hired in 2008. He's produced three winning seasons, but has yet to win a postseason game. That's the next logical step for any team in that situation, and the pressure might have increased a bit in recent weeks as Smith and general manager Thomas Dimitroff signed contract extensions. That's fine with Smith.
"If you're a relevant team year in and year out, you're going to be judged on how you perform in the second season and we did not perform very well this past postseason,'' Smith said. "It's going to be a very good learning opportunity for me, our coaches and our players as well. I think we'll take a lot from that.''
So what specifically does Smith think the Falcons need to do to get over the hump?
"You analyze your team in all phases,'' Smith said. "Creating explosive plays on the offensive side and minimizing them on the defensive side are very important. I think the explosive-play ratio is just as important as the turnover ratio. We did a better job this year in terms of minimizing explosive plays as a defense. But offensively, we did not create the 20-yard plays. Those 20-yard plays are very important in the flow of a football game. Usually, if you have a drive with a 20-yard play in it, you're going to score a touchdown or a field goal.''
It's easy to take those comments and assume the Falcons can just go make dramatic changes and start throwing the ball downfield on every play. But that's not going to happen, and it sure isn't what Smith is saying.
"Our style is we want to control the clock,'' Smith said. "We want to make first downs. Sometimes grinding it out is a tough chore, week in and week out. We recognize that we want to continue to do what we do offensively, but we want to get back to creating those explosive plays. Those 20-yard plays, whether they're in the run game or the pass game, will be paramount toward us scoring more points.''
Yeah, maybe the Falcons go out and draft a deep-threat receiver and a speedy running back. Or maybe they get one or both of those things in free agency, if it ever starts.
But Smith is right when he says it's not all about the personnel.
"You can't just sit there and say we have to have more explosive players,'' Smith said. "That's the easy answer. But going into the draft, we've used the term urgency. We want players with more urgency that are passionate with what they do and have a certain skill set. We'll continue to look for guys like that.
"I also think you have to look at things schematically that will give you an opportunity to create those explosive plays. That doesn't mean that we're going to turn around and go away from the core of what we do philosophically.''
Smith's right. You don't mess with 13-3. You might tweak it a bit, but you don't overhaul it. You keep doing what you're doing, slightly update your personnel and schemes, and that's how you start exploding in the postseason.