NFC South:

2011 Season Wrap NFC South
January, 4, 2012
1/04/12
1:00
PM ET
»
NFC Wrap-ups
:
East
|
West
|
North
|
South
»
AFC
:
East
|
West
|
North
|
South
Arrow indicates direction team is trending.

Final Power Ranking:
29
Preseason Power Ranking:
12
[+] Enlarge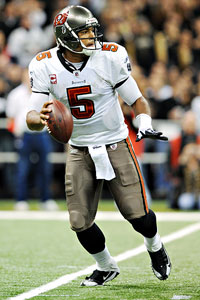 Chuck Cook/US PresswireAfter a breakout year in 2010, Josh Freeman took a step back in 2011.
Biggest surprise:
In a season in which almost nothing went right, it at least looked like the Buccaneers got it right with their first-round draft pick. Defensive end
Adrian Clayborn
was a starter from the beginning and was solid all around. He played the run well and finished with 7.5 sacks. That sack total is more impressive than it sounds when you consider that the Bucs spent most of the season trailing and other teams didn't have to throw a lot against them. Clayborn and second-round pick
Da'Quan Bowers
both showed plenty of potential and that bodes well for whoever ends up coaching this team. Clayborn also was able to put together an impressive rookie year despite the fact that defensive tackles
Gerald McCoy
and
Brian Price
both were injured much of the season and there wasn't a lot of help in the middle. If Clayborn and Bowers continue to develop and McCoy and Price can stay healthy, the Buccaneers have the ingredients for a good defensive line.
Biggest disappointment:
The total collapse of this once-promising team was one of the most bizarre things I've ever seen. In October, the Bucs beat the Saints. That wasn't a fluke. The Bucs flat-out were better than the Saints that day. They left the next morning for a game with Chicago in London and they never won again. As the losing streak grew, eventually to 10 games, the games became less competitive even against mediocre teams. Tampa Bay's youth, a point of pride in 2010, was apparent in 2011. Former coach Raheem Morris was never known as a great disciplinarian or organizer, and the Bucs weren't even operating like a legitimate NFL team by the end of the season. Quarterback
Josh Freeman
, running back
LeGarrette Blount
and receiver
Mike Williams
all had great years in 2010, but each of them regressed in 2011.
Biggest need:
There are many needs for a team that finished 4-12. But if I had to go with just one, I'd say the Bucs need to solidify their backfield situation. Although he's a good power runner, Blount never could convince the coaching staff that he could catch passes out of the backfield or provide protection for Freeman in the passing game. That made it obvious to defenses that the Bucs were running if Blount was in the game or passing when he wasn't. Blount also had problems with fumbles, so it's possible the Bucs could be looking for an all-around feature back to replace him. Even if the new coach wants to keep Blount as the primary runner, the Bucs will have to go out and get a third-down back more dynamic than
Earnest Graham
or
Kregg Lumpkin
. It also would help Freeman a lot if the Bucs add a speed receiver because the current crop of receivers struggled to get separation.
Team MVP:
There's not a lot to choose from here, so we'll go with guard
Davin Joseph
. Cornerback
Ronde Barber
and left tackle
Donald Penn
also got consideration. But I'm going with Joseph because, even in a year when the rest of the league was laughing at the Bucs and fans weren't voting for them to go to the Pro Bowl, coaches and players from other teams had enough respect for Joseph to put him on the NFC all-star squad. The guy is a pro and one of the few veteran leaders in the locker room.
What about Freeman?
In 2010, his first full season as a starter, Freeman looked like the first true franchise quarterback in team history. He kept mistakes to a minimum and seemed to have a knack for pulling off fourth-quarter comebacks. All of that suddenly disappeared this season and Freeman didn't look like the same quarterback. There's no doubt he deserves some of the blame. But I think the bigger factor in his regression was his supporting cast. Blount's deficiencies made the offense predictable, Williams showed he's not a No. 1 wide receiver and tight end
Kellen Winslow
had a disappointing year. It also didn't help that the defense was giving up a ton of points and Freeman almost always was playing from behind. I still believe Freeman is a big-time talent. But it's going to be up to the new coach and his staff to get Freeman's career back on a positive track.
January, 4, 2012
1/04/12
1:00
PM ET
»
NFC Wrap-ups
:
East
|
West
|
North
|
South
»
AFC
:
East
|
West
|
North
|
South
Arrow indicates direction team is trending.

Final Power Ranking:
2
Preseason Power Ranking:
5
[+] Enlarge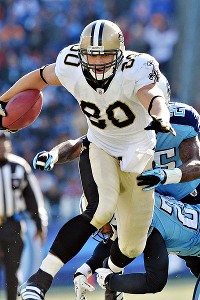 Jim Brown/US PresswireJimmy Graham turned in a season to remember for the Saints.
Biggest surprise:
The Saints knew it was significant when they signed
Darren Sproles
soon after the lockout ended. They had traded
Reggie Bush
and were looking for someone to replace him. But I don't think even the Saints realized how much of an upgrade Sproles would be over Bush. Sproles turned out to be the best free-agent signing in the entire NFL and was a big reason the Saints went 13-3 and set all sorts of offensive records. Sproles had been a very nice player in San Diego, where he played the role of speed back, receiver and return man. Sproles took on all those roles in New Orleans. But he was used quite a bit more as a runner than he ever had been by the Chargers. Sproles averaged 6.9 yards per carry and also caught 86 passes for 710 yards and seven touchdowns -- all career highs.
Biggest disappointment:
Despite having big-time talent in free safety
Malcolm Jenkins
and cornerback
Jabari Greer
and two other good cornerbacks in
Tracy Porter
and
Patrick Robinson
, the Saints managed only nine interceptions, which tied them for No. 28 in the NFL. That's disappointing because the core philosophy of coordinator Gregg Williams' defensive scheme is to come up with turnovers. That was a key when the Saints won the Super Bowl in the 2009 season. They'll need to start coming up with some turnovers if they plan on going far this postseason. It would help if the Saints could force some mistakes with a pass rush that was mediocre during the regular season.
Biggest need:
More athleticism at linebacker. The Saints got by with their current cast of linebackers this season, but there weren't any real standouts. Middle linebacker
Jonathan Vilma
and outside linebacker
Scott Shanle
are getting older.
Jonathan Casillas
showed some potential when healthy and rookie
Martez Wilson
came on a little bit at the end of the regular season. This isn't a glaring weakness. But the Saints could make their entire defense better if they added a playmaker or two at linebacker.
Team MVP:
This is the easiest call ever. Quarterback
Drew Brees
is the MVP for the Saints. Heck, you can make a very strong case he's the MVP of the NFL. In fact, I'll go ahead and make that case right now. Yeah, I know Green Bay's
Aaron Rodgers
will probably win the league-wide MVP award, largely because his team went 15-1 and the Packers have such a huge national following. But Brees' numbers were better in many areas. Quite simply, Brees had one of the best years ever by a quarterback. His 5,476 passing yards set a league record. He also threw a career-high 46 touchdown passes and completed a career-best 71.3 percent of his passes. With his contract expiring the minute the Saints are done playing in the postseason, Brees has made his case to become the highest-paid player in NFL history.
On the road to greatness:
The Saints obviously liked what they saw out of rookie tight end
Jimmy Graham
last season. His debut was so promising that the Saints felt comfortable in releasing veteran tight end
Jeremy Shockey
. But you have to wonder if this was a little like Sproles, where the Saints got even more than they thought they were getting. Graham, who played only one year of college football after playing basketball at the University of Miami, turned in one of the most prolific seasons ever by a tight end. Graham had 99 catches for 1,310 yards and 11 touchdowns. His athleticism caused all sorts of matchup problems for opposing defenses and this guy hasn't even hit his full potential yet.
January, 4, 2012
1/04/12
1:00
PM ET
»
NFC Wrap-ups
:
East
|
West
|
North
|
South
»
AFC
:
East
|
West
|
North
|
South
Arrow indicates direction team is trending.

Final Power Ranking:
23
Preseason Power Ranking:
31
[+] Enlarge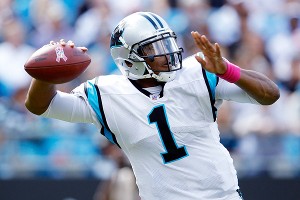 Bob Donnan/US PresswireQuarterback Cam Newton's rookie season probably exceeded even the Panthers' expectations.
Biggest surprise:
The critics said the Panthers were taking a huge gamble by drafting quarterback
Cam Newton
first overall in April. They said he wasn't an accurate passer and might take a long time to pick up an NFL offense after running a "simple'' one at Auburn. Throw in the fact that the Panthers had a new coach, a new offensive scheme and that the lockout prevented offseason workouts, and it's clear why the expectations for Newton at the start of the season weren't very high. But all that got tossed out the window as Newton came out and threw for more than 400 yards in each of his first two games. His accuracy and intangibles turned out to be better than even the Panthers dreamed. Newton got better as the season went on, and Carolina's offense became highly entertaining for the first time in franchise history.
Biggest disappointment:
The injuries on defense were stunning. New coach Ron Rivera came with a defensive background and inherited some talent on that side of the ball. The early expectation was that Carolina would be good on defense, but it would take the offense time to develop. It played out in the exact opposite way, as Carolina had a dismal season on defense. It started early in training camp when free-agent defensive tackle
Ron Edwards
, who was supposed to solve Carolina's problems against the running game, went down with a season-ending injury. It got even worse once the regular season started. Middle linebacker
Jon Beason
and outside linebacker
Thomas Davis
each went down early with season-ending injuries. The Panthers never recovered from that.
Biggest need:
Edwards is expected to make a full recovery, and it's the same story for rookie defensive tackles
Sione Fua
and
Terrell McClain
, who each had their seasons cut short by injury. But even with those three back, the Panthers can't afford to sit still when it comes to the middle of their defensive line. They haven't been able to stop the run in recent years, and that needs to change. At least one more big body, via the draft or free agency, is needed to make sure this problem doesn't persist. With Davis suffering his third ACL tear in two years, the Panthers also need to add an outside linebacker who can bring some speed as a run defender. If the Panthers can improve their defense, they could be playoff contenders next season.
Team MVP:
It's Newton in a landslide. Although he certainly wasn't perfect in a 6-10 season, he had one of the best seasons ever by a rookie quarterback. Newton became the first rookie to throw for 4,000 yards in a season, finishing with 4,051. He had 21 touchdown passes, becoming one of only five rookies in history to throw for 20 touchdowns in a season. Newton also ran for 14 touchdowns, the most ever by a quarterback. If Newton was that good as a rookie, imagine what he can do after having a full offseason to work with the coaches.
Best comeback:
There was speculation throughout the lockout that veteran wide receiver
Steve Smith
would leave the team. Smith later admitted even he wasn't sure he'd be back. But Smith, 32, was back, and he had one of the best seasons of his career. He had 79 catches for 1,394 yards and seven touchdowns. He quickly developed a chemistry with Newton, and looked as quick as he did earlier in his career. There's no doubt Smith was revitalized by Newton's arrival. The quarterback could end up adding years -- and some huge numbers -- to Smith's career.
January, 4, 2012
1/04/12
1:00
PM ET
»
NFC Wrap-ups
:
East
|
West
|
North
|
South
»
AFC
:
East
|
West
|
North
|
South
Arrow indicates direction team is trending.

Final Power Ranking:
7
Preseason Power Ranking:
6
[+] Enlarge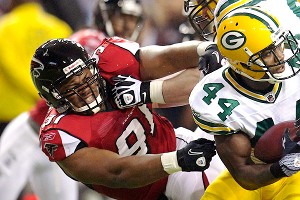 Dale Zanine/US PresswireCorey Peters has solidified his role as a starter on Atlanta's defensive line.
Biggest surprise:
When the
Atlanta Falcons
drafted defensive tackle
Corey Peters
in the third round in 2010, they didn't envision him being much more than a role player early in his career. But Peters wound up starting as a rookie and showed he could play the run pretty well. Even then, the Falcons thought Peters would just be a run-stuffer. But he became much more than that this season. Peters showed he can also rush the passer. He recorded three sacks and he and fellow defensive tackle
Jonathan Babineaux
were able to create consistent pressure in the middle of the defensive line. Peters has locked up a starting job for the foreseeable future.
Biggest disappointment:
This is the flip side to Peters. Defensive tackle
Peria Jerry
was the team's first-round draft pick in 2009. But Jerry had a major knee injury in the second game of his rookie year. He came back last season and the team wanted to bring him along slowly, so they used Peters as the starter and Jerry as a situational player. After the 2010 season, coach
Mike Smith
and general manager Thomas Dimitroff said they took that approach because Jerry's knee wasn't 100 percent healthy. Smith and Dimitroff also said they thought a healthy Jerry would emerge as a force in 2011. It didn't happen. Peters remained in the starting role all season and Jerry played in a rotation, but produced only 10 tackles and zero sacks.
Biggest need:
Left tackle has been a problem spot for this team for most of the time quarterback
Matt Ryan
has been with the team. The Falcons drafted left tackle
Sam Baker
the same year they drafted Ryan. Baker never made it to the elite level and really struggled at the start of this season. He eventually went out with a back injury and was replaced by
Will Svitek
, who has done an adequate job. But Svitek isn't the long-term answer at left tackle and it's likely the team will give up on Baker. The Falcons traded away their first-round pick in 2012 to draft
Julio Jones
in 2011, so it might be difficult to find a top-notch left tackle in the draft. The Falcons may have to find a left tackle in free agency. But at the moment, the crop of free-agent left tackles isn't loaded with talent.
Team MVP:
At first blush, Ryan didn't quite take the step to becoming an "elite quarterback'' that so many people expected. The Falcons were supposed to have one of the league's most prolific offenses and they were coming off a 13-3 season. As it turned out they had a good, but not great, offense and went 10-6. But when you look at Ryan's numbers, you realize that he quietly had the best season of his career. His 4,177 passing yards and 29 touchdowns both were career highs and his numbers would have been better if
Roddy White
and Jones hadn't dropped a bunch of passes. Ryan still took a step in the right direction during the regular season. If he can get his first career playoff victory, he might cement his status as elite.
Fountain of youth:
There were times last season when it looked like veteran tight end
Tony Gonzalez
had hit the end of the road. His average yards per catch dipped to a career low 9.4 yards. He rarely got open downfield or made anything happen after the catch. But Gonzalez, 35, bounced back this season. He averaged 10.9 yards per catch. He had 80 catches for 875 yards and seven touchdowns and was the most consistent player on the offense. Gonzalez played so well that he was signed to a one-year contract extension just before the regular season ended. Retirement -- and a spot in the Hall of Fame -- can wait at least another season.