NFC South:

2012 Camp Confidential
August, 15, 2012
8/15/12
12:00
PM ET
TAMPA, Fla. &#151 Since the arrival of coach Greg Schiano, the
Tampa Bay Buccaneers
have been guarded with the media. But there's one burning topic that's so obvious &#151 and critical to the team's future &#151 that it can't be kept secret.
This season is all about
Josh Freeman
, the quarterback who is too big, even in his slimmed-down body, and too important to fail. If Freeman somehow does fail, it probably means the entire team fails.

"He's got two years remaining on his contract and we need to find out," general manager Mark Dominik said.
The Bucs firmly believe Freeman has all the mental and physical skills to be their franchise quarterback for years to come. It's just that they don't know with any certainty if Freeman is the quarterback who showed so much promise in 2010 or the one who threw 22 interceptions last year in a season in which the Bucs lost their final 10 games.
Before Freeman ever gets close to free agency, the Bucs need to know if they want to sign him to what's sure to be a huge contract extension. They need to find that out before Freeman gets into the final year of his contract. They need to find out now and that's why the Bucs have spent the entire offseason and training camp trying to find ways that assure success for Freeman.
"It's been important for us as an organization to equip Josh Freeman with all the weapons we can give him," Dominik said. "I know Josh wants to play great and have the opportunity to be successful like he was in 2010, but we also want to give him all the weapons we can to let him have a chance to be the quarterback he can be."
The Bucs have done their part. They went on a free-agent spending spree and got Freeman a true No. 1 receiver in
Vincent Jackson
and solidified the front line by adding
Carl Nicks
, perhaps the best guard in the NFL. They also brought in veteran tight end
Dallas Clark
and went out and drafted
Doug Martin
to give Freeman an all-purpose running back.
And Freeman has done his part. He was a regular throughout the offseason program and, although no one ever hinted he was overweight last season, Freeman dropped 25 to 30 pounds as soon as the season ended.
"He's a really competitive kid," Dominik said. "I just wanted him to harness and really channel that into being the best he can be and he said that when he decided to show up at the weight that he's at and start to really get his body in the right shape as a professional athlete and make good choices off the field. That told me he was going to take this the right way and that was before we even hired [Schiano]."
But hiring Schiano and adding the free agents and Martin weren't the only things the Bucs did in the offseason that were designed to help Freeman. The Bucs went to great extremes to hire coaches who would put Freeman in a strong offensive system. They hired Mike Sullivan as their offensive coordinator, soon after he helped (as the quarterbacks coach)
Eli Manning
and the
New York Giants
win a Super Bowl. They also added veteran assistant Ron Turner as the quarterbacks coach.
For perhaps the first time since Freeman was drafted in the first round in 2009, he's being challenged.
"Yeah, for sure," Freeman said. "It's constant improvement, constant installations and it keeps us on our toes. [In] a lot of camps, you get done and you want to go straight to bed. But here you kind of have to force yourself to stay up and do some studying."
[+] Enlarge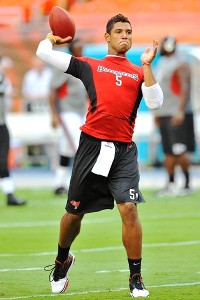 Brad Barr/US PresswireA slimmed-down Josh Freeman says he's ready to guide the Bucs in his fourth year in the NFL.
The weight has been lost, the supporting cast and the coaching staff have been strengthened and the studying is getting done. All the pieces are in place. Now, it's time for Freeman and the Bucs to find out if he's their quarterback for the next decade.
THREE HOT ISSUES
1. The arrival of veteran leadership.
That's something the Bucs were often accused of lacking last season, probably because it was entirely true. Schiano's orderly style is completely different from the way predecessor Raheem Morris ran things during a time in which the roster was stocked almost entirely with youth. But Dominik and Schiano decided that simply changing coaching staffs wasn't enough.
They signed guys like Nicks, Clark and Jackson because they've been Pro Bowl players. But they also signed them because they've played on winning teams and have been leaders. Nicks and Clark each have a Super Bowl ring and the Chargers were always in playoff contention when Jackson was there. These guys don't know how to lose and that brings a sense of urgency to the rest of the roster to learn to win quickly.
"It's not a rebuilding year," Nicks said. "We're trying to win now. We're trying to shock some teams, sort of like Detroit kind of did after their few years of not doing so good and how San Francisco shocked the world. We're trying to do something like that. So, bringing in veteran guys, skill guys and Pro Bowlers, it's going to be fun to see what we do out there."
2. A novel concept.
One of Tampa Bay's biggest problems last season was that the offense was too predictable. If
LeGarrette Blount
was on the field, it meant the Bucs were going to run. If
Kregg Lumpkin
was in the game, it meant a pass was coming. Those days are over.
After hearing repeated complaints that he was one-dimensional and getting an early public warning by Schiano about the importance of ball security, Blount has worked hard to bring balance to his game. Like Freeman, Blount has dropped weight because he wants to be more than a power back. He also has worked hard on his receiving skills and paid more attention to detail on his pass-blocking duties.
Some players have resisted Schiano's disciplined way and that's why guys like
Tanard Jackson
and
Kellen Winslow
are gone. But Blount is an example of a guy who got the message and has worked to improve his flaws. There's no doubt picking up Martin helped light a fire under Blount, because at draft time, the Bucs repeatedly referred to Martin as "an all-around back." The implication was that Blount wasn't an all-around back.
As it turns out, the Bucs now may have two all-around backs. That could come in very handy because Schiano has made it clear he expects his offense to run a lot and take some shots downfield in the passing game. Having two running backs who can run, block and catch means the Bucs aren't going to be one-dimensional in the backfield.
3. Mike Williams' resurgence
. As a rookie in 2010,
Mike Williams
played like a No. 1 receiver. Last season, his receiving yardage was down and there were times Williams didn't look like he should be starting anywhere in the NFL.
But, like Blount, Williams is a player who survived the offseason housecleaning, mainly because the new coaching staff believes he still has plenty of potential and he's embraced the way Schiano operates. With Jackson on board, Williams doesn't have to be a No. 1 receiver. The Bucs will be quite happy if he's a solid No. 2. But Williams has bigger goals in mind. He's not satisfied with simply getting back to the level he played at in 2010.
"I want to be at a higher level," Williams said. "I feel like I'm putting the work in now &#151 watching extra film, knowing what the coverage is, working with Vincent on extra things. I don't want to get to a level I've been at already. I want to exceed that level."
REASON FOR OPTIMISM
The offensive line.
It was a bright spot, at least in some areas, last season and it should be improved this year. Pairing Nicks with
Davin Joseph
gives the Bucs a pair of Pro Bowl guards and potentially the best guard tandem in the NFL.
Donald Penn
has been a decent left tackle and the Bucs are handing the center job to
Jeremy Zuttah
, who played for Schiano at Rutgers.
Right tackle
Jeremy Trueblood
is a lightning rod for fans. But the coaching staff obviously has high hopes for him or else Trueblood would have been gone. The Bucs are expected to run a lot and they appear to believe the best way to do that is to make the interior of the line as strong as possible.
Zuttah and Trueblood might remain question marks in the minds of some, but the Bucs believe surrounding them with Joseph and Nicks will raise their level of play. Nicks, in particular, seems excited about the prospect of doing a lot of run blocking. He previously played in New Orleans' pass-happy offense and said he's happy to focus on what he believes he does best. This group should be able to open holes for Martin and Blount and protect Freeman. Some things still have to click, but this unit has a chance to become one of the league's better offensive lines.
REASON FOR PESSIMISM
[+] Enlarge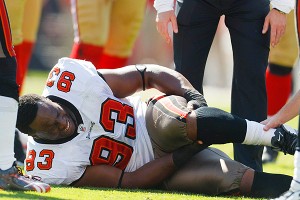 Jason O. Watson/US PresswireThe Bucs will need Gerald McCoy to stay healthy in order to maintain depth on the defensive line.
The defensive line.
The Bucs say they're fine with their depth on the defensive line. But, after watching them get so desperate that they had to go sign
Albert Haynesworth
last year, I still have concerns about the depth. Yes, defensive tackles
Gary Gibson
and
Amobi Okoye
were added in the offseason. And, yes, hopes are high for former first-round draft picks
Gerald McCoy
on the inside and
Adrian Clayborn
on the outside.
But this is a team that traded away former second-round pick
Brian Price
just before camp and defensive end Da'Quan Bowers, a second-round pick last year, tore his Achilles tendon in May. The Bucs still have some hope that Bowers can return for the second half of the season, but there are no guarantees. Aside from the guys already mentioned, the only other players of much consequence up front are defensive tackle
Roy Miller
and defensive end
George Johnson
.
That leaves little margin for error or injury, which is especially scary when you consider McCoy's injury history.
OBSERVATION DECK
When the Bucs said at the start of camp that Penn had a calf injury, it didn't seem like a big deal. But, as of Tuesday, Penn still hadn't practiced. He's been seen on the sidelines, working with the trainers a lot. The upside is Penn appears to be in better shape than usual, and I don't think missing a lot of practice time really sets a left tackle back much in learning a new offense. But, still, it would be nice to be sure that Penn's healthy &#151 or soon will be. Otherwise, the Bucs and Freeman could be staring down the barrel at Demar Dotson.
Speaking of injured players, receiver Arrelious Benn came to camp with a chance to win a starting job. But he got hurt early on and hasn't returned. His absence has allowed guys like Tiquan Underwood a chance to step up. I don't think the Bucs are ready to give up on Benn, a second-round draft pick in 2010. But, then again, Schiano has made it obvious nothing is guaranteed.
As much as I liked the Bucs selecting safety Mark Barron and Martin in the first round, I think second-round pick Lavonte David has a chance to make just as much of an impact. David is going to be an immediate starter at outside linebacker. He also has more playmaking ability than any linebacker on the roster.
The Bucs appear to be set with David, Mason Foster and Quincy Black as their starting linebackers. But I think you may see a little bit more of Dekoda Watson than in his first two seasons with the Bucs. He primarily has been a special-teams player. But I think Watson's potential as a pass-rusher may have the new coaching staff looking at him as a situational player.
Former starting free safety Cody Grimm appeared to be buried on the depth chart early in training camp. But Grimm, who was coming back from an injury, appears to have vaulted back over Larry Asante and Ahmad Black. The plan is to use Ronde Barber as the starting free safety. Barber should thrive in that role, after spending his career at cornerback. But Grimm still could get significant playing time because the Bucs may slide Barber inside to match up with slot receivers in the nickel package. There also is the possibility Barber could move back to cornerback if the Bucs have injuries there.
But the Bucs may consider moving Barber back to corner only in a true emergency. They may have more depth there than they first realized because Myron Lewis, who did little in his first two seasons, has come on strong in camp.
August, 12, 2012
8/12/12
12:00
PM ET
SPARTANBURG, S.C. -- In one sentence, Ron Rivera can take the 2011
Carolina Panthers
and make them 9-7 instead of 6-10.

"I look at the Minnesota game, I look at the Detroit game and I look at the second Atlanta game," the Carolina coach said after practice on a recent morning.
No need to go back and look up those games. There's one very common thread -- the Carolina defense crumbled when it mattered most. Despite hitting the jackpot drafting quarterback
Cam Newton
and suddenly having the most explosive offense in franchise history, the Panthers still finished third in the NFC South.
"It was hard for [defensive coordinator] Sean [McDermott], because he really had to pull back on what he likes to do, and disappointing for me because I wanted more from our defense," Rivera said. "But I think the toughest part of all is when you look back and see certain opportunities where if somebody just stepped up and made a play on the defensive side of the ball, it's a totally different result to the ballgame."
But Rivera and the Panthers aren't doing too much reflecting these days. Instead, Rivera's looking at a fully stocked defense, and that's reason enough for optimism.
Jon Beason
, who missed almost all of last season with a torn Achilles tendon, is back. So is defensive tackle
Ron Edwards
, who suffered a season-ending injury early in training camp. There is even hope that outside linebacker
Thomas Davis
, who once seemed to be on the verge of becoming a superstar, can fully recover from his third torn ACL and contribute at least as a role player.
The Panthers used their first-round pick on Boston College linebacker
Luke Kuechly
, who can play inside or outside, chase down running backs and rush the passer. There were other moves here and there for depth, and that's why veteran left tackle
Jordan Gross
is looking across the line and seeing a defense that looks nothing like last season's.
"I don't think people truly realize how much we lost with the injuries last year," Gross said. "Missing Beas was a big deal as far as football, but it was an even bigger deal in the locker room. He's the constant on that defense. He's the guy that's always chiming in on any team issue and getting on guys or encouraging guys. There really wasn't a leader out there last year, once he was gone.
"Having Ron Edwards back also is huge, because he's a big-body guy that we haven't had in awhile, and that's going to help the entire defense. Kuechly obviously is a guy that's going to make some plays, and I think our pass rush has gotten better, just from having experience thrust upon them last year. Just practicing against them in camp, I can tell you that defense is going to be a whole lot better."
If Gross is right, Carolina fans could be very happy. This team hasn't had a winning season since 2008. That could change with some improvement from the defense, because the world already knows Newton and the offense are going to score. If the defense can make just a few more of those plays Rivera talked about, the Panthers could be in the playoffs.
THREE HOT ISSUES
1. The No. 2 cornerback spot.
The Panthers have made it pretty clear they don't want
Captain Munnerlyn
starting at cornerback. He brings athleticism and swagger but lacks the size to be an effective every-down cornerback. Ideally, the Panthers would like to slide Munnerlyn inside and let him line up with slot receivers in the nickel package.
That makes all sorts of sense, but there's one big catch. At the moment, the Panthers aren't sure they have anyone who can take Munnerlyn's place as the starter. They got all excited about rookie
Josh Norman
in June workouts, and he still might end up in that role, but his fast track to a starting job stalled when he missed some time with an injury early in camp. There also was hope that second-year pro
Brandon Hogan
could claim the spot. But Hogan's knee, which he injured in his final year of college, still doesn't allow him to stay on the practice field with anything approaching consistency.
Maybe Norman steps up in what's left of the preseason. If not, the Panthers might give
Darius Butler
, who spent two seasons with New England before joining the Panthers last season, the starting job. Or maybe they still start Munnerlyn, but slide him inside in nickel situations and let Butler take his spot on the outside.
[+] Enlarge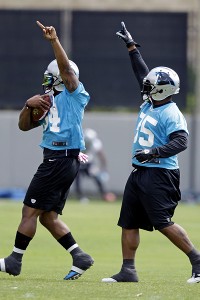 AP Photo/Chuck BurtonThe addition of Mike Tolbert, right, further crowds a backfield that includes DeAngelo Williams, left, and Jonathan Stewart.
2. The workload at running back.
You can make a case that the Panthers underused running backs
DeAngelo Williams
and
Jonathan Stewart
last season. So what did the Panthers do in the offseason? They added
Mike Tolbert
as a free agent from San Diego. The Panthers say Tolbert will be a fullback but also say he'll get some time at tailback and will be asked to catch passes out of the backfield.
That sure makes it sound like the number of carries for Williams and Stewart, who each have had 1,000-yard seasons in the past, will be reduced even more. But I think people are missing the point. Offensive coordinator Rob Chudzinski was riding the hot hand with Newton last season, and the Panthers frequently played from behind. When the coaching staff reflected on last season, I think it concluded that the running backs weren't involved enough. Count on a conscious effort to get Williams and Stewart more carries.
It might look like Tolbert just complicates things. But players don't call Chudzinski "The Mad Scientist" for no reason. They know he has big plans for this backfield. We could end up seeing all sorts of combinations of Williams, Stewart and Tolbert, and there could be all sorts of new plays. It sure beats the heck out of the old days in Carolina when variety in the backfield meant a draw play to Nick Goings.
3. The lineup at linebacker.
When the Panthers drafted Kuechly, fans wondered what that meant for Beason. Kuechly played the middle in college, and the natural assumption was that he would do the same in the NFL. Kuechly might end up in the middle someday, but not while Beason is around.
Beason is a natural in the middle, and the Panthers aren't going to move him. They'll use Kuechly on the weak side. Davis' comeback is a great story, but it almost certainly isn't going to end with his return as a full-time starter.
James Anderson
will be the other starter. If the Panthers get anything out of Davis, it will be viewed as a bonus. At best, the Panthers plan to use Davis as a situational player in some nickel packages. They could resort to the 3-4 defense a little more often, but the 4-3 is going to remain their base defense.
REASON FOR OPTIMISM
[+] Enlarge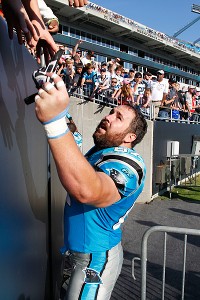 AP Photo/Bob LeveroneCenter Ryan Kalil took out a full-page ad in the Charlotte Observer, declaring fans will be rewarded for their support with a "one hundred-percent, sterling silver victory -- the Lombardi Trophy."
One of the biggest signs of optimism I've ever seen came a few days before camp when center
Ryan Kalil
took out a full-page ad in The Charlotte Observer, promising a Super Bowl victory this season. Let's turn to Kalil for an explanation.
"The idea behind the letter wasn't to spark anything with the team, but really to let the fans in on how the culture was changing here," Kalil said. "I think in recent years, the culture has been too much of, 'If the Panthers win, great. And, if not, nobody expects much from us.' I think Ron Rivera came in here and the mindset has just changed. There's a sense of urgency, and a winning attitude that I haven't seen since I've been here. That was the idea behind the letter -- just to get the fans excited, because we haven't given them a whole lot to cheer about in recent years, and they've been very supportive of us. They deserve a better team, and we're going to give them years of better things to come."
I've gotten to know Kalil pretty well, and he's not the kind of guy who would pull a stunt like this just for show. Kalil was used to winning at USC and, if he was willing to go out on a limb like this, he must feel pretty confident that what he's seen in the offseason program is about to translate into something special.
REASON FOR PESSIMISM
There's no question the presence of Kuechly and Beason will make the linebackers better, and there's no doubt Edwards will help the run defense. But, outside of
Charles Johnson
, where's the pass rush? There was almost no pass rush outside of Johnson last season, and it's not like the Panthers made any dramatic moves in that area this offseason.
Maybe this is the year
Greg Hardy
and
Eric Norwood
finally reach their potential, but it's not as if they've had major flashes in the past. There's been a little buzz in camp about
Thomas Keiser
. I'm not sure he's ready to be a full-time starter, but he could be a situational player. The Panthers might have to make more active use of the blitz. If they don't, then a secondary that's not exceptionally talented could be in for another long season.
OBSERVATION DECK
The special teams were almost as big a problem as the defense last season. That's why the jobs at punter and kicker are completely wide open. There are no favorites here. The Panthers are simply going to go through the preseason and see whether Olindo Mare or Justin Medlock kicks better. If Medlock emerges, the Panthers will be happy to swallow their pride after giving Mare a big contract last season. They just want consistency. It's the same at punter, where the Panthers let Jason Baker go after last season. They invested a draft pick in Brad Nortman but went out and signed veteran Nick Harris. They're not indebted to either.
Brandon LaFell pretty much has locked up the No. 2 wide receiver job opposite Steve Smith. But there's a logjam of receivers after that. David Gettis, Louis Murphy and Seyi Ajirotutu seem to be competing for the No. 3 spot. But they might not all make the team. The Panthers also are high on younger receivers Kealoha Pilares, Joe Adams and Armanti Edwards, each of whom can contribute in the return game. Edwards, whom the Panthers drafted as a project in 2010, has shown some promise in camp but probably isn't going to make the roster ahead of Adams and Pilares.
There was a lot of talk about competition at right tackle and left guard entering camp. But those competitions didn't turn into much. The Panthers already were locked in on Byron Bell as their right tackle after he played so well there last season. They also seem fully prepared to go with rookie Amini Silatolu at left guard. Veterans Mike Pollak and Bruce Campbell were brought in, but the Panthers are viewing them as quality backups.
There's been a buzz around camp about how well third-year quarterback Jimmy Clausen has played. Sad part is, it doesn't really matter. Newton's set as the franchise quarterback for at least the next decade, and Chudzinski has strong ties to veteran backup Derek Anderson. Clausen is stuck at No. 3. The Panthers might as well try to showcase him in the preseason games. If he really is playing that well, someone might be willing to trade a draft pick for him.
The Panthers brought in Haruki Nakamura as an alternative to Sherrod Martin at safety. The thinking was Nakamura, who was Ed Reed's backup in Baltimore, could end up beating Martin out. As it turns out, the acquisition seems to have ignited a fire under Martin. He's having a nice training camp, and it looks like he'll hold onto the starting job if he can continue playing well through the preseason.

The Panthers aren't the slightest bit worried about Newton's running into "the sophomore slump." There is good reason for that. Newton had one of the best statistical seasons ever by a quarterback, and he did that coming out of a lockout during which he wasn't able to spend any offseason time with his coaches. Newton has had an entire offseason this year, and all indications are he spent as much time around the facility as possible. The Panthers fully believe Newton didn't even come close to hitting his full potential last season.
August, 2, 2012
8/02/12
12:00
PM ET
FLOWERY BRANCH, Ga. -- As you first watch and listen to the
Atlanta Falcons
in training camp, you quickly realize something is different.
They've got a bunch of marquee players (
Matt Ryan
,
Roddy White
,
Julio Jones
,
Tony Gonzalez
,
Michael Turner
,
John Abraham
and
Asante Samuel
), but the buzz isn't about them. Instead, most of the talk is about two new assistant coaches -- offensive coordinator Dirk Koetter and defensive coordinator Mike Nolan. That's understandable, because a lot of people thought the Falcons needed some major changes after they got thumped by the
New York Giants
in the first round of last season's playoffs.

With offensive coordinator Mike Mularkey (now head coach in Jacksonville) and defensive coordinator Brian VanGorder (now defensive coordinator at Auburn) leaving, Koetter and Nolan are big storylines. They might not have star power all by themselves, but watch and listen a little more and you'll see the two new coaches have plenty of star power behind them.
"Mike Nolan and Dirk Koetter have done a fine job of bringing their respective systems to the table and working with (coach)
Mike Smith
and the rest of the staff and developing a system that is melding well with all of our coaching opinions,'' general manager Thomas Dimitroff said. "It's a collaborative effort. It's not just one stamp from one coordinator or the other. It's been really interesting seeing everyone come together on the respective sides of the football to develop this new system.''
In conversations with Smith and Dimitroff, each repeatedly emphasized that key players (the guys listed above and a few others) have had extensive input into what the Falcons will do on each side of the ball. As soon as league rules allowed coaches and players to get together in the offseason, Ryan and Koetter began meeting regularly and discussing what the playbook should look like.
"There are a lot of things we've done well over the last few years, and the first thing Dirk asked me was what I liked and what I felt most comfortable with,'' Ryan said. "Then, we took the things I said and looked at our production in those situations and some of it was surprising because we didn't have as much success as I would have thought in some of the things I said I was most comfortable with, and we had some pretty good success with some of the things I didn't necessarily think I liked.
"We also watched a lot of film of Jacksonville (where Koetter was offensive coordinator last year), and we talked a lot about why they did certain things at certain times. There was a lot of very good give-and-take. He's extremely open to input, which is great for players, and I know he sat down and did the same thing with some other guys. But he also has his own opinions and is firm on his own opinions, and I like that about him.''
The Falcons have been very public about some of the ways their offense will change. They said they don't want Turner having to endure a 300-carry season. They said they want to use the screen pass more, after almost completely ignoring it in recent years. And they've made it very clear that they want to improve their downfield passing game.
What the actual playbook looks like is likely to be a combination of what both Koetter and the Falcons have done in the past.
The changes on defense are likely to be similar because Nolan also has consulted extensively with his key players. Nolan has spent 14 years as a defensive coordinator in the NFL, seven of them in the 4-3 defense and seven in the 3-4. The Falcons will continue to use the 4-3 as their base, but there could be some 3-4 looks and principles.
"We just have a lot of different things that we can do,'' outside linebacker
Sean Weatherspoon
said. "We're going to be aggressive. We're not being passive at all. Our mindset is that we want to go out there and dictate. We don't want to adjust to what an offense is doing. We want to put it on them to make changes.''
That would be a change from the VanGorder days, when the Falcons had some individual talent and a fair amount of overall success, but never really had an identity as a defense. The Falcons will be different on both sides of the ball.
"When you have new eyes, so to speak, you get a different view,'' Smith said. "We may have had a view that this guy's strengths are A, B and C and his weaknesses are D, E and F, and a new guy comes in and, because he's coming from a different perspective, he sees it differently. I think that's interesting in terms of evaluating your roster because you have two new sets of eyes.''
Maybe the eyes will have it. Maybe the new coordinators and new playbooks will be enough to help the Falcons win a playoff game for the first time since Smith, Dimitroff and Ryan arrived in 2008.
THREE HOT ISSUES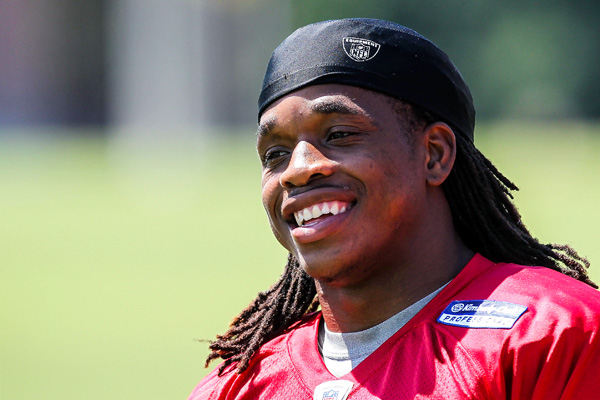 Daniel Shirey/US PresswireSecond-year running back Jacquizz Rodgers could play a larger role in the running game this season.
1. The running game with Turner's limit on carries.
Despite all the talk about the downfield passing game, I don't think the Falcons want to suddenly just abandon the running game. Turner still is powerful and can help open things up for the passing game. The Falcons just don't want to wear him out. They've used
Jason Snelling
at times to give Turner some rest, and Snelling will be involved again this season. But I don't think he's really the guy the Falcons are looking at to pick up a big chunk of Turner's carries.
I'm almost certain they have big plans for second-year pro
Jacquizz Rodgers
, and I think those plans might be a lot bigger than people realize. That's largely because Rodgers is bigger than the Falcons realized when they drafted him last year.
"Jacquizz is not little,'' Smith said. "He's short, but he's thick. People projected him to be a third-down back, a change-of-pace back. I think the guy has the skill set to play on all three downs. One of the things that stood out to me more than anything is his ability to pass protect. A lot of times, your change-of-pace back, you've got to get him the ball and not ask him to be a part of the protection. I don't think that's the case with Jacquizz. I think Jacquizz is an all-around back that can play on all three downs.''
Translation: The Falcons aren't looking for Rodgers to be what
Jerious Norwood
once was. They want him to be more like what
Warrick Dunn
once was.
2. Positive reinforcement.
I don't know if they were veiled shots at Mularkey, VanGorder and former middle linebacker and defensive leader
Curtis Lofton
, but I think it was significant that Smith and Dimitroff repeatedly used the word "positive'' when they talked about the coaching styles of Koetter and Nolan, and as they talked about the leadership qualities Samuel brings, and what kind of leader they expect Weatherspoon to become.
"Sean is such a positive guy,'' Smith said. "He is vocal, but he's never negative in the way he speaks. He's always very positive.''
Samuel was described in the same way. So were Nolan and Koetter.
I never sensed a lot of negativity from Mularkey, VanGorder or Lofton, but I also never sensed any of them were rah-rah guys. It sure seems like Smith and Dimitroff feel their team needed more positive reinforcement.
3. The pass rush.
For far too long, Atlanta's pass rush has consisted of Abraham and almost nothing else. Maybe fellow defensive end
Ray Edwards
steps up after an injury-filled season that limited him to 3.5 sacks. Or maybe reserves
Lawrence Sidbury
and
Kroy Biermann
produce more. But I get the sense Nolan isn't looking to have only defensive ends rush the passer.
"The way practice is going right now, we're really excited about getting the linebackers more involved in rushing the passer,'' Weatherspoon said. "Even in seven-on-seven, we're going. That will help those guys out there on the edge because now offenses are going to have to account for us all day. It'll be better because we'll be able to keep them on their heels.''
And it won't be just the linebackers. Look for the cornerbacks and safeties to also get plenty of opportunities to blitz.
REASON FOR OPTIMISM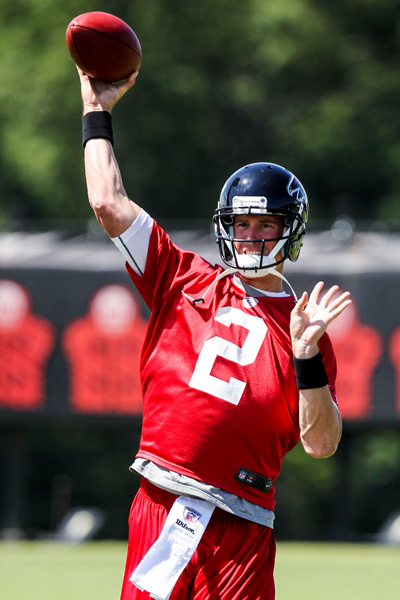 Daniel Shirey/US PresswireIs this the season Matt Ryan puts it all together and joins the echelon of elite quarterbacks?
Time to fly.
A lot of great young quarterbacks have seemed to hit a wall early in their careers. Even
Peyton Manning
had a reputation for not being able to win the big one early in his career, and look how that's worked out. I'm not saying Ryan is going to turn into the second coming of Manning, but I think this is the year in which Ryan finally can earn a firm spot in the category of elite quarterbacks.
The guy has done some very good things in his first four seasons and he's worked very hard to bulk up this offseason, so that he's not worn down when the playoffs roll around. Ryan has a good arm, excellent mental skills and a strong work ethic. But, for some reason, he just hasn't been able to take the next step. Last year, the Falcons brought in Jones to give him another weapon to go with White and Gonzalez. This year, they brought in Koetter, who has obvious instructions to get the most out of Ryan's skills.
When you keep doing things the right way, sooner or later it's all bound to click.
REASON FOR PESSIMISM
The offensive line.
This was a big problem spot last year. Ryan frequently didn't have enough time to throw the deep ball. The Falcons got rid of offensive line coach Paul Boudreau and replaced him with Pat Hill, who has a nice history with offensive lines. They also used their second-round pick on guard
Peter Konz
.
But were those two moves enough to bring dramatic improvement up front? Should the Falcons really be sticking with
Sam Baker
at left tackle? And even if they want to give Baker another shot, shouldn't they at least have brought in a viable alternative in case he struggles?
I know a lot of fans think the Falcons should have done more up front. But the Falcons think they've done enough. We'll find out who is right soon enough.
OBSERVATION DECK
July, 30, 2012
7/30/12
12:00
PM ET
METAIRIE, La. -- As he prepares for his third NFL season, it sounds as if New Orleans tight end
Jimmy Graham
has figured out the secret to NFL success.
"I was told to never tug on Superman's cape," Graham said.
He was talking about quarterback
Drew Brees
. Graham noted how the quarterback challenged him to a sprint race at the start of training camp and said he let Brees win. Graham was partly joking, but there was some deep wisdom in his words.
More than ever, the Saints are Brees' team. They've been through an offseason unlike one any other team has faced. They've been through the painful drama of the bounty scandal and they'll move forward without coach Sean Payton, who is suspended for the season, and general manager Mickey Loomis, who is suspended for the first eight games.

Brees, the league's highest-paid player, is coming off a season in which he set a NFL single-season record for most passing yards. No, let other teams try to tug on Brees' cape. If the Saints really are going to endure all this adversity successfully, they need Brees' skill and leadership more than ever. They need to ride the coattails of the most positive thing they have at the moment.
Brees knows this high-flying offense as well as anyone, including Payton. The Saints remain loaded at offensive skill positions. There's little doubt this team still is going to score a lot, and that alone will keep it competitive.
But Brees can't do everything by himself. Even before the word "bounty" started flying in March, the Saints knew they had to overhaul their defense. That became clear in last season's playoff loss to San Francisco. That's why defensive coordinator Steve Spagnuolo was hired. Predecessor Gregg Williams had a gambling philosophy, going all-out to produce turnovers. The negative side effect was that the Saints gave up too many big plays.
Spagnuolo brings a more balanced philosophy. Sure, he wants turnovers, but he also wants to be able to shut down offenses from time to time. A big theme of this camp is the installation of Spagnuolo's defense. Even though that's not his side of the ball, Brees shows a lot of interest in the defense. Even in camp, the Saints are implementing game plans.
"[Spagnuolo] is going to try to find every flaw, just like we are going to do to them,'' Brees said. "Along the way, I am certainly going to be picking his brain as to what he is seeing with our offense, how we can improve. That is how you help one another. That is a habit that we got into, me talking to the defensive guys, even if it is just the secondary guys, saying, 'You give away that blitz whenever you do this.' We are competing against each other, but in the end we are on the same team. I want them to be able to go out and have as much success as possible, just like they want us, on game day, to have as much success as possible."
Maybe that's the best way to improve the New Orleans defense. Practice against Superman every day. After you've been through that, everything else should be easy.
[+] Enlarge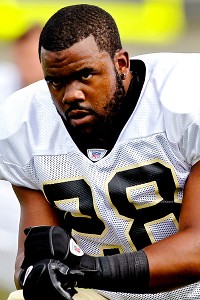 Derick E. Hingle/US PRESSWIREMark Ingram rushed for 474 yards and five touchdowns during his rookie season with the Saints.
THREE HOT ISSUES
1. Mark Ingram's playing time
. Fan expectations for Ingram might be significantly higher than the team's. That's somewhat understandable, because the Saints traded back into the first round in 2011 to draft Ingram. He played at a college powerhouse (Alabama) and won a Heisman Trophy. Instant stardom was expected by fans, but it didn't turn out that way in Ingram's rookie season.
He finished with 122 carries for 474 yards and five touchdowns. Injuries were part of the reason his numbers weren't bigger. But even before the injuries, Ingram shared playing time with
Darren Sproles
and
Pierre Thomas
, and
Chris Ivory
did a nice job joining the rotation after Ingram's injury problems started. Ingram had a couple of offseason surgeries and said he's completely healthy.
But that doesn't mean Ingram suddenly is going to become a 300-carry guy. New Orleans' offense is based on diversity, and that's not going to change. The Saints aren't going to take playing time away from Sproles, who set an NFL record for all-purpose yards last season, and Thomas is going to play because he has earned it with his performance.
Assuming Ingram stays healthy, I expect him to get more carries than last season, but a 200-carry season for about 800 yards is a reasonable expectation.
2. Will the linebackers be better than last season?
I think they'll be markedly better. Many believe the season-long suspension of
Jonathan Vilma
is going to hurt the Saints. If this were two or three years ago, I'd agree. But Vilma was bothered by knee problems last season, and his age seemed to be catching up to him. I think free-agent addition
Curtis Lofton
is an upgrade over Vilma in the middle. In fact, I think Lofton is pretty similar to what Vilma was two or three years ago. The Saints will be just fine in the middle.
Plus, the Saints didn't sit still at outside linebacker. They signed free agents
David Hawthorne
and
Chris Chamberlain
. It looks as if Hawthorne is well on his way to winning a starting job. That leaves Chamberlain competing with
Scott Shanle
,
Will Herring
and
Jonathan Casillas
for the other starting job. There's no true favorite here, and Shanle is the fallback option as the safe choice because he's smart and dependable. But Chamberlain, Herring and Casillas are more athletic and at least come with the possibility of producing big plays. The hope is that one of those three can step forward to win the starting job.
3. Can the offensive line, minus Carl Nicks, be as good as last season?
Nicks took the big money and left for Tampa Bay in free agency. Losing a player many scouts consider the best guard in the NFL must take a toll. But the Saints already had
Jahri Evans
, who might be the closest thing to Nicks. Loomis did a nice job getting
Ben Grubbs
to replace Nicks. Grubbs isn't quite on the Nicks/Evans level, but he's an above-average player and came at a much lower salary than Nicks. The Saints build their offensive line around the interior, and Evans and Grubbs will form a very strong guard tandem.
Brian de la Puente
did a nice job taking over at center last year and should be fine with Grubbs and Evans surrounding him. The tackles are more of a question. The Saints are sticking with
Jermon Bushrod
on the left side and
Zach Strief
on the right. They're serviceable, but Bushrod and Strief aren't all-pros, and the presence of Evans and Grubbs should be enough to keep this offensive line among the better ones in the league.
REASON FOR OPTIMISM
Spagnuolo's history.
There is legitimate concern about the pass rush, because Spagnuolo likes it to come mostly from his front four. Aside from defensive end
Will Smith
, who will serve a four-game suspension at the start of the season, the Saints don't have a proven pass-rusher. Many fans are worked up about the potential of
Junior Galette
and converted linebacker
Martez Wilson
. Those guys could turn into something, but maybe fans aren't looking in the right direction.
Second-year pro
Cameron Jordan
might be a big factor. Yeah, I know that sounds like a stretch because Jordan had one sack as a rookie, but he was a first-round pick and still has plenty of untapped potential. There's more than that, though. Look at Spagnuolo's past. When he became defensive coordinator for the
New York Giants
in 2007,
Justin Tuck
had gone through two NFL seasons with one sack. In Spagnuolo's first season, Tuck had 10. In 2008, Tuck recorded 12.
If Spagnuolo can get anything close to double-digit sacks from Jordan, he may have short- and long-term answers for his pass rush.
REASON FOR PESSIMISM
How much adversity can one team take?
The Saints will use all that happened to them in the offseason as a rallying cry, providing strong motivation. But it's tough for any team to ride one emotion (anger, in this case) for an entire season. This franchise has been through a lot, and you have to worry about that taking a toll at some point.
[+] Enlarge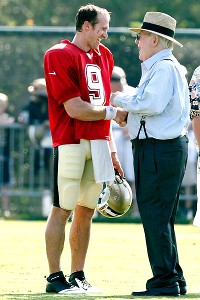 Derick E. Hingle/US PRESSWIREWith a new contract and instability in the coaching staff, Drew Brees will be asked to be even more of a leader for Tom Benson's Saints.
You also have to worry about the Saints being a target for opponents, especially those who spent the past few months hearing that the bounty program had targeted some of their own players. Then throw in the fact that assistant head coach Joe Vitt, who has run the team in Payton's absence, must serve a six-game suspension at the start of the season. At that point, the Saints are expected to make another of their assistants the acting head coach. Yes, this is a veteran team with outstanding leadership, but it sure looks like a lot of things are stacked against the Saints.
OBSERVATION DECK