NFC South:

2012 Divisional Round
January, 14, 2012
1/14/12
10:55
PM ET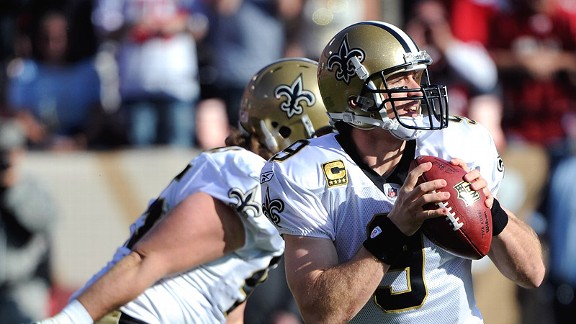 Thearon W. Henderson/Getty ImagesDrew Brees attempted 63 passes Saturday, 14 more than in any regular-season game this season.
Drew Brees
is capable of many great things. But you can't go to the miracle well 63 times in a game and expect it to produce every time.
That was proved Saturday as Brees and the
New Orleans Saints
lost
36-32
in a divisional playoff game to the
San Francisco 49ers
at Candlestick Park.
History will tell us this was one of the best games in playoff annals, coming as it did with four lead changes in the final 5 minutes and San Francisco's winning touchdown with 9 seconds remaining. History will be right, because this game was exciting all the way around.
But the surrounding hysteria might get in the way of history, so let's go ahead and go on the record with one very important item that cannot be overlooked: You can't go deep into the postseason with Brees and Brees alone.
That's what the Saints tried to do, and it came painfully close to working. They had Brees attempt 63 passes. He completed 40 of them, and it looked like he had the miracle the Saints needed when he hit tight end
Jimmy Graham
with a 66-yard touchdown pass with 1:37 left.
But football -- particularly when it's in the postseason and on the road -- is about much more than a quarterback, even if he's surrounded with Graham,
Darren Sproles
and
Marques Colston
.
You must have defense, special teams and a running game. The Saints had none of those things against the 49ers, and that's why they lost.
They simply asked too much from Brees, and they should have known better.
Just go back and look at New Orleans' three losses during the regular season. There's a little lesson here.
In the opener at Lambeau Field, Brees attempted 49 passes -- a number that would end up as his regular-season high. He lost a shootout to
Aaron Rodgers
and Green Bay, and there's no shame in that. But look closely at the Saints' other two losses, because they came against inferior opponents. In an Oct. 16 defeat to Tampa Bay, the last game the Buccaneers won, Brees attempted 45 passes.
Oh, and then there's that inexplicable loss to St. Louis two weeks later. Brees attempted 44 passes in that game. Win either the St. Louis or Tampa Bay game, and the Saints are the No. 2 seed and playing at home, where they were undefeated in the regular season.
There's a line of demarcation where too much Brees becomes a bad thing. It's somewhere in the low 40s. Yeah, Brees threw 44 times in victories against Houston and Jacksonville, 45 times in a three-point win over Carolina and 47 in a December victory against Tennessee. But none of those was pretty, and Houston was the only playoff team among that bunch.
In games in which Brees attempted 43 or fewer passes, the Saints were 8-0. They also were at their best in those games. They had a running game, some defense and no huge mistakes by the special teams.
But the Saints apparently didn't notice that trend. They put too much on Brees on Saturday, and they did have some valid reasons for that. Brees didn't help matters with two interceptions, and the Saints turned the ball over three times in the first quarter.
They fell behind 17-0. Then, they let Brees bring them back but didn't do anything to help him. The running game, which had been so much better than last season's, was nonexistent. Sproles,
Chris Ivory
and
Pierre Thomas
combined for only 13 rushing attempts and 32 yards.
Thomas left the game with an apparent concussion after losing a fumble near the goal line in the first quarter. Without him, the New Orleans offense became predictable. When Ivory was in the game, it was obvious the Saints were running. When Sproles was in there, it was obvious they were throwing.
And they threw way too often against a defense that can generate pressure. On his 63 drop-backs, Brees was sacked three times. According to ESPN Stats & Information, Brees was under duress an additional 17 times. When under duress, Brees completed five of 16 attempts (31.3 percent). Brees also threw away five passes after throwing away only eight during the regular season and in the first round of the playoffs.
Again, there should have been a lesson from the regular season. The most times Brees was sacked or under duress (17) was in the St. Louis loss. Against Green Bay, Brees was sacked or under duress on 12 of his drop-backs.
The more often you have Brees drop back, the more you're asking for trouble, especially when you have two All-Pros at guard but very ordinary tackles.
However, the biggest letdown of all came from the defense. It happened twice after Brees brought the Saints all the way back to take the lead.
The New Orleans defense was pretty good in the 2009 championship season, but it's fallen off dramatically since then. After doing a decent job against the 49ers most of the game, it totally collapsed in the final four minutes.
[+] Enlarge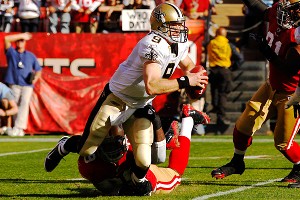 Cary Edmondson/US PresswireWith no running game to help out, Drew Brees faced heavy pressure from the 49ers defense.
The Saints allowed
Alex Smith
to score on a 28-yard run, the longest of his career. No one should ever confuse the slow-footed Smith with Steve Young. But now, in addition to Young, he's going to get compared to Joe Montana.
After the late touchdown to Graham, Smith took the 49ers on a drive for the ages. He hit tight end
Vernon Davis
with a 14-yard touchdown pass to win the game with 9 seconds left. Matched up against strong safety
Roman Harper
most of the game, Davis finished with seven catches for 180 yards and two touchdowns.
The Saints should have known going into the game that Harper on Davis was a huge mismatch, but they kept letting it happen and they kept making Smith look great when it mattered most.
This game showed what's been suspected since after the Saints won their Super Bowl. Their defense isn't that good anymore.
That's obvious now, and there are bound to be ripples, maybe even big waves, after this loss. Defensive coordinator Gregg Williams' contract just expired, and there already has been speculation he could be joining his old buddy Jeff Fisher in St. Louis. Coach Sean Payton, who once gave up part of his own salary to get Williams, might not stand in the way of a move after this one.
It's going to be a busy offseason for the Saints. They must sign Brees to a new contract because his deal is up. The Saints have other expensive potential free agents such as Colston and guard
Carl Nicks
.
There's no doubt the Saints will keep Brees and, in the process, probably make him the league's highest-paid quarterback. But as they look at their salary-cap situation after taking care of Brees, they should take a long, hard look at their roster.
It's time for some changes. You can do all sorts of flashy things and break lots of records by letting Brees carry your team. But he can win a championship only when he has some help around him.
It's time to give Brees that help.
January, 14, 2012
1/14/12
8:25
PM ET
Thoughts on the New Orleans Saints'
36-32 loss
to the
San Francisco 49ers
on Saturday at Candlestick Park.


What it means:
You can't defy conventional wisdom. In a game that will go down as a postseason classic, the Saints broke almost every rule and tradition. But they still lost in the end, as tight end
Vernon Davis
scored a touchdown with 9 seconds remaining. That capped a game that had four lead changes in the final 3 minutes, 53 seconds. The Saints came painfully close to proving they could win on the road, outdoors and in the postseason. They almost showed you can turn the ball over five times and still win. They also came close to proving wrong the old adage that defense wins championships. But there were no miracles this time.
What I liked:
The game was as exciting as any you'll ever see. It had drama and surprises from start to finish. San Francisco jumped out to a 17-0 lead at home, but
Drew Brees
rallied his team and put the Saints right back in the game. New Orleans' defense played surprisingly well most of the day, right up until the end.
What I didn't like:
New Orleans' defense folded when it mattered most.
Alex Smith
, who has never been confused with
Tim Tebow
, broke loose on a fourth-quarter touchdown run. Then, after Brees put the Saints ahead with a touchdown pass to
Jimmy Graham
, the defense collapsed again. Smith, who had been considered a bust for most of his career, brought back memories of Steve Young and Joe Montana with his game-winning drive. Davis abused strong safety
Roman Harper
most of the day, and he did it again when it mattered most.
What's next:
An offseason that's starting sooner than expected for the Saints. There are some key personnel matters to deal with. Brees is no longer under contract. He undoubtedly will return to the Saints, but he's going to take up a lot of salary-cap room. With
Marques Colston
,
Carl Nicks
and several other key players scheduled to become free agents, the Saints will have to make some big decisions. They also could have change on the coaching staff. Defensive coordinator Gregg Williams' contract is expiring, and there is speculation he could be joining his old friend Jeff Fisher in St. Louis.
January, 14, 2012
1/14/12
3:12
PM ET