NFC South:

2012 Hall of Fame
August, 4, 2012
8/04/12
8:04
PM ET
CANTON, Ohio --
New Orleans Saints
players gave Cortez Kennedy a standing ovation early in the Pro Football Hall of Fame enshrinement program Saturday.
They won't be sticking around for Kennedy's speech, however.
The Saints, scheduled to open their exhibition season against the
Arizona Cardinals
in the same Fawcett Stadium on Sunday, left their seats and disappeared behind the end zone grandstands once former New Orleans tackle Willie Roaf finished his acceptance speech.
Roaf led off the Hall program. Jack Butler's time is now, followed by Chris Doleman and then Kennedy. Dermontti Dawson and Curtis Martin round out the proceedings.
Kennedy played for the
Seattle Seahawks
, but he works as an adviser to the Saints. He collected a Super Bowl ring with the Saints following the 2009 season.
August, 4, 2012
8/04/12
7:50
PM ET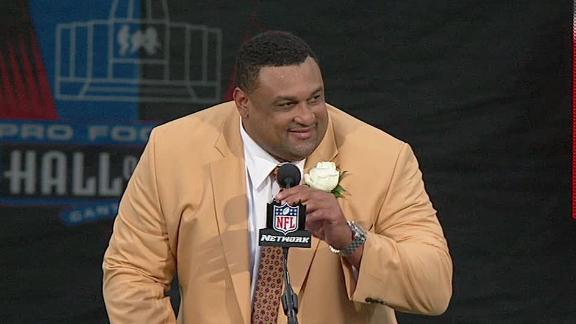 CANTON, Ohio -- Willie Roaf's father, Clifton, has just presented the former New Orleans and Kansas City tackle for enshrinement into the Pro Football Hall of Fame.
The video presentation for Willie Roaf was packed with emotion, especially when Clifton Roaf, his jaw quivering with emotion, called his son his hero.
A quick aside: Clifton Roaf, speaking over lunch Friday, recalled the time his son shut out Hugh Douglas, one of the better defensive ends in the NFL at the time. According to the elder Roaf, Douglas finished with no tackles. When the game ended, Douglas paid tribute to Roaf by crawling off the field. Now that is domination.
August, 4, 2012
8/04/12
7:09
PM ET
CANTON, Ohio -- Welcome to Fawcett Stadium for the 2012 Pro Football Hall of Fame enshrinement ceremony.
I'll be blogging throughout the proceedings, as you might have noticed when this post went live
a bit earlier
. First, a look at the order for enshrinement and speeches for the program, which begins at 7 p.m. ET:
Willie Roaf: This one promises to be emotional, as anyone who witness the way Roaf's father, Clifton, hugged him during the Gold Jacket Dinner presentation Friday night. Clifton Roaf is presenting his son. The Hall encourages presenters to limit their comments to eight minutes in duration. That could be tough for the elder Roaf.
Jack Butler: Butler had to wait a record 50 years for enshrinement. He won't have to wait long Saturday night. The Hall has him going second.
Chris Doleman: The former Minnesota, Atlanta and San Francisco defensive end offered some thoughts Friday on the state of the game. I hope to share those a bit later.
Cortez Kennedy: The second career Seahawk to earn enshrinement will have some time to gather his thoughts. He's fourth in the order.
Dermontti Dawson: One of the greatest interior offensive linemen follows one of the greatest interior defensive linemen.
Curtis Martin: Bill Parcells is presenting Martin. Parcells could be back as an enshrinee before long. Parcells does have some star power. Having him go last wasn't a bad idea.
Should be a memorable night.
August, 4, 2012
8/04/12
7:08
PM ET
CANTON, Ohio --
New Orleans Saints
players, in town to play the
Arizona Cardinals
in an exhibition game Sunday, are filling the final four rows across two sections at Fawcett Stadium.

The Pro Football Hall of Fame enshrinement program is scheduled to begin at 7 p.m. ET.
Each Saints player is wearing a black T-shirt with Willie Roaf's No. 77 on the back, a show of support for one of the greatest players in Saints history.
Saints players are seated in direct sunlight on a hot, muggy evening. They've got at least three coolers filled with drinks. Some are using programs to shield their faces from the sun. The Cardinals are presumably relaxing in an air-conditioned hotel.
Neither team's starters will play extensively, this being the exhibition opener for both.
Update:
The Cardinals'
Daryn Colledge
says via Twitter
that the Cardinals have recently landed in Canton, meaning they're not yet cooling at their hotel.
August, 4, 2012
8/04/12
7:08
PM ET
CANTON, Ohio -- The NFL has allowed suspended
New Orleans Saints
coach Sean Payton to attend the Pro Football Hall of Fame enshrinement now under way.
I saw Payton and his son at the Gold Jacket Dinner on Friday night. They sat briefly at the table next to ours, but Payton did not stay long. He was seen back at the McKinley Grand Hotel while the dinner proceedings were ongoing. The NFL obviously wants Payton to keep a low profile during his bounty-related absence.
Payton's connections to the program extend beyond the enshrinement of former New Orleans (and Kansas City) tackle Willie Roaf.
Another enshrinee, Cortez Kennedy, has worked for the Saints in an advisory role. Kennedy remains particularly close to Saints general manager Mickey Loomis, who was a
Seattle Seahawks
executive when Kennedy played for that team. Kennedy won a Super Bowl ring with the Saints. He has two NFL families, in other words, and Payton leads one of them when he's not suspended.
August, 3, 2012
8/03/12
9:57
AM ET
Nearly 10 years before the NFC South even came into existence, there was a pivotal college game that helped shape the history of two of the division's franchises.
It took place on Sept. 26, 1992, at Alabama's Legion Field. History says that the Crimson Tide defeated Louisiana Tech 13-0 that day, but that doesn't come close to telling the whole story.
[+] Enlarge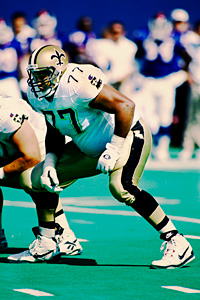 US PresswireWillie Roaf was named All-Pro seven times and was an 11-time Pro Bowl pick in 13 seasons.
What's significant about that day was the matchup of Louisiana Tech offensive tackle Willie Roaf against Alabama defensive end Eric Curry. Paired with defensive end John Copeland, Curry was one of the best-known players in the nation. Roaf, barely recruited out of high school, had started to attract some attention, but that game put him firmly on the radar of NFL scouts.
On that day, Curry's final statistical line had zeroes in the categories for sacks and tackles.
"I say that was a big game because they were the No. 1-ranked defense and those guys got drafted real high,'' Roaf said in a recent conference call. "I had a pretty good game and pretty much got after them. It was a step-up game for me as far as playing those guys.''
On Saturday, Roaf will take the ultimate step up. He'll be inducted into the Pro Football Hall of Fame in Canton, Ohio. He'll become just the second player to spend the bulk of his career with the Saints to be inducted (linebacker Rickey Jackson was the first). Roaf played for the Saints from 1993 through 2001, then went to the Kansas City Chiefs until 2005. In his career, he was selected to 11 Pro Bowls; he was named first-team All-Pro four times with the Saints and three times with the Chiefs. He made the NFL's All-Decade Team for the 1990s and the 2000s.
But let's go back to that day in 1992 and look a little more at how it affected two franchises. Although the Saints were up and down during Roaf's time with them, they always could count on having one of the league's best left tackles. Part of what sold the Saints on Roaf was how well he played against Curry. That game, no doubt, played a major role in why the Saints selected Roaf with the eighth overall pick in the 1993 draft.
Maybe Tampa Bay's scouts, coaching staff and front office should have watched the tape of Curry and Roaf a little more closely, because it might have shown some warning signs. Instead, the Bucs learned their lesson the hard way.
They used the No. 6 overall pick in that draft to take Curry. Aside from an overly enthusiastic hug of former NFL commissioner Paul Tagliabue on draft day, Curry provided no highlights during his time with the Buccaneers. He produced 12.5 sacks in five seasons in Tampa Bay and went down with Broderick Thomas as one of the Bucs' all-time draft busts.
Speaking of busts, Roaf will have his on display in the Hall of Fame.
February, 4, 2012
2/04/12
6:58
PM ET
Like you would expect from any proud franchise, the New Orleans Saints just sent out a massive media package moments after it was announced that offensive tackle Willie Roaf has been elected to the Pro Football Hall of Fame.

The packet included a long list of quotes on Roaf. Let's take a look at some of the highlights.

Team owner Tom Benson: "We're glad to congratulate William Roaf in his election to the Pro Football Hall of Fame. He meant a great deal to our team during his career with us. He was the best player on our team during his time with us, one of the top players in the history of our franchise and one of the NFL's greatest at his position."

Former coach Jim Mora: "Willie Roaf had an outstanding career and definitely belongs in the Pro Football Hall of Fame. He possessed exceptional physical talent and a great work ethic. He was blessed with high quality character and a team oriented attitude. He was a team leader, always positive, upbeat, and a fun guy to coach and have on the team. Without question Willie was one of my best and favorite players ever."

Former Saints defensive lineman Wayne Martin: "I think Willie was Pro Bowl-ready when he got to the league. He had great feet and the other intangibles you look for. He was the best tackle I played against in the league period. The only guy that I played against that came close to him was Anthony Munoz."

Former Saints offensive line coach John Matsko: "What separated William from the rest is his tremendous desire to be the best. His determination to make himself better was reflected in the way he prepared and the way he played. He practiced like it was game day and never let down. You take that desire, that motivation and then add the great physical skills he possesses – size, speed, quickness, strength and length – you have a Hall of Fame tackle. There was no defender he couldn't handle. And, when he played the best, he played them better every time he faced them."

Louisiana Tech offensive line coach Petey Perot, who coached Roaf in college: "When Willie got here, the thing that is the most unique is that he came to us from Pine Bluff as a 220 pound kid that was a raw athlete. We weren't sure where he would play on the line or at d end. We kept him on the line. He worked, was persistent, continued to do the things that great players have aspirations do and grew to a 315-pounder and an unbelievable player.''
February, 4, 2012
2/04/12
6:02
PM ET
As they near their 50
th
year of existence, the
New Orleans Saints
finally have a legacy.
The arrival of coach Sean Payton and
Drew Brees
in 2006 has made the Saints one of the league's top teams since, and they won the franchise's first Super Bowl in the 2009 season. But the real cool thing is the recent success undoubtedly has helped people remember some of the bright spots of what had been a mostly inglorious franchise history.
[+] Enlarge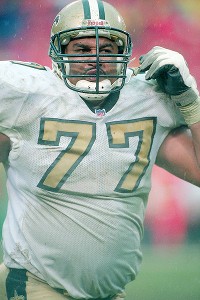 AP Photo/G. Newman LowranceThe Saints weren't a dominant team in the 1990s, but don't blame Willie Roaf. In his 13-year career, Roaf was selected to 11 Pro Bowls.
The latest example of that came Saturday, as offensive tackle Willie Roaf was elected to the Pro Football Hall of Fame. This summer, Roaf joins linebacker Rickey Jackson, a 2010 inductee, as the only other player to spend the bulk of his career with the Saints in the Hall of Fame.
Roaf's selection was more than deserved. In a 13-year career, he was an All-Pro seven times and a Pro Bowl selection 11 times. He also was selected to the All-Decade team for the 1990s and 2000s.
Roaf played for the Saints from 1993 through 2001, then went on to finish his career with the
Kansas City Chiefs
. His final season was 2005. There's no doubt Kansas City fans are celebrating this one as well, but this is bigger for New Orleans because Roaf spent the bulk of his career there.
The Saints weren't great during Roaf's tenure. They won two NFC West titles (that's the division they played in before the NFC South came into existence in 2002) but little else. That could have worked against Roaf, but it didn't. His résumé was strong enough because he was viewed as one of the elite tackles of his era.
He and Jackson now represent the Saints in the Hall of Fame, even though this isn't like baseball's Hall of Fame, where an inductee has to choose which team's cap he wants forever on his plaque.
Roaf did some time with Kansas City, and Jackson also played in San Francisco. But they'll be viewed mostly as Saints, and that's great for the franchise's legacy.
There's some pride from the old days now, and the legacy is only going to continue to grow with the success of the modern-era Saints. It's a virtual certainty that Brees will join Jackson and Roaf five years after his retirement. And there could be more. Tight end
Jimmy Graham
is only in his second season, but he's showing signs he can be an all-time great.
Guards
Jahri Evans
and
Carl Nicks
are generally viewed as the best in the league at their position. If they keep that going, they could also get there. If Payton continues to pile up wins and offensive records, he someday could be a candidate.
The Saints have built a legacy through the years, but Roaf's selection takes it to another level, and there's going to be plenty more to come.