NFC South:

2012 NFL combine
February, 23, 2012
2/23/12
5:03
PM ET
Carolina tight end
Jeremy Shockey
might retire
, coach Ron Rivera said Thursday at the scouting combine.

Rivera said he talked to Shockey at the end of last season and the veteran said retirement was a possibility. Shockey is eligible to become an unrestricted free agent. Rivera said Shockey is out of the country and the two haven't talked recently.
"With him, who knows?'' Rivera said.
That sums it up pretty well. Shockey is definitely a free spirit, and I think the Panthers are ready to go either way on a player who will turn 32 in August. If Shockey decides he wants to play again, I think the Panthers would have interest in re-signing him.
If he chooses to retire, I don't think it's a massive hit to the Panthers. Shockey did a nice job as a role player last season, but it is clear the Panthers view
Greg Olsen
as their main pass-catching tight end. If Shockey retires, the Panthers will surround Olsen with younger backups.
February, 23, 2012
2/23/12
4:08
PM ET
It's sounding like there's a decent chance starting cornerbacks
Ronde Barber
and
Aqib Talib
could return to the
Tampa Bay Buccaneers
next season.
There has been lots of speculation that might not be the case because Barber is a free agent at an age (36) where retirement is possibility and Talib has had a history of off-field troubles.

Barber

Talib
But speaking at the combine Thursday, coach Greg Schiano addressed both situations in the most detail he has since taking the job in January.
Schiano said he has met briefly with Barber already, but he and general manager Mark Dominik will
meet with the captain
again after they return from the combine.
"I just need to tell him what my vision is for the football team and hear from him how he sees how he fits in that,'' Schiano said. "I think it's going to be a great exchange. He knows what this is about, he's been doing it so long. And he's a Buc.
"I mean, he knows it's near the end whether it's a year, two or three. But I think no one knows better than Ronde what's best for all parties involved. So I'm anxious to hear what he has to say. We visited briefly and it was good. I mean, what a bright guy to visit with. But I think this next time, we'll talk more about the specifics of football and all that.''
Sounds to me like Schiano is basically saying if Barber wants to play another season, he can do it with the Bucs.
Talib's situation is a bit different because it could end up depending on external variables. Talib faces a March trial in Texas for an assault term. Prison is a possibility if he's convicted and so is disciplinary action by the NFL.
There had been a school of thought that Schiano, who is known as more of a disciplinarian than predecessor Raheem Morris, might decide to part ways with Talib as part of sending a message to the rest of his players.
But Schiano
sounded like a coach
who would give Talib a chance at a fresh start if the legal system doesn't get in the way. Schiano said Talib said he's confident the legal situation will be resolved in a positive manner.
"Then from there, we're just going to go,'' Schiano said. "Every guy on this football team will know our expectations. There won't be any, 'Well, I thoughts.' I think most of the time, frustration comes out as the result of unfulfilled expectations, my frustration and theirs. So if you make the expectations clear, then discipline really isn't discipline, it's a choice. You knew if you did this, everything is cool and if you don't, there's going to be consequences. That, to me, is not that complicated. But you have to make sure you're very, very clear on what it is your expectations are."
February, 23, 2012
2/23/12
12:00
PM ET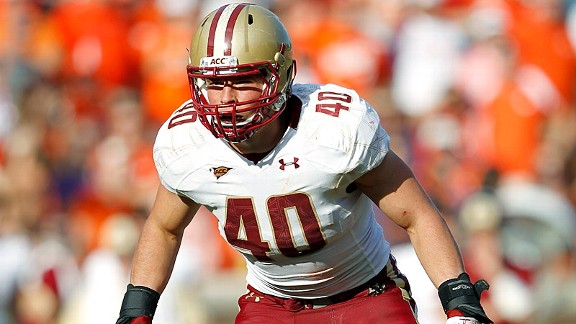 Joe Robbins/Getty ImagesLuke Kuechly has the opportunity, given a solid combine performance, to be a top-10 draft pick.
BRADENTON, Fla. — Look at any mock draft or any list of player rankings and you'll find Boston College's
Luke Kuechly
ranked near the top of the linebackers.
On Monday, he might be able to put himself alone at the very top of every team's linebacker list. When the linebackers work out for NFL scouts and coaches, Kuechly will be out to disprove the only two knocks against him.
Too small and too slow are the common criticisms of Kuechly. He was listed at 6-foot-3 and 237 pounds in college, but NFL types would like to see his weight north of 240. There's also a suspicion that Kuechly won't wow the audience with his time in the 40-yard dash.
But those scouts and coaches haven't seen Kuechly since the final game of his college career. They might be in for a surprise because there have been some major changes.
Kuechly, who could not play in any of the college all-star games because he left school after his junior season, has been working on bulking up and getting faster at IMG Football Academy.
"Let me tell you something, he's plenty big enough,'' said former NFL quarterback Chris Weinke, who directs IMG's football operations. "He plays with great instincts. What I've seen from Luke is a consistent approach every single day. This is a guy that's honed in on what he can do to get better. In terms of his physical skills since he's been here, he's bigger and stronger. He's faster. I can tell you this, there are going to be people excited at the combine when he runs. He's more fluid when he runs.''
Kuechly has been working with IMG director of speed and movement Loren Seagrave, a former speed coach for the
Atlanta Falcons
who also has worked with multiple Olympians. Kuechly's not about to predict his 40 time, but he said he has gotten faster in recent weeks.
"A lot of the stuff we do is called explosive movements,'' Kuechly said. "We talk about having our feet under our body. If your feet are outside your body, you can't move as well. You're going to slip and you're going to have your feet fall out from underneath you. What they teach us here is having your feet underneath you makes you take direct steps. That stuff translates into quickness.
[+] Enlarge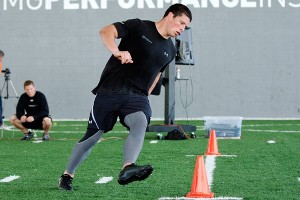 IMG Madden Football AcademyLuke Kuechly has been preparing for the NFL combine by working out at IMG Football Academy.
"The first week, it didn't make sense because it's something new and something I hadn't heard before, but as the weeks progressed, I was like 'Wow, this actually is working for me.'''
If Kuechly can show good speed and size at the combine, his stock could rise and that could put him on the radar of some NFC South teams. The
Tampa Bay Buccaneers
, who pick No. 5, and the
Carolina Panthers
, who will pick either No. 8 or No. 9 (depending on a Friday coin flip), have needs at linebacker. So do the Falcons and
New Orleans Saints
, who are without first-round picks at the moment.
Tampa Bay could use help at any of the linebacker positions, while Carolina should be set in the middle with the return of a healthy
Jon Beason
, but could be looking for an outside linebacker to pair with
James Anderson
. The Falcons could lose middle linebacker
Curtis Lofton
in free agency. The Saints need help on the outside, but also could be looking for a successor to middle linebacker
Jonathan Vilma
, who had knee problems last season.
Kuechly currently is projected by most draft gurus to go about midway through the first round. The Saints and Falcons are without first-round picks. It might be a stretch to project Kuechly as a top-10 pick right now, but a good workout at the combine could change that.
Kuechly played outside linebacker in his first college season before moving to the middle.
"Anywhere I can play is fine with me,'' Kuechly said.
While the size and the speed remain questions, at least until Monday, Kuechly's production has never been in doubt. In his three-year career, Kuechly finished with 532 tackles. Since the NCAA began counting tackles as an official statistic in 2000, only one player has had more tackles than Kuechly. That was Northwestern's
Tim McGarigle
, who had 534 tackles in a four-year career.
Boston College coach Frank Spaziani frequently called Kuechly "the Human Eraser'' for his tackling ability.
"Luke's going to show the physical skills they're looking for at the combine,'' Weinke said. "Add all that onto what he was able to accomplish in college. The guy made a bunch of tackles and it's not like people are running the ball 60 times a game in the ACC. They're throwing the ball and he's still making tackles. He's got the warrior mentality. Whoever gets him is getting a big-time player.''
February, 23, 2012
2/23/12
11:16
AM ET
Most of the NFL world is in Indianapolis for the scouting combine. We'll be keeping tabs on things up there from a distance.
Tampa Bay coach Greg Schiano and Carolina coach Ron Rivera are scheduled to speak to the media late Thursday afternoon. We'll bring you highlights of what they have to say. This will be only the second time Schiano has spoken to the media since his hiring. Now that he's had some time to get settled in, we may get updates on the future of
Ronde Barber
and some official word on where Schiano stands on filling out his staff of assistant coaches.
No word yet if New Orleans coach Sean Payton or Atlanta coach Mike Smith will meet with the media. As we wait for things to develop in Indianapolis, let's take a look at
another mock draft
. This one is from Charlie Campbell.
He has the Bucs taking LSU cornerback
Morris Claiborne
at No. 5. Just about every mock I've seen has the Bucs taking either Claiborne or Alabama running back
Trent Richardson
. I can see the Bucs going either way if all things are equal between those two players.
At No. 9, Campbell has Carolina taking LSU defensive tackle
Michael Brockers
. That's the trendy pick for the Panthers right now. But let's see if the combine workouts change anything.
The Saints and Falcons don't have first-round picks, but Campbell's draft goes four rounds deep. With the 55th overall pick, he has the Falcons selecting Virginia defensive end
Cam Johnson
. That makes a lot of sense on the heels of the news that
John Abraham
isn't
likely to re-sign
with Atlanta.
Campbell also has the Saints taking a defensive lineman at No. 59. He has them taking Michigan defensive tackle
Mike Martin
. I think the Saints also could be looking for a defensive end here, but Martin makes sense because he can generate some pressure from the middle of the defensive line.
February, 22, 2012
2/22/12
10:45
AM ET
With the NFL combine kicking off, let's take a look at several of the potential story lines involving the NFC South during the draft-preparation event:
Double dipping again?
Last year, Tampa Bay general manager Mark Dominik used his first two picks on defensive ends
Adrian Clayborn
and
Da'Quan Bowers
. The year before that he used his first two picks on defensive tackles
Gerald McCoy
and
Brian Price
. In that same draft, Dominik also took two receivers almost in succession, with
Arrelious Benn
coming in the second round and
Mike Williams
in the fourth. If there's a position where I can see Dominik doubling up this year, it's cornerback. It's unclear what the future holds for
Ronde Barber
and
Aqib Talib
.
[+] Enlarge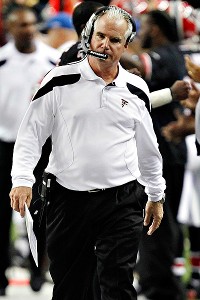 Josh D. Weiss/US PresswireThe pressure is on coach Mike Smith to get the Falcons to the Super Bowl, not just the playoffs.
Sitting it out:
The Saints and Falcons don't have first-round picks. But their scouts and coaches should be paying close attention to all the top prospects. You never know who might fall out of the first round, like Bowers did last year. More importantly, there's no guarantee the Saints or Falcons stay out of the first round. They both have aggressive front offices and both are in a win-now mode. I can see either one trading back up into the first round.
Flip a coin:
That literally is what it will come down to in deciding who gets the No. 8 pick and who gets the No. 9 pick between Carolina and Miami. The coin flip will be held Friday in Indianapolis. Carolina general manager Marty Hurney is an extremely superstitious guy and I'm guessing he's carrying some sort of coin that he thinks is lucky. By the way, Hurney is so superstitious that he's hoping for the No. 8 pick for another reason besides the fact it's one spot higher than No. 9. In the 2003 draft, the Vikings failed to turn in their pick on time. The Panthers wound up jumping ahead of them and taking offensive tackle
Jordan Gross
. He's had a pretty nice career, so Hurney probably is hoping for a repeat.
In need of a hit:
Like coach Mike Smith and quarterback
Matt Ryan
, Atlanta general manager Thomas Dimitroff is under a bit of pressure if the Falcons don't advance deep into the playoffs next season. Owner Arthur Blank has said simply making the playoffs isn't good enough. He wants to contend for the Super Bowl. Dimitroff has had mixed success with his first-round picks. Ryan and linebacker
Sean Weatherspoon
have worked out pretty well and
Julio Jones
looks like he can be an elite player. But defensive tackle
Peria Jerry
and offensive tackle
Sam Baker
have had their careers stall. Dimitroff is going to be busy in free agency, but he needs to pull a starter somewhere out of this draft and it would be especially nice if that guy was a defensive end or a left offensive tackle.
In need of a pass rush:
The problem with new defensive coordinator Steve Spagnulo's scheme is that the Saints don't have the personnel to run it effectively yet. Spagnuolo likes to generate almost all his pressure from the front four. Outside of veteran defensive end
Will Smith
, the Saints don't have any real pass-rush threats on the line. The Saints almost certainly will address that in the draft.

NFC SOUTH SCOREBOARD
Sunday, 12/22
Monday, 12/23