NFC South:

2012 NFL Owners Meeting
March, 29, 2012
3/29/12
5:59
PM ET
At the end of the owners meeting Wednesday, NFL commissioner Roger Goodell got hit with questions about the New Orleans Saints' bounty program and the salary-cap fiasco with the Redskins and Cowboys. But somebody slipped in a question about when the NFL's 50
th
Super Bowl will be awarded.
Goodell said he expects that to come at the NFL's fall meeting and then he
mentioned something
about plans to make the 2016 game "spectacular." My first reaction to that was, "That means there's no way Tampa's getting that game." Tampa narrowly has lost out on the 2014 and 2015 games -- awarded to the New York and Phoenix areas, respectively. Logic would say that would put Tampa in line for the next available game.
[+] Enlarge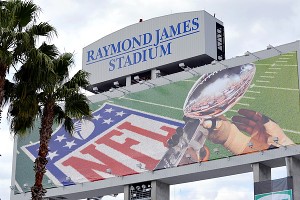 Matt Cashore/US PRESSWIREThe last time Tampa's Raymond James Stadium hosted the Super Bowl was in February 2009. The Steelers defeated the Cardinals 27-23.
But logic kind of goes out the window when you're talking about the 50
th
anniversary of the game (for those keeping score in Roman numerals, that's Super Bowl L). The NFL wants spectacular, and, at first blush, Tampa doesn't fit the profile.
The implication is the NFL truly wants to make a splash with this one and there are venues that have much more glitz than Tampa. If Los Angeles could somehow get a stadium built in time, I think the NFL would love to put the 50
th
game there. If not, maybe a return trip to the Dallas area, where everything is bigger, is possible. Or maybe if the New York Super Bowl (think outdoors) goes well, the league could consider suburban Washington because a game like that near the nation's capital certainly could be spectacular. Miami, a cosmopolitan city with great weather, could be in the mix if it can make some stadium upgrades. Or maybe Goodell really goes outside the box and does something he's hinted at as a future goal -- put the game in London.
Goodell said he doesn't know which cities will bid yet.
As I drove home from the owners meeting, I thought a bit more about Tampa's prospects of landing this game and my mindset changed. Why not Tampa?
I may be a little biased because I live in Tampa -- by choice. But I'll freely admit it doesn't have some of the things Los Angeles, Dallas, Washington, Miami and London have. But Tampa has positives that not all of those cities do. Start with the weather and beaches within 30 miles. Throw in Raymond James Stadium, which still remains one of the league's top facilities, even as it nears middle age. Don't forget that good golf courses and nightlife can score points in the eyes of NFL owners. Many of those same owners have seen how well Tampa has handled previous Super Bowls -- the infrastructure, with the stadium close to the airport and hotels means a lot.
I say Tampa should make a hard push for Super Bowl L. Tampa has a lot of great things to offer. Just bring the Super Bowl -- and all the things that naturally come with it -- and it truly could be spectacular.
March, 28, 2012
3/28/12
10:39
AM ET
PALM BEACH, Fla. -- With
Curtis Lofton
moving to the
New Orleans Saints
as a free agent, Atlanta coach Mike Smith isn't ready to say who his new starting middle linebacker will be.
The candidates obviously are veteran
Lofa Tatupu
and second-year pro
Akeem Dent
. The fact is Smith doesn't even want to pick one right now. He wants this thing to sort itself out on the field.
"I think those two guys are coming to camp and will compete for the Mike linebacker position,'' Smith said during this week's owners meetings. "They'll be on even terms. It's an open competition. We believe in open competition. We believe you get what you earn and you earn what you get.''
Coaches often spew clichés about open competitions, but don't mean them because they've already made a decision or at least are leaning strongly in another direction. But, in this case, I think Smith is being completely honest.
He wants the competition between Dent and Tatupu to play out naturally. There's really not a bad option here. In a best-case scenario, I think the Falcons would be thrilled if Dent steps forward and shows he's ready for the starting job. He's the guy they want there in the long term anyway. But I don't think the Falcons will go into a panic if Dent's not ready to start. Tatupu is their insurance policy. He sat out last season and should be rested and healthy. He once was a very good player in Seattle and might have something left in the tank.
I also get the impression that whoever wins the job might only be a two-down player. Part of the reason the Falcons didn't want to pay Lofton big money was because new defensive coordinator Mike Nolan didn't want to use him on passing downs. I'm not sure they want to use Dent or Tatupu in those situations either.
The Falcons have two quick and athletic outside linebackers in
Sean Weatherspoon
and
Stephen Nicholas
. I don't think they'd mind going with them on passing downs.