NFC South:

2013 Camp Confidential NFC
August, 13, 2013
8/13/13
9:00
AM ET
TAMPA, Fla. -- There's a perception out there that the
Tampa Bay Buccaneers
can't wait to let quarterback
Josh Freeman
walk away after this season.

Trace it to coach Greg Schiano's hesitance to firmly endorse Freeman at the end of last season or chalk it up to the quarterback's lack of consistency or look at the fact that the Bucs are letting Freeman go into the last year of his contract without an extension. But nothing could be further from the truth.
"I have a lot of confidence in Josh," general manager Mark Dominik said. "I know Coach has a lot of confidence. That position is
the
position in the National Football League. Win or lose, regardless of if you get too much blame or not enough kudos when you do win and people take it for granted, the more time you have to evaluate that player at that position, the more of a chance you have to be correct. I think Josh is looking at it with a confidence and saying he believes in himself and there were some parts of last year he wasn't happy with, but there were good parts last year. We've talked to Josh and his agent, and we feel like we're at a good spot. Everybody feels comfortable with where we're at."
Even though they used a third-round draft pick on
Mike Glennon
, the Bucs desperately want Freeman to succeed. If he plays well, that probably means the team will be in the playoffs for the first time since the 2007 season. That would give Dominik and Schiano job security.
It also would give Freeman job security, because the Bucs probably would turn around and reward him with a big contract before free agency starts. That would fit the team's plan of building from within. (If things go as expected, 18 of Tampa Bay's 22 starters this year will have come through the draft, off the practice squad or through free agency.)
But it will all come down to Freeman's performance. He needs to avoid slumps like the three-game stretch late last season when he threw 10 interceptions. He needs to play the way he did when the Bucs got off to a 6-4 start.
"He knows it," Dominik said. "We know it. But I think the thing that's kind of been lost is some of the great things he did last year. Some of the big games where he played really well and showed he can do it. I think what he's doing in camp right now is playing really smart with the football. You can't underestimate the second year in a system. Continuity is so important. If you keep it together, that gives you a chance to have more success."
If Freeman plays well the Bucs will wrap him up, and they'll have continuity at quarterback. If consistency continues to be an issue, the Bucs will have to start from scratch next year and Freeman will be playing for another team.
THREE HOT ISSUES
[+] Enlarge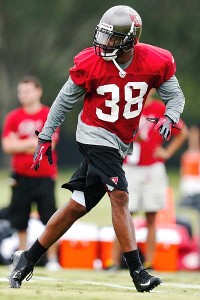 Mike Carlson/AP PhotoVeteran Dashon Goldson, who was signed as a free agent this offseason, should provide some depth at safety for the Bucs.
1. Secondary matters.
The Bucs poured a ton of resources into their secondary in the offseason. They traded for cornerback
Darrelle Revis
, signed safety
Dashon Goldson
as a free agent and used a second-round draft pick on cornerback
Johnthan Banks
. Those are the types of things you have to do when you're coming off a season in which your pass defense ranked last in the league.
That should be enough to bring about some dramatic changes. All indications are that Revis is healthy and, if he is, he's the best cornerback in the league. Banks could start immediately and, if he doesn't, will be the third cornerback. Goldson's arrival at free safety means strong safety
Mark Barron
, last year's top draft pick, should be able to concentrate on playing more in the box -- where he's at his best.
The Bucs believe in building from within. But they went outside to patch up the team's biggest weakness.
2. The pass rush.
This goes hand in hand with the secondary. If the defensive backfield really is going to shine, it's going to need some help from the pass rush.
The Bucs let defensive end
Michael Bennett
, last year's leading sacker, walk away in free agency. But that was a calculated move. The Bucs believed Bennett already had hit his full upside. But the team thinks third-year pros
Da'Quan Bowers
and
Adrian Clayborn
are ready to blossom to heights that Bennett never approached.
That's a leap of faith, because Clayborn is coming off a knee injury and Bowers wasn't a full-time player in his first two seasons. However, if the Bucs are right about Bowers and Clayborn, the pass defense is going to rank a lot better than No. 32 in the league.
3. The tight ends have to come through.
The Bucs have done a nice job of surrounding Freeman with plenty of talent at running back, receiver and offensive line. But at tight end, the cupboard looks close to bare. The team didn't re-sign last year's starter,
Dallas Clark
.
Luke Stocker
, who seemed to have the inside track to the starting job, has missed a lot of camp with a calf injury.
But the Bucs are quietly optimistic about
Tom Crabtree
, whom they brought in from Green Bay. The Bucs aren't going to throw to their tight ends as much as Atlanta and New Orleans do, but they need Stocker or Crabtree to be a threat in the passing game to take some coverage away from the wide receivers.
REASON FOR OPTIMISM
[+] Enlarge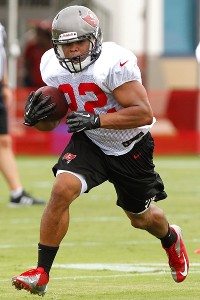 Kim Klement/USA TODAY SportsThe Bucs have done well stockpiling young talent such as running back Doug Martin.
The team has a surprising amount of individual talent. Revis, Goldson, guard
Carl Nicks
, guard
Davin Joseph
, defensive tackle
Gerald McCoy
, running back
Doug Martin
and receiver
Vincent Jackson
have been to the Pro Bowl. Plus, the Bucs have plenty of other young talent -- guys like Freeman, Barron, linebackers
Lavonte David
and
Mason Foster
, and receiver
Mike Williams
.
Tampa Bay has been rebuilding ever since coach Jon Gruden was fired following the 2008 season. There's no such thing as a finished product, because you're always looking to upgrade your roster. But the Bucs no longer are in rebuilding mode.
They have enough talent to get to the playoffs.
REASON FOR PESSIMISM
Schiano still is somewhat new to the NFL and to his players. His hard-edged approach drew all sorts of attention last year, and he has said he's relaxing things a bit now that he has changed the culture of the locker room.
But this team isn't completely past the culture shock that came with Schiano. That's why it's critical for the Bucs to get off to a fast start. If they do, the players will fully embrace Schiano's ways.
If the Bucs start poorly, players won't buy into Schiano and things could fall apart in a hurry.
OBSERVATION DECK
The Bucs are ecstatic with what they've seen from McCoy this offseason. He earned a Pro Bowl trip last year, and that seems to have taken his motivation to another level. He worked out harder than ever and came to camp about 10 pounds lighter than last season. He's emerging as a leader of the defense, and the Bucs think he can become one of the league's most dominant interior linemen.

When the Bucs brought in Gabe Carimi, some fans thought he might end up starting ahead of Demar Dotson at right tackle. That's not going to happen. Carimi is being looked at as an insurance policy behind Dotson and Penn at left tackle. Dotson is having one of the best camps of any Tampa Bay player, and the Bucs believe he's only starting to scratch the surface of his potential.

Martin had a phenomenal rookie season, but I'm expecting him to be even better this year. Martin rushed for 1,454 yards with Joseph missing the entire season and Nicks missing half of it. With the two guards back, Martin should be an even better runner. Martin also caught 49 passes as a rookie, and I can see that number going up because the Bucs have been throwing to him a lot in camp.

The Bucs brought in veteran Peyton Hillis as insurance behind Martin. But Hillis, who hasn't done much the past two seasons, isn't a lock to make the roster. Veteran Brian Leonard looked good in the preseason opener, and the Bucs believe sixth-round draft pick Mike James has the potential to be an all-around back.

Strongside linebacker was expected to be one of the more competitive spots in camp. But veteran Dekoda Watson has taken the mystery out of that battle. He started off ahead of free-agent pickup Jonathan Casillas and has widened the gap with a strong performance in camp.

Kevin Ogletree appears to have the lead over Tiquan Underwood and Chris Owusu in the competition for the third receiver spot. But Underwood and Owusu have had strong showings that could earn them some playing time. Without a lot of certainty at tight end, the Bucs could resort to some four-receiver sets.

The addition of veteran Spencer Larsen made me wonder if fullback Erik Lorig's job was in jeopardy. But that's not the case. Lorig is safe as the starter. The Bucs were very impressed with Larsen's workout and view him as a quality backup and special-teams player.
August, 10, 2013
8/10/13
12:00
PM ET
METAIRIE, La. -- The first thing I noticed when watching the
New Orleans Saints
practice was the silence.
There was no messing around and no coaches screaming at players. Instead, the Saints looked like a veteran team that is intensely focused -- more focused than last year, when chaos surrounded the entire season. Maybe even more focused than in 2009, when the Saints eventually won their first Super Bowl championship.

The quiet practices are a firm sign that coach Sean Payton is back in charge and that this team wants to put last season as far in the past as possible. The bounty scandal that led to the season-long suspension of Payton and a disappointing 7-9 record is over, and the Saints want to return to their winning ways.
"Last year was an apparition," quarterback
Drew Brees
said. "It was a different time with all the situations that had taken place. This year, just knowing that we've got everybody here, this is our team. Nobody's missing. This is the team that can accomplish great things, and there's a lot of work that needs to be done. Here's our window of time to bring it together. We know there's going to be tough times. We know there's going to be adversity. Build that attitude, build that chemistry, and get ready to make a run at it."
Payton's return alone should make a big difference. He's one of the league's best coaches and possesses a brilliant offensive mind. After watching his team from a distance last year, Payton had some strong critiques for his players, even the superstars.
Soon after Payton was reinstated, he called tight end
Jimmy Graham
and told him that a season in which he caught 85 passes but led the league in drops, according to ESPN Stats & Information, wasn't good enough.
"First, he called me and I didn't recognize the number so I didn't pick it up," Graham said. "He was pretty mad because it took like two or three days for me to call him back. The conversation was very serious, talking about his expectations for me and the things that I need to correct from last year and how he's ready to be back. He's ready to see my growth even more."
Payton needs to see growth from more than Graham. He's made it clear that he wants to run the ball more often and that the Saints have to be substantially better on defense.
If the Saints can combine those things with Brees and the passing game, they should be right back in playoff contention.
THREE HOT ISSUES
1. The defensive overhaul.
Payton is an offensive guru, but the first order of business upon his reinstatement was to replace defensive coordinator Steve Spagnuolo with Rob Ryan. Spagnuolo's defense never caught on in New Orleans, and the Saints finished last season ranked No. 32 in total defense.
The Saints aren't just switching coordinators. They're switching schemes. With Payton's blessing, Ryan is installing a 3-4 scheme. The pass rush now will have to come from the outside linebackers, particularly
Junior Galette
,
Will Smith
and
Martez Wilson
, a trio of guys that previously played defensive end.
The secondary also is going through some major changes. The Saints signed free-agent cornerback
Keenan Lewis
and drafted safety
Kenny Vaccaro
in the first round.
The defense will look a lot different because Ryan uses a lot of exotic looks. If the results are different from last season, the Saints will be in good shape.
[+] Enlarge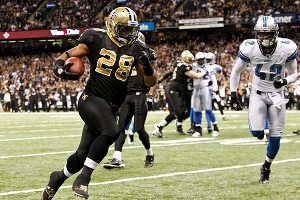 Derick E. Hingle/US PresswireThere won't be any excuses for Mark Ingram this season, as the Saints plan to keep him involved in their running game.
Ingram's time?
Payton repeatedly has said the Saints need to get back to running the ball more efficiently. They were good in that area in their Super Bowl season but got away from the run last season.
There really is no reason the Saints shouldn't be able to get production from the running game. They have a good offensive line and three talented running backs --
Mark Ingram
,
Darren Sproles
and
Pierre Thomas
.
The real wild card is Ingram. Payton and general manager Mickey Loomis used a first-round pick on Ingram in 2011, but he hasn't produced a lot in his first two years. I think Payton is going to make it a point to give Ingram more carries this season.
A new age of receivers.
A few years ago, the Saints had a receiving corps as deep as any in the league, which came in handy because they use so many three- and four-receiver sets. But
Robert Meachem
and
Devery Henderson
left over the past two seasons.
Joe Morgan
, who had been ticketed for the third receiver spot, suffered a season-ending injury in camp.
That leaves starters
Marques Colston
and
Lance Moore
as the only sure things. Beyond them, there's a lot of uncertainty. But the Saints hope veteran
Steve Breaston
, who was signed this week, and second-year pro
Nick Toon
, who missed his rookie season with an injury, can fill the void.
REASON FOR OPTIMISM
Any team that has Brees as its quarterback is going to be competitive. With weapons such as Graham, Colston and Sproles, the Saints are going to score plenty of points. It would be difficult for the defense to be any worse than last season.
If the Saints can just put a middle-of-the-pack defense on the field, they can be a dangerous team.
REASON FOR PESSIMISM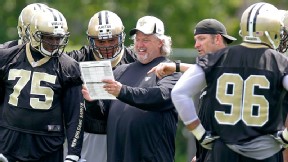 Derick E. Hingle/USA TODAY SportsRob Ryan will bring an aggressive new 3-4 attack to New Orleans, but do the Saints have the proper personnel to run it effectively off the bat?
The Saints already have had some tough breaks when it comes to injuries. Defensive end
Kenyon Coleman
and outside linebacker
Victor Butler
, who were brought in specifically to fill important roles in Ryan's defensive scheme, already have suffered season-ending injuries.
Ryan is an aggressive coach, and the 3-4 has had plenty of success around the league in recent years. But I'm not sure Ryan has the personnel to make this defense succeed. It could take another offseason to get this defense fully stocked.
OBSERVATION DECK
One of the brightest spots in training camp has been the play of second-year defensive lineman
Akiem Hicks
. I saw him make several big plays during my visit. Hicks is going to get his chance to shine in the regular season, and with Coleman out, it looks like he'll be a starter at defensive end.
In another sign that the Saints are serious about running the ball more, Graham has bulked up. The tight end said he now weighs about 270 pounds and that he's focusing on becoming a better blocker.
The Saints have a history of finding unheralded running backs who end up making a contribution (see
Chris Ivory
and
Travaris Cadet
). They might have found another one in
Khiry Robinson
, an undrafted free agent out of West Texas A&M. Robinson has flashed big-play ability in camp. The Saints have so much depth at running back that it might be tough for him to make the roster, but he could end up on the practice squad.
There was some thought that
Jason Smith
, a former first-round pick by the
St. Louis Rams
, could end up as the starting left tackle. But it doesn't look like that's going to happen.
Charles Brown
has been getting virtually all the first-team work. Smith has fallen to third on the depth chart and is working behind rookie
Terron Armstead
. It's looking like Smith might not even make the roster.
In recent years, the Saints have brought rookie defensive backs along slowly.
Malcolm Jenkins
and
Patrick Robinson
didn't play significant roles in their first seasons. But I don't think the Saints are going to be cautious with Vaccaro. Whether it's at one of the safety spots or as the nickelback, Vaccaro is going to play a lot this season.
July, 31, 2013
7/31/13
11:10
AM ET
SPARTANBURG, S.C. -- When the
Carolina Panthers
end a training camp practice, there's a universal yell from the fans.
"Cam!" they shriek.

It's an attempt to get quarterback
Cam Newton
to come sign autographs. It's also a reminder that Newton's popularity is greater than that of the 89 other players in camp combined.
"Imagine what it would be like if we win," a team employee said on a recent day while fans yelled Newton's name.
Yeah, imagine the frenzy around Newton if the Panthers produced a winning season in his third year. That's pretty much the objective, because coach Ron Rivera needs to win to keep his job, and this franchise hasn't been to the playoffs since the 2008 season. And it's mostly up to Newton, who is somewhat a polarizing figure, to make it happen.
The guy is an attention magnet. He's beloved by Carolina fans but is often bashed by the national media. Presumably, the negativity stems from episodes in which he pouted when things were going badly, and critics have questioned his leadership skills.
But those who know Newton best say what you see isn't what you get. They say Newton is ready to take the Panthers to the playoffs.
"The thing that I really admire about Cam is, even through all the adversity and even through all of the stuff the media has tried to create that's not true about him, he's done a really good job of weathering those storms," Pro Bowl center
Ryan Kalil
said. "His self-evaluation is phenomenal. He's approached many guys and said, 'Look, I know I don't do a great job with this or that,' and he's the first one to tell you that he's working on it and he's going to do his best to make sure bad things don't happen again. I've been around guys that are too prideful to ever say that or make an effort to do that.
"I've played around guys who will tell you, 'This is who I am, take it or leave it. I really don't care what you think of me.' Cam's not like that. That's something that I really respect out of him, and that's going to help not only with his teammates, but with himself."
Those who have spent the most time around Newton say the quarterback has grown immensely and is more than ready to be a leader.
"People have talked about him handling the ups and the downs," said offensive coordinator Mike Shula, who worked as quarterbacks coach during Newton's first two seasons. "We all hate to lose. You don't ever want to get used to losing and justifying and saying, 'That's OK, we can get them next week.' You want them to burn inside, but on the outside you have to manage that. It's not golf. You're not by yourself. You've got 10 other guys that feel just as bad as you do, so channel that feeling and get the most of not just yourself, but get the most out of those other guys. That's what leadership is in my opinion."
If Newton can get the most out of himself and his teammates, the Panthers will be in the playoffs. And the Newton critics finally will be silenced.
"He's had the best first two seasons of any quarterback," general manager Dave Gettleman said. "The elephant in the room is the win-loss record. Now, it's time to win."
THREE HOT ISSUES
[+] Enlarge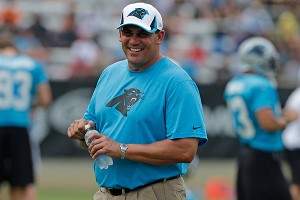 AP Photo/Chuck BurtonRon Rivera and Carolina finished strong last season, and hope that momentum carries into this fall.
1. Ron Rivera needs to make the playoffs.
Rivera needs to win, and he needs to do it quickly. The Panthers have gotten off to dismal starts in each of his first two seasons. Owner Jerry Richardson spent several days after last season debating whether he should keep Rivera.
Richardson ultimately decided that the team's strong finish last season was a sign that Rivera had the Panthers pointed in the right direction. But Richardson is running out of patience.
Anything less than a playoff berth probably won't be enough for Rivera to keep his job.
2. The offense needs to find an identity.
Newton is talented in so many different ways that the Panthers haven't figured out how to use him properly. That task is now up to Shula as he takes over the offense.
I think Shula has a chance to be one of this season's success stories. In his previous stint as Tampa Bay's offensive coordinator in the late 1990s, Shula was bashed for being too conservative. But he didn't have very talented personnel. He also was under instructions from coach Tony Dungy to keep things conservative.
Shula is too smart to be conservative in Carolina. He has a rare talent in Newton and good skill-position players such as
DeAngelo Williams
,
Steve Smith
,
Jonathan Stewart
and
Greg Olsen
. I can't see Carolina's offense being boring.
3. The secondary can make this defense great.
On paper, Carolina's front seven is as good as any in the league. But some very large questions remain in a secondary that wasn't very good last season.
Free safety
Charles Godfrey
is the only sure thing. Because of salary-cap issues, the Panthers weren't able to bring in any big names to patch up the secondary and settled for several midlevel free agents. But I was pleasantly surprised by what I saw out of the secondary during my visit to camp.
Mike Mitchell
looks like he can fit nicely at strong safety.
Captain Munnerlyn
and
Drayton Florence
aren't household names, but they're smart veteran cornerbacks and they seem to have the edge on youngsters
Josh Norman
and
Josh Thomas
. Still, it remains to be seen how this secondary will match up in a division that includes wide receivers such as
Roddy White
,
Julio Jones
,
Marques Colston
and
Vincent Jackson
.
REASON FOR OPTIMISM
The way the team finished last season showed that the players have bought into Rivera. It also showed he's grown as a coach. The Panthers made major changes to their offensive scheme after the dismal start and wound up winning five of their final six games.
If the Panthers can carry over that momentum, anything is possible. This is a team that's been down for a while. But there are plenty of players with elite talent on this roster. This isn't a team that is building from scratch. This is a team that simply is looking to turn a corner.
REASON FOR PESSIMISM
[+] Enlarge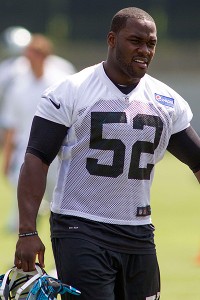 Jeremy Brevard/USA TODAY SportsTo reach their goals, the Panthers could use a healthy season from linebacker Jon Beason.
Linebacker
Jon Beason
and Stewart have been unable to practice so far as they attempt to come back from injuries. Both are extremely talented players. But their injury histories are troubling.
It remains to be seen if Beason and Stewart can get back to being anywhere close to the players they once were.
OBSERVATION DECK
A lot of people rip on Carolina's receiving corps and say it has no depth beyond Smith. I have to disagree with that after watching the Panthers in camp. I think Brandon LaFell is a much better No. 2 receiver than he gets credit for. I also think reclamation project Ted Ginn Jr. might pay off because he has elite speed, and Domenik Hixon gives the Panthers a steady veteran backup.
That new-found depth at wide receiver doesn't bode well for David Gettis. I know he's a fan favorite because he had a nice rookie season in 2010. But injuries have limited Gettis to only two games over the past two seasons. I don't know whether Gettis still is dealing with injuries, but I watched him in camp and he didn't look much like he did as a rookie.
Sixth-round draft pick Kenjon Barner is going to have an impact on this team in some way. The backfield is crowded, and the Panthers have plenty of other options in the return game. But Barner has explosive quickness, and I think the Panthers will find a way to get him on the field.
Even though he hasn't appeared in an NFL game since the 2010 season, I think defensive tackle Colin Cole has a shot at making the roster. Cole is massive and can be a nice backup run-stuffer to rookie Star Lotulelei.
Maybe it's a smokescreen, but I don't think I saw a read-option play the entire time I was at Carolina's camp.
Despite their salary-cap limitations, I think the Panthers made an excellent move by signing free-agent linebacker Chase Blackburn. Beason and Thomas Davis have a history of injuries. Blackburn has starting experience and can play all three linebacker positions.
I'm not sure the Panthers are sold on their depth on the offensive line. They're taking a look at some young backups now, but I think they could look to add a veteran or two.
July, 27, 2013
7/27/13
1:00
PM ET
FLOWERY BRANCH, Ga. -- When he purchased the
Atlanta Falcons
in 2002, Arthur Blank wasn't looking primarily to make money.

"It's a solid business, and the NFL is king of the sports world and all that," said Blank, who made his fortune as co-founder of Home Depot. "But I got in this business to win. You want to win for your franchise, you want to win for the fans, and you want to win for the city and the state and you want to win for your players and the people in this building. All of that is what's important to me. I'm a super competitive guy, and I want to win."
After some up-and-down early years in Blank's tenure, the Falcons finally have become consistent winners. The team has had five consecutive winning seasons since the arrival of coach Mike Smith, general manager Thomas Dimitroff and quarterback
Matt Ryan
. That's remarkable progress for a franchise that had never had back-to-back winning seasons before the trio came along. And last year's trip to the NFC Championship Game certainly was another step -- the Falcons came up 10 yards short of the Super Bowl.
But Blank's not the type of guy to dance around. He wants more. He wants a Super Bowl championship. Wait, make that championships, plural.
At the news conference to announce Ryan's contract extension Thursday evening, Blank strongly said he and the Falcons can't really relax until they have Super Bowl rings.
"I think when you have five consecutive winning seasons and go to the playoffs four out of five years, you're very much in the game," Blank said. "I feel good about what we've built, but I also feel like it's time to take the next step."
He's not alone. Smith had a strong message for his team on the first day of camp.
"I wanted everybody to understand we're not 10 yards from the Super Bowl," Smith said. "We're 193 days from the Super Bowl, which is where we want to be at the end of the season."
The Falcons didn't go into panic mode and make desperate moves in the offseason. But it's easy to detect the sense of urgency around Atlanta's camp. The Falcons won't quite say it's Super Bowl or bust, but they believe it's their time to continue moving in that direction.
[+] Enlarge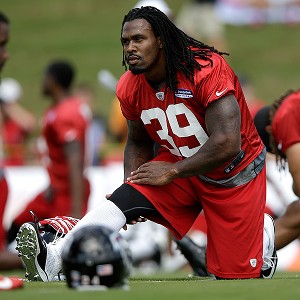 AP Photo/John BazemoreAtlanta's pass-oriented offense should have better balance in 2013 with RB Steven Jackson in the mix.
"When an organization comes close to a goal you want to attain and you don't get there, I think the first thing that you've got to do is make sure everybody doesn't live in the past," Smith said. "I tell my guys there are three time frames you can live in. You can live in the past. You can live in the future. You can live in the now. As human beings and athletes, we live in all three at different times, but the majority of the time has got to be spent in the now and we have some goals that we want to attain now."
Three hot issues
1. The running game has to work.
The Falcons clearly have made the transition to a pass-first team, and that's not going to change. But they need some semblance of a running game. That's something they lacked last year as
Michael Turner
aged and fizzled out.
The Falcons have added
Steven Jackson
, and that should provide a significant upgrade. Jackson doesn't need to be the workhorse runner he was earlier in his career, and the Falcons still want to get
Jacquizz Rodgers
some playing time.
A combination of Jackson and Rodgers should be more than enough to give the Falcons a running game. That should complement the passing game by clearing the way for play-action passes. It also should come in handy when the Falcons are in control of games and trying to eat up some clock.
2. The defense needs a star and an identity.
Although Smith comes from a defensive background, the Falcons never have had a really strong defense during his tenure. That needs to change if this team really is going to challenge for a Super Bowl.
It should help that defensive coordinator Mike Nolan is entering his second season and most of the players know his defense. But it's time for this defense to build a real identity, and I look for Nolan to try to put a more aggressive product on the field.
It also would help Nolan if he can find a true star on his side of the ball. Linebacker
Sean Weatherspoon
could be that guy. Weatherspoon has been very good so far, but he needs to take the next step and become a prolific playmaker.
3. The pass rush has to produce.
For virtually all of Smith's tenure, the pass rush has consisted of
John Abraham
and not much else. But Abraham, 35, was released in the offseason because of his age. The Falcons replaced him by bringing in
Osi Umenyiora
.
On the surface, it appears as if Umenyiora should be able to give the Falcons what Abraham used to. But this defense needs more than Umenyiora to get after opposing quarterbacks. The team is hoping one of its young defensive ends, particularly
Jonathan Massaquoi
, can step up and complement Umenyiora.
But I'm expecting Nolan to get more creative in his second season and get his linebackers and defensive backs more involved as blitzers.
Reason for optimism
Despite the loss to San Francisco in the NFC Championship Game, the Falcons took a big stride last year by winning a playoff game against Seattle. It was the first playoff victory of Smith's tenure, and it was significant because it showed the Falcons they can win in January.
This now is a veteran team without many holes. On paper, it's as good as any team in the NFC. This team knows its window for winning a Super Bowl is wide open at the moment but isn't going to stay that way forever.
[+] Enlarge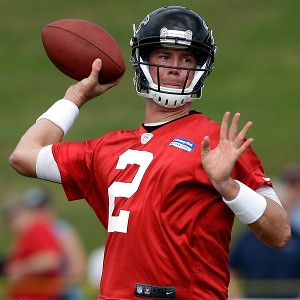 AP Photo/David GoldmanWith a hefty new contract and premium weapons around him, Atlanta QB Matt Ryan will be playing under heavy scrutiny all season.
Reason for pessimism
There always are going to be doubts about the Falcons until they win a Super Bowl. Is Smith too nice of a guy? Does Ryan have what it takes to win the big one?
Those questions still linger. And, with those questions, there is a lot of pressure. It remains to be seen whether this team can handle that kind of pressure.
Observation deck
One of the first things that struck me on the practice field was the size of rookie tight end
Levine Toilolo
. He's 6-foot-8, which makes him the tallest tight end in the NFL and a potential matchup problem for linebackers and defensive backs. The best thing about veteran
Tony Gonzalez
's taking part only on a limited basis is that Toilolo will get plenty of reps and a chance to develop quickly. But I'm not sure Toilolo will immediately beat out
Chase Coffman
, who had a very strong offseason, for the No. 2 tight end spot.
If you're looking for an unsung player who is going to make an impact this season, start with
Bradie Ewing
. The Falcons drafted him last year and planned to use him as the lead blocker for Turner. But Ewing got hurt in the preseason and missed his entire rookie year. Turner had his problems last year, but I think the lack of good blocking from the fullbacks was a factor. Ewing has nice size and should be able to open holes for Jackson.
Don't read too much into the fact that
Mike Johnson
has received all the first-team reps at right tackle so far in camp. Johnson might have a slight edge thanks to experience, but the team still has high hopes for second-year pro
Lamar Holmes
, and he's likely to be given some reps with the first team.
The speculation that defensive end
Kroy Biermann
could be used more as a linebacker is more than speculation. Biermann was spending a lot of time at linebacker in the first two days of camp. He's athletic enough to play in pass coverage and should be able to generate a pass rush from a linebacker position.
The Falcons seem a little thin at defensive tackle, but they might have some quiet plans to get second-year pro
Travian Robertson
more involved in the rotation. He played a little as a rookie, and I expect his playing time to increase. Also, defensive end
Cliff Matthews
appears to have bulked up and could slide inside at times.
Second-round pick
Robert Alford
is going to have a shot at playing time at cornerback. But I think there's another reason the Falcons drafted Alford. He has return ability, and the Falcons need to improve their return game. Third receiver
Harry Douglas
also could be an option in the return game. The Falcons would like to get Douglas more touches because they believe he's an explosive player. But it's tough to get Douglas touches in the passing game with
Roddy White
,
Julio Jones
and Gonzalez around. Letting Douglas handle punt returns could give him four or five more touches a game.
I had been thinking the Falcons would bring in a veteran backup for Ryan at some point. But, after watching second-year pro
Dominique Davis
the past few days, I'm not so sure the Falcons are still looking. Davis looked sharp and decisive. He'll get a lot of playing time in the preseason games. If he performs well, the Falcons will stick with him as their backup.

NFC SOUTH SCOREBOARD
Friday, 8/22
Saturday, 8/23