NFC South:

2013 Hall of Fame vote
February, 2, 2013
2/02/13
6:31
PM ET
NEW ORLEANS –
Derrick Brooks
and Tony Dungy are going to be eligible for the Pro Football Hall of Fame in 2014.

Sapp
It's only fitting that
Warren Sapp
will be there before them.
When you think about how the
Tampa Bay Buccaneers
stopped being the "Yuccaneers," you have to start with Sapp.
Dungy and Brooks were crucial reasons why a team that had been losing for a generation suddenly started winning. They might have been even bigger parts than Sapp, who was elected to the Hall of Fame on Saturday in his first year of eligibility. But the defensive tackle was the first piece of a turnaround that eventually led to the franchise's Super Bowl championship. Dungy didn't come until 1996, and the winning didn't start until a magical 1997 season that I was fortunate enough to cover for The Tampa Tribune.
Brooks came in 1995, but Sapp was drafted ahead of him on that same day. That's when the turnaround really started.
As Dungy and defensive coordinator Monte Kiffin arrived, Sapp quickly became a force on a defense that arguably became one of the best in history. Brooks was just as big a force as Sapp, and I'm confident the linebacker will get his due next year.
But everything about the legendary Tampa 2 defense that soon was copied around the league started with Sapp. He was the disruptive force in the middle that cleared the way for everything else.
Without Sapp, Dungy and Kiffin's defense still might have been good, but it wouldn't have been dominant. Without Sapp drawing so much attention from an offense, Brooks probably wouldn't have been quite as good as he was. Without Sapp,
John Lynch
and
Ronde Barber
might not be talked about as potential Hall of Famers.
All those guys played during a great era for Tampa Bay, and that's a time period that is still remembered fondly in an age when the current Bucs are struggling for an identity of their own.
Maybe sometime soon the Bucs will get back to selling out their stadium once again. And maybe sometime soon the Bucs will be loved by the entire region the way they were in the glory days.
The irony is that Sapp was far from the most beloved player on that team. He was known for his boorish behavior with fans and the media.
Sapp still is a bit of a polarizing figure, even in Tampa Bay. Some people love him. Some people don't.
Say whatever you want about Sapp. But come this summer, he will be forever known as a Hall of Famer.
January, 31, 2013
1/31/13
10:29
AM ET
NEW ORLEANS -- When I walk into the room to vote for the Pro Football Hall of Fame's Class of 2013 on Saturday morning, I won't be lugging any of Warren Sapp's baggage.
We'll see if other voters can do the same. Sapp is a polarizing figure, even in Tampa Bay where he spent the bulk of his career.
[+] Enlarge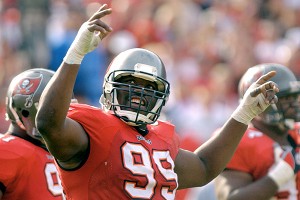 AP Photo/Steve Nesius, FileWarren Sapp was voted to seven Pro Bowls and was named first-team All-Pro for four straight seasons.
There are numerous stories about him being rude to fans. A lot of people around the league, including some in his own locker room, didn't approve of all of Sapp's antics. He could be arrogant and rude.
I once saw him bring a young reporter to tears in Cincinnati. As the beat writer for The Tampa Tribune early in Sapp's career, I took a few verbal lashings. But there also were times when Sapp was engaging and lighthearted, although many in the media never experienced those moments, or have forgotten them.
None of that matters, because whether or not Sapp goes into the Hall of Fame in the first year he is eligible is not about his personality. And it certainly isn't about the media's personal feelings about him.
The only criteria for selection in the Hall of Fame's by-laws is what a player did on the field. I think Sapp did plenty.
He was the dominant defensive tackle of his generation and, all these years later, we're still waiting for the next Sapp.
I'm not fully prepared to say I'm voting for Sapp. I want to hear all the presentations before making a decision. But, as I sit here looking at the numbers, my gut feeling is that I'll vote for him.
Sapp was a dominating force at defensive tackle. Without him and Derrick Brooks, I don't think the Bucs of the late 1990s and early 2000s would be remembered as one of the best defenses ever. Without Sapp, I doubt the Bucs would have won a Super Bowl title.
Sapp was the NFL Defensive Player of the Year in 1999. How often does a defensive tackle win Defensive Player of the Year?
The guy had better sack numbers than most defensive ends. He finished with 96.5 career sacks, including four seasons in which he reached double digits. He was voted to seven Pro Bowls and was named first-team All-Pro for four straight seasons.
So what if he wasn't always the most pleasant guy to be around?
He did his job on the field. That really is all that matters.