NFC South:

2013 NFL combine
February, 20, 2013
2/20/13
12:35
PM ET
BRADENTON , Fla. -- As the
Atlanta Falcons
watch the workouts at the NFL scouting combine this week, it's pretty much a certainty their coaches and scouts will be keeping a close eye on Notre Dame tight end
Tyler Eifert
.
The Falcons have been lobbying hard for
Tony Gonzalez
to return for one more season, but they have to be ready in case the veteran decides to retire. That's the scenario in which Eifert could be a target with the 30
th
overall pick in the draft.
"Tyler is going to be a guy that's going to step in and be an impact player, probably much easier than the typical player making this transition,'' said Chris Weinke, director of football operations at IMG Academy, where Eifert has spent the past six weeks preparing for the combine.
[+] Enlarge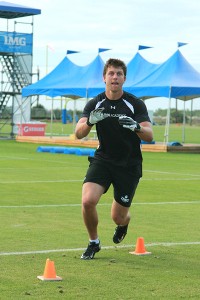 Courtesy of IMG AcademyTight end Tyler Eifert said he feels that having basketball in his background will help him with his transition to the NFL.
Eifert and Stanford's
Zach Ertz
are widely considered to be the top two tight ends in the draft and many mock drafts have them going late in the first round. Bringing back Gonzalez is Atlanta's preference, but Eifert might be the best alternative.
"I thought he was a great player when he got here, but I think he's even better now,'' Weinke said. "What I mean by that is he's got the God-given athletic ability, but he's taken that and maximized it. Just his fluidity in his route running and his consistency catching the ball, what I've seen over the last few weeks is a guy that's even better than when he came in here. The most important thing to me is the way he carries himself. This kid already is a pro.''
If Gonzalez does decide to retire, it could disrupt Atlanta's entire offense. Gonzalez has been an integral part of the passing game and few tight ends can duplicate his skill set. But Eifert is a reasonable facsimile and he already is fairly polished.
He had 50 catches for 685 yards and four touchdowns last season and had 140 catches for 1,840 yards and 11 touchdowns in his college career. Like Gonzalez and some other top tight ends, Eifert has basketball in his background.
His father, Greg, played basketball at Purdue in the 1980s. Eifert was a very good high school basketball player in Indiana.
"I think there are a lot of similarities,'' Eifert said. "Just the way you use your body in basketball to get position. It's similar to what a tight end has to do.''
Early in his college career, Eifert wasn't known as much of a blocker.
"That's always been kind of my knock, that I can't block,'' Eifert said. "But I think I've gotten better at that and continue to improve. I think I'm a pretty good blocker now.''
Eifert says he has no strong preference about which team drafts him. But he does have a clear vision of what he thinks his role will be in the NFL.
"As a complete tight end that can stay on the field for all three downs, that can make plays and stretch the defense,'' Eifert said.
That could be exactly what the Falcons are looking for.
February, 20, 2013
2/20/13
9:00
AM ET
BRADENTON, Fla. -- When he came to the United States from his native Estonia in 2008,
Margus Hunt
viewed America as the land of opportunity.
"My goal and vision was to be in the Olympics in 2012," Hunt said.
That didn't happen. Instead, Hunt will be going to the National Football League in 2013, which may be an even more amazing accomplishment than if he had gone to the Olympics.
[+] Enlarge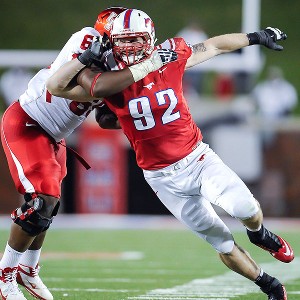 Jerome Miron-USA TODAY SportsMargus Hunt, a defensive end out of SMU, is headed to the NFL scouting combine this week.
The defensive end from SMU is being touted as a possible first-round pick in the April draft (he might even be a consideration for the
Atlanta Falcons
at No. 30 overall). IMG Academy director of football operations director
Chris Weinke
, who has been helping Hunt prepare for the scouting combine, said he expects his pupil to open some NFL eyes in Indianapolis.
"He's a unique individual," Weinke said. "He's a physical specimen. He's going to test out as well as anyone tests out over there. He hasn't played the game a ton. What I see from him is huge upside because of lack of experience. But he's got the mentality that he's going to do whatever it takes. He just needs to get into a system and continue to gain some experience and I think he's going to be around for a long time."
Just getting drafted would be quite a story for a guy that never played high school football and didn't start playing until the 2009 season at SMU.
"Growing up, I vaguely knew what the game was about," Hunt said. "I kind of knew there was a game out there like that, but that's about all I knew."
Part of that was because American football doesn't get a lot of attention in Estonia. But part of it was because Hunt's passion was track and field. Hunt won all sorts of junior championships in the shot put, discus and hammer throw and he thought his path to the Olympics would run through Dallas.
SMU had dropped its men's track program, but coach Dave Wollard was attempting to get it started again. Hunt enrolled at SMU on a part-time basis in 2008 and began working out privately with Wollard.
"After a while, nothing happened, so we had to find a different alternative," Hunt said. "My first option was to go to a different college altogether and work something out. But I really didn't want to leave SMU. The football coaches had always seen me in the weight room and were always bugging me about trying out for the football team. Eventually, coach (June) Jones agreed to let me have a tryout."
Jones must have seen plenty of potential in that tryout because he turned around and gave Hunt a football scholarship. That move paid off nicely for the Mustangs.
Hunt, 6-foot-8 and 277 pounds, recorded 31 tackles, eight sacks, 11.5 tackles for a loss, forced two fumbles and blocked three kicks in his final season.
The one knock is Hunt doesn't have a lot of football experience. But Weinke said that shouldn't be viewed as a negative.
"I've seen him develop a lot since he got here," Weinke said. "He's gotten a lot better technique wise. He's still not a finished product and that's what should be exciting to teams that are looking at him because there still is so much upside."
February, 19, 2013
2/19/13
2:00
PM ET
BRADENTON, Fla. -- When you talk to
Sheldon Richardson
, it's a waste of time to beat around the bush.

Richardson
You can make subtle implications that he's "outspoken" or "confident," but Richardson will take you right to the point.
"I'm cocky, to most people," Richardson said Monday after a workout at IMG Academy, where he's been preparing for the NFL's scouting combine.
Yes, the Missouri defensive tackle is the person who said Georgia played
"old man football
." He's also the one who -- before the Tigers played the Longhorns in 2011 -- went on
a rant
about how he hates Texas.
"It was just a comment that I made because a lot of my teammates were from Texas and they were reminiscing about guys they played against in high school and how great they are now, and I didn't like that too much," Richardson said. "It was praising the other team too much. When we're out on the field, you can't be friends. It wasn't Colt McCoy at quarterback. It was his little brother [Case] and we got after him defensively."
Missouri defeated Texas 17-5.
"I'm myself," Richardson said. "I really don't see why guys sit there and praise other coaches and other teams when it's totally different in your own locker room. Why sit there and say, 'That's a great team' when it's not?' "
Maybe Richardson has earned the right to say what's on his mind. In his final two college seasons, he recorded 112 tackles, six sacks and had 18.5 tackles for a loss. Most scouts and draft experts list him as one of the top two or three defensive tackles in a class that's particularly deep at that position. If he lasts until the middle of the first round, Richardson would be an obvious target for the
New Orleans Saints
or the
Carolina Panthers
.
"I'll just say this -- he's a grown man," IMG Academy director of football operations Chris Weinke said. "In terms of his ability to make every move, he makes it seamlessly. Our defensive line coaches have just been enamored with his explosiveness. He's going to be a guy that teams are going to look at to be an impact player from the get-go."
He'll also be a guy with plenty of confidence.
"I'm me," Richardson said. "I'll just go out and do what I've been doing. I've got a lot of film and I've made a lot of tackles. I like where I stand going into the combine. I feel like my talent, my confidence and work ethic put me ahead of anyone in this draft."
February, 19, 2013
2/19/13
12:00
PM ET
»
NFC combine preview
:
East
|
West
|
North
|
South
»
AFC
:
East
|
West
|
North
|
South
NFL Nation previews the 2013 scouting combine by identifying the most important thing for each team to learn about its greatest area of need.
Atlanta Falcons:
The defensive line needs to be a focus this offseason. Defensive end
John Abraham
and defensive tackle
Jonathan Babineaux
are the team's two best defensive linemen, and they're not getting any younger. The Falcons could use a run-stuffer in the middle and a pass-rusher on the outside. But the Falcons aren't picking until No. 30, and there's no guarantee there will be value there, so Atlanta will have to do its homework at multiple positions to be ready for any scenario.
Carolina Panthers:
The team has to figure out whether this draft class is as deep at defensive tackle as many draft experts say. The middle of the defensive line has been a problem for Carolina since the departure of
Kris Jenkins
after the 2007 season. The Panthers need to fix this once and for all. The Panthers could address this spot in the middle of the first round.
New Orleans Saints:
The scouts and coaching staff need to adjust their thinking as the Saints move to a 3-4 defense under new coordinator Rob Ryan. The Saints are in dire need of help on the defensive line and also need to add some outside linebackers who can serve as edge rushers.
Tampa Bay Buccaneers:
The Bucs will focus heavily on the defensive secondary after ranking last in the league in passing yards allowed last season. The Bucs need to find out whether they have a chance to get a cornerback in the middle of the first round who can start immediately. They also need to look hard at safeties in case
Ronde Barber
decides to retire.
February, 19, 2013
2/19/13
9:31
AM ET
BRADENTON, Fla. --
Montee Ball
has heard the talk and, contrary to what you might expect, he likes it.
"They say I'm not special," the University of Wisconsin running back said Monday after a pre-combine workout at IMG Academy. "They say I'm not especially fast. They say I'm not especially big. Well, fine, I'll take that as a compliment. They're not tearing me apart. They're just saying that I don't do one thing special. So what? If you're pretty good all the way around, then you can be a very good running back."
[+] Enlarge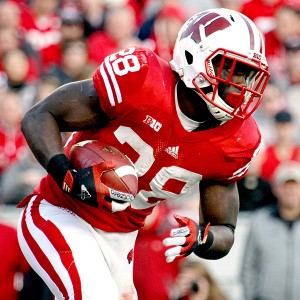 Mary Langenfeld/USA TODAY SportsMontee Ball rushed for 3,753 yards and 55 touchdowns during his final two seasons at Wisconsin.
Ball is talking about the draft gurus and scouts that say he's not a first-round pick. Most say he'll go in the second or third round, which is a little surprising for a guy who scored more touchdowns (83) than anyone in the history of college football (FBS).
At 5-11 and 212 pounds, Ball is too small to be the traditional power back and too big to be a pure speed back. But, if you want to stereotype him, Ball has a couple of suggestions.
"Curtis Martin and
Terrell Davis
,'' Ball said. "People said the same thing about them. They didn't do anything special. Well, they both ended up having pretty good careers.''
Ball has a point. He ran for more than 1,800 yards in each of his final two college seasons while scoring 55 rushing touchdowns. As a junior he caught 24 passes and scored six touchdowns.
"The thing that surprise me most about him is the way he catches the ball,'' IMG director of football operations Chris Weinke, a former NFL quarterback, said. "Coming from Wisconsin, I wasn't expecting him to be very polished at catching the ball. But he caught the ball effortlessly. He just looks really natural doing it.''
Wisconsin veered off its normal offense in 2011 when
Russell Wilson
was the quarterback. The Badgers got Ball involved as a receiver out of the backfield. But Wisconsin went back to its old ways last season and Ball caught only 10 passes.
"I've always been able to catch the ball,'' Ball said. "I did it in high school and I caught it when it came my way in college, but it's something I feel I can do a lot more of on the next level.''
Let's play a little game of connect the dots here. There is one NFC South team that seems to be crying out for a running back like Ball this offseason.
That's the
Atlanta Falcons
.
Michael Turner
is getting older and could be a salary-cap casualty. The Falcons are high on the potential of
Jacquizz Rodgers
, but he may not be big enough to handle the rushing load all by himself.
Put someone like Ball in the same backfield as Rodgers and the Falcons suddenly could spice up a running game that wasn't very good last season.
"I don't have any dream scenario of what team I want to go to or what kind of offense I want to be a part of,'' Ball said. "I just want to go somewhere and get a chance to be a three-down back and show what I can do.''
What can Ball do on the next level?
"I think he can be a very good NFL running back,'' Weinke said. "I think he's going to show people at the combine he's a little faster than they thought. We already know he can run between the tackles and change directions. And he can catch the ball and block. Consistent is the first word I think of when I think of him.''
Maybe that consistency will be what makes Ball special in the NFL.
February, 18, 2013
2/18/13
5:37
PM ET
I just returned to NFC South headquarters after spending most of the day watching draft prospects prepare for the combine at IMG Academy.
I started off with this item on former Notre Dame linebacker
Manti Te'o
because he obviously has been one of the biggest stories of the last month or so and that will only continue when he gets to the combine. I don't know if Te'o will end up in the NFC South or not, but I did see several prospects I think could be natural fits in the division.
I sat down with Florida defensive tackle
Sharrif Floyd
, Missouri defensive tackle
Sheldon Richardson
, Notre Dame tight end
Tyler Eifert
, Wisconsin running back
Montee Ball
and SMU defensive end
Margus Hunt
. I've got a tape recorder filled with interviews to transcribe and I'll be writing about each of those players in the coming days.
In the meantime, why don't you have some fun and discuss in the comments section below where in the NFC South you can see Floyd, Richardson, Eifert, Ball and Hunt landing. In a couple of cases, I can see potential targets for more than one NFC South team.
February, 18, 2013
2/18/13
2:46
PM ET
BRADENTON, Fla. -- Former Notre Dame linebacker
Manti Te'o
will be the center of attention when the NFL scouting combine opens later this week and most of the NFC South teams are likely to be watching closely.
Te'o
Te'o has been in the headlines since it was revealed that he was the victim of what he said was a hoax that led him to have an online relationship with a woman that did not exist.
The story came to light soon after Te'o arrived at IMG Academy to begin preparing for the combine.
"He missed precisely one day,'' said former NFL quarterback Chris Weinke, the director of football operations at IMG Academy where Te'o has been preparing for the combine. "He's gone about his business and been the same guy all along. I really admire that because a lot of guys his age would not be able to handle this as well as he has. I haven't seen any signs of it being a distraction and I expect him to go up to Indianapolis and have a great combine.''
Those closest to Te'o said he's shown no signs of being distracted by the off-field drama.
"Manti has been the same Manti I went to college with,'' said former Notre Dame tight end
Tyler Eifert
, who also has been working out at IMG. "He left to do the Katie Couric interview for one day and I think he was back that same night. He's been out on the field working just like he's always worked. I've tried to be there for him, but I don't know that he's needed all that much help because he's such a strong person to begin with.''
Teams are likely to grill Te'o about his situation during his individual interviews at the combine. Most draft gurus have been projecting Te'o as a likely first-round pick.
The Saints, Buccaneers and Panthers all pick in the middle of the first round and the
Atlanta Falcons
are scheduled to pick No. 30 overall. New Orleans needs some stability in its linebacker corps and Tampa Bay could be looking to add a linebacker because
Quincy Black
suffered a major injury last season. Carolina doesn't appear to have much need at linebacker, but it remains to be seen if veteran
Jon Beason
will be a salary-cap casualty.
It may be a long shot that Te'o is still available when the Falcons pick. But, knowing how thorough the Falcons are, I'm sure they'll do their homework on Te'o just in case.

NFC SOUTH SCOREBOARD
Thursday, 9/18
Sunday, 9/21