NFC South:

2013 NFL Week 14 Double Coverage
December, 6, 2013
12/06/13
10:00
AM ET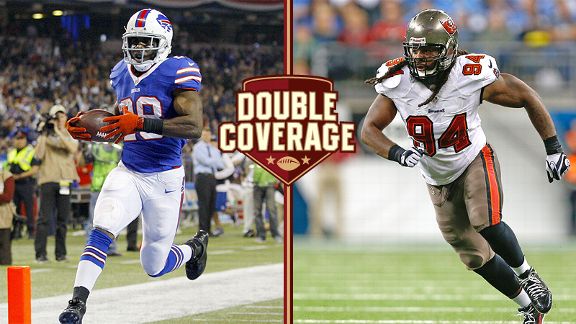 USA Today Sports; AP PhotoC.J. Spiller's Bills and Adrian Clayborn's Bucs are playing for pride -- with draft positioning at stake.
Aside from 2014 draft position, Sunday's game between the
Buffalo Bills
and
Tampa Bay Buccaneers
doesn't have a lot of obvious meaning.
At the moment, the Bucs (3-9) would hold the No. 5 overall pick in next year's draft, while the Bills (4-8) would hold the No. 9 pick. But Sunday's result could shake that order up.
ESPN.com Bills reporter Mike Rodak and Buccaneers reporter Pat Yasinskas examine the matchup.
Yasinskas:
Mike, this game features two rookie quarterbacks. Tampa Bay's
Mike Glennon
and Buffalo's
EJ Manuel
. Glennon is coming off his worst game of the season against Carolina. But, other than that, he has been fairly efficient. What's your assessment of how Manuel has played so far?
Rodak:
Manuel has been up and down, both before his knee injury and after it. The 16th overall pick of the 2013 draft missed four games in the middle of the season after he took a shot to the side of his knee against the Browns in Week 5. The Bills' brass has liked to say that Manuel was on the right track before the injury, but the reality is that he had a completion rate below 50 percent in Weeks 3 and 4 and had three turnovers in that Week 4 win over the
Baltimore Ravens
. When Manuel came back in Week 10, he had perhaps his worst game of the season, in Pittsburgh. Those have been the low points.
On the other end of the spectrum, Manuel led the Bills on a game-winning drive over the
Carolina Panthers
in Week 2 and posted a passer rating of 121.9 against the Jets in Week 11. Those have been the high points. But on average, he has been a below-average NFL quarterback to this point, posting a 45.5 QBR for the season.
Pat, the Bucs looked like a disaster about two months ago. Now they have won three of their past four games. What has changed for them?
Yasinskas:
The Bucs were in utter disarray at the start of the season. But, aside from Sunday's loss to Carolina, they've played much better over the past month or so. Part of it has to do with Glennon's steady improvement. He has shown signs he can be more than just a game manager. The other thing that has stood out has been how this team has stuck together. Despite some speculative reports to the contrary, coach Greg Schiano never lost the locker room. His players still believe in his system and have been playing hard for him. Finally, the defense, which has a lot of individual talent, has started to click and that coincided with the turnaround.
Speaking of defense, the Bills lead the league with 43 sacks, but they're allowing 25.6 points a game, which ranks 24th. What has gone wrong with this defense?
Rodak:
Earlier in the season, much of the problem was with the secondary. The Bills battled through some injuries -- safety
Jairus Byrd
and cornerback
Stephon Gilmore
both missed time -- and they got torched by some teams early. But they've been healthy back there for a while now, and the results have been better.
The problem recently has been with the run defense. The Bills rank 24th in the NFL, allowing 121.5 rushing yards per game, and allow 4.18 yards per carry. Some of that has to do with time of possession. The Bills' offense ranks 31st in the NFL, which has put some stress on the defense. More alarmingly for Buffalo, the run defense has gotten worse as the season has gone on. The Bills allowed 5.83 yards per carry to the Jets and 5.03 yards to the Falcons, including two long touchdown runs. There's a lot of talent on this defense, but the consistency isn't there.
Pat, there was a lot of talk this offseason about the moves the Buccaneers made in their secondary. They drafted
Johnthan Banks
in the second round, traded for
Darrelle Revis
and signed
Dashon Goldson
. How have those moves paid off?
Yasinskas:
The Bucs went overboard making moves in the secondary because they had the league's worst pass defense in 2012. There has been a noticeable improvement this year. But it hasn't been all roses. Banks has looked good at times, but also has had some rookie moments. Goldson missed two games due to injury and was suspended for another game for an illegal hit. Revis has been solid, although the Bucs brought him along slowly early in the year because he was coming off knee surgery. Overall, this is a decent secondary, but it has yet to approach its true potential.
Mike, what's your read on
C.J. Spiller
? He seems to be having an up-and-down season to this point. How much has his ankle injury been a factor?
Rodak:
He has been a tough one to pin down. This much is for certain: He hasn't lived up to the expectations many on the outside had for him entering this season, and his ankle is a big factor in that. But even after coach Doug Marrone removed Spiller from the injury report about a month ago, things still weren't right. He had disappointing games in Weeks 10 and 11, rushing a combined 21 times for 29 yards. But then, out of the blue, he broke open a 77-yard run Sunday, the longest of his career. He followed that with a 36-yard touchdown run and finished with one of the best games of his career, tallying 149 yards.
Going forward, I'm not really sure what to expect with Spiller. This could be his identity within this offense: a home run hitter who is prone to more strikeouts than the norm.
Pat, speaking of running backs,
Bobby Rainey
seems to have cooled off since his huge game against Atlanta a few weeks ago. What has happened to the Bucs' running game?
Yasinskas:
Rainey rushed for 163 yards against the Falcons, but has averaged just 49 yards in the two games since then. What's happening is that opposing defenses are loading the box to stop the running game. They're daring Glennon to beat them and he hasn't really done that. Until Glennon starts having more luck with the downfield passing game, defenses are going to continue to focus on bottling up the running game.
December, 6, 2013
12/06/13
10:00
AM ET
The hottest team in the NFL, the
Carolina Panthers
, will ride an eight-game winning streak into the Mercedes-Benz Superdome on Sunday night to take on the
New Orleans Saints
in a battle for NFC South supremacy.
Both teams are 9-3, and this will be the first of two games between the division rivals in the next three weeks. The division winner almost certainly will be the NFC's No. 2 seed.
The Saints lost their shot at the No. 1 seed Monday night when they got destroyed by the
Seattle Seahawks
34-7. That doesn't bode well for New Orleans because the Panthers are a very similar team to Seattle (stifling defense, strong run game, dual-threat quarterback).
But that loss was on the road. And the Saints are a totally different monster at home, especially in these prime-time games. The Saints have won 12 straight night games at home, including the playoffs, by an average of nearly 20 points per game.
One way or another, somebody's hot streak will have to cool off Sunday night. ESPN.com's Saints reporter Mike Triplett and Panthers reporter David Newton break down the matchup.
Triplett:
David, I don't even know where to begin with these Panthers. It seems like every unit is playing great. I guess the most important question is whether you think Carolina's defense will continue to be so dominant against the Saints' offense inside the Superdome.
The Saints have especially had trouble when defensive backs can get physical with their receivers and
Jimmy Graham
in coverage. What are the Panthers doing so well on defense, and how do you see them attacking the Saints?
Newton:
As former Panthers tackle and current Arizona defensive line coach Brentson Buckner told me a few weeks ago, the Carolina defense is "built to travel." Don't forget this group went to San Francisco and held the 49ers to nine points and 151 total yards. The Panthers likely get sacks leader
Charles Johnson
(knee) back at defensive end and
Chase Blackburn
(foot) back at linebacker, so they should be even more stout than they've been the past few weeks.
I suspect they'll do much the same as Seattle did, pressuring
Drew Brees
as much as they can with the front four and letting linebackers
Thomas Davis
and
Luke Kuechly
try to shut down
Darren Sproles
and Graham. The only weakness this group really has shown is a tendency to occasionally let a receiver get deep, but otherwise, everything you've heard and read is true. The defense is tough to run on and stingy in the red zone.
Speaking of defense, the Saints must have a hangover from what
Russell Wilson
and the Seahawks did Monday night. They have another mobile quarterback coming in
Cam Newton
, who has led the team in rushing three straight games. Are we looking at a repeat?
Triplett:
I have no doubt that Newton will cause problems. He has been a thorn in the Saints' side at times. But I think the Saints will make Newton even more of a priority than they made Wilson (against Seattle, the Saints were focused first on stopping running back
Marshawn Lynch
-- one of the few things they did well).
I'm not sure exactly what to expect in this matchup. The Saints' defense has been hit or miss against similar-style teams (bad against the Seahawks and Jets, good against the 49ers and Bills). However, I trust that defensive coordinator Rob Ryan will have a good plan in place after learning from the mistakes made at Seattle. The Saints' defense has mostly been a strength all season. Monday's loss was a rare flop -- especially when it came to all of the pass-coverage breakdowns.
Tell me more about Cam Newton. I've always seen the talent, obviously. Has he been better than ever during this win streak?
Newton:
I feel like a broken record on this one, but it has been a matter of maturing and learning to take what the defense gives him instead of forcing things and being a one-man show. New offensive coordinator Mike Shula has been great for Newton. Shula is dedicated to having a more traditional running game, even though at times the past few weeks he has had to rely on Newton as his lead rusher because teams have stacked up to stop the backs. But the commitment to the run has helped keep Newton in manageable third-down distances. He has responded with one of the best third-down quarterback ratings in the league. To me, that as much as anything shows how he has grown.
With success has come confidence, and Newton has some of that swagger back you saw when he was in college. When he makes a bad play, he doesn't pout. He moves on and usually makes up for it. He's really developing into a complete quarterback.
As long as we're talking about complete quarterbacks, Brees -- the Seattle game aside -- has been impressive, particularly at home. Has the return of Sean Payton made a big difference?
Triplett:
Payton's return plays a big part, but I think it also helps quite a bit that the Saints have such a vastly improved defense. Brees doesn't feel as if he has to do everything by himself -- which was the case more than ever last year, especially since the Saints were trailing in a lot of games.
Payton and Brees are terrific at exploiting and attacking mismatches and finding the open man. However, this season, I feel like they've also been as smart and patient as ever before -- willing to win the low-scoring, clock-control games when needed. Up until Monday night, Brees was having one of his best and most efficient seasons. I wouldn't be surprised at all to see him bounce back quickly.
But enough about the star players. Tell me about one or two guys who haven't gotten enough attention for the Panthers' turnaround this year -- and who might step up and make an impact in this game. (For the Saints, I'd say the entire defensive line qualifies, with third-year end
Cameron Jordan
heading toward his first Pro Bowl and second-year end
Akiem Hicks
maybe reaching that same level in a year or two).
Newton:
Good question. The Panthers are full of unsung heroes, from running back
Mike Tolbert
and rookie linebacker
A.J. Klein
to safety
Mike Mitchell
and wide receiver
Ted Ginn Jr.
I know you said no stars, but I'll have to go with rookie tackle
Star Lotulelei
. He has really taken this defense to another level with his ability to cause havoc in the middle. When you look at Carolina's success at stopping the run, in many ways it begins with him. He often demands double-teams that free up players who already are stars -- such as linebackers Kuechly and Davis, ends
Greg Hardy
and Johnson. And truthfully, Lotulelei will be a star -- if he isn't already. He should be getting serious consideration for defensive rookie of the year. If he has a big game Sunday night, it will cause Brees and the New Orleans offense a big headache.
Triplett:
Great line. And interesting to note that the Panthers took Lotulelei with the 14th pick in the draft -- one spot before the Saints took safety
Kenny Vaccaro
. Vaccaro hasn't made quite that level of impact, but he has been a big-time asset for them as an every-down player and a versatile weapon who plays all over the field. He'll be one of many guys charged with keeping Newton contained Sunday night.
December, 5, 2013
12/05/13
10:00
AM ET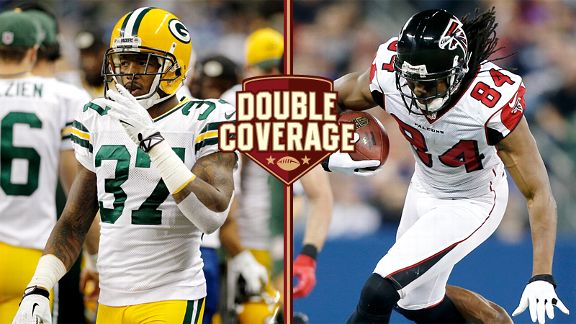 AP PhotoCan Sam Shields and the Packers snap their slump against Roddy White and Atlanta on Sunday?
Last season, the
Atlanta Falcons
were one quarter away from reaching the Super Bowl, and the
Green Bay Packers
reached the divisional round of the playoffs.
Eleven months later, the teams have a combined record of 8-15-1.
That's why the NFL moved the game, which was originally scheduled for prime time on Sunday, to a 1 p.m. ET start.
ESPN Packers reporter Rob Demovsky and ESPN Falcons reporter Vaughn McClure break down the matchup:
Rob Demovsky
: Vaughn, it's hard to believe the Falcons are in playing-out-the-string mode with all of the talent they have on offense. Obviously, injuries have been an issue, especially losing a talented receiver like
Julio Jones
. But unlike the Packers, they didn't lose their quarterback. How come
Matt Ryan
hasn't been able to be a difference-maker?
Vaughn McClure
: Well, it's been hard for Matt Ryan to be himself, playing under duress most of the season. The Falcons have ranked in the top 10 in sacks allowed per pass attempt, but that's only because Ryan has taken shorter drops and delivered the ball quicker. He has still been sacked a career-high 30 times and has been hit countless other times. In the past two games alone -- against the Saints and Bills -- Ryan was sacked 11 times. True, being without Jones hasn't helped Ryan's cause. But also,
Roddy White
hasn't been at full strength all season. Without
Harry Douglas
or
Tony Gonzalez
, Ryan would really be in trouble.
Speaking of quarterbacks, can you explain the different scenarios for the Packers at the position come Sunday, based on
Aaron Rodgers
' injury status?
Demovsky
: Well, it sure looks like Rodgers will be out for at least another week. This was the game he was really targeting to come back for, thinking he could lead them to the playoffs if he got back for the last four games. But his collarbone did not check out well enough Tuesday to be cleared. Even though he plans to practice this week, it doesn't look good for him to play. I was a little surprised that coach Mike McCarthy appears to be going with
Matt Flynn
again. Flynn was completely ineffective in the Thanksgiving debacle at Detroit, and quite frankly, his arm strength does not look good. He didn't have a lot of zip on the ball indoors against the Lions, and it sure won't get any easier to throw in the cold, wintry conditions at Lambeau Field. I wondered if he might go back to
Scott Tolzien
, who looked good in a couple of his appearances but threw too many interceptions.
You mentioned pass protection -- the Packers had issues of their own against the Lions. Flynn was sacked seven times, but on at least a couple of those, he held onto the ball too long. What has been the Falcons' biggest problem in pass protection?
McClure
: The biggest problem has been the offensive line, simply. The guys up front haven't held up their end of the bargain. They've been physically dominated at times, particularly in the loss to the Seahawks. The Falcons lost left tackle
Sam Baker
to season-ending knee surgery, and Baker wasn't the same player he was last season before being placed on injured reserve. Left tackle
Lamar Holmes
, the guy trusted to protect Ryan's blind side, admitted being out of shape at the beginning of the season and is still experiencing growing pains. Center
Peter Konz
, right guard
Garrett Reynolds
, right tackle
Jeremy Trueblood
and Holmes have all been benched at point during the season. Such turnover hasn't helped the group develop any cohesion. And now, it has to face a capable Packers defense.
I know
Clay Matthews
was injured this season, but is he back to the dominant player he was when I covered the NFC North?
Demovsky
: He's starting to look like the player you remember, Vaughn. In his first game back from his broken thumb, he wasn't a factor,because he had to wear that giant club cast. But the next week against the Giants, he was able to play with a much smaller cast. Ever since then, he's been a playmaker again. In the past three games, he has three sacks and a forced fumble. The problem is he's not getting a ton of help. And even when they make big plays like they did against the Lions last week, when they forced four turnovers, the offense can't take advantage of them. Even with Matthews back on the field, the defense has been in a free fall over the past month.
About the only thing the Packers have been able to count on has been their running game, and even that has been a little up and down. But rookie
Eddie Lacy
looks like a force with 806 yards rushing in basically 10 games. I'm sure the Falcons will load up the box to stop him like most teams have tried to do since Rodgers got hurt. Do you think they can stop him?
McClure
: No. Not at all. They struggled to contain speedy backs like Buffalo's
C.J. Spiller
(149 rushing yards) just like they've struggled against powerful backs like Seattle's
Marshawn Lynch
(145 yards). Defensive coordinator Mike Nolan counted 28 missed tackles for his defense over the past two games, which is unacceptable, particularly when they occur in the second level and lead to explosive plays. Although rookie linebacker
Paul Worrilow
has been a tackling machine, he can't do it alone. Like the offensive line, the defense has been dominated physically at times. Lacy's bruising style is the last thing the Falcons want to see. The Falcons are tied for 29th in the NFL in rushing yards allowed per game.