NFC South:

2013 NFL Week 16 Double Coverage
December, 20, 2013
12/20/13
10:00
AM ET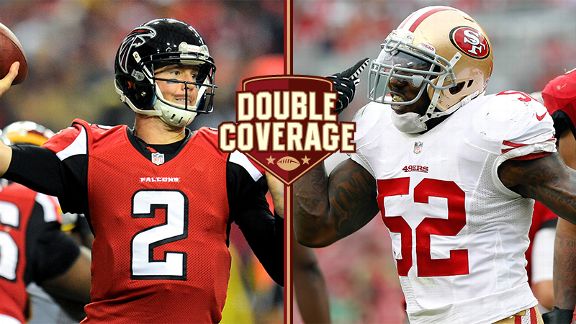 USA TODAY SportsPatrick Willis and the 49ers' pass rush could make Monday night miserable for Atlanta's Matt Ryan.
The NFL schedule-makers tried to get this right.
They planned for the final game played at Candlestick Park to be special. They set a 2012 NFC Championship Game rematch between the 49ers and the Falcons. However, the Falcons have not held up their end of the bargain. They are 4-10 as they try getting revenge against the 49ers for their road win in the title game in January.
The 49ers have done their part, as they are 10-4 and can clinch a playoff berth with either an Arizona loss at Seattle or by beating the Falcons. The 49ers are focused on sending out Candlestick the right way.
Coach Jim Harbaugh said this week the 49ers are the group that "doesn't want to screw up" the Candlestick finale.
ESPN.com Falcons reporter Vaughn McClure and 49ers reporter Bill Williamson discuss the game:
McClure:
Bill, the 49ers and
Vernon Davis
had their way in the passing game against the Falcons in the NFC Championship Game. And the Falcons have had trouble covering tight ends again this season. Do you think Davis will expose their poor coverage once again?
Williamson:
The 49ers' passing game is really coming together. The return of
Michael Crabtree
has sparked it. Crabtree has played the past three games and he is getting better each week. It opens up possibilities for Davis and
Anquan Boldin
. Quarterback
Colin Kaepernick
and Davis have a nice chemistry. Davis is a mismatch for nearly every defense and he's particularly good against defenses that struggle against the tight end. He had eight catches for 180 yards against Arizona in October. Vaughn, do you see any way the Falcons can slow down the 49ers' receiving weapons?
McClure:
Not really. The Falcons started three rookies in the secondary last Sunday against the Redskins and gave up pass plays of 62 and 53 yards, the latter for a touchdown. All three rookies -– cornerbacks
Desmond Trufant
and
Robert Alford
and free safety
Zeke Motta
–- made some mistakes in coverage. But Trufant has held his own most of the season after coming in as the team's first-round draft pick, so he's going to compete, but Alford still has some ground to make up. Motta might not even play with regular starter
Thomas DeCoud
possibly returning from a concussion. However the Falcons line up, they have to play with better eye discipline and technique. Not to mention the pass rush has to make an effort to put pressure on the elusive Kaepernick or else he'll carve up the Falcons and let loose to Davis, Boldin, and Crabtree.
The Falcons were supposed to be challenged heavily by the read-option this season with matchups against
Russell Wilson
,
Robert Griffin
III and Kaepernick. Wilson didn't use it much and RGIII didn't play. So, will Kaepernick and the 49ers utilize the strategy on Monday night, or has it just not been as effective this season?
Williamson:
They haven't used it much this season. It's been used occasionally. But I will tell you this: Kaepernick has been running with a lot of confidence in the past few games. I think it is because the passing game has opened up and it has affected the entire offense positively. Vaughn, do you get the sense the Falcons have a lack of confidence facing Kaepernick and this offense because of the loss in the NFC title game?
McClure:
The Falcons can't be too confident about much of anything, at 4-10. From a defensive standpoint, six starters who faced Kaepernick last season either are no longer with the team or have been benched. And if DeCoud doesn't return this week from a concussion, there's a possibility that five rookies will start against the 49ers offense come Monday night. It will be quite a lesson for those players, to face a true dual-threat quarterback. The Falcons haven't looked too confident the past two weeks defending against a pair of backup quarterbacks,
Matt Flynn
and
Kirk Cousins
.
A lot has been made of
Aldon Smith
's off-field issues this season. In fact, Falcons receiver
Roddy White
actually stepped out and said Smith was a "good dude" who just made a mistake. How has Smith responded after his time away from the team, and is he back to his normal self on the field yet?
Williamson:
Yes, Smith is back to his dominating self. He has been back for six games and he was eased into the defense after missing five games while seeking treatment for substance abuse. Smith has been particularly good for the past four games, and he's been dominant the past two games. He is his normal self as a pass-rusher and he is continuing to grow as a complete player. He is a major cog in a defense that is playing at a high level. Vaughn, do you see any way the Falcons can slow Smith and crew Monday night?
McClure:
No. Not at all. This offensive line has been like a sieve all season long. Don't be fooled by the Falcons being ranked eighth in sacks given up per pass attempt. They've allowed
Matt Ryan
to be sacked or hit way too many times despite Ryan making a conscious effort to get the ball out quicker this season. Right now, the Falcons are relying on second-year left tackle
Lamar Holmes
to protect Ryan's blind side, and Holmes is coming off being abused by
Brian Orakpo
of the Redskins. Plus, the Falcons have to be aware of
Ahmad Brooks
along with Smith. I covered a game last season during which the 49ers totally dominated the
Chicago Bears
with a swarming pass rush, led by Smith. I can envision the same thing happening to the Falcons.
December, 19, 2013
12/19/13
10:00
AM ET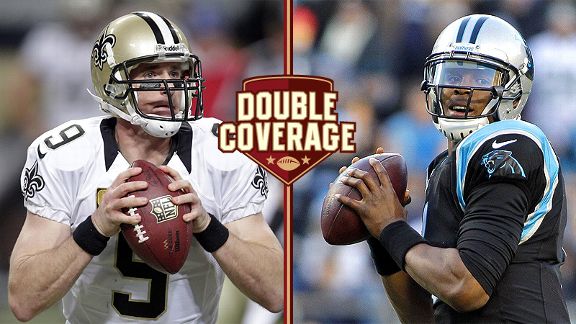 AP PhotoDrew Brees' Saints won the first meeting handily, but Cam Newton's Panthers won't be intimidated.
Round 2 of the NFC South heavyweight battle between the
Carolina Panthers
and
New Orleans Saints
takes place Sunday at Bank of America Stadium.
The Saints won Round 1 by knockout, 31-13 two weeks ago at the Superdome in New Orleans. They made the NFL's second-ranked defense look less than average and totally shut down the Panthers in the red zone, where they had been so effective.
Will this be a repeat? Or will the Saints' road woes continue?
The division title and a first-round bye in the playoffs are on the line between these 10-4 teams, assuming the winner follows up with a win in the regular-season finale. ESPN.com Panthers reporter David Newton and Saints reporter Mike Triplett are here to break it down.
Newton:
So, Mike, as I recall, you said in the press box after the first meeting between these teams that New Orleans should be able to sweep the series. After Sunday's loss to the Rams, a loss that strengthened the argument that the Saints don't play well on the road, has your opinion changed?
Triplett:
Well, David, that game was so long ago that there's no way I can be held to anything I said at the time. Seriously, though, it is tough to make any definitive statements about the Saints right now. They clearly looked like the superior team against the Panthers two weeks ago, but it's impossible to ignore how poorly they've played away from home. And now you have to imagine that their confidence will be shaken when they hit the road again -- even if they don't express that publicly.
I do think the Saints have the higher ceiling among these two teams. And if they both play up to their potential, that means the Saints can win. But when you throw in all the demons they'll be facing (the road, potentially bad weather, a team that can run the ball and force turnovers), it becomes a toss-up.
I'll throw the same question back at you. After the Panthers' Jekyll-and-Hyde display the past two weeks, which team shows up on Sunday?
Newton:
Hmm. So long ago? Interesting bail, Mike. Not sure I'd call it Jekyll and Hyde either, because the Panthers have lost once in their past 10 games. I'd say the Saints are more Jekyll and Hyde with their home-versus-road issues.
But you're right, Carolina was horribly outclassed in the first meeting. The thing about that is a lot of teams have been outclassed in New Orleans. That's why I don't think it was a devastating loss. And the Panthers were able to bounce back, even if it was against the Jets. Where the loss could work in their favor is they know where they have to adjust. They began to adjust in the second half, when they held New Orleans to 10 points. There's no sense of panic or fear they can't turn things around this time. I sense they are relishing the opportunity to prove themselves.
I see the Saints have released their kicker and replaced their left tackle with a rookie. Not really the stuff you expect from a Super Bowl contender at this time of the year. What do you read into that?
Triplett:
It was definitely a unique shake-up at this time of year -- especially the switch at left tackle. And I think both moves are pretty telling of where Sean Payton's mind is at during this playoff push. He was pretty candid after the St. Louis loss, admitting that he still doesn't fully know the makeup of this current team, and that he can't just count on getting the same results as in past years. And all season long, he has been hyper-focused on making sure he's leaving no stone unturned in improving in all areas.
Drew Brees
has made that point a few times when discussing what's different with Payton after his suspension.
I think Payton believes this team has championship potential -- but also sees how close the Saints are to letting a good opportunity slip past them.
How about on-the-field adjustments? What are the one or two areas where you see the Panthers being able to clean up mistakes that doomed them in the first meeting?
Newton:
The biggest cleanup has to be with the secondary. They weren't physical against the Saints' receivers, letting them get into their routes too easily and run free. There also was a bit of miscommunication, particularly in the second quarter, when Brees had the Panthers on their heels with three touchdown passes. The Panthers rectified things a bit in the second half with a few timely blitzes -- more than normal for them -- to force Brees to move in the pocket and get out of his rhythm. I suspect you'll see a bit of that as well this time. But mainly I see them challenging the front four for more pressure, particularly at left tackle, whether it's
Charles Brown
or somebody else.
I'm still perplexed by the wide differential in New Orleans' scoring at home versus the road (32.9 versus 18.4) and the turnover ratio going from plus-5 at home to minus-5 on the road. I've heard the coach-speak explanation. Now I want to hear the Mike-speak.
Triplett:
Wish I were smart enough to figure it out. I think the main difference is that they become a "superhuman" team at home, as former linebacker
Scott Shanle
explained it earlier this year. On the road, they're simply human. They've actually had the best regular-season road record in the NFL dating back to 2009 (24-15). This didn't really turn into an epidemic until this year. But I've got to think it's messing with their confidence now, too, in addition to the crowd noise and the weather conditions they sometimes have to deal with.
This game will be even more of a test than most road games. The Saints have definitely been affected by cold weather and wind and rain over the years, which makes sense since their strength is the passing game. The worse the weather conditions on Sunday, the more it has to favor a Panthers team that can run the ball so effectively.
Earlier this year, I thought the Saints were looking more prepared than ever to win a game like this, thanks to the patient offense we saw in wins at Chicago, against San Francisco and at Atlanta, plus the most physical defensive front they've had in the Payton era. Lately, I'm less certain.
December, 19, 2013
12/19/13
10:00
AM ET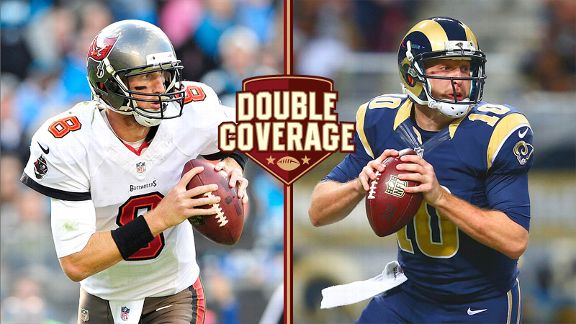 Getty ImagesMike Glennon's Bucs and Kellen Clemens' Rams have remained competitive down the stretch.
The
St. Louis Rams
will wear their throwback uniforms Sunday when they take on the
Tampa Bay Buccaneers
. The old school blue and yellow is intended to spark memories of the famous NFC Championship Game the two sides played after the 1999 season.
It's also going to serve as a reminder of how far both teams have to go to get back to a place where they're competing for Super Bowls. The Rams are 6-8 and Tampa Bay is 4-10, leaving both squads on the outside looking in for the postseason.
Despite the knowledge they'll be home in January, both teams have remained competitive which should make for an interesting matchup when they renew acquaintances at the Edward Jones Dome.
ESPN.com Rams reporter Nick Wagoner and Buccaneers reporter Pat Yasinskas discuss Sunday's game.
Wagoner:
After a rough start, it seems the Bucs have somewhat righted the ship here (pun unmercifully intended) toward the end of the season. How have they been able to do that, and do you think Greg Schiano has made a case to keep his job?
Yasinskas:
The amazing thing is, despite the 0-8 start, the Bucs never stopped playing hard. That's led to wins in four of their last six games. That's happened mostly because the defense has played very well and the offense has played just well enough. Still, it remains to be seen if Schiano has done enough to keep his job after this season. My personal opinion is the ownership likes him and likes how he's cleaned up the locker room, but I think he needs to win these final two games to have any chance of staying.
The Rams obviously aren't going to the playoffs either. What's left for them to play for?
Wagoner:
Nothing particularly tangible is out there save for a chance to finish .500 for the first time since 2006 and only the third time since 2004. In St. Louis, that does represent progress given the last decade has been such a disaster in terms of wins and losses. Since Jeff Fisher and general manager Les Snead arrived, they've quietly targeted 2014 as the breakout season for this young team. Any progress they can make toward that is a good thing. It would serve them well to engender confidence among the fan base that the 2013 team is better at the end of the year than the 2012 team was.
You mentioned the work of the defense in keeping the Bucs competitive this year. It seems linebacker
Lavonte David
is quietly having a huge year and defensive tackle
Gerald McCoy
is also enjoying a second straight big season. You see those guys every day. Are they receiving proper credit for the job they've done or is it lost in the mix of a losing season?
Yasinskas:
McCoy went to the Pro Bowl last year, so he's not a complete unknown. He should go to the Pro Bowl again this season. He already has eight sacks and is shooting for double digits. David isn't nearly as well known outside of Tampa Bay, where fans already are comparing him to
Derrick Brooks
. David is having a phenomenal season. He has six sacks and five interceptions. That makes him just the seventh player in NFL history to have at least five sacks and at least five interceptions in the same season. There even has been talk of David as a defensive player of the year candidate. I think his play makes that a legitimate possibility. But Tampa Bay's losing record probably will work against him.
Speaking of defensive player of the year candidates on non-playoff teams, St. Louis defensive end
Robert Quinn
deserves to be in the conversation. Do you think he's earned a chance?
Wagoner:
With two games to go, I think a legitimate argument can be made that he should not only be in the mix but also win the award. He's become the dominant and disruptive pass-rusher everyone expected him to be and he's drastically improved as a run defender, which allows him to stay on the field for all three downs. And he's not just doing it against bad teams. He is second in the league in sacks, first in forced fumbles and has countless quarterback pressures and hits. He's done a lot of that damage without the benefit of a lead and ample pass rush opportunities to boot. He's also two sacks from tying
Kevin Carter
for the most in a season in the history of the St. Louis version of the Rams.
I'm curious about the guy Quinn and Co. will be chasing Sunday. It looked like the Bucs had quite a quarterback conundrum on their hands earlier this year, but the switch to
Mike Glennon
has calmed things quite a bit. What does Glennon bring to the table and do you believe he's done enough to cement himself as the guy moving forward?
Yasinskas:
Glennon has been a pleasant surprise after the
Josh Freeman
mess early in the season. Glennon brings a big arm and is naturally poised. He's been slowed a bit recently as he ran into some good defenses (Carolina and San Francisco), but the Bucs still think his trajectory is pointing up. As for whether Glennon is the quarterback for the long term, a lot depends on what happens with Schiano. If there's a new coach, he might elect to bring in his own quarterback. But Glennon is Schiano's quarterback. Schiano tried (unsuccessfully) to recruit Glennon to Rutgers and has been infatuated with him ever since.
Speaking of rookies who are having a big impact, tell us what running back
Zac Stacy
has brought to the St. Louis offense.
Wagoner:
Simply put, Stacy's emergence in the run game has been the key to the Rams' turning it around after one of the worst rushing starts to a season in franchise history. He's not going to wow anyone with his speed or flashy moves in the open field. But he's physical, intelligent and extremely patient. When the Rams have success on offense, it's a direct result of the run game working, usually with Stacy as the centerpiece. He opens things up for backup quarterback
Kellen Clemens
in the pass game and helps keep defenses off-balance. He's been a revelation as a fifth-round draft choice.