NFC South:

2013 NFL Week 2 Double Coverage
September, 13, 2013
9/13/13
12:00
PM ET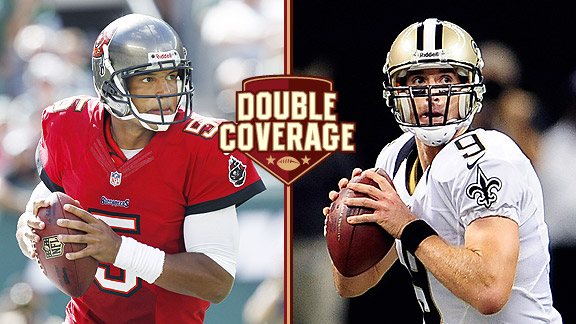 Getty ImagesBucs QB Josh Freeman faces off against Saints QB Drew Brees in a Week 2 division rivalry game.
Two of the biggest stories in the NFC South in Week 1 were that New Orleans played good defense and Tampa Bay never was able to get into an offensive rhythm.
Will that continue as the Saints and Buccaneers play one another?
ESPN's Matt Williamson and Buccaneers team reporter Pat Yasinskas discuss the matchup.
Yasinskas:
Matt, I have to admit I was stunned by the Saints holding the Falcons to just 17 points in the opener. I saw the Saints in training camp and had serious doubts about whether they had the personnel to run the 3-4 defense successfully, and they have endured several major injuries since then. Yet, the Saints kept one of the league's best offenses in check. Was this just a fluke or is the New Orleans defense actually for real?
Williamson:
If I were an optimistic Saints fan, I would take this stand: The Saints' young, talented three-man defensive line, led by
Cameron Jordan
, looks simply exceptional and fits the new scheme very well. Their secondary is also clearly improved from a year ago -- which isn't saying much. If I were taking a more pessimistic view on New Orleans' defense, I would say that
Roddy White
was a shell of himself and completely ineffectual, and the Falcons' offensive line might be among the worst in the NFL right now. The truth is probably somewhere in between, but I also believe that as long as the Saints' defense isn't among the very worst in the league, that this is the team to beat in the NFC South. So, in return, here is my question: Even if the Saints' defense isn't noticeably improved and is closer to the 2012 version than what we saw last week, is
Josh Freeman
capable of exploiting it?
Vincent Jackson
played a great game in New York, but Freeman has looked terrible throughout the preseason and now into regular-season action.
Yasinskas:
After watching Freeman in the New York game, I'm not so sure he's capable of exploiting any defense right now. He never got into any sort of rhythm in the passing game and, at times, look flustered. Over the past few years I've been steadfast in my belief Freeman has what it takes to turn into an elite quarterback. But that hasn't happened yet, and I'm starting to doubt if it ever will. He has plenty of weapons at the skill positions, but it seems like Freeman is regressing, instead of progressing. Speaking of regressing, what's your take on the Saints' running game? Coach Sean Payton has said he wants to run more, but the Saints got very little out of the running game in the opener. Now, they'll play a defense that was No. 1 against the run last season. Can
Mark Ingram
,
Darren Sproles
and
Pierre Thomas
move the ball against the Buccaneers?
Williamson:
That's a great question and I know it is extremely early, but I have forecasted Ingram to have a breakout season in 2013. But I am having second thoughts on that, as he is a volume runner who needs to be fed the ball to be most effective, and I just don't know if that will ever be the case here, as Thomas is such an effective all-around player and Sproles needs to be on the field. I do think Payton believes in balance and he wants to have a physical offense with a very good interior offensive line paving the way, but running against Tampa Bay doesn't seem to be the prudent move. Of course, the Tampa secondary is also vastly improved, but
Drew Brees
is the type of elite passer who just produces no matter the competition ... and can the Buccaneers match up to Sproles and
Jimmy Graham
? I have my doubts they can. Therefore, I say this is a game Payton puts on Brees' shoulders -- which is never a terrible idea. Along those lines, the Buccaneers clearly made a concerted effort to improve their pass defense by using numerous valuable resources to improve their secondary. Mission accomplished there. But this pass rush still has to be a concern, and if Brees is given time, he is going to find someone to his liking to eventually distribute the ball to. Brees is a tough guy to sack, but can the Bucs at least disrupt him in the pocket with some consistency?
Yasinskas:
One of the few encouraging things to come out of the loss to the Jets was that the Bucs recorded five sacks. Four of them came from the linebackers, which shows a willingness to blitz. But the front four can be more productive and several guys have the ability to bring some heat on Brees. End
Adrian Clayborn
and defensive tackle
Gerald McCoy
both have the talent to get to the quarterback. But the real wild card could be
Da'Quan Bowers
. The team wanted him to start, but he didn't play well enough to earn the job in the preseason. For the moment, Bowers is being used as a situational player. But he has more upside as a pass-rusher than anyone on this team, and this game would be a good time for him to start showing. Brees is tough to slow down under any circumstances, but you absolutely have to have a strong pass rush to have any chance. Speaking of Tampa Bay's pass rush, that brings up another question. The Saints let left tackle
Jermon Bushrod
depart as a free agent and they've replaced him with
Charles Brown
. Can Brown be an effective left tackle?
Williamson:
Because of their strengths on the interior and the need for the shorter Brees to have a clean pocket up the middle, the Saints construct their protections schemes from the inside out, which makes life for their offensive tackles easier. And, of course, Brees has a great feel for the rush to go along with underrated, but highly effective pocket movement and athletic ability to elude the rush, particularly from the edges. Bushrod never impressed me much, considering some viewed him as a Pro Bowl caliber left tackle. In fact, I think Brown has more natural ability when it comes to movement skills and length for the position. Brown played quite well in the preseason and that carried over to Week 1. It appears the Saints just might have found their starting left tackle for the foreseeable future.
September, 12, 2013
9/12/13
12:00
PM ET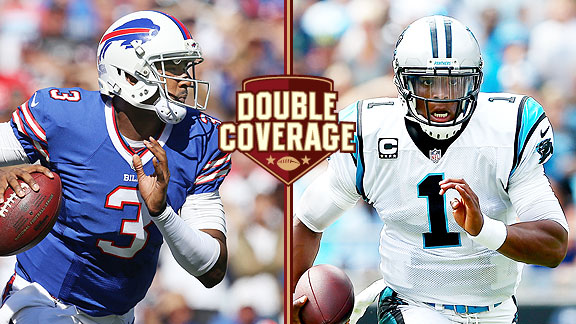 Getty ImagesRookie QB EJ Manuel guides rebuilding Buffalo; Cam Newton's under pressure to win now in Carolina.
Following tough home losses Sunday, the
Buffalo Bills
and
Carolina Panthers
look to get back on track in Week 2.
This game offers an intriguing quarterback battle between Bills rookie
EJ Manuel
, selected 16th overall this year, and the Panthers'
Cam Newton
, the top overall pick in 2011.
We'll hit on that matchup and more in our weekly "Double Coverage" conversation, so let's get it started:
Mike Rodak:
David, it seemed like the Bills and the Panthers opened their seasons in similar ways. Both teams faced superior opponents: The Patriots and Seahawks are near the top of the AFC and NFC, respectively, while the Bills and Panthers are bottom-dwellers in their conferences. Yet, both teams kept it close. The Bills lost by two points on a late field goal, while the Panthers kept it within five points. There is a cautious sense of optimism around the Bills locker room right now. Is that also true down in Charlotte?
David Newton:
Definitely optimism, which wasn't necessarily the case a year ago. The team feels it has more of an identity, an awareness of where it can go from here. Much of that identity is based around the defense, which established itself as one of the more solid units in the league by holding the potent Seattle offense to 12 points. Wide receiver
Steve Smith
, whether he was trying to inspire the rest of the team or because he actually believes it, set the tone by predicting that the Panthers will face Seattle again deep in January. I still don't see Carolina as a playoff team based on what its offense showed, but there is potential.
So both teams played top opponents close and lost. Now what? Is this a must-win for both if they have any hopes of being playoff contenders?
Rodak:
I think it's more of a must-win for Carolina. You look at the NFC South, and it's stacked. If the Panthers want a shot at a wild-card spot, they might need to finish ahead of either Atlanta or New Orleans, and that's a tall task. The Bills are in a weaker division, where an 0-2 start could have less of an impact. But still, not a good sign for Buffalo if it drops its first two, both at home.
The Bills spent a first-round pick this season on a quarterback in Manuel. The Panthers selected a quarterback, Newton, first overall in 2011. He's now entering his third season. How does the team (and fans) feel about Newton's development?
Newton:
Agreed, it's much more of a must-win game for Carolina. An 0-2 start after getting out of the gate 1-6 a year ago will have the vultures swarming for coach Ron Rivera. It will have the critics pounding on Newton. As new general manager Dave Gettleman said before the season, it's time for Newton to win. Buffalo can write this off as a rebuilding season with a rookie quarterback; Carolina can't do that with Newton. I said before the season the Panthers had to start no worse than 2-1 to have a chance to be successful. The Seattle loss, as close as they came to pulling it out, wasn't unexpected. Sunday's is one of those winnable road games they can't afford to lose. There aren't many out there.
So what do you see this game coming down to?
Rodak:
I think the Bills will need a better game out of
C.J. Spiller
. If he can get it going -- the Patriots shut him down Sunday, holding him to less than 3 yards per carry and per catch -- it opens up the Bills offense and gives Manuel a chance to take more shots downfield. The Panthers held the Seahawks to just 70 yards rushing and have one of the better defensive lines in the NFL, so it won't be easy. If Spiller has another quiet day, not only will it upset his fantasy owners, but it will also be tough for the Bills to win.
What about for the Panthers?
Newton:
It's going to come down to the Carolina offensive line and whether it can establish the run as well as New England did in Week 1 against the Bills. Right guard
Garry Williams
is gone for the year with an ACL/MCL tear. His replacement,
Chris Scott
, played well against Seattle. But Scott started on the left side, where
Amini Silatolu
was out with a hamstring injury. Silatolu is expected back this week, so if he holds up, the Panthers should be OK. But Carolina has to run effectively to make the offense under new coordinator Mike Shula click.
September, 12, 2013
9/12/13
12:00
PM ET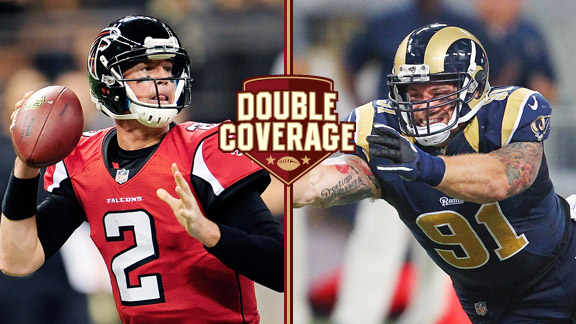 Getty ImagesThe question for the Falcons in Week 2 will be how quarterback Matt Ryan matches up with the punishing Rams pass rush, led by defensive end Chris Long.
Atlanta wide receiver
Roddy White
drew a lot of attention in the offseason when he compared the Falcons' offense to "The Greatest Show on Turf."
That was the nickname for the
St. Louis Rams
in their heyday. Ironically, the Falcons host the modern-day Rams on Sunday. The Falcons didn't exactly light up the scoreboard in a season-opening loss to the
New Orleans Saints
, while the Rams won their opener against Arizona.
ESPN's Nick Wagoner and Pat Yasinskas break down the matchup between St. Louis and Atlanta.
Yasinskas:
I still believe the hype about the Atlanta offense, even after the disappointing showing against New Orleans. I think the Falcons simply hit the wrong team at the wrong place and time. The Saints were motivated by a rowdy crowd that was celebrating coach Sean Payton's return after a season-long suspension. I think we'll see more of what the Falcons are about when they play in the Georgia Dome. Still, I think the offensive line remains a major concern and could limit quarterback
Matt Ryan
's ability to get the ball to his playmakers. Nick, the Rams did a nice job of getting pressure against Arizona. How good is this pass rush?
Wagoner:
Everything the Rams do on defense is based on the idea of having a strong pass rush. The defensive line, in particular, is the team's greatest strength. It's not just starting ends
Chris Long
and
Robert Quinn
, either. The Rams have signed three key backups to contract extensions since March and have a group of eight under control through the end of 2014. Long is the mainstay but Quinn has the upside to become one of the two or three best pass rushers in the league. His three sacks and two forced fumbles last week were a big reason for the Rams' season-opening victory. You mentioned concerns about the offensive line. It looked like that group struggled against New Orleans. Exactly how much of a concern is that for Atlanta right now and what are that unit's weakest spots?
Yasinskas:
The offensive line is a huge concern. The Falcons released right tackle
Tyson Clabo
in the offseason and center
Todd McClure
retired. The Falcons thought they were covered because they easily could move
Peter Konz
from guard to center and they thought
Mike Johnson
was ready to be the starting right tackle. Konz will be just fine at center. But Johnson suffered a season-ending injury early in camp and the Falcons have had to turn to second-year pro
Lamar Holmes
. He's starting next to guard
Garrett Reynolds
and that leaves the right side of the line as a big question mark. The left side of the line isn't exactly top shelf either, so this line could be the weak spot for a team with Super Bowl aspirations. Speaking of weak spots, what's the biggest one for the Rams?
Wagoner:
After Week 1 there are multiple options, including persistent penalty problems, inability to convert turnovers into touchdowns and an underwhelming run game. The most glaring issue coming out of that game, though, was the Rams' struggles in pass coverage. The Rams sat in soft zones for most of the game and Arizona's
Carson Palmer
carved them up for 327 passing yards. Veteran
Cortland Finnegan
had probably his worst game as a Ram, giving up six completions for 96 yards and a touchdown and committing a pair of unnecessary roughness penalties.
Janoris Jenkins
was pretty good on his side but it seems the Rams don't trust he and
Trumaine Johnson
(who is the third corner) to come up and press consistently just yet. The soft coverage had a sort of nullifying effect on the team's strong pass rush at times because it allowed Palmer to get the ball out quickly. Switching gears a bit, there's an obvious major storyline in this one involving Atlanta running back
Steven Jackson
. After nine years in St. Louis, how is Jackson adjusting to his new digs?
Yasinskas:
Jackson had one big run in the opener, and I think the Falcons really are only beginning to figure out how to properly use him. He's a huge upgrade over
Michael Turner
, who got old in front of our eyes last season, and that left the Falcons without even the threat of a running game. Jackson changes that. The Falcons still are a pass-first team, but they want to include a healthy mix of Jackson as both a runner and receiver because that should only open the way for big things from White,
Julio Jones
and
Tony Gonzalez
. How are the Rams adapting to life without Jackson?
Wagoner:
The Rams maintained throughout the offseason that they wanted to go with the en vogue running back by committee approach. Then
Daryl Richardson
clearly won the starting job,
Isaiah Pead
struggled and was suspended Week 1, and rookie
Zac Stacy
battled some injury issues in camp. Richardson got a bigger workload than expected against the Cardinals, and the Rams seem comfortable giving him the ball 20-plus times. There wasn't much room to run against the Cardinals, and the Rams know they need to improve there moving forward. Pead returns this week and the Rams want to see more of Stacy. Clearly, the jury is still out in regards to the running game. While we're on the topic of young position groups, it looked like the Falcons' young corners did pretty well without
Asante Samuel
against New Orleans. What did you see from that group last week and are you expecting Samuel to be ready to go this week?
Yasinskas:
I think Samuel will return this week. But the Falcons are very high on rookie cornerbacks
Desmond Trufant
and
Robert Alford
. They're going to be targets because they're rookies, but they did all right in the opener against a very talented New Orleans passing offense. The thing that really has sped up the development of Trufant and Alford is that they got to work against White and Jones every day in training camp. The results weren't always pretty, but it made them both better players. They still might have some of the usual ups and downs for rookies, but they're only going to continue to get better. It's time for our predictions.