NFC South:

2013 NFL Week 5 Double Coverage
October, 4, 2013
10/04/13
12:00
PM ET
This matchup represents a barometer for how the
Chicago Bears
handle adversity coming off their first loss of the season with new head coach Marc Trestman, while the
New Orleans Saints
try to remain arguably the hottest team in the NFL.
In this series, the home team came out victorious in five of the last six games overall, with Chicago taking a 20-17 win at Tiger Stadium in Baton Rouge, La., in 2005 as the lone road-victory triumph in that span. But we get the feeling none of the history matters in this one.
Interestingly, Trestman and offensive coordinator Aaron Kromer have worked in the past with New Orleans head coach Sean Payton, while Bears left tackle
Jermon Bushrod
played for the Saints from 2007-12.
ESPN.com's Bears reporter Michael C. Wright and Saints reporter Mike Triplett take a look at the matchup.
Michael C. Wright
: Mike, with the way the Saints are playing after a rough go in 2012, you can't ignore the impact Payton's presence makes on this team. How much of a difference has it made to have him back?
Mike Triplett
: Obviously, it's been huge. I'm not sure that Payton alone equals four wins in four weeks. (The Saints started 0-4 last year, 4-0 this year.) But that's more than just coincidence.
For starters, I think Payton is the best offensive schemer in the NFL today, and I'm not alone.
Darren Sproles
, who was frustrated by a heavy dose of bracket coverage last year, said the reason he and others are having more success this year is because Payton knows what he's seeing on the field and what to exploit. "He's a genius," Sproles said. Others credit Payton for his strength as a motivator and his ability to put the focus on what matters most in each game. More than anything, I think it's clear they've regained their confidence, that they know Payton will put them in a position to win, whether they're jumping to early leads or coming from behind late.
Payton's not the reason for New Orleans' defensive turnaround, which has been huge. But he did recognize a change was needed, firing former defensive coordinator Steve Spagnuolo just days after he returned from suspension and bringing in Rob Ryan.
I see the Bears are right back on top of the NFL in takeaways again this year, but they've still been giving up some yards on defense. Do you think they're equipped to slow down the Saints' passing offense right now?
Wright
: Honestly, no. The whole rush-and-cover concept tells the story. The Bears continue to struggle rushing the passer, which puts the secondary in a bind where the group is running with receivers way too long. Compounding matters is the loss of franchise defensive tackle
Henry Melton
. Before Melton suffered a torn ACL, the Bears were already struggling to rush the passer. Now they have to find a way to do it with
Stephen Paea
and
Nate Collins
at defensive tackle and ends
Julius Peppers
and
Corey Wootton
. The Bears sacked Detroit's
Matthew Stafford
only once, and the week before against Ben Roethlisberger -- who typically holds onto the ball too long -- the club managed three sacks by blitzing linebackers.
Drew Brees
gets rid of the ball so quickly that I don't see the Bears getting to him. Chicago's defense won't stop New Orleans' passing game. The Bears will have to try to keep the Saints off the field by playing ball-control offense.
Brees said after Monday's win over the Dolphins that the Saints haven't yet played their best football. That's a scary proposition. What does he mean?
Triplett
: I actually believe Brees when he says that. The Saints have an extremely high standard when it comes to their passing offense. And when you see the level that Brees,
Jimmy Graham
, Sproles and
Marques Colston
were playing at Monday night, 38 points probably felt like the minimum for them. The Saints haven't been perfect on offense this year; the run game has been practically nonexistent. But those top weapons are in peak form. I'm curious to see how hot they'll stay on the road after a short week.
Everyone here in New Orleans is very familiar with the Bears' efforts to improve their offensive line, since they snagged former Saints offensive line coach Kromer and left tackle Bushrod. How is that working out so far?
Wright
: It's working out well. Kromer brought in the same blocking concepts utilized by the Saints, and that's made a world of difference. Several of the veterans talk now about how much Kromer has changed the way they view the position. Through four games last season, Cutler took 13 sacks. So far, he's been sacked just six times. Obviously, Bushrod is a big part of that, as well as better-than-expected play from rookies
Kyle Long
and
Jordan Mills
, who man the right side guard and tackle positions, respectively.
Let's talk about New Orleans' offense. With the team's struggles running the ball, how can it still be able to do so much damage in the passing game when it's playing a somewhat one-dimensional game?
Triplett
: The key to the Saints' success is that even when they throw the ball on every down, they're still far from "one-dimensional." They're great with screen passes and swing passes and check-downs to Sproles and
Pierre Thomas
that serve the same purpose. And when they get into four- and five-wide sets, they're tough to match up with one-on-one. Their best runs are draw plays out of those same passing sets (like the one Sproles scored on last week). In other words, they're hard to defend even without a traditional power-run game. But it is something they're eager to improve, especially when they need it on short-yardage downs and late in games.
How about Marc Trestman? His approach is obviously reminiscent of Payton's -- trying to out-scheme opposing defenses. Is it working? And most importantly, does it suit
Jay Cutler
?
Wright
: Early on, there was concern as to whether Cutler would take to Trestman's coaching because of his propensity to try to do things his way. But Cutler has definitely taken to Trestman's tutelage, and he believes strongly in what the coach wants to do offensively. So the pairing has been good, not only for Cutler, but all of the team's skill-position players. Instead of being told simply what to do, they're learning why they have to do things a certain way to make the plays work. That approach has increased the players' desire to learn because they see that the concepts work. My guess is Payton got the guys in New Orleans to buy in the same way.
Speaking of Payton, how much does he miss receiver
Lance Moore
? What do the Saints miss with Moore out of the mix, and when will he be back?
Triplett
: Moore must be the best No. 4 option in the NFL. He had a 1,000-yard season last year. Yet the passing offense didn't miss a beat without him on Monday. That's been true of most the Saints' weapons over the years, though. They're deep enough to absorb the loss of any one of them, even Graham and Colston. Moore is a small, shifty receiver with great hands who works the middle of the field in a similar way to
Wes Welker
(without the volume of targets, obviously). The Saints definitely want him back soon, but it seems unlikely that he'll be back Sunday. Rookie receiver
Kenny Stills
(a similarly shifty option), deep threat
Robert Meachem
, physical receiver
Nick Toon
and veteran tight end
Benjamin Watson
are other guys they could lean on. Like I said, they have a deep arsenal.
It's still early in the season, but this game has the feel of two NFC playoff teams jockeying for position. Do you see the Bears staying in that playoff picture all season?
Wright
: I do, but only if the defense improves. The offense is doing its part, and the Bears are averaging 31.8 points per game. Before the loss to the Lions, the Bears owned a 12-0 record the past two years when they had scored 18 points or more in a game. Throw in the loss at Detroit, and the Bears are 29-4 over the past four years when they score 18 or more. But that winning mark in those circumstances is consistently attainable only when the defense is playing up to standard. When the Bears surrender 18 points or more, they are 17-13 since 2010, and through the first four games they haven't held an opponent to fewer than 21.
How are the Saints different defensively now as opposed to in the past with Ryan as the defensive coordinator?
Triplett
: Night and day from last season under Steve Spagnuolo. But a lot of Ryan's approach feels familiar around here because it's reminiscent of Gregg Williams' approach, which was very successful from 2009-11. Ryan loves to mix up his formations and looks, some 4-3, some 3-4, a ton of nickel and dime, sometimes all 11 guys will stand up. He does a good job of putting individual players in roles that suit them best (something players have clearly appreciated). The corners (the underrated veteran duo of
Jabari Greer
and
Keenan Lewis
) play a lot of man-to-man, which seems to suit them much better. And players say Ryan makes things "fun."
But by far the biggest difference on the field is that the Saints have been generating a consistent pass rush with just their front four -- without needing to blitz much. End
Cameron Jordan
and outside linebacker
Junior Galette
are having breakout seasons as pass-rushers, and several young defensive tackles have been stepping up. Any coordinator will look like a genius if he can get this kind of production from the front four.
If the Bears are able to win this game, how do you see it playing out? Who would be their MVP?
Wright
: Mike, I don't have a ton of faith in Chicago's defense at this point, and I don't see the Bears scoring off New Orleans turnovers. So the Bears will need to win this game playing ball-control offense to keep Brees off the field. That means the Bears need to give the Saints a heavy dose of
Matt Forte
and
Michael Bush
to have a legitimate shot. New Orleans is allowing 5.5 yards per rush so far. But its opponents haven't really been able to exploit that because the Saints jump out to leads so fast they put teams in passing mode as they play catch-up. So if the Bears win this game, they'll do it with the rushing attack, and Forte will have to be the MVP.
.
October, 4, 2013
10/04/13
12:00
PM ET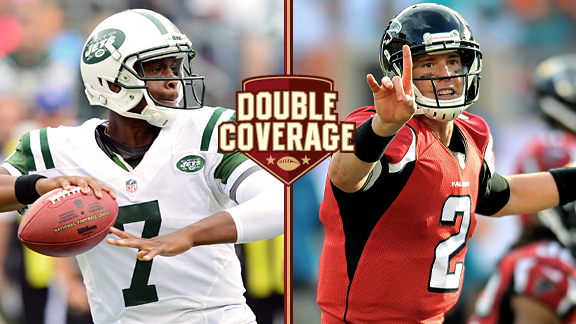 USA TODAY SportsGeno Smith's Jets and Matt Ryan's Falcons will try to bounce back from a disappointing Week 4.
If the
Atlanta Falcons
were in desperation mode last week against the Patriots, now they're in an all-out panic as they prepare to face the
New York Jets
on ESPN's "Monday Night Football."
The Falcons limp into the matchup at 1-3 despite being touted as a Super Bowl favorite. Quarterback
Matt Ryan
admitted not being as sharp as he wanted to be the last time out. Now, Ryan has to keep the locker room together as the Falcons try to stay afloat against the always-entertaining Rex Ryan and his Jets (2-2).
ESPN.com Falcons reporter Vaughn McClure and his Jets counterpart, Rich Cimini, discuss the matchup.
McClure:
I was talking to Falcons defensive tackle
Jonathan Babineaux
the other day about the mindset when facing a rookie quarterback. He admitted
Geno Smith
was somewhat similar to Carolina's
Cam Newton
, a player the Falcons have had trouble containing. Can Smith cause problems for the Falcons or is his confidence shaken?
Cimini:
Smith and Newton are different because Smith isn't nearly as dangerous as Newton in terms of making plays outside the pocket. He'll scramble on occasion, and they might call a read-option play here and there, but he's a pure pocket passer. I'd say, yes, his confidence has to be shaken. He's coming off a bad day against the Titans -- four turnovers, bringing his total to 11. He's making bad decisions and being careless with the football. Ryan said he's not considering a change at quarterback -- with
Mark Sanchez
out, there's no viable option -- but there will come a point where he'll have to do something if the turnovers continue. What's up with Matt Ryan? This hasn't been a vintage Ryan season so far.
McClure:
No, not by any means. And fans around here are starting to turn on him, for some reason. I understand their passion, but I wouldn't give up on Ryan. I actually give him credit for owning up to his mistakes against the Patriots. He threw a few bad passes on the Falcons' last desperation drive and missed
Roddy White
wide open for at least a first down on a fourth-and-2 from the Patriots' 7-yard line. Ryan ranks 23rd in the NFL in fourth-quarter passing with a 75.3 QB rating. Maybe he's rushing his throws as a result of protection issues. It doesn't help when your receivers drop a handful of passes, either. At least Ryan seems to have established a rhythm with tight end
Tony Gonzalez
. So, how will the Jets approach defending Gonzalez based on his 149-yard, two-touchdown performance against the Patriots?
Cimini:
I think Rex Ryan is asking himself that same question, Vaughn. He joked about Gonzalez this week, saying, "Quite honestly, I wish he would've retired." The Jets have done a good job defending tight ends, but they haven't faced anyone close to his caliber. I think a lot of the responsibility will fall to second-year safety
Antonio Allen
, but that would be trouble waiting to happen. Allen is a "box" safety, not known for his coverage skills. In years past, Ryan put cornerback
Antonio Cromartie
on athletic tight ends for a few plays here and there, but he needs Cromartie on
Julio Jones
or Roddy White. In other words, I could see Gonzalez having another monster game. A lot will depend on how they defend the running game. What's the latest on
Steven Jackson
?
McClure:
Although Jackson was on the field Tuesday talking with the trainers, he still hasn't practiced since suffering a hamstring injury in the first quarter of the Rams game (Week 2). It was initially called a three-week injury and with the bye following the Jets game, I see no reason why the Falcons would rush Jackson back out there Monday night. In fact, Jackson recently went on his personal blog to update fans on his status and said he wanted to be 100 percent before returning. Not being on the field with his teammates might be hurting him more than the pain from the injury. I see the Jets are banged up at receiver. How will they compensate?
Cimini:
You're right, they're banged up.
Santonio Holmes
(hamstring) won't play, and I'd be stunned if
Stephen Hill
(concussion) plays. So we're talking about
Jeremy Kerley
and
Clyde Gates
as the starting wideouts, with seldom-used rookie
Ryan Spadola
as the No. 3 and
David Nelson
(signed Tuesday) as the No. 4. This is the definition of "patchwork." They can compensate by leaning more on the running game, which has been reasonably effective.
Bilal Powell
is tied for the AFC lead with 292 rushing yards. I think you'll also see more two-tight end sets with
Kellen Winslow
and
Jeff Cumberland
. Ryan said he might install the wishbone. He was joking -- I think. What's wrong with the Falcons' defense? I see they've been giving up some big pass plays.
McClure:
Yes, they've given up seven plays of 40-plus yards, including four Sunday. Against the Patriots, the Falcons actually allowed
Tom Brady
to convert a third-and-19 from his 12 because they failed to get the proper depth on their drops. Such mental errors seem inexcusable, but defensive coordinator Mike Nolan is doing some "patchwork" of his own without
Kroy Biermann
(Achilles) or
Sean Weatherspoon
(foot) available and with
Asante Samuel
(thigh) still ailing. Three rookies -- cornerbacks
Marcus Trufant
and
Robert Alford
as well as linebacker
Joplo Bartu
-- are being asked to come of age rather quickly. And the pass rush has been pretty much non-existent even with the addition of
Osi Umenyiora
, who leads the way with two sacks. Speaking of the rush, what type of pressure will the Jets bring at Matt Ryan?
Cimini:
The Jets aren't the defense we thought they'd be. By that, I mean they're blitzing less than expected, and the reason is because they've been getting good pressure from their front three/four. In fact, they've sent five or more rushers on only 33.1 percent of the opponents' dropbacks, which ranks 17th in the league. With
Muhammad Wilkerson
,
Quinton Coples
and rookie
Sheldon Richardson
up front, I think they'll be able to pressure Ryan without having to dial up exotic blitzes. Rex Ryan's defense has evolved. When he had
Darrelle Revis
, the secondary was the strength of the unit, but now the strength is up front with the big boys. The Falcons can counter by running an up-tempo offense with quick throws -- that style causes problems for the Jets. Frankly, it blows my mind the Falcons, with all that skill-position talent, are struggling in the red zone. Most Jets would be happy with one of those weapons, let alone three. What's the deal?
McClure:
Offensive coordinator Dirk Koetter and Matt Ryan are trying to figure that out as we speak. The Falcons managed only one touchdown in six red-zone trips against the Patriots. For the season, they rank 29th in the league in terms of red-zone efficiency. Koetter took the blame for some bad play calls and vowed to cut one or two plays out of game plan. The fact that White has recovered slowly from a high ankle sprain hasn't helped. And the blocking has been abysmal, at times, in goal-line situations. Once everyone gets healthy, I expect more production and high-scoring games for the Falcons. If Monday night becomes a shootout, can the Jets compete?
Cimini:
They're a pass-oriented offense under Marty Mornhinweg, but it would be hard for them to win a shootout, especially on the road. I know the Falcons have their own issues on defense, so I think the Jets can score points on them. But Smith is too mistake-prone, and the receiving corps is too banged-up for me to think they can walk into Atlanta and outscore the Falcons. Their best chance is to shorten the game, playing ball control with Powell and the running game. I'd be surprised if the Jets win a game in the 30s.
.
October, 3, 2013
10/03/13
12:00
PM ET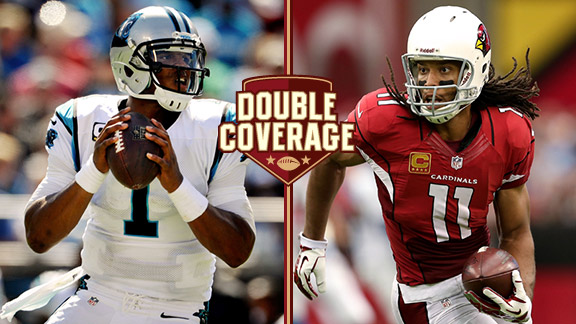 Getty ImagesPanthers QB Cam Newton, Cardinals WR Larry Fitzgerald aren't to blame for teams' mediocre starts.
Sunday will be a trip down memory lane for Carolina Panthers quarterback
Cam Newton
, who made his NFL debut at University of Phoenix Stadium in 2011, throwing for 422 yards and two touchdowns.
A confident Newton brings a 1-2 Panthers squad to the desert off a big win over the
New York Giants
to take on a 2-2 Arizona Cardinals squad that's facing a bit of turmoil. Its offense is sputtering, and the team made a significant move on the offensive line, trading left tackle
Levi Brown
to the
Pittsburgh Steelers
on Wednesday.
Cardinals reporter Josh Weinfuss and Panthers reporter David Newton talk about Sunday's game.
Weinfuss:
In his third season, has Newton matured into the type of quarterback the Panthers hoped he'd be? If he hasn't, what else needs to change?
Newton:
Josh, that seems to be the question on a lot of people's minds when Carolina comes to town. I have noticed a difference this season, whether you want to call it maturity or confidence or just growing into the position. Honestly, I think too much is made of his maturity and leadership. Winning is what is missing, and being surrounded by enough talent to do that is what needs to change. Newton still has only one receiver (
Steve Smith
) who would start on most NFL teams, and he's been missing a key weapon in running back
Jonathan Stewart
for most of the past year. And remember, he helped the offense score enough points to go into the fourth quarter with the lead in the first two games and the defense didn't come through. This team easily could be 3-0 with one or two fourth-quarter plays going the other way and people would be talking about Newton as a great leader. But it is true, as left tackle
Jordan Gross
said after the win over the Giants, that when Newton is hot, the Panthers are hot.
Since we're talking about quarterbacks, is
Carson Palmer
really the answer in Arizona?
Weinfuss:
Palmer is the short-term answer for a long-term issue plaguing the Cardinals' franchise. He's here, and he's the guy Arizona has to work with. He's a vast improvement from every quarterback the Cardinals have had since
Kurt Warner
, which doesn't say a whole lot but, at the same time, gives Palmer enough credibility in the locker room. He throws a pretty ball when he has time, and he has been able to fit it into areas to
Larry Fitzgerald
& Co. that haven't been seen here since, well, Kurt Warner. Palmer gets compared with Warner because he's most likely on his last stop. Palmer has some issues to work through and tends to rush his reads and get off his game after getting hit. The past two games, even though Arizona won one, have been frustrating for the receivers. If he doesn't improve soon, I fear a repeat of last year could be in the works.
Let me ask you about the Panthers defense. Is this front seven as good as the stats and rankings signify?
Newton:
Before the 38-0 victory over the Giants, former Carolina general manager and current ESPN analyst Bill Polian called this one of the best front sevens nobody knows. If these players keep playing like they have been, they won't be unknown for long. The front four is stout, with rookie defensive tackle
Star Lotulelei
already looking like a star. Teams that bypassed him in the first round have to be second-guessing themselves. He's really a disruptive force in the middle.
Greg Hardy
, who had three sacks against New York and earned the NFC Defensive Player of the Week award, is versatile enough to play end or tackle. What makes this unit so strong is that it gets pressure on the quarterback without having a lot of exotic blitz packages. The weakest link has been Pro Bowl linebacker Jon Beason, coming off microfracture knee surgery. Were it not for the lost step that kept him from making a couple of critical plays in the first two games, the Panthers might be 3-0. He was replaced by
Chase Blackburn
against New York and might have a hard time getting his job back. There's really not another weak link, and the depth is solid, as well.
Having said that, the Cardinals rank second in the NFL in rush defense. Will Carolina, ranked No. 3 in rushing, be able to run against them?
Weinfuss:
It depends on how well Carolina does two things: getting Cam out in space to run on his own and stretching the linebackers with the passing game. If the Panthers can do those two things, they'll gain some yards. If they can't, expect the Cardinals to make it a long day for Carolina's running game. Under new defensive coordinator Todd Bowles, the defensive line has become re-energized. Bowles eliminated the multi-gap scheme from last season and made it a one-gap system, basically letting these guys get a full head of speed and just do what they need to do to get to the quarterback without thinking. That has allowed the linebackers to get through the line and slow down running games. However, this game presents a couple of new challenges. If Cam starts running, I wouldn't be surprised if
Daryl Washington
-- fresh off his four-game suspension -- shadows him, which eliminates one linebacker. If the Panthers can stretch the field and force the Cardinals to go nickel or dime often, that's fewer guys up front, which will give the running game more room.
Will the bye week help Carolina, especially having to travel across the country, or did it slow any momentum after the big Giants win?
Newton:
The bye actually came at a good time for Carolina. The depleted secondary should be back to full strength with starting left cornerback
Josh Thomas
(concussion) now cleared and starting safety
Quintin Mikell
(ankle) potentially back. Starting defensive tackle
Dwan Edwards
(hamstring) also has a chance to return, so that front seven you asked about could be stronger and deeper. Rookie running back
Kenjon Barner
also is healthy now, so
DeAngelo Williams
will have somebody to spell him. You get the feeling coach Ron Rivera also needed the break after a week of speculation before the win over the Giants that he could be fired if Carolina started 0-3. This team appears hungry, so I don't see an interruption in momentum.
My last question for you: Are the Cardinals really "putrid" on offense, as coach Bruce Arian says?
Weinfuss:
Putrid might be a bit of an exaggeration, but, yes, it's bad. The offense is more complex than most of these players have seen, and they're simply not picking it up quickly enough. Actually, Arians has never seen a team take this long to learn his scheme. And what the players do know of it, they simply can't execute. Palmer gets rattled quickly, so, when he gets hit, the entire offense goes into quick mode and he doesn't allow it to open up as it should. Some of the lack of productivity comes from having to learn a huge playbook -- which is evident when you see Fitzgerald and
Andre Roberts
confused on where to line up -- and some comes from inexperience. Too many plays are coming up a yard short of a first down, if they get completed at all. Arizona can't seem to find the first-down marker on third down, converting just 14 of 48. And it's mainly because of that problem that the offense stalls more often than it should.
.