NFC South:

2013 NFL Week 6 Double Coverage
October, 11, 2013
10/11/13
12:00
PM ET
.
The
New England Patriots
are coming off their first loss of the season, and questions are mounting about the team's revamped offense. There are no such questions right now for the
New Orleans Saints
, who are 5-0 and have looked like one of the NFL's best teams.
That sets the stage for Sunday's highly anticipated matchup between these teams at Gillette Stadium in Foxborough, Mass.
"They're a good solid football team all the way around. They've been impressive," Patriots coach Bill Belichick said of the Saints. "We're going to have to play a good 60-minute football game on Sunday; that's what it is going to take."
In some ways, the Patriots will see a mirror image of themselves when looking at the Saints.
"I've said this before, when we started in 2006, we tried to look closely at the franchises that were having a lot of success and study closely what they were doing. New England was one of the main ones we looked at," Saints coach Sean Payton said. "These guys have been to five Super Bowls and won three [under Belichick]. That is pretty amazing."
Patriots reporter Mike Reiss and Saints reporter Mike Triplett break it down:
Reiss:
Let's start at the top with this one, Mike, and focus on the coaches. Patriots followers know they have one of the best coaches in the history of the game. Now in his 14th season, Belichick has the Patriots consistently contending. For the Saints, what stands out from here is what a difference it's been to have Payton back on the sideline this season. What is it about Payton that makes him one of the NFL's best coaches, and how has this turnaround from last year's disappointment unfolded?
Triplett:
You're right to start there. It's remarkable how much of an impact Payton's return (and his absence last year) has made on this team. Earlier this season, I would've answer that question by talking more about intangibles. Having Payton in charge clearly gives the Saints a confidence and puts them in a comfort zone that was lost last year. I think that helped them win two early games that came down to the wire. But lately, it's Payton's offensive genius that has been making the biggest impact. He's always stood out as arguably the best schemer and playcaller in the NFL. And that's been on full display the past two weeks – first when the Saints picked apart the
Miami Dolphins
at home on a Monday night, then when they won last week at Chicago with a patient, ball-control game plan. Giving Payton toys like
Jimmy Graham
and
Darren Sproles
in recent years – not to mention quarterback
Drew Brees
– has been almost unfair to the rest of the league.
Since we're on the subject, can you try telling me, in this brief format, what makes Belichick special? The Patriots seem to keep winning even while switching out 50 players on their roster over the years. I know that's something the Saints have always admired and tried to emulate.
Reiss:
Mike, I think the foundation of Belichick's success has been what we remember from the start of Super Bowl XXXVI, in the Superdome, prior to the Patriots' upset victory over the Rams in the 2001 season. The Patriots were introduced as a team before that game, as we all remember. There are obviously a lot of reasons for Belichick's success, and books have been written about it, so it's nearly impossible to narrow it down in a few sentences. But that's where I'd start – the focus on the complete team in a salary-cap era that makes it hard to remain competitive year in, year out. There are many layers to that, and it obviously helps to have a quarterback like
Tom Brady
, but Belichick is also a teacher at heart. So team-first, where the 53rd player has a similar level of importance as a player in the 1-10 range. Then the fact he's a teacher with an incredible knowledge of football.
This week, there has been plenty of teaching as it relates to how they might be able to slow down the Saints' offense. What has been the most effective approach you've seen teams employ against Graham and Sproles?
Triplett:
There haven't been many effective approaches against Graham. The
Chicago Bears
last week followed the formula that has worked best against the Saints over the years – a lot of Cover 2 zone defense that forced the Saints to settle for checkdown passes. But the Saints did a better job than I can ever remember of staying patient, settling for those short throws and avoiding turnovers. And Brees still completed 10 passes for 135 yards to Graham. Tampa Bay's defense rattled the Saints in Week 2 by hitting Brees a lot with a good rush from their front four. But Graham still caught 10 passes for 179 yards and a touchdown. And if a team wants to totally take Graham away, like Miami did in Week 4, the Saints are happy to exploit that, too. Sproles had seven catches for 114 yards in that game before Graham caught a single pass. And Graham still finished with four catches for 100 yards and two touchdowns.
So how do you think the Patriots might approach it? They do have a better defense than most of the ones the Saints have faced this season.
Reiss:
In a flip of the script that we had mostly seen from 2007 to 2012, the Patriots' defense is carrying the team right now. The Patriots rank second in the NFL in points allowed per game (14.0 avg.), and that includes a Week 1 touchdown the Bills scored on a long fumble return. The key, from this view, has been the Pro Bowl-level play of cornerback
Aqib Talib
. As for this specific matchup, I've wondered about the possibility of Talib on Graham, similar to how we saw him almost exclusively cover Buccaneers receiver
Vincent Jackson
(Week 3) and Bengals receiver
A.J. Green
(Week 5). Usually you don't see a cornerback matched up against a tight end, but maybe that outside-the-box thought is something the Patriots consider this week. Regardless, I expect the Patriots to be in their sub defense for most of this game. Their big linebackers don't look like a good matchup against Sproles, so it's imperative to get more speed on the field. I could see their top draft choice, speedy and athletic linebacker
Jamie Collins
, used more this week with Sproles in mind.
Speaking of defense, tell us more about how the Saints are getting it done on that side of the ball.
Triplett:
Obviously a ton of credit goes to new defensive coordinator Rob Ryan. He's been pushing all the right buttons as a schemer and a motivator. Players have loved playing for him for both reasons. It's reminiscent of the years when Gregg Williams was here, when they played with a ton of confidence. And he mixes up formations quite a bit – blitzing on occasion, but also rushing only two or three guys at times. Last week he caught the Bears off-guard early with some blitzes he hadn't shown much yet. Just as key, though, has been the emergence of young pass-rushers
Cameron Jordan
and
Junior Galette
. Jordan is a power-rushing 3-4 end, and Galette a speed-rushing 3-4 outside linebacker. But they've mostly lined up on the edges of a four-man rush. When teams can count on their four-man front as much as the Saints have this season, any scheme will be successful. The talent in the secondary is also solid across the board, especially now that they added veteran corner
Keenan Lewis
and rookie safety
Kenny Vaccaro
.
So what will they be facing in Brady this week? I know he hasn't looked like himself at times, but I'm still expecting him to hold his own in this high-profile duel with Brees.
Reiss:
The Saints will see a frustrated Brady, and that's often a dangerous Brady. The Patriots scored just six points in Sunday's loss to the Bengals, and Brady's streak of 52 straight games with at least one touchdown pass was snapped. That had a Saints tie-in, of course, as Brees holds the record at 54 straight games. Brady is obviously still one of the best quarterbacks in the NFL and is as competitive as they come. I'm sure he's aware that in three previous games in which he's squared off against teams led by Brees, he's 0-3. Brees has thrown eight touchdowns in those games, compared with three for Brady. Furthermore, Brady has thrown three interceptions in those games, while Brees hasn't thrown a single pick. Obviously, the quarterbacks don't face off against each other, but knowing Brady's competitiveness that still doesn't sit well with him. Expect his best, and the potential return of tight end
Rob Gronkowski
would obviously help.
I was curious about your thoughts on how the Saints might look different, if at all, when playing outdoors. Obviously they are awfully tough in the Superdome, but last week's game in Chicago didn't seem to affect them.
Triplett:
The Saints have definitely had a few off-days outdoors over the years, especially in colder weather or rain (playoff losses at Chicago, Seattle and San Francisco come to mind). They've had a lot of good days in those elements, too, though. They have the best road record in the NFL since 2009 (23-11, one more win than the Patriots). And they've got two outdoor wins this season (the Chicago game and an ugly 16-14 win on a rainy day at Tampa Bay). So I don't think it will be some sort of mental hurdle, and it's not like they're lost when they're outside of the Superdome. But it will certainly be a hurdle they have to overcome. They're definitely even more dangerous at home.
I was stunned to see how dominant New England has been at home, by the way (31-3 since 2009). Brees rattled off that statistic Wednesday – obviously it's one that's been drilled into players this week. What makes the Patriots so good at home?
Reiss:
When I think of decisive home-field advantages, with the crowd truly dictating aspects of the game such as false-start penalties, I wouldn't put Gillette Stadium in the same category as a place like Seattle. But like you said, home has been good to the Patriots, and I think the comforts of being in that environment, coupled with having good teams, getting better as the weather gets colder, acing critical situations and playing in a division where the other three teams have fallen on some hard times in recent years has contributed to that as well. I'm guessing that Saints offensive coordinator Pete Carmichael, who grew up in nearby Medway, Mass., might agree with the thought that Sunday has all the elements for what can make this a special time of year in New England for fans of the game: crisp but comfortable fall weather and two talented, well-coached teams playing at a high level going head-to-head. I'm excited for it, Mike. What about the matchup are you most looking forward to?
Triplett:
Easy. Brees vs. Brady. I'm sure I could give a more "under the radar" answer. But watching two of the best quarterbacks of all time going head-to-head is as good as it gets. And I think both of them will be fired up for this one for different reasons. Should be an intense fourth quarter.
.
October, 10, 2013
10/10/13
12:00
PM ET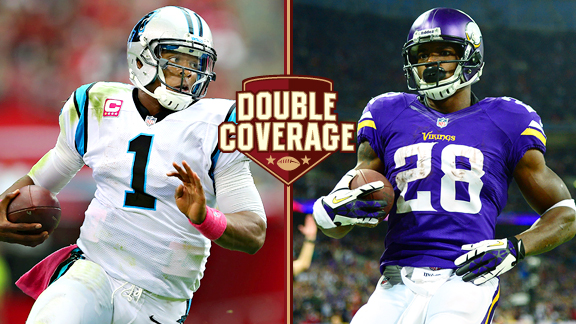 Getty ImagesCam Newton looks to take advantage of a spotty Vikings secondary, but the Panthers may have their hands full with Adrian Peterson.
Both the
Minnesota Vikings
and
Carolina Panthers
have reason to feel they should be better than 1-3 through their first four games of the season. One of those teams will get to stoke its flickering playoff hopes Sunday at Mall of America Field, while the other will fall even further out of the picture.
The Vikings have yet to announce whether
Christian Ponder
or
Matt Cassel
will start, and it might not be long before
Josh Freeman
takes over the quarterback job. But while the quarterback position might be the most intriguing question facing the Vikings at the moment, it probably isn't the most pressing one. That would be in the secondary, where the Vikings are hoping
Chris Cook
and
Jamarca Sanford
return from injuries to help a team that's given up an average of 326 passing yards a game and allowed decisive touchdowns on a pair of last-minute drives.
That could be good news for a Panthers team that's so far had more problems on offense than defense. Carolina has scored just 74 points, turning the ball over nine times and throwing for more than 220 yards just once this season. Third-year quarterback
Cam Newton
-- who came into the league with Ponder in 2011 -- has continued to struggle. Even though the Panthers have allowed the third-fewest points in the league, outscoring opponents through four games, they are trying to keep their season alive, just like the Vikings are.
ESPN.com Vikings reporter Ben Goessling and Panthers reporter David Newton broke down this week's matchup:
Ben Goessling:
David, I have a feeling the Panthers are as steamed about their record through four games as the Vikings are. Both of these teams lost in the waning seconds in Week 2, and neither has gotten good enough quarterback play to help their playoff aspirations after late-season surges in 2012. At first glance, though, this matchup would seem to favor the Panthers, who have done an excellent job of stopping the run and might force the Vikings to lean on their passing game more than they'd like to at home. How do you think this defense matches up against
Adrian Peterson
, and how much trouble can it give whomever starts for the Vikings at quarterback?
David Newton:
This matchup definitely seems to favor the Carolina defense that has played well enough to win every game. Yeah, Arizona scored 22 points. But that's a bit misleading since two came on a safety late in the third quarter and the last came on a real short field with just over two minutes left after Cam Newton's fourth turnover. The Panthers actually improved from 10th to third in total defense, holding Arizona to 250 total yards. Stopping Adrian Peterson will be the challenge, but Carolina has done a good job all season of making opponents pass with a stout front seven that is allowing only 92.3 yards a game. The key in my opinion will be how much pressure the front four can put on whomever the Vikings play at quarterback. Arizona went with three-step drops and quick passes to somewhat negate that and frustrate pass-rushers
Greg Hardy
and
Charles Johnson
. But what has made Carolina successful against the rush and the pass is that it has been able to stop both without using a lot of blitz packages that sometimes opens big holes for big-time backs like Peterson.
While we're on defense, the Vikings haven't really faced a quarterback that can run and throw like Newton this year, and they are ranked 30th on defense. How do you see that matchup?
Goessling:
I don't particularly like it for the Vikings. They probably struggled the most in Week 1 against the
Detroit Lions
, when they were facing a team with a dynamic passing game and a shifty running back (
Reggie Bush
) who did a lot of his damage thanks to missed tackles on the first and second levels of the Vikings' defense. The Vikings also haven't faced much of the read-option in the last two years, and when they did see it -- particularly against
Robert Griffin III
last year -- they struggled with it. I could see Cam Newton giving the Vikings problems with his feet, and
Ben Roethlisberger
also showed how you can burn the Vikings' young secondary by keeping plays alive. If Newton can avoid turnovers (and the Vikings have caused 12 of them this season), he could direct the Panthers' offense to a big day.
Here's the question the Vikings are probably asking themselves, though: How erratic will Newton be? He's part of that 2011 quarterback class (like Ponder) that has struggled quite a bit in the NFL, and as you mentioned, his turnovers cost the Panthers against Arizona. Will he be able to take advantage of the Vikings defense, or will they have their chances to create a few takeaways off of him?
Newton:
Let me clarify first. Newton's turnovers in the fourth quarter did lead to the widening of the margin at Arizona, but he played well early and the Panthers would have been -- should have been -- up by two scores at halftime if
Steve Smith
hadn't dropped a 4-yard touchdown pass and
Brandon LaFell
a first-down pass at the Arizona 15. But Newton has been inconsistent with his throws, particularly if pressured. When given time like he had against the Giants he was able to pick apart the defense. Teams that have pressured Newton, particularly with five-man fronts, have forced him into mistakes. Looking at the numbers, it appears the Vikings haven't done a great job of pressuring quarterbacks. That to me is where this game will be won or lost for Minnesota.
While we're on quarterbacks, what's been wrong with Ponder this year? And if Josh Freeman is the answer, why not go ahead and give him a shot this week?
Goessling:
Ponder's issues have been the same ones we've seen from him during his entire run in Minnesota. It just seems like he's apprehensive about pulling the trigger unless he's got a perfect throwing lane or a receiver who's a step clear of his defender. That throws off his timing, or he gives up and takes off, when a more confident quarterback might be able to hit a receiver for a 15-yard gain in tight coverage. Essentially, he's just not confident enough to make the tough throws, and his interceptions have come when he's flinched and either thrown a pass too early or failed to put enough on the ball. That might be why the Vikings seem ready to move on -- Ponder's issues are about more than his physical attributes, and that's a hard thing to fix.
As for Freeman, the Vikings want to give him time to learn the offense, and while I'm guessing we'll see him in a week or two, particularly if the Vikings lose, my hunch is Matt Cassel will get a chance to build on his Week 4 win this Sunday.
To wrap this up, what do you think is the biggest key to a Panthers victory?
Newton:
I almost laugh when you say key to victory because this team simply doesn't know how to win -- at least on a consistent basis when it matters. This is the third straight 1-3 start and they haven't had a winning record since 2008. But as coach Ron Rivera keeps saying, they are close. But they were close last week and blew countless opportunities to take command in the first half and wound up looking dismal. It seems almost every week it's a breakdown in another area, or multiple areas. If I had to pick one key, though, it would be for the offensive line to give Newton protection. When he has time, the Panthers score points. If they score points, the defense will take care of itself.
How about for the Vikings?
Goessling:
I agree that getting to Newton is a big part of the equation; they need to force him into turnovers and keep him from putting their defense on its heels. This is a team that plays its best when it gets an early lead, can run Adrian Peterson and turn its defensive line loose. If the Vikings do that, they might be able to cover up their issues in the secondary and sneak out with a victory.
.
October, 10, 2013
10/10/13
12:00
PM ET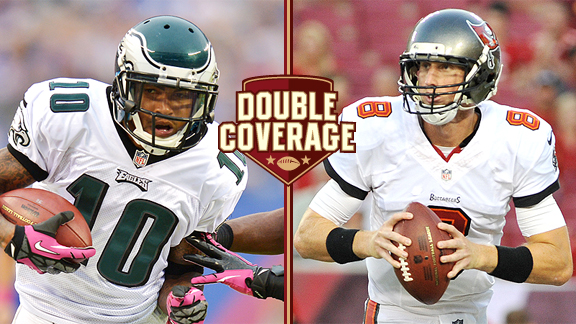 Getty ImagesDeSean Jackson is on pace for over 1,600 yards, while Mike Glennon is looking for his first win as an NFL starter.
TAMPA, Fla. -- Sunday's meeting between the
Philadelphia Eagles
and
Tampa Bay Buccaneers
represents a culture clash of offensive styles.
The Eagles have been making headlines with their fast-paced offense, while the Bucs have been plodding along with a passing offense that ranks No. 32.
ESPN.com Eagles team reporter Phil Sheridan and Bucs team reporter Pat Yasinskas discuss the matchup.
Phil Sheridan:
Eagles fans are familiar with Bucs coach Greg Schiano through his Rutgers and Penn State connections. Has he been able to hold the locker room together through this
Josh Freeman
episode?
Pat Yasinskas:
It has been a challenge and I guess you could say it remains a work in progress. There have been some reports that some veteran players aren't sold on Schiano's old-school ways. He might be a little overboard with his thoughts on order and discipline. But this was a team that was in disarray when he arrived. The Freeman episode was a major distraction, but it's over now. Schiano needs to take this team and move forward from all the Freeman stuff.
Speaking of coaches who have come from college backgrounds, Chip Kelly fits that profile and his offense has generated a lot of headlines. From a distance, it seems as though Kelly's offense has been up and down. What are your thoughts on whether this offense can be successful in the NFL over the long term?
Sheridan:
Talk about a work in progress. We all saw the Eagles burst out of the blocks in that Monday night opener in Washington. We really haven't seen much of the Kelly offense -- uptempo, innovative, aggressive -- since then. The Eagles have the NFL's top rushing offense, but that seems inflated by quarterback
Michael Vick
's rushing yards as well as defenses' willingness to let the Eagles amass yardage as long as it doesn't translate to a lot of points. Meanwhile, it does seem as though the offense wears down in games after trying to push the tempo early. I'm not sure that means Kelly's scheme won't work in the NFL or if he just doesn't have the personnel to run it.
On that note, it's especially tough on a team when one side of the ball is playing at a high level and the other is struggling. How has the Bucs' defense been able to hold opponents to such low-scoring totals?
Yasinskas:
Pitting the defense against the offense is another concern for the Bucs. Their defense has played well, overall, while the offense has struggled mightily. Although no one has griped publicly, I sense that the defensive players are frustrated with the lack of production from the offense. The secondary, the defensive line and the linebackers all have had some very bright moments. But the offense has been dismal. If things continue like they are, it's only a matter of time before there are some ill feelings from the defensive players.
Speaking of the defense, how has Philadelphia's been so far? It seems like all the talk has been about the offense, but we really don't know much about the defense.
Sheridan:
Talk about a work in progress -- oops, did I already say that? Kelly hired Bill Davis to install a 3-4 defense with a bunch of new starters (three quarters of the secondary, plus
Connor Barwin
), or old starters at new positions (
Trent Cole
, especially). The defense was OK in the opener, terrible for long stretches against San Diego, Kansas City and especially Denver, then OK again against the Giants on Sunday. There are no real playmakers, the kind who keep offensive coordinators up at night, but overall, this group seems to be jelling a bit better. The equation this year always had the offense producing enough points to carry a developing defense. So far, the offense has let down the defense.
Other than he's tall,
Mike Glennon
is an unknown to people around here. Can he play on this level or do you sense the bigger plan is to get through this season and find a quarterback in the draft?
Yasinskas:
The jury is very much out on Glennon. But Schiano has liked Glennon since he tried to recruit him out of high school and would like to make things work. Glennon is the kind of quarterback Schiano likes -- he's a rah-rah, fiery leader (something Freeman was not). Perhaps more importantly, Glennon has the big arm that Schiano covets. Schiano's core offensive philosophy is to run the ball well and take some deep shots with the passing game, so Glennon fits the profile of what Schiano is looking for in a quarterback.
Speaking of quarterbacks fitting in, how much different should we expect Philadelphia's offense to be with
Nick Foles
playing in place of Vick?
Sheridan:
I won't use the work-in-progress joke again because I'm better than that. Kelly swears it is the same offense regardless of who is playing quarterback. That is what we football insiders technically call balderdash. Kelly went with Vick because the veteran still represents a serious threat to run the ball, which in turn gives Kelly's read-option the edge it needs. Foles can move in the pocket and elude a pass rush, but his mobility doesn't translate to 20-yard read-option runs. But he does get the ball out more quickly in a rhythm passing game, so it will be interesting to see if the receivers who haven't been open for Vick -- talking
Riley Cooper
,
Jason Avant
and the tight ends -- are more involved if Foles plays.
.