NFC South:

2013 NFL Week 8 Double Coverage
October, 25, 2013
10/25/13
12:00
PM ET
AP PhotoCalais Campbell, right, and the Arizona defense will try to contain Matt Ryan, who had a 148.4 QB rating Sunday against the Bucs.
When the schedule came out in April, the Cardinals-Falcons duel in the desert looked like it could be pivotal for both. And it could still be, but not for the reasons they originally thought.
At 3-4, Arizona is vying for a win before its bye week. Atlanta, on the other hand, is a week removed from its bye and comes in at 2-4.
Injuries have hampered both clubs, which need to find their way back to the winning path.
Cardinals reporter Josh Weinfuss and Falcons reporter Vaughn McClure discussed Sunday's game.
Weinfuss:
At 2-4, I'm guessing this season hasn't been what the Falcons had expected. What specifically has gone wrong and is this the week they rebound?
McClure:
Josh, injuries have absolutely decimated the Falcons this season, none bigger than losing top receiver
Julio Jones
to season-ending foot surgery. A hamstring injury has kept
Steven Jackson
sidelined since Week 2, although he's scheduled to return to practice this week. And No. 2 receiver
Roddy White
missed the first game of his NFL career in Week 7 while nursing hamstring and ankle injuries. Add on a season-ending injury to defensive end/linebacker
Kroy Biermann
(Achilles), a lingering knee issue for left tackle
Sam Baker
, and a short-term injured reserve situation for linebacker
Sean Weatherspoon
(foot), and you're talking about a team with almost as many starters in street clothes as in uniform. That being said, I think the Falcons started the process of rebounding with Sunday's 31-23 win over the Buccaneers, ending a three-game skid. Quarterback
Matt Ryan
was flawless while working with some unheralded receivers, and the defense ignited the team with an early touchdown off a sack-fumble play. The offensive line protected better than in any other game this season.
But I think the line will have a tough time against the Cardinals' front. Wouldn't you agree?
Weinfuss:
I would, especially with the Cardinals playing the way they have. The front three of DT
Darnell Dockett
, DE
Calais Campbell
and NT
Dan Williams
have been rejuvenated under new defensive coordinator Todd Bowles. In his system, Bowles did away with the multigap format and took the reins off players. Now, when the ball is snapped, each lineman has one goal in mind: Get to the quarterback, which has also transformed one of the worst run defenses into one of the best. The more the Cards can push up the middle, the more quarterbacks and running backs are bolting outside, right into the arms of outside linebackers
Matt Shaughnessy
and, a familiar name for Falcons' fans,
John Abraham
. Each lineman has his own strengths. Williams can fill a lot of space straight up the middle. At 6-foot-8, Campbell is a lot of body to handle for any lineman before he stands up and gets in the quarterback's face. When Dockett comes with a full head of steam, he's tough for anyone to stop.
Speaking of stopping, the Cardinals haven't been able to contain tight ends this season. Will
Tony Gonzalez
be able to have a big day?
McClure:
Gonzalez has had an incredible season, especially when you consider he's 37 years old. I've watched him constantly beat double coverage. The Patriots and Jets decided to defend him in red zone situations like they do a gunner on special teams, which ticked off coach Mike Smith. That tells you what type of attention Gonzalez still draws. The thing that impresses me the most is how much Gonzalez works on his craft at the start of practice. He doesn't just go out there and go through the motions. And he's shared some of his knowledge with rookie tight end
Levine Toilolo
. Although Gonzalez was targeted just four times the last game as
Harry Douglas
emerged, I expect Ryan to look for him a lot more this Sunday.
Will
Carson Palmer
be all about getting the ball to
Larry Fitzgerald
in the Cardinals' passing game?
Weinfuss:
Everyone wishes Palmer was all about getting the ball to Fitzgerald, but that hasn't been the case. But at the same time there hasn't been a receiver who's emerged. It seems to be a flavor of the day situation. One game it's Fitzgerald, another game it's
Michael Floyd
and yet another it's
Andre Roberts
. The Cards don't have any secret weapons. The receivers Palmer will be throwing to is pretty predictable. However, when Palmer goes through his progressions, he typically has more success. How often that happens is up for debate. And an issue around here lately is trying to get the tight ends more involved, specifically
Rob Housler
. During the offseason, Bruce Arians talked at length about how the tight end is an integral part of the offense, but after Housler missed the first two games with an ankle injury, Roberts shined. Since Housler returned, Roberts rarely has his number called, and the offense has struggled.
With all the injuries lately, how has receiver Harry Douglas handled the extra workload, filling in for guys like Julio Jones and Roddy White?
McClure:
Douglas handled it better than anybody expected, at least anybody outside the locker room. He responded with a career-high 149 receiving yards last week against Tampa Bay, catching all seven passes thrown his way. Everybody talked about Douglas just being a slot receiver, but he pointed out to me how he always lined up outside in college at Louisville. He's no Julio Jones, but Douglas showed the ability to get vertical with receptions of 54 and 37 yards, the latter for a touchdown. I was surprised that the Bucs didn't ask
Darrelle Revis
to cover Douglas all over the field, although they did have a couple of encounters. It might be hard for Douglas to have the same success against
Patrick Peterson
, a player one ex-defensive coordinator told me is the best cornerback in the league right now. But the Falcons need at least one of their unheralded receivers to step up if they hope to beat the Cardinals.
Speaking of Peterson, has he surpassed Revis?
Weinfuss:
In some ways, yes, and others, no. Peterson is by far the most athletic cornerback in the league -- and I know that'll rankle Seattle fans, but even
Richard Sherman
has come out and said it. But is he as good of a shutdown corner as Revis? I don't know if we can say that just yet. He's very good and, only in his third season, getting better. Revis is better on man-to-man coverage and Peterson is better in making up lost space. But give Peterson time. Within a few years, he'll be better.
.
October, 24, 2013
10/24/13
12:00
PM ET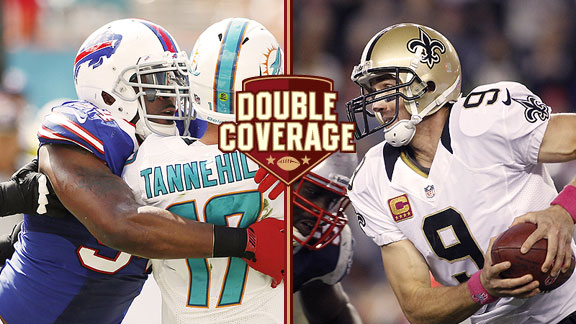 USA TODAY SportsMario Williams and the Bills' defense will attempt to slow down Saints QB Drew Brees.
The
New Orleans Saints
(5-1) are one of the NFL's most dominant home teams (3-0 this year, 32-11 since 2008). They've also won four straight games following bye weeks. So Sunday's matchup against the
Buffalo Bills
(3-4) certainly seems like a favorable one.
However, the Bills have proven to be a tough out. They're coming off of a 23-21 victory at Miami. All but one of their games has been decided by a touchdown or less. And they'll bring one of the NFL's most disruptive pass rushes into the Superdome, led by
Mario Williams
.
Injuries will be a key issue, especially on offense. Saints tight end
Jimmy Graham
(foot) and Bills running backs
C.J. Spiller
(ankle) and
Fred Jackson
(knee) all are battling ailments.
ESPN.com Saints reporter Mike Triplett and Bills reporter Mike Rodak break down the matchup:
Triplett:
I saw that Williams and the Bills' pass rush certainly delivered last week with a game-changing sack and forced fumble in the fourth quarter to beat the Dolphins. How good is that pass rush? And do you think the Bills' defense overall is capable of slowing down
Drew Brees
and the Saints' high-powered offense?
Rodak:
Mike, the pass rush has been the strength of what has been a banged-up defense. Williams has 10 sacks this season and the Bills are disrupting 20.1 percent of opponent dropbacks (measured by sacks, passes defensed, interceptions and batted balls), which is second to the 7-0 Chiefs (26.5 percent).
As for facing the Saints' offense, I think the Bills are better equipped for the challenge now than they would have been earlier this season. With
Jairus Byrd
and
Stephon Gilmore
back from injuries and being eased into action, the Buffalo defense will have its best playmakers on the field. Still, we're talking about a middle-of-the-pack defense that has yet to have everything click. The run defense has struggled and the Bills have shown a tendency to give up the big play at times. The Saints will have their chances.
I haven't had a chance yet to watch the Saints live this season, but I can tell you that those who were left in the Ralph Wilson Stadium press box two weeks ago had their eyes glued to that Saints-Patriots thriller. If the Saints pull that out, they're 6-0. Can we attribute their success early this season entirely to Sean Payton's return, or is there more to it?
Triplett:
Payton's return is a huge part of it. Essentially, the Saints have been proving that their 7-9 season in 2012 was a fluke. I think many people nationally forgot just how good this offense was in 2011, when Graham and
Darren Sproles
emerged as weapons for them. They went 13-3 that year and set the NFL record for yards gained. Now, they're back in their comfort zone with Payton back as one of the NFL's best game planners and motivators.
This year, the biggest surprise is how well the defense has been playing after such an abysmal performance in 2012. New defensive coordinator Rob Ryan, young pass-rushers
Cameron Jordan
and
Junior Galette
and the entire secondary have been huge for them. And I think it's legit.
Speaking of coaches, Mike, I have to ask about the impact Doug Marrone is making there. He has ties here after serving as Payton's first offensive coordinator and offensive line coach from 2006-08.
Rodak:
Indeed, Marrone does have ties to New Orleans, not only as a coach, but also as a player. He was asked about it Monday and, probably trying to keep the focus on this week's game, didn't wax nostalgic about his time there, but simply said it was a good experience in his progression to becoming an NFL head coach.
As far as what he has done in Buffalo, I'd say it's so far, so good. But naturally as a first-year coach, the jury is still very much out on him. A lot will depend on how
EJ Manuel
performs when he returns this season and then beyond. But most importantly, Marrone has been able to avoid distractions or controversy, like what we saw with the Greg Schiano-
Josh Freeman
situation after Schiano made the jump from the college game. This seems to be a tight-knit locker room and a team that has closely contested each of its games this season.
Mike, there's a pair of recent first-round picks in
Kenny Vaccaro
and Jordan who have helped anchor the new-look Saints defense under Ryan. Tell me about what they've done, but also about what holes on defense the Bills might exploit.
Triplett:
Jordan has been the Saints' defensive MVP so far. In fact, he was probably their defensive MVP last year, too. But this year he's starting to gain national attention for the impact he's making as a power pass-rusher and standout run defender. He's a big athlete at 6-foot-4 and about 290 pounds. So he's a good fit at 3-4 end but also at 4-3 end, where he's essentially lined up for most of this year since they play so much nickel and dime. Jordan has five sacks, a forced fumble and 24 hurries, according to Pro Football Focus.
Vaccaro, meanwhile, has been fun to watch since Ryan moves him around so much (deep safety, in the slot, blitzing, sometimes even at linebacker and corner). It's similar to the way the
Pittsburgh Steelers
use
Troy Polamalu
, though Vaccaro is obviously not at that level yet. He's still developing, but he's played almost every snap this year and has made several impact plays.
If the Bills' run game is going strong, that could give the Saints a few problems. Their run defense hasn't been their strength. But it's something they've been willing to sacrifice while making it a priority to prevent big plays. The Bills need to keep this game close so they're not forced to play catch-up -- which is no easy task. Do you think they've found some stability with
Thad Lewis
at quarterback? Or might we see
Matt Flynn
instead this week?
Rodak:
They've definitely found some stability with Lewis at quarterback. While I don't think there's much of a chance that Lewis remains the starter when Manuel returns, it's not a stretch to say that Lewis has actually played better than the rookie. He has shown better accuracy on some of his passes and also seems more willing to drive the ball downfield when he needs to. His statistics haven't blown anyone away -- he ranked in the bottom third of the NFL in QBR in each of his two starts -- but the Bills seem more than happy with what they're getting out of him.
Flynn was inactive Sunday against the Dolphins, six days after arriving in Buffalo. I think the Bills would ideally like to have him as their backup instead of undrafted rookie
Jeff Tuel
. But as far as surpassing Lewis, I think that would take a collapse by Lewis over the next few games and an impressive showing by Flynn in practice.
Mike, how do you see this game playing out? Do you expect Graham to be available for the Saints?
Triplett:
I think Graham will be highly questionable all week. I wouldn't be surprised at all if he's out or limited, which would obviously put a dent in the Saints' offense. But I still think Brees has enough weapons -- starting with Sproles,
Marques Colston
and
Pierre Thomas
in the passing game -- to move the ball and put up close to 30 points or more.
If New Orleans scores early and forces Buffalo to play catch-up, the Bills could really be in trouble. And if the Saints are the ones who have to play catch-up, they've proven they can do that. Buffalo's best chance is to control the clock with its run game, win the turnover battle and force the Saints to settle for field goals.
October, 24, 2013
10/24/13
12:00
PM ET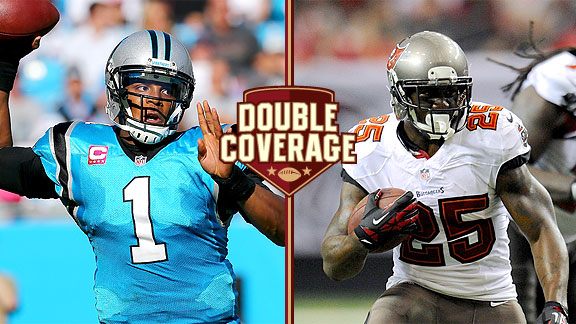 Getty Images, USA Today SportsCam Newton and Mike James will compete in a Week 8 NFC South matchup on Thursday.
The
Carolina Panthers
and
Tampa Bay Buccaneers
haven't been relevant on a national basis in a long time.
But, at least for one night, that will change. The winless Bucs host the Panthers (3-3) in a Thursday night prime-time game.
ESPN.com Buccaneers writer Pat Yasinskas and Panthers writer David Newton review the matchup:
Yasinskas:
David, Carolina coach Ron Rivera got off to 2-8 starts in each of his first two seasons before finishing strong. The Panthers have strung together a couple of wins. Are they coming together faster this year and do they have what it takes to make a playoff run?
Newton:
Not sure if it has to do with coming together faster as much as having more pieces to put it all together, combined with the understanding of what it takes. The addition of first- and second-round picks
Star Lotulelei
and
Kawann Short
at tackle has improved the defense substantially. The Rams tried to keep middle linebacker
Luke Kuechly
from being a factor last week with a special scheme, and the two rookies responded with a combined four tackles for loss and nine tackles overall.
Offensively, quarterback
Cam Newton
finally has gotten comfortable spreading the ball around to players such as
Ted Ginn Jr.
and
Brandon LaFell
, instead of relying heavily on wide receiver
Steve Smith
and tight end
Greg Olsen
. And Newton is playing at a level of consistency and confidence he hasn't had since his days playing at Auburn. The Panthers finally seem to have an identity on both sides of the ball, whereas the past two years they've been searching for one. That has raised confidence and created an attitude -- a belief -- that they can compete with anyone. It was there after they lost 12-7 to Seattle in the opener, but it took getting a few wins in a row for it to completely take hold.
Speaking of confidence, it can't be very high for the Bucs, who released franchise quarterback
Josh Freeman
a few weeks ago, and now apparently are without running back
Doug Martin
. Is this team in danger of besting -- if that's the way to put it -- the 1976 Bucs that went 0-14?
Yasinskas:
That's not out of the realm of possibility. It's tough to go winless. But, right now, I have a hard time envisioning the Bucs getting a win, because they appear to be in such disarray -- on and off the field. The Freeman saga and the repeated cases of MRSA have been a distraction; it seems like something new and weird is popping up every day. On the field, the Bucs are doing things such as committing 11 penalties in Sunday's loss to Atlanta. I've covered some bad football and some craziness through the years. But the Bucs are combining bad football with strange, off-the-field stuff more than I've ever seen, and there's no end in sight with speculation running rampant about the future of coach Greg Schiano.
The injury to Martin is just the latest stroke of bad luck, and it forces rookie
Mike James
into the starting lineup. Martin had been one of the few bright spots, and had the ability to take some of the pressure off rookie quarterback
Mike Glennon
.
Speaking of Glennon and pressure, I think Carolina's front seven is as good as any in the league. Do the Panthers even need to blitz or can they generate enough pressure with their front four?
Newton:
They'll blitz occasionally, but it'll be in strategic spots as you saw on the first play against St. Louis. Strong safety
Quintin Mikell
came in and tipped the pass as it left the arm of
Sam Bradford
, resulting in a pick-six for cornerback
Captain Munnerlyn
. The week before, linebacker
Thomas Davis
blitzed twice and went in basically untouched for sacks. They're aggressive, but smart with it.
You're right, though, the front four is playing extremely well. They're stuffing the run and forcing quarterbacks to throw faster than they want, which is allowing a secondary that was suspect two games into the season to make big plays.
Greg Hardy
has been a big part of that playing tackle, as well as his natural end position. He's way off the 50-sack goal he mentioned to you this summer, but opposing quarterbacks know he's there.
While we're on this topic, the Panthers have been particularly strong against quarterbacks who aren't mobile. That seems to be the case this week with Glennon. Is this a nightmare matchup for him, and how has he handled the pressure of starting so far?
Yasinskas:
Glennon has handled the pressure as well as you could hope for, under the circumstances. He has shown improvement each week, and he's a composed guy. But I think the matchup with Carolina could be his biggest test yet. He hasn't seen a pass rush such as Carolina's, and it doesn't help that the Bucs likely will be without injured guard
Carl Nicks
. Tampa Bay's offensive line hasn't played very well this season and that's a concern. Although Glennon has shown a bit more mobility than I thought he had, he still is pretty slow. That makes Carolina's pass rush scary.
Speaking of offensive lines, when I was still covering the whole NFC South back in the preseason, Carolina's offensive line was one of the team's biggest question marks. How has that unit performed?
Newton:
Amazingly, the O-line has held together pretty well, considering the loss of starting left guard
Amini Silatolu
. Sure, they've had their bad moments. The seven sacks surrendered against Arizona was the low point, but several of those you can blame on Newton for holding the ball too long. And they played well enough in the first half for Carolina to be up by two touchdowns, were it not for the dropped passes before everything fell apart.
If I'm the Panthers, I would be concerned with Tampa tackle
Gerald McCoy
. The Panthers have struggled against a couple of premier pass-rushers. Buffalo's
Mario Williams
and his 4.5 sacks in Week 2 come to mind. But it's hard to be too tough on this group since the running game has been one of the best in the league.
.