NFC South:

2013 NFL Week 9 Double Coverage
November, 1, 2013
11/01/13
12:00
PM ET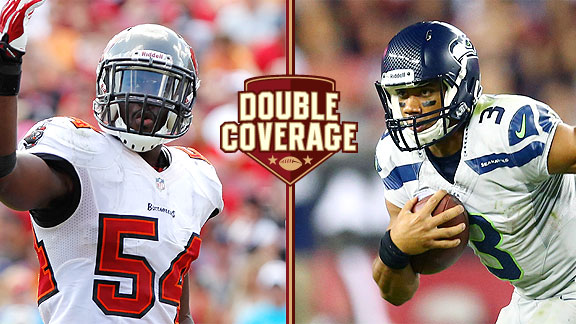 USA Today SportsThe key for Lavonte David and the Bucs is to try to pressure Russell Wilson and to attack a line that gave up seven sacks on Monday.
Despite getting outplayed in almost every statistical category Monday night at St. Louis, the
Seattle Seahawks
defeated the Rams 14-9 and reached the midpoint of the season at 7-1 after a rough stretch of four road games in five weeks.
Now Seattle returns to CenturyLink Field against the winless
Tampa Bay Buccaneers
, hoping to win at home for the 12
th
consecutive time. It looks like a mismatch, but so did the Rams game.
The Seahawks still have backups starting at both offensive tackle spots and now are missing receiver
Sidney Rice
, who tore an ACL on Monday night. Rice is in the last year of his contract with the team and probably has played his last game with Seattle.
Receiver
Percy Harvin
should return soon after undergoing hip surgery three months ago, but it probably won't be this weekend. Nevertheless, the Seahawks should win this game.
Blount:
Pat, a lot of people thought the Bucs would have a new head coach by the time the team got to Seattle, but Greg Schiano is hanging on. If Tampa Bay comes here and loses by a big margin, is that the end for him?
Yasinskas:
Terry, I've been pointing to the Seattle game for several weeks as a possible end for Schiano. I think he's still employed in large part because the Bucs are putting forth an effort. But I could see that changing on a long road trip against a good team and in a hostile environment. The interim route rarely works out well. But if this team lies down in Seattle, I can see ownership pulling the plug on Schiano.
Aside from the loss to Indianapolis, Seattle seems to have been nearly perfect. But there's no such thing as perfect in the NFL. What are the Seahawks' biggest weaknesses?
Blount:
Without question, it's the offensive line. It's not just weak right now. It's awful. Obviously, missing
Russell Okung
and
Breno Giacomini
is a big part of it, but having to go with backups at the tackle spots is not the only issue. Neither starting guard has played well, and center
Max Unger
, who had an arm injury earlier this season, hasn't played up to his Pro Bowl level of last year. It will improve when Okung and Giacomini get back in a few weeks, which will enable the Seahawks to move
Paul McQuistan
back to one of the guard spots instead of being out of position at left tackle. But it has to improve dramatically if Seattle hopes to live up to the Super Bowl expectations.
Pat, speaking of the Seattle line, it's obvious right now that the way to stop the Seattle offense is to load the box and blitz like crazy against the backup tackles, along with the rest of the offensive line that hasn't played well.
Russell Wilson
didn't have time to breathe at St. Louis. Do you see this as Tampa Bay's strategy on Sunday?
Yasinskas:
I think the Bucs will try a similar approach, but I'm not sure they'll have as much success as St. Louis did. The defensive line hasn't been generating much of a pass rush. Linebackers
Lavonte David
and
Mason Foster
have been effective as blitzers, and I think you'll see the Bucs use them as pass-rushers.
Terry, how much does losing Rice hurt the receiving corps?
Blount:
When Harvin gets on the field, assuming he's healthy, the Seahawks won't miss Rice. In fact, they'll be much better with Harvin's speed and versatility. Rice never has lived up to expectations here. He hasn't played nearly as well this season as receivers
Golden Tate
and
Doug Baldwin
. But if Harvin still isn't ready to come back, it hurts Seattle's depth at the receiver spot and enables any defense to use more double coverage on Tate and/or Baldwin. But this also could be an opportunity for
Jermaine Kearse
to shine. He's been a big surprise this season in limited play.
Pat, obviously, the Bucs aren't going anywhere this season. They spent a ton of money to bring in some top players on defense like
Darrelle Revis
and
Dashon Goldson
. What do you see as the team's goal for the rest of the season, and what do the Bucs hope to accomplish going forward in 2013?
Yasinskas:
It's been a hugely disappointing year for a team with eight players on the roster who have been to the Pro Bowl. This team's struggles aren't entirely due to a lack of talent. Schiano prides himself on being a disciplinarian, but this team has struggled with mental mistakes and penalties. The thinking is that playing smarter will translate into some wins. But those might be coming too late to save Schiano's job. There is a segment of the fan base that wouldn't mind seeing the Bucs go winless so that they get the first overall pick in the 2014 draft.
Terry, the Seahawks are third in the league in pass defense, and we've heard a lot about their secondary. Is rookie quarterback
Mike Glennon
walking into the ultimate ambush?
Blount:
That's what everyone thought Monday night for Rams backup quarterback
Kellen Clemens
, but he played pretty well most of the game. Clemens made two overthrows that became interceptions but came within one goal-line play of upsetting the Seahawks at the end of the game. The Seahawks do a great job of mixing things up and disguising coverages, but they do take chances to come up with turnovers. If Glennon doesn't recognize things quickly, they will make him pay.
October, 31, 2013
10/31/13
12:00
PM ET
This hasn't been the best of weeks for
New York Jets
coach Rex Ryan. His defense was embarrassed this past Sunday in a 40-point loss to the
Cincinnati Bengals
, and now he has to regroup for the explosive
New Orleans Saints
. And, oh yeah, he has to face his twin brother, Rob, the Saints' defensive coordinator.
Forget the Ryan Bowl. This is the Desperation Bowl for the Jets (4-4), who face the Saints (6-1) Sunday at MetLife Stadium. ESPN.com Jets team reporter Rich Cimini and Saints team reporter Mike Triplett break down the matchup:
Cimini
: Let's start with the family ties, Mike. How do you think Rob is approaching this game? He and Rex are fiery competitors, and I'm sure Rob wants this game badly, especially since he's 0-2 against Rex and the Jets. I can tell you this much about Rex: He will try to downplay the whole brother thing, trying to keep the focus on the game. A few years back, when Rob was the
Cleveland Browns
' defensive coordinator, Rex showed up to his midweek news conference wearing a wig and pillow stuffed under his shirt, impersonating Rob. That won't happen again.
Triplett
: I don't expect those theatrics this week, either, since the Saints don't promote that kind of stuff. But clearly Rob is a guy who is not afraid to wear his emotions on his sleeve -- with the media or his players. So I'm sure they'll know how much it means to him.
He's 0-4 overall against Rex in their NFL careers, dating back to Rex's days with the
Baltimore Ravens
. Clearly, this is Rob's best shot yet, not only because of the Saints' dynamic offense, but because Rob has his defense playing great. They've really responded to his versatile schemes. Young pass-rushers
Cameron Jordan
and
Junior Galette
, in particular, are having a breakout season.
They'll obviously try to rattle rookie quarterback
Geno Smith
by mixing up looks and pressures. Rich, what do you expect out of him after one of his roughest performances?
Cimini
: The early trend on Smith is that he responds well to bad games, but this will be a tough assignment because the Saints are playing so well. He can get rattled when he sees a different look for the first time. It happened Sunday against the Bengals, who recorded two early sacks on safety blitzes from the slot. He didn't react well. He also has to do a better job with his eyes, looking off receivers. He has a tendency to stare down receivers, telegraphing his passes. It's one of the reasons he has three pick-sixes in the past two games. All things considered, he's showing gradual signs of improvement, especially in the area of ball security. He's not fumbling as much as he did early in the year.
What can you tell me about
Drew Brees
other than he's terrific and throwing for a lot of yards and touchdowns?
Triplett
: I see you've been studying up on Brees. He's coming into New York in a really good groove right now. He just threw for 332 yards and five touchdown passes Sunday against the Bills. And even when he hasn't had his best days, he has come up with big fourth-quarter rallies. He and coach Sean Payton are back in sync. Together they're so good at exploiting mismatches. This past Sunday, Brees completed passes to 10 different receivers. The fact that the Saints' defense is playing so well has really benefited Brees, too. He's not pressing as much as he did last year and trying to do everything by himself.
The tough thing about playing the Saints is trying to find guys who can cover unique matchup problems like
Jimmy Graham
,
Darren Sproles
,
Marques Colston
and others. Can the Jets do that?
Cimini
: No, Mike, I don't think they can. Without
Darrelle Revis
, the Jets' pass defense is struggling. Funny thing is, they're getting a better pass rush than previous years and the run defense is No. 1 in the league. In theory, those factors should help them against the pass, but they're not. They have too many vulnerable areas, especially in the secondary, and I don't see how they can cover Brees' many weapons. If it were just one or two threats, yeah, I think they'd be fine, but Brees distributes the ball so well.
Antonio Cromartie
, the Jets' No. 1 corner, is having an off year. Rookie
Dee Milliner
, benched against the Bengals in the second quarter, has been a disaster. Safety
Antonio Allen
had a nice game two weeks ago against
Rob Gronkowski
, but Graham might be a tougher assignment because of his athleticism.
To win the game, the Jets' young, talented defensive line needs to dominate. And I noticed the Saints had some pass-protection issues on Sunday. Are they vulnerable up front?
Triplett
: The Saints' offensive line hasn't been as good as years' past, but they're still pretty solid for a team that passes the ball so much. The game against Buffalo was probably a good approximation of this matchup. The Saints gave up four sacks and were flagged for three holding penalties. But Brees still had great time to throw on four of his five TD passes and escaped the pocket to throw the fifth one on the run.
The Jets' best bet against the Saints' offense will be to control the clock and keep them off the field. New Orleans' run defense is pretty middle-of-the-pack. Will their old friend
Chris Ivory
make them pay for trading him to the Jets?
Cimini
: It's an interesting possibility. Now that he's healthy, Ivory is becoming a bigger factor. He was huge two weeks ago against the Patriots, rushing 34 times for 104 yards. He didn't get many chances this past Sunday because they fell behind so early and had to abandon the running game, but I could definitely see him being a big part of the game plan. It's hard to ignore the fact that the Saints are allowing a league-high 4.8 yards per rush.
I had to laugh the other day when Ivory said this game has no special meaning to him. Of course it does. I remember having a chat with him in the preseason about his time with the Saints. He felt he never got a fair shake because of politics, the organization preferring drafted players over him. Now he gets a chance for a little payback. You already know this, Mike, but Ivory runs like he's trying to hurt people. Tough dude.
The one thing the Jets can't do is give up on the running game and start throwing, because it sounds like Jordan & Co. can really get after the passer.
Triplett
: It sounds like Ivory's tenure in New York has been a microcosm of his time in New Orleans. He had trouble staying healthy, but when he turned it on he was a force. He was very popular with the fan base here. So that will be a fascinating subplot. Interestingly enough, the Saints used the draft pick they acquired from the Jets to trade up for big nose tackle
John Jenkins
, who has been a key addition. Those two will get to meet head-to-head.
You're right about the Jets playing right into the Saints' hands if they're forced to abandon the run. Jordan and Galette are two bona fide playmakers. And the Saints aren't afraid to throw in some safety blitzes. They have 24 sacks this season, one fewer than the Jets.
Speaking of which, I just had a conversation with someone putting together a midseason All-Pro team. They had the Jets'
Muhammad Wilkerson
written in pen and were debating between Jordan and
J.J. Watt
for another D-line spot. What's made Wilkerson so special?
Cimini
: He's a three-down player who can play anywhere on the defensive line. He's listed as an end, but the Jets play multiple fronts and he lines up over the guard at times, even over the center in certain packages. Ryan has compared him to
Richard Seymour
and
Trevor Pryce
; Wilkerson is a 300-pound man who moves like a 275-pounder. He's very good against the run and he has improved as a pass-rusher, evidenced by his seven sacks, already a career high. He's the best player on the team and I'm sure the Jets will try to lock him up long term after the season.
We've talked a lot about the strengths of these teams. In closing, can you touch on a couple of weaknesses? Jets fans aren't too optimistic this week, Mike, so they need a little something to rally around. What have you got?
Triplett
: The Saints' biggest weakness has been running the ball. They've been better in recent weeks, but they're still inconsistent. So they might be pretty one-dimensional on offense against this Jets defense that's so good at stopping the run. Of course, the Jets will still have to slow down the Saints' passing attack. The defenses that have had the most success against New Orleans' passing game this year have been the ones that could get physical with receivers in man-to-man coverage and chip and jam at the line of scrimmage. And as we said, Brees has taken more hits than usual this year.
Also, the Saints' run defense hasn't been great this year. So if the Jets can keep the game close and stay patient with the run game, that's something they might be able to exploit. And if anyone knows Rob Ryan's weaknesses, it's gotta be Rex, right?
October, 31, 2013
10/31/13
12:00
PM ET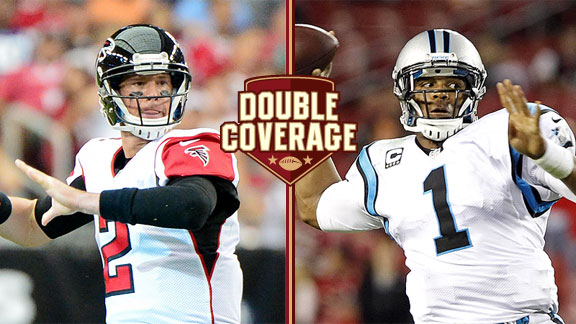 USA Today SportsCan Atlanta's Matt Ryan generate enough offense to beat Cam Newton and red-hot Carolina?
The
Carolina Panthers
and
Atlanta Falcons
are headed in opposite directions, and not the directions most would have predicted.
Carolina (4-3) has won three straight and four of its past five games to move into position for a playoff run. Atlanta (2-5), a preseason contender to represent the NFC in the Super Bowl, has lost four of its past five games.
ESPN.com Panthers writer David Newton and Falcons writer Vaughn McClure are here to break down Sunday's NFC South game at Bank of America Stadium:
Newton:
Vaughn, I know the Falcons have had a lot of injuries. Is their record really a product of that or are there much deeper issues?
McClure:
When you lose a player as dynamic as
Julio Jones
(foot) for the season and miss
Roddy White
(hamstring, ankle) for two games, it makes a drastic difference. Plus, the Falcons lost defensive end/linebacker
Kroy Biermann
(Achilles) for the season and have been without defensive leader
Sean Weatherspoon
(foot) since Week 2. So, yes, injuries have taken a toll.
That being said, a team with solid depth would be able to weather some of the storm. The Falcons don't have the type of depth they need, which has to be addressed in the offseason. Offensively, the lack of balance without a running game and the inconsistency of the line have hurt. Defensively, the Falcons have surrendered 11 plays of 40-plus yards. That's all a recipe for disaster. I'm sure
Cam Newton
is licking his chops, right?
Newton:
I don't know about licking his chops, but Newton's had an incredible run that has his confidence at an all-time high. Only San Francisco's
Colin Kaepernick
(94.1) and Cincinnati's
Andy Dalton
(89.2) have a higher quarterback rating than Newton (88.2) over the past three games. He's going through his reads better than ever and taking what the defense gives him instead of trying to force things.
I see no reason for that to stop this week against an Atlanta defense that has allowed opposing quarterbacks to complete 65 percent of their passes. But I suspect Newton would be confident going against the Falcons regardless, considering last year he passed for 502 yards and four touchdowns against them in two games. I'm sure he's wanting to make up for the late fumble that cost the Panthers a chance to sweep Atlanta, too.
While we're on quarterbacks, how has
Matt Ryan
handled being without most of his top weapons the past few weeks? Is it asking too much for him to carry the entire load?
McClure:
Yes, I think it is asking too much of Ryan. He had no issues two games ago against the lowly Buccaneers, when he completed 20 of 26 passes for 273 yards, three touchdowns and a career-high passer rating of 148.4. But on Sunday at Arizona, Ryan got pummeled by a relentless Cardinals pass rush that resulted in four sacks and 11 quarterback hits. There was a margin of error for Ryan with Jones and White on the field because both receivers can make great adjustments on the ball. Now, with the likes of
Harry Douglas
,
Drew Davis
and
Darius Johnson
, Ryan has to be flawless -- although at times Douglas has been sensational.
I give Ryan credit for keeping a positive outlook through it all, but he has to be frustrated. It doesn't look like things will get any easier against the Carolina defense, but what about the status of defensive end
Charles Johnson
?
Newton:
Johnson says it's 100 percent certain the mild groin strain won't keep him off the field on Sunday. He would have to be in a body cast not to play in this game. The Georgia native and former University of Georgia star gets up for the Falcons more than any team in the league. He had a single-game-best 3.5 sacks the first time they met last season and leads the team in sacks this season with six.
But as well as Johnson is playing, the Panthers don't need him to be spectacular like they have the past few seasons. The entire front seven if playing so well as a unit. it's really tough to single out any one player. It all begins with stopping the run, where Carolina ranks second in the league. Speaking of the run,
Steven Jackson
's first game back was less than stellar. Will he play a bigger role this week?
McClure:
He needs to, that's for sure. Jackson entered the Arizona game hoping to bring some balance back to the offense. Instead, the offense took a step back as Jackson rushed for 6 yards on 11 carries. Only Jackson knows if he was fully recovered from the hamstring injury that had sidelined him since Week 2. No one expected him to come back and immediately bust out for 100 yards, particularly against a top-10 run defense. But I think Jackson definitely expected more from himself. He needs to be able to pick up the tough yards and be the team's go-to guy in goal-line situations. We'll see if he does better against the Panthers -- if the Falcons can put themselves in position to score.
.