NFC South:

2013 Week 10 CAR at SF
November, 10, 2013
11/10/13
11:10
PM ET
SAN FRANCISCO -- Few expected the
Carolina Panthers
to win, even though they came into Candlestick Park with a modest winning streak and a solid defense. They were one of those teams people were talking about as a nice feel-good story, but not being taken completely seriously.
That was 1995.
The Panthers beat the 49ers 13-7 in a smashmouth gem to become the first expansion team in NFL history to defeat the reigning Super Bowl Champions.
Fast forward to Sunday's game at Candlestick Park. The Panthers came in with a modest winning streak and a solid defense. They were one of those teams people were talking about as a nice feel-good story, but not being taken completely seriously.
Like 1995, they became relevant in a hurry.
Carolina's 10-9 smashmouth victory over the reigning NFC champions was the fifth straight win -- and sixth in seven games -- for a team that until a few weeks ago hadn't been above .500 since 2008.
It was a victory that could elevate the Panthers (6-3) from a potential playoff threat to a potential Super Bowl contender.
"There's really something special going on in here I haven't seen in a long time, not since my days at Baltimore," said defensive tackle
Dwan Edwards
, who was with the Ravens from 2004-09. "There's a feeling nobody can beat us."
It wasn't that long ago that there was a feeling this team couldn't beat anybody. They were 7-9 and 6-10 in head coach Ron Rivera's first two seasons, and they lost three of four to start 2013. They were 2-14 in games decided by seven or less points since 2011, including 0-2 this season.
When the game was on the line, either a bad bounce or penalty or turnover turned a potential win into a loss.
On Sunday, the Panthers fumbled twice in the final 2 minutes, 12 seconds -- and recovered the ball both times. The first one by quarterback
Cam Newton
, who was trying to run time off the clock, made Rivera a bit nervous.
"I about threw up," he said.
Then a defense that gave up critical plays in close games a year ago stepped up with its sixth sack and then a game-clinching interception by cornerback
Drayton Florence
, as if to say the past will not haunt them in the present.
Or future.
"We're relevant," safety
Mike Mitchell
said. "We're here."
If you weren't on this team's bandwagon before, don't jump on now.
"Man, we don't need no bandwagon," defensive end
Charles Johnson
said. "We know what we have in this group."
[+] Enlarge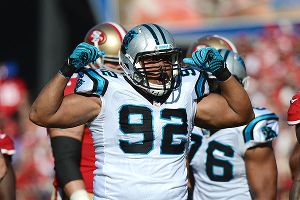 Kyle Terada/USA TODAY Sports"There's a feeling nobody can beat us," Panthers defensive tackle Dwan Edwards said.
But on many levels this was a statement for the Panthers. The naysayers reminded before Sunday that their five wins came against teams with a combined 8-33 record. They reminded they hadn't beaten a team with a winning record, even though they were beating opponents by an average of about three touchdowns.
The 49ers (6-3), who had won five straight, were considered one of the top two or three teams in the NFC. They were playing at home. They were supposed to win.
"We finally played somebody," Mitchell said. "We won a tough game on the road. It was a real big win for our team, boosting our confidence and solidifying for ourselves that we are for real."
That's what this win meant for the Panthers. That they are for real. That they are relevant. That they can dream about the Super Bowl, even though Rivera won't let them look past the next game.
"People can still doubt us, but we are going to keep on lining up and playing football," linebacker
Thomas Davis
said. "Because we are for real."
The defense definitely is for real. It held a San Francisco offense averaging 27 points and 342.9 yards a game to three field goals and 151 total yards -- 45 in the second half.
One of those field goals came after officials ruled what appeared to be a fumble by 49ers tight end
Vernon Davis
an complete pass. Another came after a muffed punt.
This was total domination, the way the defense Rivera played for with the '85
Chicago Bears
dominated.
"I can say everybody brought their A-game, and we needed it," said Johnson, who had 1.5 sacks and two tackles for loss.
The offense wasn't great, but it had 111 yards rushing against one of the other better defenses in the NFC. Twenty-seven of those came on a late first-half touchdown run by
DeAngelo Williams
that cut San Francisco's lead to 9-7 at halftime.
"Coming into this game, we said that the first team to get to 14 points was going to win, and fortunately for us it took only 10," Williams said with a huge smile.
There were lots of smiles, from the players to team owner Jerry Richardson, who hung around long enough shaking hands to run into reporters for the first time this season.
That's the way it was in 1995. Unfortunately for that team, it began 0-5 before catching the nation's eye with a victory here that propelled the Panthers to an expansion-record 7-9 season.
This team caught fire early enough that, Newton said, "the sky is the limit for us as a team."
That aura of gloom and doom that hung over this team early in the season has been lifted. Remember the opener? Williams fumbled inside the Seattle 10 in the final minutes of a 12-7 loss that could have been different.
Remember Week 2 at Buffalo? The Bills scored on a 2-yard pass with 2 seconds to go to win 24-23.
That's what this team was destined to be remembered for at one point. Now it has a chance to be remembered by wins such as this.
"The Carolina Panthers needed this type of win," said Newton, whose passer rating of 52.7 was his second-lowest of the season. "Going back, looking at what type games we've won, we won games where we put up 30-plus points and won handily.
"We haven't had this type of win under our belt consistently."
They still haven't won close games consistently, but this one came at a good time with a "Monday Night Football" game against the
New England Patriots
next and two games against NFC South leader New Orleans among the final seven games.
"We are going to get everybody's best shot from here on out," Florence said. "We would like to win them all. It might not happen, but we're going to prepare like we've got something to lose."
Because now they do.
November, 10, 2013
11/10/13
11:00
PM ET
SAN FRANCISCO -- San Francisco quarterback
Colin Kaepernick
came to the line of scrimmage on fourth-and-1 from the
Carolina Panthers
' 2-yard line with just more than six minutes left in the first half on Sunday. He barked out signals, giving the appearance, at least, that he was changing the play in an effort to get the Panthers to jump offsides.
They didn't bite.
The 49ers took a delay of game penalty, then settled for a field goal and 9-0 lead.
"That showed this team respect," Carolina linebacker
Thomas Davis
said.
The Panthers went on to win
10-9
, but that moment stands out among a game of big moments for the Carolina defense. It stands out because the 49ers, who already had been stuffed for 1-yard losses on two third-and-1 runs by
Frank Gore
, admitted they couldn't gain a yard that could have led to a touchdown and changed the entire outcome.
[+] Enlarge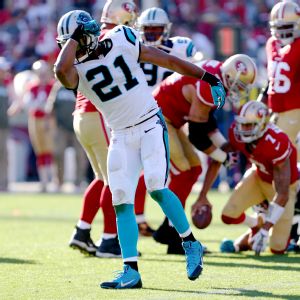 Kelley L Cox/USA TODAY SportsMike Mitchell and the Panthers sacked Colin Kaepernick six times.
It was even bigger when you consider on the play before the Panthers forced and recovered a fumble by tight end
Vernon Davis
that everyone at Candlestick Park except the officials saw as a turnover.
The officials ruled it an incomplete pass.
The Panthers didn't let that detour or detract them, either.
"I've played on defenses that had good games," said Thomas Davis, who has been with the Panthers since 2005. "But I haven't been on any that's played the way we're playing since I've been here."
And none that played better than on Sunday.
"Everybody brought their 'A' game, and we needed it," defensive end
Charles Johnson
said.
Carolina came into the game ranked third in the NFL in total defense and second against the run. It has a chance to move up after holding the 49ers to 151 total yards -- 45 in the second half.
The recipe was simple. It's the same one the Panthers (6-3) have been using all season, and a reason they should be in most games if they continue to do it effectively.
Stop the run. Hit the quarterback. Take the ball away.
"That's what we do," safety
Mike Mitchell
said. "That's our game plan every week."
The Panthers held a San Francisco team ranked No. 1 in the NFL with 153 yards rushing yards per game to 105 -- 25 in the second half. They sacked Kaepernick a season-high six times.
And on San Francisco's last play they intercepted a Kaepernick pass to win their fifth straight game, sixth in their past seven.
The simplicity of the defense is what makes it so impressive. The Panthers don't use a lot of blitzes and exotic formations. They come straight at you with a seven-man front.
Four of the sacks came when rushing four or fewer defenders.
"Nothing fancy," defensive coordinator
Sean McDermott
said.
The biggest part of McDermott's game plan against San Francisco was to keep Kaepernick in a lot of third-and-long situations. They were successful, and as a result the 49ers were 2-for-13 on third down.
That's 15 percent if you're doing the math.
Kaepernick was 0-for-6 on throws of more than 10 yards, the first time he's failed to complete a deep pass with multiple attempts for the first time in his career.
Kaepernick also was ineffective running. For the first time this season he was held without an official scramble, and he was 0-for-4 with two sacks when he did escape the pocket.
In other words, the Carolina defense was suffocating.
"I would say we out-physicaled them," coach Ron Rivera said. "That is about as tough as any football game gets."
The Panthers have been playing this kind of defense all season. They held Seattle, considered by many the best team in the NFC outside of San Francisco, to 12 points in the opener.
But this game will open a lot of eyes.
It opened San Francisco's eyes on fourth-and-1 from the 2.
"We say it every week," defensive end
Greg Hardy
said. "I know the words. We dominate. We take what we want. We do what we want. That's because we work hard."
November, 10, 2013
11/10/13
8:33
PM ET
SAN FRANCISCO -- Observed in the locker room after the
Carolina Panthers
'
10-9 victory
over the
San Francisco 49ers
:
Happy owner:
I'm sure Jerry Richardson gets to the locker room after just about every game, but this was the first time I've seen him this season. And he was one happy owner, shaking hands like a politician after winning an election.
Hardy
Full belly:
Thanks to quarterback
Cam Newton
recovering his own fumble with about two minutes to go, coach Ron Rivera still had his lunch. "I about threw up,'' Rivera said as he studied the statistic sheet.
All tied up:
Defensive coordinator Sean McDermott was doing a nice job tying his necktie as the locker room emptied, but he did a nicer job tying up the 49ers. They had 45 yards in the second half.
Unknown voice:
I'm not sure who said them, but the words "survive and advance'' rang through the room as players celebrated their fifth straight win.
Hardly see Hardy:
Defensive end
Greg Hardy
was all over quarterback
Colin Kaepernick
on the field, but you could hardly find him as he sat fully dressed in sweats deep in his locker with a total look of satisfaction.
November, 10, 2013
11/10/13
7:09
PM ET
SAN FRANCISCO -- A few thoughts on the
Carolina Panthers
'
10-9 victory
against the
San Francisco 49ers
.

What it means:
Relevance. Big-time. Those who didn't take the Panthers (6-3) seriously before Sunday will now. They won their fifth straight game and sixth in the past seven to go from a possible playoff contender to a serious threat in the NFC. Not only did Carolina win, it proved it can win a big game, and it proved it can win a close big game. Carolina's record in games decided by a touchdown or less was 2-14 -- 0-2 this season -- coming into the day.
Stock watch:
For the second straight game quarterback
Cam Newton
saw his consistency plummet. But for the second straight week he did enough to get the win thanks to another stout defensive effort. A 9-yard completion to
Steve Smith
on third-and-9 with 2:18 left and the Panthers trying to run out the clock might have been one of the biggest plays of his career. Oh, and his recovery of his own fumble on third-and-2 with under two minutes left that almost was disastrous.
Bad and good timing:
Kicker
Graham Gano
had been perfect this season on all 12 field goal attempts until missing a 48-yarder with 3:41 left in the third quarter that would have given Carolina a 10-7 lead. There was no wind at Candlestick to blame that one on either. He came back with a 53-yarder to make it 10-9 with 10:05 to play. He is 5-for-5 from 50-plus yards.
Say what?
Still don't see how the officials didn't rule that a catch and fumble by San Francisco's
Vernon Davis
late in the first half. The incompletion call led to a 49ers field goal and 9-0 lead.
Defense stout:
The Panthers may have beaten up on some also-rans en route to this game, but that shouldn't take away from what this defense has accomplished. It is playing at a championship level, holding San Francisco to 143 total yards.
What's next?
The Panthers play host to the
New England Patriots
on Nov. 18 on "Monday Night Football." It will be the first meeting between the teams that met in the 2003 season Super Bowl since 2009, a 20-10 New England victory.
November, 9, 2013
11/09/13
8:01
AM ET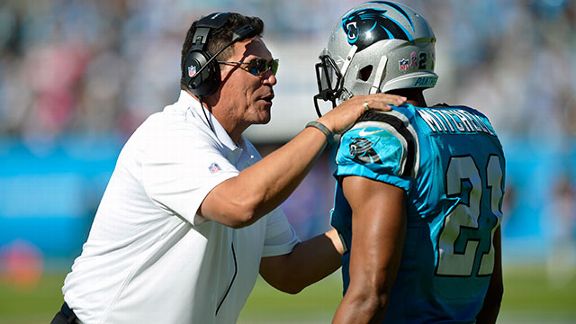 AP Photo/G. Newman LowranceRon Rivera has the Panthers treating San Francisco just like any other team.
CHARLOTTE, N.C. -- I tried my best to get Ron Rivera to back off this one-game-at-a-time approach. I tried to make the coach of the
Carolina Panthers
realize that Sunday's game against the
San Francisco 49ers
at Candlestick Park isn't just big because it's the next game on the schedule, that it's big because of the team records and what it could mean to the NFC playoffs.
I tried to get him to think like a fan, asking if he had a choice between the
New England Patriots
and 49ers or the
Tampa Bay Buccaneers
and
Jacksonville Jaguars
during an off day which he would watch.
He didn't bite.
"I'd watch them both,'' Rivera said with a laugh. "I would watch who we are about to play, first and foremost. Honestly, when I'm not here, I'm not watching football.''
This is why the Panthers (5-3) have won four straight and five of their last six games to make this West Coast trip big. They don't look ahead. They don't look at the 49ers (6-2), the defending NFC Champions, any differently than they do the winless Bucs.
It's admirable.
It's also frustrating.
You want somebody to say this game is huge, because it is. A win over San Francisco would make a statement that none of the other five games against opponents that are a collective 9-33 did. It would say the Panthers are a serious contender to not only make the playoffs, but possibly be relevant in the postseason.
The analysts might begin talking about them as a contender for the NFC South title instead of a wild card spot. They trail New Orleans by a game with two games left against the Saints.
But those, apparently, are the thoughts of analysts and fans who can let their minds wander into the future. Rivera has this group focused on the present like a fighter pilot on his target.
And when they appeared to lose that focus just a bit in Friday's practice, he reigned them back in and re-focused them. That's how Carolina became relevant. That's how it will remain relevant.
Asked how he personally was handling being relevant, Rivera didn't waiver from what he tells the team.
"The big thing, we're trying to maintain this as a one game at a time attitude,'' he said. "This is a big game, but it's the next big game.''
I get it. So have the players. They've bought into this lock, stock and barrel. Rivera saw it happening towards the end of last season when the Panthers won their last four games and five of their last six.
"It's a very, very unique thing,'' safety
Mike Mitchell
said. "I've heard coaches say it in the past, but it's genuine in the way we prepare and the way [Rivera] teaches and coaches us.
"What he talks about in the meetings and the private settings on the team, he really believes the biggest game is the next game and it trickles it down to us.''
Rivera doesn't have to look hard for examples as to why you can't treat the 49ers differently from the Buccaneers. Most of them saw the same Tampa Bay they dismantled the week before go up 21-0 on NFC powerhouse Seattle before losing in overtime.
"That's why you have to prepare for the next game as your biggest game,'' Mitchell said "If you don't, you're going to get your butt beat.''
Player by player, each said the same thing. Nobody diverted. Defensive end
Greg Hardy
is so focused he claimed not to be aware of all the controversy going on in Miami.
"Something going on?'' he said. "What happened?''
The blinders definitely are on. The closest anybody came to saying this is a big game was wide receiver
Steve Smith
, but he did it in a snarky way.
"We haven't played in a game in November of relevance since 2008,'' he said. "Luke (Kuechly, starting middle linebacker) was just graduating high school. That statistic is the most irrelevant statistic according to this locker room of the current players that you could possibly pull out of your ass.''
Rivera has willed his mentality onto the team well. But he does understand a win over the 49ers would be big.
"That would be big,'' he said. "As you guys like to remind me, they have a winning record. That would be really good. First and foremost, who they are as a football team. They're defending NFC Champs. Secondly, their style of play. They're a very physical football team.
"This also is a very talented football team, so you want to be able to beat teams like. You want to be able to beat teams that have a lot, because you're measuring yourself against them. That, I think, is important. It's a great opportunity for us to find out exactly who we are and where we're headed.''
But it's only big because it's the next game.
I get it.