NFC South:

2013 Week 10 Upon Further Review
November, 11, 2013
11/11/13
8:00
AM ET
SAN FRANCISCO -- An examination of five hot issues from the
Carolina Panthers
' 10-9 victory over the
San Francisco 49ers
:
Just how big was the win?
This was the first time the Panthers (6-3), winners of five straight and six of their past seven, have beaten a team with a .500-or-better record this season. It was the first time they have won a game decided by three or fewer points since Week 7 of the 2010 season, which happened to be a 23-20 victory over San Francisco in Charlotte.
Cam Newton
had been 0-5 in games decided by a field goal or less, which according to ESPN Stats & Information was the worst record for any quarterback in the NFL since he entered the league in 2011.
Josh Freeman
was second at 1-5, followed by
Matt Moore
at 1-4 and
Philip Rivers
at 3-6.
[+] Enlarge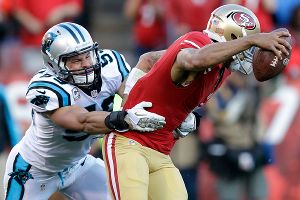 AP Photo/Marcio Jose SanchezLuke Kuechly led the way in shutting down Colin Kaepernick and the San Francisco offense.
Just how well did the defense play?
The 151 yards allowed was the fewest San Francisco has gained since Week 9 of 2006, when the Vikings held the 49ers to 133 yards. The 49ers had scored 30-plus points in five straight games and in all six of their wins. It was absolute domination. And here's an early vote for middle linebacker
Luke Kuechly
for NFL Defensive Player of the Week. The second-year player had a team-best 11 tackles, a sack and two tackles for losses.
Safety valve:
Newton's numbers were dreadful in the first half as he completed 5 of 14 pass attempts for 54 yards, an interception and a passer rating of 18.2. His top target on the season,
Steve Smith
, was shut out. Newton adjusted in the second half and completed 6 of 8 attempts to Smith for 63 yards, including 4-of-5 on third down. None was bigger than his 9-yard completion on third-and-8 with 2:18 to play and the Panthers trying to run out the clock. Newton, who had the NFL's top third-down passer rating coming into the game, was 1-for-4 with an interception on third down in the first half.
Ginn's return:
Nobody wanted to impress the 49ers more than
Ted Ginn Jr.
, who had only two catches for his former team in 2012. Ginn only caught two passes for 19 yards after being targeted four times on Sunday, but he made a huge contribution with his punt returns. After averaging fewer than 11 yards a return in the first eight games, he averaged 21.7 yards on three returns Sunday, almost breaking a couple. He was so excited that he developed cramps and had to go into the locker room for an IV at one point.
It was a fumble:
I asked coach Ron Rivera why the officials didn't overturn the incomplete pass call on a play to San Francisco tight end
Vernon Davis
in the second quarter to a catch and fumble. It appeared to the Panthers and almost everyone at Candlestick Park that Davis had possession, was stripped of the ball and Carolina's
Thomas Davis
recovered. Rivera's explanation from the officials: "Well, apparently, there are three phases as to what has to happen on a catch and he hit two out of three." He didn't sound convinced. None of the Panthers did, either. "He took three steps. He took three steps. Ball out,'" safety
Mike Mitchell
said.
Bonus observation:
Rivera was asked whether he had any hesitation on sending kicker
Graham Gano
out for the game-winning 53-yard field goal in the fourth quarter. Really? Gano's missed 48-yarder in the third quarter was his first after going 12-for-12. He is now 5-for-5 on field goals of 50 or more yards, the most in the league from that range. Rivera, by the way, had no hesitation.
November, 11, 2013
11/11/13
8:00
AM ET
NEW ORLEANS -- A review of four hot issues from the
New Orleans Saints
' 49-17
victory
over the
Dallas Cowboys
at the Mercedes-Benz Superdome:
Super Bowl bound?
The Saints were historically good Sunday. They set an NFL record with 40 first downs. They rolled up 625 yards -- the most by any NFL team in regulation in the regular season since 1982. Their defense held Dallas quarterback
Tony Romo
to 128 yards on 10 completions. The Cowboys were 0-of-9 on third down. So book your Super Bowl tickets, right?
Ingram
Not quite yet. All this performance did was validate that the Saints (7-2) have as high a ceiling as any team in the NFL. But they need to prove they can do it consistently -- and they'll get that chance under some much more difficult circumstances over the next six weeks. If they look anywhere near this good against a physical 49ers team at home next week, then at Atlanta on a Thursday night, then at Seattle on a Monday night, then you can start looking into February flights to New York.
Calming some fears:
I'm guessing my Twitter feed won't be so consumed by questions about drafting an all-new offensive line after this game. Of course, this was just one game against a pretty toothless Dallas defense. But it was still a tremendous performance by a unit that has taken some heat for its inconsistent play. The Saints ran the ball 36 times for 244 yards (not counting kneel-downs). And quarterback
Drew Brees
was sacked only once while completing 34 of 41 passes for 392 yards and four touchdowns. The entire Saints line was awarded a game ball afterward.
Also, receiver
Marques Colston
caught seven passes for 107 yards and a touchdown, and running back
Darren Sproles
gained 88 yards with two touchdowns -- alleviating some fantasy football fears. Tight end
Jimmy Graham
was quieter, with five catches for 59 yards while coming on and off the field to keep managing his foot and elbow injuries. It was a reminder that he will still be somewhat limited going forward, but he can be productive in limited opportunities.
Ingram's monster day:
In a much more surprising offensive breakout,
Mark Ingram
ran for 145 yards and a touchdown on 14 carries (130 in the second half). Obviously we can't expect this type of production on a regular basis. But now that Ingram is healthy and the offensive line has finally found a run-blocking rhythm, he could certainly be an effective part of the rotation behind
Pierre Thomas
and Sproles the rest of the way. I've always insisted that the key to all the running backs' success is the line. And they have been getting their act together in recent weeks.
Lewis a Pro Bowler?
Saints cornerback
Keenan Lewis
has been outstanding all season, helping to silence some of the league's top receivers. But after delivering once again on the Sunday night stage against Dallas'
Dez Bryant
, he may start to garner some well-deserved Pro Bowl attention. Lewis was matched up against Bryant throughout the night -- sometimes with help from double teams, but not always. Lewis allowed just one completion to Bryant for 44 yards late in the third quarter, and Bryant was targeted only twice.
November, 11, 2013
11/11/13
8:00
AM ET
ATLANTA -- An examination of five hot issues from the
Atlanta Falcons
' 33-10 loss to the
Seattle Seahawks
:
Abused up front:
Falcons coach Mike Smith was quick to point out how his team, physically, lost the battle at the line of scrimmage. From a defensive standpoint, that was disheartening considering the Seahawks played without three regular starters up front: Pro Bowl left tackle
Russell Okung
, Pro Bowl center
Max Unger
and right tackle
Breno Giacomini
. Of course, Seahawks quarterback
Russell Wilson
helped his line by extending plays and running back
Marshawn Lynch
aided his linemen with punishing runs. Still, the Falcons' front four couldn't stop the run when it needed to most and couldn't generate pressure in key third-down situations. Offensively for the Falcons, the numbers show only two sacks were allowed, but that doesn't reveal how much duress quarterback
Matt Ryan
was under while being unable to throw down the field. The Falcons averaged just 4.3 yards per pass play.
White
Ryan
Running on empty:
Speaking of the battle at the line of scrimmage,
Steven Jackson
took a step back while rushing for just 11 yards on nine carries against a Seahawks defense that had been suspect against the run. Jackson said he was 100 percent in his third game back from a hamstring injury and credited the Seahawks for their defensive scheme. But Smith's assessment of Jackson's struggles was very telling. The coach was asked why the Falcons seemed to be more effective running the ball with
Jacquizz Rodgers
and
Jason Snelling
, who combined for 38 yards on four attempts. "When Snell and Jacquizz were in there, they had more holes,'' Smith said bluntly. "The blocking, you know, it all goes hand in hand with the offensive line, the running backs, and the tight ends in the run game. And the plays were definitely blocked better when [Rodgers and Snelling] were in there.''
Explosive plays:
The Falcons' defense now has surrendered 14 plays of 40-plus yards for a grand total of 716 yards after giving up three such plays for 135 total yards against the Seahawks. The one that seemed to stagger the Falcons was Wilson's 43-yard touchdown pass to
Jermaine Kearse
off a flea-flicker from Lynch. Falcons safety
Thomas DeCoud
read the play and ran stride for stride with Kearse, but DeCoud didn't see the ball. "I could have gotten my head around, but I felt like just the way the play developed, I needed to close to the receiver,'' DeCoud said. "I wasn't in a position to really get my head around at that time.'' And Smith's take on the explosive plays? "Way too many big plays. ... We've got to get better at it,'' the coach said. "There are no excuses in terms of who's out there: young players, old players. These young players we've had out there, they've been playing for nine weeks. They're not rookies any longer. We've got to start making football plays. We've got to do as a coaching staff to make sure that we put them in the best position.''
Matty still iced:
It's not a good sign when Ryan is making better plays with his feet than his arm. Ryan avoided the interceptions that plagued him the previous two games, but he still seemed off while completing 23 of 36 passes for a season-low 172 yards in Sunday's loss. The last time Ryan threw for fewer than 200 yards in a game was when he had just 165 against New Orleans last November. He brushed off the notion that he was throwing the ball too high against the Seahawks, but Ryan did overthrow tight end
Tony Gonzalez
twice in the first half. He also threw one too short to
Roddy White
that was almost picked off by Seahawks cornerback
Brandon Browner
. "Matt, in the first half, was not as efficient as we needed to be,'' Smith said. "There were some opportunities to make some throws. There were some opportunities to make some catches. And we did not get it done.''
Back in action:
The loss overshadowed White's return to the lineup following a three-game hiatus due to hamstring and ankle injuries. White caught a 20-yard pass down the middle on the Falcons' second series but was held without a catch the rest of the game while being targeted four times. "I felt pretty good,'' White said. "It was the best I felt all season. That was good, just giving me a lot of confidence going into the next couple weeks that I can get out there and get going and get back to being myself again.'' White was his normal self when it came to his personal battle with Seahawks cornerback
Richard Sherman
. White slapped at Sherman after one play. "It was no big deal,'' White said. "We get into scuffles every time we play that team, no matter if it's me, Tony, or whoever is out there. They're a good football team. They've got players who play on the edge. And we play on the edge, too.''