NFC South:

2013 Week 11 Upon Further Review NFC
November, 19, 2013
11/19/13
8:00
AM ET
CHARLOTTE, N.C. -- An examination of five hot issues from the
Carolina Panthers
'
24-20 victory
over the
New England Patriots
:
[+] Enlarge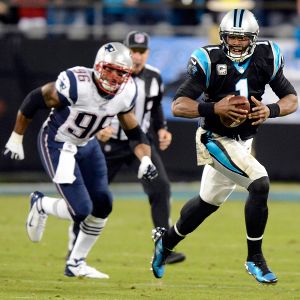 David T. Foster III/Charlotte Observer/MCT via Getty ImagesA mobile Cam Newton kept the New England defense on its heels Monday night.
Run for your life:
ESPN analyst Jon Gruden said early Monday that quarterback
Cam Newton
's ability to run was his strength. He wasn't concerned about how many carries the first pick of the 2011 draft got during his first two seasons, as Hall of Famer John Madden expressed to Carolina coach Ron Rivera during the offseason. Newton proved Gruden right, running four times on third down for 56 yards. Each time he converted a first down, including a 14-yarder in the third quarter that ESPN Stats & Information determined took 75.8 yards to accomplish and a 15-yarder on the game-winning drive. Newton has scrambled 31 times for a first down, the most in the league since he was drafted.
Leg whipped:
Defensive tackle
Charles Johnson
missed most of the second half after New England's
Marcus Cannon
leg whipped him early in the third quarter. Cannon likely will be fined when the play is reviewed by league officials. Carolina's more immediate concern is Johnson. He is scheduled to undergo an MRI on the knee that was struck. Asked if he might miss playing time, Johnson responded, "I don't know." But Johnson did return for the final series that ended with rookie safety
Robert Lester
intercepting a pass. He came back in part because he felt the team needed him and it was important to gut it out. "It gave us a little bit of a boost," Rivera said. Statistics bear that out.
Tom Brady
was under duress four times on the final 11-play drive. Before the final drive he had been pressured on four of his previous 31 dropbacks (12.9 percent).
Penalty or not:
A lot of analysts and New England fans are screaming that the officials got it wrong when they waived off a pass interference penalty on Carolina linebacker
Luke Kuechly
guarding tight end
Rob Gronkowski
in the back of the end zone on the final play. As you can see on the replay, the two were so close they looked like dance partners at the prom. The officials waived it off because, under the letter of the law, the ball has to be catchable. It was underthrown and picked off. But few are pointing out that the Patriots still would have had to score on one play with no time left on the clock to change the outcome.
Best in NFL:
The Carolina defense that came in ranked second in the NFL in general didn't have one of its better efforts. There were more missed tackles than usual and huge gaps in the middle of the field at times for Brady to find receivers. But Kuechly and
Thomas Davis
didn't hurt their reputation as being two of the best linebackers in the league. Davis had a game-high 17 tackles and Kuechly added 12.
Double trouble?
What happened to Carolina's running game against the league's 30th-ranked run defense? Backs
DeAngelo Williams
,
Jonathan Stewart
and
Mike Tolbert
combined for 41 yards, with Tolbert leading the way with 17. Were it not for Newton's 62 yards the average per rush would have been 2.5 instead of 4.5. Williams, who averaged 97 yards rushing in the first three games, hasn't had more than 46 yards in any of the past five games. This is not the more traditional run offense the Panthers were building toward and need moving forward.
November, 18, 2013
11/18/13
8:00
AM ET
TAMPA, Fla. -- A review of four hot issues from the
Tampa Bay Buccaneers
' 41-28
victory
against the
Atlanta Falcons
on Sunday:
The Schiano Watch:
A few weeks ago, it seemed like a foregone conclusion that coach Greg Schiano would be fired at the end of the season or maybe even sooner. But the Bucs have won two games in a row, so it might be time to re-think Schiano's future. He still may be facing an uphill battle to keep his job, but now there's at least a chance. If the Bucs can win more than they lose in the second half of the season, Schiano could have a chance to be back for 2014.
McCoy
McCoy or Suh?
Defensive tackle
Gerald McCoy
has picked the best possible time to start playing the best football of his career. McCoy had a three-sack game, one that comes as the Bucs get ready to face the
Detroit Lions
. You know what that means?
Ndamukong Suh
plays for the Lions. He and McCoy came out in the same draft. Early on, it looked like Suh clearly was ahead of McCoy. But McCoy now is playing as well as any defensive tackle in the NFL.
Rainey days:
Running back
Bobby Rainey
had 163 rushing yards, two rushing touchdowns and a receiving touchdown against the Falcons. Not bad for a guy who never was able to distinguish himself during stints with Baltimore and Cleveland.
Doug Martin
's starting job is safe when he comes back from injury next year, but Rainey has shown enough that he should have a roster spot next season.
Glennon's development:
Very quietly, rookie quarterback
Mike Glennon
had a strong day. He completed 20 of 23 passes for 231 yards and two touchdowns. I still don't know if Glennon can be a franchise quarterback. But I'm seeing signs that Glennon can be a solid quarterback when the rest of the team is playing well.
November, 18, 2013
11/18/13
8:00
AM ET
A review of four hot issues from the
New Orleans Saints
' 23-20
victory
over the
San Francisco 49ers
at the Mercedes-Benz Superdome:
Defense dominant:
One of the NFL's most remarkable makeovers continued in a big way Sunday as the Saints' defense held San Francisco to a total of 196 yards. Stunningly, the Saints' defense now ranks fourth in the league in yards allowed (305.4 per game) after setting the NFL record for yards allowed last year (440.1).
[+] Enlarge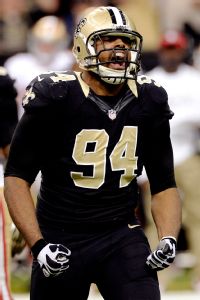 John David Mercer/USA TODAY SportsCameron Jordan and the Saints held the 49ers to 196 total yards.
They were as good as ever against a 49ers team that features one of the league's best offensive lines and run games. The Saints were physical -- holding San Francisco to 81 rushing yards and forcing three sacks. And they were deceptive, mixing creative formations like a 3-5 front with only three defensive backs, among others that were implemented for the first time this week.
"The defense has been playing unbelievable. Each week we gain more and more respect for them," Saints fullback
Jed Collins
said. "They just keep proving they're not only here to benefit the offense, but they're here to win games."
Offense patient:
This certainly wasn't the most eye-popping performance we've seen from the Saints' offense. But they were very good, aside from an ill-advised interception by quarterback
Drew Brees
in the third quarter. And the offensive line was outstanding against one of the league's most physical defenses. The best thing the Saints did was stick with their patient game plan even when they were trailing by six points in the fourth quarter.
Brees completed 10 of 14 passes for 144 yards during the Saints' three fourth-quarter field goal drives. And the Saints ran the ball nine times for 34 yards on those drives.
Hartley resilient:
On a day when the Saints overcame adversity to deliver in the clutch, it was fitting that kicker
Garrett Hartley
finished things off with field goals of 21, 42 and 31 yards. Hartley had missed four of six field goals coming into the game, but the Saints' faith in him paid off big-time.
Going forward? I expect Hartley to make about 80 percent of his kicks, like he has throughout his career. But I don't expect the big moments to faze him.
49ers off their back:
Players were split over how much it meant to beat the 49ers for the first time in three years -- or at least how much they wanted to admit it publicly. But several players did acknowledge that it was an important hump for them to finally get past.
"When you lose to a team a couple of times, especially when you lose to a team people continually tell you: 'You can't play with a team like that, you can't play with a physical team, you can't play with a running team' ... I think it's human nature to say, 'Eh, I don't know if I like being told I can't do something,'" Saints offensive tackle
Zach Strief
said. "There was definitely a little bit of a chip today."
November, 18, 2013
11/18/13
8:00
AM ET
TAMPA, Fla. -- An examination of five hot issues from the
Atlanta Falcons
' 41-28 loss to the
Tampa Bay Buccaneers
:
Self-reflection:
Most figured a somewhat healthy
Roddy White
would make a huge difference for a struggling Falcons offense. Well, White had little impact with three catches for 36 yards against the Buccaneers while being targeted nine times. White's second-quarter fumble led to a Bucs touchdown that all but put the game out of reach at 24-3. "I have to play better, first of all,'' White said. "Right now, I'm not playing very well. I've got to work on me. I can't fumble the ball and give them the ball at the 50. And I can't drop the ball on third-and-2 and stop a drive. I can't let somebody knock the ball away on fourth-and-[1], stop a drive when we're trying to get going. I, myself, have to play a whole lot better in these games in order for us to win. I can't just go out there and not make enough plays for us not to win. I've got to start on myself and look in the mirror. There are a lot of things I've got to fix.'' White did score his first touchdown of the season, but not even that score was clean.
White
Jackson
On the run:
The Falcons talked all week leading up to the game about establishing the run with
Steven Jackson
. They looked well on their way after Jackson picked up 22 yards on his first two carries. But after starting the game with those two runs, consecutive sacks by Bucs defensive tackle
Gerald McCoy
on
Matt Ryan
seemed to knock the Falcons' offense out of whack for the remainder of the game. And once the Falcons got behind by 21 points late in the second quarter, they had to abandon the running game once again. Jackson finished with 41 yards on 11 carries -- not exactly what you would call "working your workhorse," as offensive coordinator Dirk Koetter vowed to do.
New faces:
Speaking of the running game,
Antone Smith
showed some things in a reserve role for the Falcons late in the fourth quarter. The special teams ace had a 50-yard touchdown sprint up the middle -- his first career touchdown -- and led the team with 88 yards on just two carries. Smith had just one carry for 8 yards for the season coming into the game. Unheralded players such at Smith should get more opportunities over the last six games for the 2-8 Falcons. "Absolutely,'' coach Mike Smith said of playing such players more. "I don't believe there is anything that is out of the question. It is all on the table. When you play the type of football that we have played the last four weeks, you've got to look at everything. You've got to turn over every stone.'' Tackle
Ryan Schraeder
, safety
Zeke Motta
, running back
Josh Vaughan
and backup quarterback
Dominique Davis
were some of the players who got some game experience. Davis suffered what could be a serious knee injury, which would mean the Falcons might have to find a quarterback to back up Ryan on Thursday night against the Saints.
Foul play:
Once again, procedural penalties killed the Falcons .
Tony Gonzalez
and
Lamar Holmes
were whistled for false starts. White was whistled for illegal motion.
Peria Jerry
was whistled for encroachment. The Falcons had seven penalties for 45 yards. "We have had way too many procedural penalties,'' Smith said. "We are a team that prides itself in playing smart football and we have not done that, especially the past four games.'' Actually over the last five games, the Falcons have been penalized 34 times for 275 yards.
Spoon's return:
Linebacker
Sean Weatherspoon
's return to the starting lineup for the first time since Week 2 (Lisfranc sprain) didn't inspire the defense as much as he would have liked, but Weatherspoon gutted it out. He finished with nine tackles, second behind rookie
Paul Worrilow
's 16. Weatherspoon looked a bit hobbled after the game but said he was good. The team's emotional leader was obviously frustrated about the outcome. "It's about going out there and just playing together and playing efficiently, and that's something we didn't do,'' Weatherspoon said. "I go home, get my iPad and watch the tape, get a chance to see what actually happened. You just have to come back to work, man. I've been in the league for a while. I've lost some games. It's all about how you respond to it.'' With four straight losses, the Falcons haven't responded well.