NFC South:

2013 Week 12 NO at ATL
November, 22, 2013
11/22/13
2:59
AM ET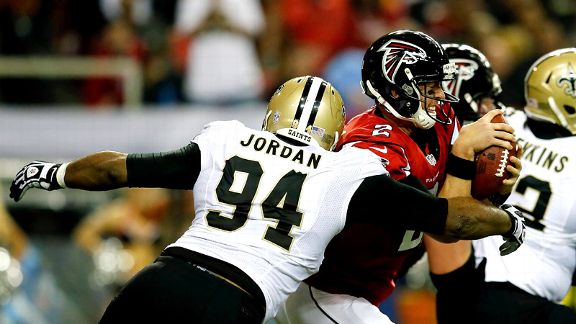 Kevin C. Cox/Getty ImagesCameron Jordan's 2.5 sacks helped the Saints get to 9-2, setting up a showdown in Seattle.
ATLANTA -- Three wins in 12 days. An impressive feat, no doubt, for the
New Orleans Saints
, who scratched out a
17-13 victory
on the road against the rival
Atlanta Falcons
on Thursday night.
Now comes the real test.
A week from Monday night, the 9-2 Saints visit the 10-1
Seattle Seahawks
. The NFC's No. 1 seed is on the line -- not to mention the Saints' reputation as a team that struggles outdoors on the road against physical opponents.
"Listen, they're all big. But obviously we understand the implications of this one," Saints quarterback
Drew Brees
said after Thursday's victory. "'Monday Night Football' at Seattle, it doesn't get any better than that."
The Saints really shouldn't have to prove anything at this point. Not after what they just accomplished over the past 12 days: routing the
Dallas Cowboys
at home in record fashion, surviving a battle against the nemesis
San Francisco 49ers
at home, then avoiding the hangover Thursday night at Atlanta -- where the Falcons certainly didn't play like a 2-9 team.
But that's what we're all going to demand of the Saints, anyway -- relentlessly over the next 10 days -- as the hype machine gets kicked into overdrive. The media will debate whether the Saints can win this type of game against this type of opponent. The public will wonder.
And truth be told, the Saints are eager to see how they handle the challenge, as well. The one thing they haven't accomplished in the Sean Payton-Brees era is winning a road playoff game. So they're going to have to win this game at Seattle now to earn home-field advantage in the playoffs.
Or else they'll likely need to go back and try again in January.
"They're great questions, and these are things we've got to continue to answer the bell on," said Saints safety
Roman Harper
, who was on the field the last time the Saints played Seattle -- an infamous playoff loss after the 2010 season that ended when no one could tackle Seahawks running back
Marshawn Lynch
. "You know, it's a long season, and we've just got to continue to come on. We've got to meet all these challenges that we're gonna get."
"Yep, yep, all those things," Brees said when the list of inevitable storylines was rattled off to him. "You know, here's the thing: The two times that we've gone to Seattle, it's been 'Sunday Night Football' [in 2007] and the playoffs [in 2010]. And now 'Monday Night Football.' So we've played there when the game has been in prime time, it's been important, it's been meaningful. So we're no strangers to the atmosphere.
"We know that 12th Man atmosphere. We try to have that atmosphere in the dome. So we know what it's like to have that home-field advantage. We know what we're walking into."
The Saints offense actually has played great in its previous two trips to Seattle -- despite the fact that CenturyLink Field has earned a reputation as one of the NFL's most overwhelming environments for visiting opponents. The Saints lost that 2010 playoff game 41-36. They won the '07 game 28-17.
But the Seahawks defense has evolved into a dominant unit since then -- one that ranks second in the NFL in yards allowed (293.3 per game), third in points allowed (16.3 per game) and first, according to ESPN Stats & Information, in putting quarterbacks under duress.
The Saints need to prove they can continue to play the kind of patient-yet-opportunistic offense they flashed at Chicago earlier this season, against San Francisco two weeks ago and again in Thursday night's win (when they won the turnover battle 1-0 and ran out most of the clock with two late first downs).
The Saints' run game, which had been the team's biggest weakness early this year, has been coming on strong.
"We really put our foot in the ground and said, 'Hey, enough is enough. Let's get this ground game going and let's be more of a balanced team.'" said Saints running back
Pierre Thomas
, who has been playing so well lately that he's at risk of losing his label of one of the league's most underrated weapons.
Thomas ran the ball 10 times for 73 yards and caught five passes for 57 yards. He and tight end
Jimmy Graham
(five catches for 100 yards and a touchdown) were the Saints' go-to guys on offense -- which will likely remain the case at Seattle.
Thomas said the Saints "definitely" have to prove they can bring that same balance against the Seahawks.
"You know, we showed in '09 that we can win on the road," Thomas said of the Saints' Super Bowl-winning season. "We've got to have that same mindset and that same determination to go out and say, 'Hey, great teams do win on the road, and we are a great team.'"
On the flip side, the Seahawks will have to deal with a Saints defense that has become much feistier than in recent years. The Saints defensive front was once again the driving force behind their win over Atlanta.
Although the Falcons ran the ball well early, then consistently moved the ball down the field with short passes throughout the game, the Saints repeatedly clamped down. The Falcons' only touchdown came on their opening drive, and they were shut out completely in the second half.
Defensive end
Keyunta Dawson
forced a critical fumble early in the fourth quarter when Atlanta got inside the red zone. Then, end
Cameron Jordan
came up with a big sack later in the fourth quarter after Atlanta had reached New Orleans' 29-yard line.
Jordan, who might have punched his ticket to his first Pro Bowl on Thursday night, had 2.5 of the Saints' five sacks.
The Saints will need that physicality up front against a Seattle team that ranks third in the NFL with 147.9 rushing yards per game, still led by the punishing Lynch. And oh, by the way, second-year Seattle quarterback
Russell Wilson
is pretty clutch himself.
"We're going to enjoy this tonight. I think everyone appreciates a few extra days off, and [the Seahawks are] going to be coming off a bye as well," Saints offensive tackle
Zach Strief
said. "It's going to be a tough game. And those are the games that you'll remember forever."
November, 22, 2013
11/22/13
1:41
AM ET
ATLANTA -- As well as
Darius Johnson
played for most of Thursday night's game, the
Atlanta Falcons
rookie couldn't help but point the blame at himself.
Johnson
Johnson had six catches for 67 yards while abusing
New Orleans Saints
reserve cornerback
Corey White
. Yet all Johnson could think about was his fourth-quarter fumble with the Falcons driving into the red zone.
Johnson caught a pass from
Matt Ryan
for 2 yards then got the ball knocked away by Saints linebacker
Keyunta Dawson
. White, the goat for most of the game, came up with the key fumble recovery.
"I just didn't have it secured," Johnson admitted after the
17-13 loss
. "He made a good play on the ball. It just came out. I already knew as soon as it came out that I wasn't down. It was just a good play by him."
While Johnson sulked in the locker room, head coach Mike Smith stood at the podium and offered words of encouragement for the player who joined the team as an undrafted free agent.
"Darius is a strong young man who has come a long way in a short time in terms of undrafted free agents," Smith said. "Plays like that are going to happen. Unfortunately, it happened at a very bad time for our football team, but he will bounce back. The guys in that locker room will help him.
"That play did not lose the football game for us. There were many plays that were factors in us not winning the ball game."
Regardless, Johnson is likely to reflect on his mistakes for at least a few days. He also dropped a pass over the middle while wide open on third-and-2. The fumble, however, was the most glaring.
"He made a good play on the ball. I didn't see him," Johnson said. "I should have had it tucked high and tight, but he made a good play and knocked the ball our."
Johnson was hard on himself, yet he showed promise for the future. Going from an unknown player out of SMU to Ryan's primary first-half target was a dramatic step. And Ryan expressed confidence in Johnson moving forward even despite the fumble.
"It's definitely something to build on," Johnson said. "We would have loved to have come out on top. I am pleased with my performance ... but I'm torn between the two. It's mixed emotions. I live on to fight another day."
November, 22, 2013
11/22/13
1:30
AM ET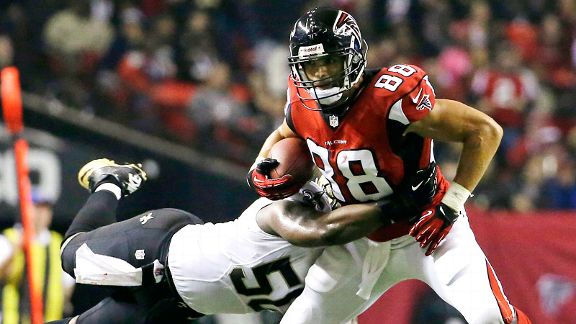 AP Photo/David Goldman"It's not the outcome that we wanted," Tony Gonzalez said, but "I'm happy the way we played."
ATLANTA –
Sean Weatherspoon
looked every one of his defensive teammates straight in the eyes before Thursday night's game and encouraged them to play like there was no tomorrow.
The
Atlanta Falcons
linebacker had delivered plenty of emotional sermons before, including a tearful one at halftime of the Seattle game when he was still on injured reserve. But this time, he was in the line of battle with his teammates in full uniform, prepared to fight right alongside of them.
"Just motivation," Weatherspoon said of this pregame speech. "You get out there and play together, and don't worry about anything else. As long as we have a chance to get on the field, we still feel like we have a chance to help our offense, help win the game. We just talked about playing with a certain energy, man.
"Ultimately, we didn't get the result that we wanted. But we did play with more energy tonight."
Any notion that the Falcons had mailed in the season was put to rest Thursday night, even despite their
17-13 loss
to the rival
New Orleans Saints
. The Falcons played with a sense of urgency despite dropping to a hard-to-imagine 2-9 on the season. They took this game personally, not just because many Saints fans infiltrated the Georgia Dome.
Trying to snap a four-game losing streak and attempting to salvage a dismal season was enough inspiration.
Tight end
Tony Gonzalez
, who insisted this week that the team hadn't quit on coach Mike Smith, was asked why the Falcons came out so motivated.
"Because we've been getting embarrassed," Gonzalez said. "I hope that's the reason why. We're a better football team than what we've showed these last [four] weeks. I think the way we played today was back to that old Falcons style of football. Obviously, we didn't come out and win. But I'm happy. I'm encouraged by it.
"And don't get me wrong -- we still lost. It's a bad taste in our mouths. It's not the outcome that we wanted. We're not accepting it. … We're still disappointed. But at the same time, I'm happy the way we played. If we keep that same attitude, like I said before, things are going to be looking good for us in the future. No doubt."
Progress was watching the defense force a three-and-out on the opening drive and limiting
Drew Brees
and the Saints to three points in the second half. Progress was the Falcons' offense getting consecutive 8-yard runs from
Steven Jackson
and the line paving the way for Jackson's 1-yard touchdown plunge on its opening drive.
[+] Enlarge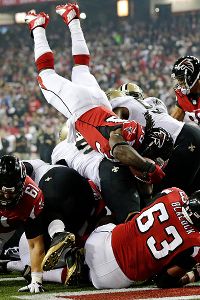 AP Photo/Dave MartinSteven Jackson went over the top for his first rushing TD as a Falcon.
Progress was having a chance to win the game in the fourth quarter, something the Falcons haven't experienced in recent weeks.
"I felt like the effort in the ballgame was good and gave us a chance to win the football game," Smith said. "I like how we started the game. We liked how we started the game. Felt like we played well, in spurts.''
The Falcons might have surged ahead had it not been for an untimely fumble in the red zone by rookie receiver
Darius Johnson
at the start of the fourth quarter. It was another one of those miscues symbolic of how the season has imploded. But Smith emphasized that the fumble was not why his team lost the game.
There were other gaping holes. The offensive line allowed too much pressure on
Matt Ryan
, who was sacked a season-high five times. The defense surrendered another handful of explosive plays, including a 44-yard touchdown catch-and-run by Saints tight end
Jimmy Graham
on a play that safety
William Moore
admitted he botched.
Despite those deficiencies, and the costly fumble, the Falcons had a chance in the final minutes. Smith stood behind his decision not to go for a fourth-and-15 from the Saints' 34-yard line trailing by four with 2:24 left. He opted instead for a 52-yard field-goal try, which
Matt Bryant
missed after the Saints froze him with a timeout. Smith's thought was to pull to within one with the kick, stop the Saints with three timeouts and then drive for a game-winning field goal.
It didn't work out exactly as planned, but at least the Falcons' effort was spirited.
"I thought that we responded to some momentum changes, to some adversity, in the football game," Smith said. "But still not good enough. When you don't win, it's not good enough."
November, 21, 2013
11/21/13
11:40
PM ET
ATLANTA -- A few thoughts on the
New Orleans Saints
' 17-13
win
over the
Atlanta Falcons
, which moved them to 9-2 on the season.
What it means:
This was survival, plain and simple. The Saints didn't necessarily look "sloppy" or "sluggish" on this Thursday night as they did in the same situation last year. Their offense and defense came up with plenty of big plays throughout the night. But New Orleans obviously had to slug this one out against a Falcons team that came out with more energy to start the game.

The Saints will gladly take it. From the day the schedule first came out, they knew this short-week game on the road at Atlanta would be one of the toughest tests of the entire season. And they'll take the win any way they could get it.
Stock watch:
It didn't seem like defensive end
Cameron Jordan
's stock could get much higher during this breakout season. But he was the biggest difference-maker on the field with 2.5 sacks on a night when the Saints needed him badly. Jordan's final sack stalled a Falcons drive after Atlanta had crossed midfield late in the fourth quarter. Jordan now has 9.5 sacks this year and should have punched his ticket to the Pro Bowl on Thursday night.
Go-to guys:
In the process, Jordan stole top billing away from two Saints offensive standouts, tight end
Jimmy Graham
and running back
Pierre Thomas
. Graham caught five passes for 100 yards, including a 44-yard touchdown (when he burned safety
William Moore
on a double move, then dragged him into the end zone the final few yards). This was Graham's sixth 100-yard game of the season, which is tied for most in franchise history, tied for most by any tight end in NFL history and tied for most by any player in the league this year.
The underrated Thomas, meanwhile, was a go-to guy all night with 10 carries for 73 yards and five catches for 57 yards. In the process, he moved into fourth place on the Saints' all-time rushing list with 3,460 yards, moving ahead of Rueben Mayes and Chuck Muncie.
Over the Moon:
Saints quarterback
Drew Brees
was more solid than spectacular, but he was certainly good enough to earn the win. He completed 23 of 33 passes for 278 yards and two touchdowns. In the process, Brees passed Warren Moon for fifth place on the NFL's all-time passing yardage list. He now has 49,566 yards in his 13-year career.
Up next:
The big one! The Saints will take their best shot at the No. 1 seed in the NFC with a Monday night showdown at the
Seattle Seahawks
(10-1). Seattle is always a tough place to play -- especially on a Monday night in early December when weather could be a factor. Not to mention, the physical Seahawks running game and monster defense. Should be a great clash of styles.
November, 21, 2013
11/21/13
11:33
PM ET
ATLANTA -- A few thoughts on the
Atlanta Falcons
'
17-13 loss
to
New Orleans Saints
on Thursday night at the Georgia Dome:

Showing fight:
Tight end
Tony Gonzalez
promised the Falcons would come out with some fight despite entering the game with a 2-8 record. He was right. The Falcons definitely put together a spirited effort against their NFC South rival. It showed from the start when the defense forced
Drew Brees
and the Saints into a three-and-out to begin the game, including two run-stuffing plays. And the offense played with just as much enthusiasm, as evident with
Steven Jackson
's 1-yard touchdown flip -- his first rushing TD with the team. Despite some hiccups in defensive coverage and pass protection, the Falcons competed for almost the entire game, though the defense seemed to just wear down at the very end. It wasn't truly over until
Matt Bryant
missed a 52-yard field-goal try in the final minutes. The Falcons needed to play with the same type of fire the previous four weeks. They've now lost five in a row.
Stock watch:
Undrafted rookie receiver
Darius Johnson
's stock skyrocketed and plummeted all in the same game. He played like a veteran in the first half, catching a team-high five passes for 65 yards. He almost had a touchdown, but a replay review showed he was down at the 1-yard line. As good as Johnson looked, though, he still made some rookie mistakes. He had a key drop across the middle while wide open on a third-and-2 play in the third quarter. Then in the fourth, Johnson fumbled the ball away after a catch, killing a Falcons drive into the red zone.
Third downer:
When the Saints converted 5 of 5 third-down tries on their second drive of the game, you figured it would be a bad night for the Falcons' defense. It was. Atlanta gave up way too much room on third down, allowing the Saints to march at will. Third-down defense and surrendering explosive plays have been a problem for the Falcons all season. They also gave up a 44-yard touchdown from Brees to tight end
Jimmy Graham
.
Line change:
Once again, the Falcons' offensive line experienced a change.
Garrett Reynolds
, who regained his starting spot at right guard after being benched last week, was benched again in favor of center/guard
Peter Konz
. There might be some more changes next time out after the Falcons allowed
Matt Ryan
to be sacked a season-high five times. Left tackle
Lamar Holmes
didn't have a good day going up against right defensive end
Cameron Jordan
(2.5 sacks), and Saints left defensive end
Akiem Hicks
had a field day against the Falcons' linemen, too.
Bad call?
Speaking of Hicks, he wrapped Ryan up high and twisted the quarterback to the ground in the second quarter on a play that appeared to be a roughing penalty. Falcons coach Mike Smith was livid that no call was made. And the sack essentially cost the Falcons a touchdown as they settled for Bryant's 39-yard field goal. A touchdown there might have changed the complexion of the game. Smith and the Falcons are sure to reach out to the league about the officiating.
What's next:
The Falcons have a few extra days to prepare for their trip to Toronto to face the
Buffalo Bills
. Buffalo beat the
New York Jets
37-14 in Week 11 and has a bye this week. In other words, nothing gets any easier for the Falcons moving forward.