NFC South:

2013 Week 13 Upon Further Review
December, 3, 2013
12/03/13
8:00
AM ET
SEATTLE -- An examination of four hot issues from the
New Orleans Saints
' 34-7 loss to the
Seattle Seahawks
at CenturyLink Field.
Dome or doomed?
Even after one of their ugliest losses of the Sean Payton-
Drew Brees
era, Brees steadfastly denied that the Saints struggle outside of the Mercedes-Benz Superdome. He again pointed out that they have the best road record in the NFL since 2009 and said, "If you just look at that, nobody's really done their research obviously." However, Brees didn't try to deny what had just played out on the field in Seattle.

Payton
Brees
"We certainly didn't prove anybody wrong who's saying that by tonight's performance," Brees said.
The truth lies somewhere in the middle. The Saints (9-3) aren't automatically doomed outside of the Superdome. They're just a lot more human. And that doesn't play well in matchups against teams like Seattle. The Saints only turned the ball over once (a costly fumble when Brees was sacked in the first quarter). But Seattle's defense was stifling, holding New Orleans to 188 yards (the Saints' lowest total since 2001). Whether it's the location or the opponent, the Saints will have to figure out how to deal with both if they want to get past the NFC Championship Game, because it will almost certainly be played in Seattle. But first they have to get past the
Carolina Panthers
in the NFC South.
Nowhere to throw:
Brees threw for only 147 yards -- his lowest total since 2006. His streak of 43 consecutive games with 200 passing yards ended -- two shy of the NFL record held by Hall of Famer Dan Fouts. Brees was under duress a few times (such as when end
Cliff Avril
caught him from behind on the forced fumble). But mostly the Seahawks were blanketing all of his targets.
Richard Sherman
broke up two deep pass attempts. According to ESPN Stats & Information, Brees was 0-for-8 on throws 15 yards or more down the field.
Defenses that can get physical on the Saints' receivers and tight end
Jimmy Graham
have always caused the Saints the most problems. The Panthers might be able to do the same -- but the Saints will test them right back, especially in the Superdome.
Sleight of hand -- or feet:
The Saints defense sold out to stop running back
Marshawn Lynch
-- and the Seahawks made them pay for it. While they held Lynch to 45 yards on 16 carries, everyone else seemed to burn them. Seattle quarterback
Russell Wilson
threw for 310 yards and three touchdowns and ran for 47 yards on eight carries. The Saints bit on play-action too often and got burned when they blitzed -- one time with their five-linebacker alignment. It wouldn't be a huge concern, because Seattle is built differently than most teams and simply won the chess match this time. But Carolina is built almost exactly the same way -- so the Saints need to be a lot more disciplined against the Panthers and quarterback
Cam Newton
.
Strief optimistic:
Saints right tackle
Zach Strief
left Monday night's game with a left ankle injury, but said afterward that he's optimistic he can return sooner than later. "We'll see," Strief said. "I'm not a guy that has to be 100 percent; I'm a bad enough athlete. I think it scared me a good bit on the field, but it's not as bad as it could have been. So we'll see how it goes [Tuesday]."
December, 2, 2013
12/02/13
8:11
AM ET
A review of four hot issues from the
Atlanta Falcons
'
34-31 overtime win
over the
Buffalo Bills
on Sunday at Toronto's Rogers Centre:
Ryan
Jackson
In the running
: The Falcons were able to balance things on offense with a solid rushing attack.
Steven Jackson
led the way with 84 yards on 23 carries as the Falcons rushed for 151 yards, 1 yard shy of their season high. Jackson credited offensive coordinator Dirk Koetter. "I'm definitely in my rhythm now,'' Jackson said. "[Koetter] is allowing me to get multiple touches. He's allowing me to stay in the rhythm of the game. And that's when I feel at home. That's when I feel that I'm at my best. And the offensive line is doing a good job of getting me some push, giving me some options.'' Not to mention Jackson got help from small wonder
Antone Smith
, who turned his one carry into a 38-yard touchdown. "I'm very happy for him,'' Jackson said of Smith. "He comes in there and makes it look easy.''
Stumbling and bumbling
:
Matt Ryan
completed 28 of 47 passes for 311 yards and a touchdown. Plus he connected with
Harry Douglas
for a 20-yard gain in overtime to set up
Matt Bryant
's game-winning 36-yard field goal. But Ryan also had a few uncharacteristic missteps, like when he stumbled dropping back while at the goal line and when he had a fumbled exchange with center
Joe Hawley
. The latter was recovered by Bills linebacker
Kiko Alonso
, setting up a Buffalo touchdown. Ryan was asked what happened on the exchange. "We just weren't on the same page, for whatever reason,'' Ryan said without going into detail.
On the line
: As Jackson noted, the offensive line did a nice job clearing some holes in the run game. But once again, there was too much pressure on Ryan, who was sacked a season-high six times. One of those, of course, was when he stumbled. Some of the others, however, could have been avoided with better protection up front. On one play, the Bills ran a stunt that seemed to confuse left tackle
Lamar Holmes
and left guard
Justin Blalock
. When Ryan got sacked by
Mario Williams
early in the fourth quarter, it knocked the Falcons out of field goal range. The coaches made some tweaks along the line, like giving rookie
Ryan Schraeder
more playing time as the extra tackle and allowing him to spell
Jeremy Trueblood
at right tackle. More tinkering obviously is needed or else Ryan might not finish the season.
Hit list
:
William Moore
got flagged for another illegal hit, this time for what the official called a high hit on Bills wide receiver
Robert Woods
. Moore already has been fined $74,550 for four illegal hits this season, according to NFL records. Considering how Titans safety
Michael Griffin
recently was suspended one game for repeated illegal hits, one has to wonder if Moore could face the same punishment now. As for the latest violation, Moore really had no explanation. "As every other hit, I don't know until I watch it on film,'' Moore said. "Y'all seen it better than I did. I didn't watch replay. It's just happened so quick. And I guess I got to go appeal it, as every other one.'' The hit didn't take away from Moore's late-game heroics, as his forced fumble in overtime paved the way for the Falcons' first road win of the season.
December, 2, 2013
12/02/13
8:00
AM ET
CHARLOTTE, N.C. -- A review of four hot issues from the
Tampa Bay Buccaneers
' 27-6
loss
to the
Carolina Panthers
on Sunday:
The Schiano Watch:
During a three-game winning streak, it appeared as if coach Greg Schiano's grip on his job security was getting stronger. But an ugly loss to Carolina put Schiano firmly onto the hot seat. The reality is he's won only three games, and that's not enough. With just four games left, Schiano needs to finish strong to have any chance of keeping his job in 2014.
[+] Enlarge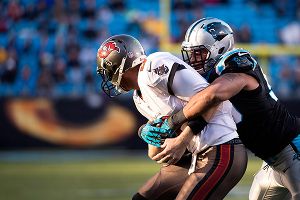 Bob Donnan/USA TODAY SportsThe Panthers sacked Mike Glennon five times, the most for the rookie quarterback in his young career.
Glennon's rough day:
The knock on quarterback
Mike Glennon
coming out of college was that he wasn't mobile enough to play in the NFL. Glennon had done a reasonable job of dispelling that thought -- until Sunday. He was sacked five times and intercepted once. Put some of the blame on the offensive line and give Carolina's pass rush some credit. But it's also worth pondering if Glennon is mobile enough to be truly successful.
No running game:
Schiano prides himself on a basic formula that starts with running the ball well on offense. But the Bucs didn't come close to doing that against Carolina. With the Panthers daring Glennon to beat them, they devoted most of their attention to stopping the running game. That worked nicely for Carolina. The Bucs netted only 16 rushing yards in the first half.
Bobby Rainey
had some success in the second half, finishing with 63 yards on 17 carries. But the Bucs need to run the ball consistently well for their formula to work.
Revis' injury:
For the second week in a row, cornerback
Darrelle Revis
went down with an injury. Revis, who was listed as questionable for the game with a groin injury, had to leave the game in the third quarter. Revis injured his shoulder and chest attempting to intercept a pass intended for
Steve Smith
. After the game, Schiano didn't have any update or details on Revis' condition.
December, 2, 2013
12/02/13
8:00
AM ET
CHARLOTTE, N.C. -- A review of four hot issues from the
Carolina Panthers
' 27-6
victory
over the
Tampa Bay Buccaneers
:
How confident are they?
The Panthers are so confident that left tackle
Jordan Gross
said he hopes New Orleans beats Seattle on Monday night to make Sunday's NFC South showdown at the Mercedes-Benz Superdome even bigger. That's nice and all, but Gross really should be pulling for a Seattle victory. A loss by the Saints would leave them tied with Carolina at 9-3. That means the Panthers could take a one-game lead instead of move into a tie with a victory over the Saints in the first of two meetings over the next three weeks. A Saints loss tonight also would make New Orleans 7-1 in NFC games, giving Carolina (7-2 NFC) a chance to take the edge in that tiebreaker next week. Carolina is two games back of Seattle in the overall standings, with a 12-7 loss to the Seahawks in the opener that really makes it three games back.
[+] Enlarge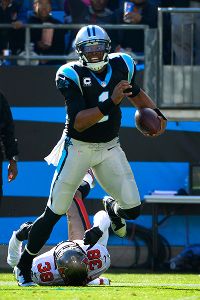 Bob Donnan/USA TODAY SportsCam Newton led all Panthers with 68 yards rushing, including a 56-yard scramble in the first quarter.
Newton's 56-yard run:
If you thought quarterback
Cam Newton
appeared ready to go down near the first-down marker early in his 56-yard, first-quarter run, you're right. But Newton thought otherwise when he saw wide receiver
Steve Smith
throw a block to seal off the left side, opening up a lane that got him to the 15. If you're wondering if Newton was tripped by Tampa's
Dashon Goldson
, or simply went down on his own, Newton said, "I'm going to stick to he tripped me up. ... I've just got to be better than that. I'm not going to hear the last of that.''
Why Hardy didn't start:
Defensive end
Greg Hardy
was held out for the first two defensive snaps because he was late for a team meeting last week, the Charlotte Observer reported. Hardy also was fined an unspecified amount. That left the Panthers without both starting ends for the start of the game.
Charles Johnson
missed his second straight start with a sprained right knee. Hardy came back to record a sack and two quarterback hurries. Johnson is expected back this week against New Orleans.
Marquee move for Ginn:
Tampa Bay's
Darrelle Revis
is considered one of the top cornerbacks in the NFL, so Carolina wide receiver
Ted Ginn Jr.
should take great pride in the move that freed him for a 36-yard touchdown catch in the third quarter. The hitch-and-go route left Ginn all alone down the left sideline, and Newton hit him in stride for the touchdown. It is yet another step in the development of Ginn -- who came to Carolina primarily as a kick returner -- into a quality receiver.
Halftime adjustments:
If a good way to judge a team is how well it adjusts at halftime, then the Panthers are one of the elite teams. Tampa became the fourth opponent in the past five games that has failed to score against the Panthers in the second half. Only New England, with 17 second-half points, has scored. Overall, Carolina has given up 157 points to rank first in the NFL. In case you're wondering, the NFL record for fewest points allowed in a 16-game season is 165 by the 2000
Baltimore Ravens
. The 1986
Chicago Bears
, a team coach Ron Rivera played linebacker for, ranks second at 187.

NFC SOUTH SCOREBOARD
Thursday, 9/18
Sunday, 9/21