NFC South:

2013 Week 14 ATL at GB
December, 9, 2013
12/09/13
1:00
AM ET
GREEN BAY, Wis. -- It wasn't the ideal way for
Sean Weatherspoon
to score his first career touchdown, but he'll take it.
Weatherspoon
The
Atlanta Falcons
linebacker's 71-yard interception return for a score Sunday was the result of Weatherspoon grabbing a ball that bounced off the foot of teammate
Paul Worrilow
. Green Bay quarterback
Matt Flynn
delivered the pass, which was initially tipped by Falcons defensive lineman
Peria Jerry
before it bounced off Worrilow's right foot.
Most of the Packers seemed confused by the play and stopped. Weatherspoon didn't.
"We're just coached to finish," Weatherspoon said. "You want to sell it, even if it ain't ... so what if it hit the ground, you still have got to take that chance.
"That's a great play by Worrilow. I'm not sure what happened to the ball before he hit it -- before he kicked it, actually. It's awesome, though."
Weatherspoon, who missed seven games with a Lisfranc foot sprain, made the play much more dramatic with his long run and a smooth sidestep to avoid 318-pound Packers offensive guard
T.J. Lang
.
"I had to cut back," Weatherspoon said. "That's why we kind of have to time it up where I didn't want to exert too much. And I cut back on him, and the guys just led me."
Robert Alford
threw the key block on Packers receiver
Jarrett Boykin
while Worrilow raced down the field also looking to clear a path for Weatherspoon. Worrilow explained how the play got kick-started.
"It was just a reaction," Worrilow said of the kicked ball. "It's not like I was trying to kick it to myself. I really had no control over it. It was just a natural reaction. I was just trying to keep the ball in play. Fortunately, it went to Spoon and not somebody else.
"As soon as I saw he had it, I took off trying to make a block for him. It was a big play. It was a big momentum swing."
Yet the Falcons couldn't sustain the momentum. They scored two touchdowns as a result of turnovers: the Weatherspoon return and
Matt Ryan
's 2-yard touchdown pass to
Tony Gonzalez
after
Malliciah Goodman
recovered a Flynn fumble, caused by
William Moore
.
Although the result was a victory for the Packers, the kicked interception is sure to be the most memorable moment of the game.
"That was a unique play in terms of the ball was tipped and then it was kicked up in the air," Falcons coach Mike Smith said. "Sean made a great run after the catch. And we had some guys doing a nice job blocking downfield."
December, 8, 2013
12/08/13
6:00
PM ET
GREEN BAY, Wis. --
Atlanta Falcons
head coach Mike Smith didn't second-guess his decision to go for it on fourth down rather than have
Matt Bryant
attempt a 51-yard field goal with two minutes remaining in Sunday's
22-21 loss
to the
Green Bay Packers
.
The Falcons failed to convert on fourth-and-5 from the Packers' 33-yard line as
Tony Gonzalez
couldn't come up with a pass from
Matt Ryan
. Green Bay cornerback
Jarrett Bush
defended the pass well, which affected Gonzalez.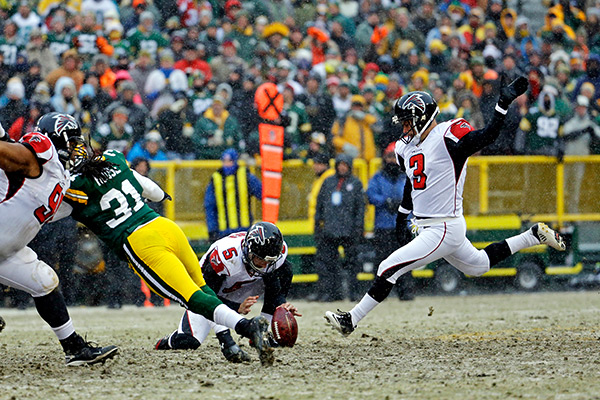 AP Photo/Morry GashMatt Bryant missed a 52-yard field goal attempt, which influenced coach Mike Smith's decision to go for it on fourth down later in the game.
Bryant missed a 52-yard field goal attempt earlier in the fourth quarter, which factored into Smith's decision.
"Well, we had missed from the [34-yard line] on the prior attempt and it was about 2 or 3 yards short," Smith said. "… So we did not think that we had an opportunity there to kick the field goal. And that's why we went for it on fourth down."
The elements no doubt factored into the decision. It was 9 degrees at kickoff with a wind chill of minus-1 at snowy Lambeau Field. Bryant came up short on several attempts during warmups and did the same on his one attempt.
"We felt like, going in warmups, that was right at the line for us to kick it," Smith said, referring to the missed 52-yarder. "The ball, he hit it good. The ball just didn't carry. It's tough to judge when you starting talking about hitting cold balls."
Bryant didn't question his coach's choice not to go for the second attempt, although Bryant obviously wanted to redeem himself. But Bryant felt good about his initial try.
"As soon as it left my foot, I thought it was in all the way," Bryant said. "And then I happened to look up and see the guy waving 'no good.' So, I was kind of surprised because that was probably the best ball I hit, counting the extra points. From the sideline, they said it looked like it got to a certain point and just kind of stopped.
"If I had that one over again, I think I could have made a few little adjustments here and there. Today was a tough day from that kind of distance, in my opinion."
Bryant said the wind was "weird" Sunday, yet he still felt confident about how he hit the 52-yarder. In terms of the adjustments he could have made, the kicker offered a simple solution.
"Swing harder," he said.
Sunday marked just the fourth time Bryant had kicked outdoors this season. He is now 2 of 4 from 50-plus yards this season.
Packers kicker
Mason Crosby
made field goals of 40, 33 and 25 yards.
December, 8, 2013
12/08/13
4:05
PM ET
GREEN BAY, Wis. -- A few thoughts on the
Atlanta Falcons
' 22-21
loss
against the
Green Bay Packers
on Sunday at Lambeau Field.

What it means:
At least the 3-10 Falcons showed they could compete in the elements. This was their first true cold-weather game of the season after playing nine of the first 12 indoors. They jumped out to a 21-10 lead, and though the conditions contributed to a missed 52-yard field goal attempt by
Matt Bryant
, the Falcons didn't seem to be affected at all by the scattered snow, light wind and temperatures in the teens and below. The only other game the Falcons play that would be affected by weather is at San Francisco (Dec. 23), where rain sometimes is a factor.
Dropping the ball:
Rather than allow Bryant to attempt a 51-yard field goal after his miss from 52 yards, the Falcons went for a critical fourth-and-5 from the Green Bay 33 in the final minutes.
Matt Ryan
tried to find tight end
Tony Gonzalez
, but the ball was a little behind him. It allowed Packers cornerback
Jarrett Bush
to make a play on the ball, and Gonzalez couldn't come up with the catch despite having it in his hands. Gonzalez is tough on himself, so he'll probably chalk that up as a drop. When the Falcons got the ball back for a final drive,
Harry Douglas
had a crucial drop in the final seconds that might have helped set up a game-winning field goal.
Stock watch:
Linebackers for the Falcons saw their stock soar.
Sean Weatherspoon
took a ball that deflected off fellow linebacker Paul Worrilow's foot and rambled 71 yards for an interception return when most of the Packers thought the play was dead. Outside of his soccer-style assists, Worrilow once again surpassed double digits in tackles and came blitzing for a sack. He also assisted on another sack. Maybe he should get some rookie of the year consideration.
Youth movement:
The Falcons continued to groom some of their young players for the future. Rookie cornerback
Robert Alford
started ahead of
Asante Samuel
at left cornerback, and
Ryan Schraeder
didn't start but took most of the snaps at right tackle ahead of
Jeremy Trueblood
. Both had their hiccups, but that's part of the growing pains. Also, rookie
Zeke Motta
stepped in at safety after starter
Thomas DeCoud
was knocked out of the game with a head injury. Motta showed his ability to tackle, but had some problems in coverage. Not to be forgotten was wide receiver
Drew Davis
, who hauled in a 36-yard touchdown reception in the second quarter.
What's next:
The Falcons return to the comfort of the Georgia Dome for a matchup with the struggling
Washington Redskins
.
Robert Griffin III
has lost some of the luster that followed his outstanding rookie season. Still, the Falcons have to be aware of his capabilities.