NFC South:

2013 Week 15 SF at TB
December, 15, 2013
12/15/13
8:13
PM ET
TAMPA, Fla. – One time might have been an exception. Two times might have been a fluke.
But string three shaky performances by a rookie quarterback together and it sure looks like a trend.
[+] Enlarge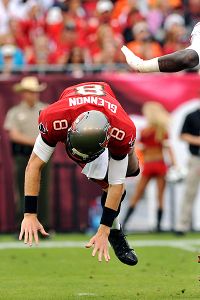 Al Messerschmidt/Getty ImagesMike Glennon completed 18 of 34 passes and threw an interception in his third straight shaky game.
No matter how the
Tampa Bay Buccaneers
spin it – and they certainly tried –
Mike Glennon
took several steps backward in Sunday's
33-14 loss
to the
San Francisco 49ers
. Following back-to-back rough outings against Carolina and Buffalo, Glennon on Sunday completed 18 of 34 passes for 179 yards and two touchdowns, with one interception.
The numbers don't do justice to how pedestrian Glennon and the offense looked while falling behind 17-0 before finally stringing together a scoring drive at the end of the first half. That's where the postgame spin came in.
"I don't think he took steps back today," coach Greg Schiano said of Glennon. "The only way we moved the ball was when we went to two-minute and no-huddle, and Mike's the one who controlled the whole operation, moving it down the field against arguably one of the top three defenses in the league. We didn't perform in some areas. But I think Mike gave us the spark."
Yeah, the drive at the end of the first half was nice. So was a lengthy drive at the end of the third quarter that wound up with Glennon throwing a touchdown pass to
Tim Wright
on the first play of the fourth quarter to cut San Francisco's lead to 20-14.
But the NFL plays a 60-minute game, and the most telling statistic of the day might have been that the 49ers held the ball for 39:50, while the Bucs had it for 20:10. Glennon wasn't getting any help from the running game.
While the Bucs were going three-and-out on most of their early possessions, Glennon, whose strength is supposed to be the deep ball, was throwing mostly dump-offs.
"I just go through my progression," Glennon said. "If my progression takes me there, that's where I'm going to go. With the style of defense they play, we just had to get completions and kind of play that kind of game. We knew it was going to be tough to throw the ball down the field."
Virtually all of Glennon's success came when the Bucs went with a hurry-up offense. That makes it fair to question whether the Bucs should be putting more on Glennon's plate.
"I don't think we're playing around him," Schiano said. "I think he's got the full playbook. Can we do more? We have done some. What we went to today was true no-huddle because we felt that was one thing we had some success with at the end of the half and we said, 'Let's be ready to jump into it.' We did it all but one series in the third and fourth quarters. The problem is they had a 10-minute drive in the fourth quarter. They played keep-away, which is what you worry about with that offensive football team because they're capable."
But, for most of the day, Tampa Bay's offense wasn't capable of doing its job.
December, 15, 2013
12/15/13
6:33
PM ET
TAMPA, Fla. -- Suddenly, this wild and wacky season seemed like it was about to make total sense for the
Tampa Bay Buccaneers
.
Without any real warning, the Bucs suddenly seemed on the verge of beating a good football team. Raymond James Stadium was starting to rock like it used to in the glory days. Greg Schiano's hot seat seemed to be on the verge of getting hit by air conditioning.
Then, in a fashion in which the Bucs have trademarked this season, it all fell apart. Water found its own level and the
San Francisco 49ers
defeated the Bucs
33-14
in what might have amounted to Schiano's last stand.
[+] Enlarge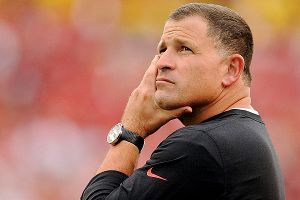 Stacy Revere/Getty Images"We felt like we had the opportunity and we let it go," Greg Schiano said after the Bucs' latest loss.
Despite being dismal on offense for the better part of three quarters, the Bucs were right where they wanted to be. With 12 minutes, 9 seconds left in the game, they trailed 20-14. San Francisco had the ball and faced a third-and-12 from its own 29-yard line.
A stop there and maybe Tampa Bay's offense, which had suddenly found some momentum, could have squeezed out a touchdown drive to win the game. It all seemed to be going according to plan as defensive ends
Da'Quan Bowers
and
William Gholston
chased San Francisco quarterback
Colin Kaepernick
out of the pocket and toward the sideline.
A sack and a punt and Tampa Bay's offense might have faced a short field. But Tampa Bay's season is a story of "what ifs," and this became the biggest one of all. What if Bowers or Gholston makes the sack? What if Kaepernick throws the ball away?
It doesn't really matter because Kaepernick scrambled free and found
Michael Crabtree
for a first down. That helped keep alive a drive that lasted 10:27 and resulted in a San Francisco field goal.
"We want to be respected," linebacker
Lavonte David
said after the Buccaneers fell to 4-10. "Even though our record shows otherwise, we want to show that we're a real force in this league. We feel like, this record that we've got, it's not supposed to be like that. We had the opportunity against a great football team. We showed up, but the 10-minute drive kind of killed us."
The 49ers followed that with a knockout punch that the Bucs helped deliver. On the kickoff after the field goal, the Bucs attempted a reverse, but a handoff between
Eric Page
and
Russell Shepard
went awry and San Francisco took the ball into the end zone for a touchdown and a 30-14 lead. That effectively ended the game.
"All week, we talked about making it a fourth-quarter game," Schiano said. "A heavyweight fight, get it to the fourth quarter and find a way to win. That's why it's very disappointing for players and coaches alike, is that we felt like we had the opportunity and we let it go."
This little turn of events was about ending more than just one game. It's the story of the season. Another opportunity lost, and maybe the final straw in a coaching tenure.
A victory would have made the Bucs winners of five of their last six games. It would have been the fourth straight home win. Follow it up with victories at St. Louis and New Orleans and Schiano's job probably becomes pretty secure.
But the reality is the Bucs are sinking toward the bottom of the NFC, and even the most optimistic fan can't argue that the arrow is pointing up. There's a huge decision ahead.
Does Schiano get a third year or does he get fired? Does general manager Mark Dominik get brought back for a sixth season?
That decision is ultimately up to the Glazer family, which owns the team. History has shown the Glazers are unpredictable, and it's anyone's guess what they'll do with Schiano.
But let's close this out with a little exercise in common sense. Back in the preseason a lot of people -- and we're talking people outside and inside One Buccaneer Place -- believed the Bucs could make the playoffs this season after going 7-9 in Schiano's first year.
Now, they're staring down the barrel at 4-12, maybe 5-11 or, at best, 6-10. None of those options are attractive.
A victory against the 49ers, and all the positives that could have followed, quite possibly would have solidified Schiano's grip on his job. But that victory didn't happen. It slipped away, just like the rest of the season.
You have to wonder if Schiano's chance to stick around slipped away Sunday.
December, 15, 2013
12/15/13
4:09
PM ET
TAMPA, Fla. -- A few thoughts on the
Tampa Bay Buccaneers
'
33-14 loss
to the
San Francisco 49ers
on Sunday.

What it means:
Another season of double-digit losses for a franchise that has had way too many of them. The Bucs are 4-10, but this one is especially painful because the Bucs squandered a chance to beat a good team for their fourth consecutive victory at Raymond James Stadium. Had that happened, coach Greg Schiano might have saved his job. Now, Schiano is firmly on the hot seat with two road games (
St. Louis Rams
and
New Orleans Saints
) remaining.
Drive of the day:
After being bottled up most of the day, rookie quarterback
Mike Glennon
led an impressive touchdown drive that stretched from late in the third quarter until early in the fourth quarter.
Almost the play of the day:
Linebacker
Lavonte David
appeared to have an interception return for a touchdown, but it was wiped out by an offside penalty on defensive tackle
Gerald McCoy
.
Ugly play of the day:
The Bucs finally tried to get creative when they were trailing 23-14 in the fourth quarter. They attempted a reverse. But a handoff from
Eric Wright
to Russell Shepard was botched, and the 49ers recovered the fumble and took it in for the touchdown.
Stock watch:
There were a fair number of bright spots from the Tampa Bay defense. But there was one consistent problem. The Bucs continually allowed San Francisco quarterback
Colin Kaepernick
to extend plays by scrambling, and that cost the Bucs dearly.
Injury report:
Safety
Mark Barron
suffered a hamstring injury in the second half and did not return.
What's next:
The Buccaneers play at St. Louis on Sunday.
December, 15, 2013
12/15/13
2:28
PM ET


TAMPA, Fla. -- The
Tampa Bay Buccaneers
came into Sunday with a chance to close out their home schedule with four straight wins.
At halftime, the chances of that happening are looking pretty slim. The
San Francisco 49ers
hold a
17-7 lead
, but a glimmer of hope emerged as
Mike Glennon
hit
Vincent Jackson
with a touchdown pass near the end of the first half.
Tampa Bay's defense is playing well. If the offense can play like it did on the last drive, the Bucs still could have a chance to get back into this game.
Join us for the
in-game chat
and check back here for full coverage after the game.