NFC South:

2013 Week 16 Rapid Reaction
December, 23, 2013
12/23/13
11:49
PM ET
A few thoughts on the
Atlanta Falcons
'
34-24 loss
to the
San Francisco 49ers
on Monday night:

What it means:
Although the Falcons showed a lot of fight and might have spoiled the night -- had
NaVorro Bowman
not picked off a ball deflected from Falcons receiver
Harry Douglas
' hands and returned 89 yards for the game-clinching touchdown -- the loss might have helped Atlanta in the end. Now, at 4-11, the Falcons are sixth in the draft order with a chance to move up, depending on the outcome of the final weekend of games. Some fans continue to lobby for South Carolina defensive end
Jadeveon Clowney
, but the Falcons would likely need a top-five pick to even have a chance at Clowney. Whatever the case, the draft will be intriguing for a team trying to recover from an unexpected fall down the NFL standings.
Stock watch:
Drew Davis
' stock grew on one play. The unheralded receiver not only helped with a block at the line of scrimmage, he then found an opening down the field, caught a pass from
Matt Ryan
, did a spin and picked up 45 yards after the catch en route to a career-long 59-yard reception. It helped set up
Steven Jackson
's 2-yard touchdown run. Davis has made some plays this season and probably deserved more opportunities.
Matt Bosher
's stock also rose after the punter/kicker executed a perfect onside kick that was recovered by
Jason Snelling
, although it all went for naught after Bowman's pick-six.
Crucial calls:
Two defensive penalties on the Falcons will be talked about the next few days, and only one of them should have been called. Veteran defensive end
Osi Umenyiora
made a rookie mistake when he lined up in the neutral zone with the 49ers facing third-and-10 from their own 17. It gave the 49ers a more manageable third down, which they converted, and the drive ended with
Colin Kaepernick
's touchdown pass to
Anquan Boldin
. Then, on the very next 49ers drive, Falcons rookie linebacker
Paul Worrilow
was whistled for a phantom pass-interference penalty on third down. The questionable call helped set up a San Francisco field goal.
Wounded warriors:
The Falcons were already down one defensive starter when linebacker
Sean Weatherspoon
was declared inactive with a knee injury. Then, early in the game, starting defensive tackle
Corey Peters
went down with an Achilles injury. That's bad news for Peters, who is set to become a free agent. Running back
Jacquizz Rodgers
and receiver Douglas also got banged up during the game, but Douglas returned in time to surpass 1,000 receiving yards for the season.
What's next:
Sunday's season finale against the
Carolina Panthers
should be all about
Tony Gonzalez
. The Hall of Fame-bound tight end will play his final NFL game in front of the home crowd at the Georgia Dome. The organization is likely to honor Gonzalez with a video tribute. He won't go out with a Super Bowl ring, but Gonzalez will still walk off a true champion.
December, 23, 2013
12/23/13
12:10
AM ET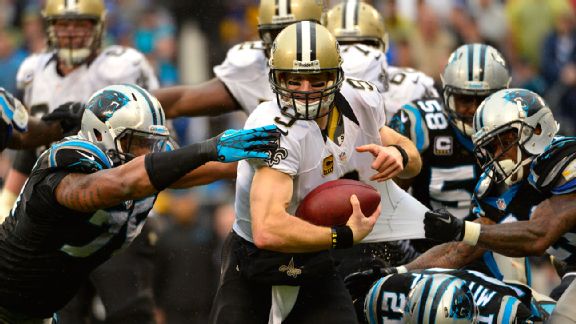 Bob Donnan/USA TODAY SportsDrew Brees and the Saints fell to 3-5 away from New Orleans this season.
CHARLOTTE, N.C. -- The road has been cruel and unmerciful to the
New Orleans Saints
all season.
But never more so than in Sunday's
17-13 loss
to the
Carolina Panthers
.
This one was the hardest for the Saints (10-5) to take because they were actually proud of their effort. This wasn't like those games in which they flat-lined at St. Louis or New York or Seattle. This time, they grinded and gritted and gutted out a performance that was almost good enough to win for 59 minutes.
The offense wasn't pretty, but it was resilient, churning out a 97-yard touchdown drive midway through the fourth quarter that felt like the one that would finally end this epidemic of ugly road losses.
And then it took all of 32 seconds for Carolina's
Cam Newton
to march his team down the field in the final minute for a game-winning and gut-wrenching touchdown.
Now, as further punishment for their 3-5 record on the road this season, the Saints almost certainly will have to hit the road as a wild-card team in the playoffs -- although they still could finish anywhere from the No. 2 seed to out of the playoffs entirely.
"It's the most disappointed this locker room has been all season. It's wildly disappointing," said Saints offensive tackle
Zach Strief
, who in the same breath said it had been a long time since he was so proud to be a part of a team because of the way the Saints battled.
"That's a tough way to lose," Strief added. "And the fact of the matter is for all the energy, for all the excitement, for all the effort, at the end of the day, it counts as if you didn't have any of it."
Those contradictory emotions -- devastated by losing, encouraged by the effort -- were prevalent inside the Saints' postgame locker room. In fact, coach Sean Payton and quarterback
Drew Brees
were surprisingly positive after the defeat.
"We didn't get the win, but we played like we're going to get plenty of them," Payton said -- changing his tune dramatically from one week earlier when the Saints came out lifeless at St. Louis. "We gave up the big drive at the end. But it's disappointing, it's not discouraging. We'll be just fine [if we keep playing with that effort]."
That positive attitude speaks to just how bad the Saints' road epidemic has become this season.
Or maybe it just speaks to the fact that the Saints know they'll need something positive to cling to when they hit the road next -- which likely will be two weeks from now in a cold-weather city like Philadelphia or Chicago. (The Saints can still win the No. 2 seed if they beat Tampa Bay at home and Carolina loses at Atlanta. Or the Saints could miss the playoffs if they lose to Tampa, San Francisco wins Monday night and Arizona beats San Francisco next week).
"Of course it is painful, but we are trying to draw from the positives," Brees said. "We put together a game plan that I really felt like we executed for the most part really well, both offensively and defensively. And, you know, it didn't result in a lot of points, it didn't result in a lot of flair. But the fact of the matter is it gave us a chance to win in the end.
"[There are] just a couple little things here and there that I think we recognize that we can still improve upon. But it's all out there in front of us."
I do agree with the sentiment that the Saints showed a lot of resiliency Sunday.
I'm not sure I agree, though, that it was just a couple of "little" things that prevented them from winning.
It's still remarkable how vastly different this offense plays on the road. Brees was sacked six times Sunday -- tied for the most since he joined the Saints in 2006 -- as rookie left tackle
Terron Armstead
struggled in his starting debut with the Saints.
Brees threw interceptions in the second and third quarters before finally putting that touchdown drive together in the fourth quarter -- which required a 46-yard catch-and-run by tight end
Jimmy Graham
to get the drive going.
But the Saints followed up that touchdown drive with two three-and-outs late in the fourth quarter, once when they tried to pass, once when they settled for clock-eating run plays.
Meanwhile, the Saints' defense was downright dominant for almost the entire game Sunday, except for some dramatic breakdowns at the end of each half.
They allowed a 43-yard touchdown run by
DeAngelo Williams
late in the second quarter. And they allowed Newton to complete a 37-yard pass to
Ted Ginn
to start that final drive and a 14-yard touchdown pass to
Domenik Hixon
to end it.
The Saints blitzed six men on the final play, but safety
Malcolm Jenkins
was barely knocked off balance by fullback
Mike Tolbert
's fingertips. And Hixon came back to make a diving catch in front of cornerback
Corey White
.
Emotionally, Saints defensive players admitted it was hard to take.
"To play the way we did the entire game and shut 'em down and really feel like we dominated most of the game -- then when the team needed us most, not to come off the field and come away with a victory, that's the most disappointing and frustrating and leaves you sick to your stomach," Saints linebacker
Curtis Lofton
said.
Just like the offense, though, the Saints' defenders didn't have many regrets about their plan or their effort. They held Carolina to 222 yards, sacked Newton four times and didn't allow the Panthers to convert a third down in nine chances.
"There's really not much you can look at and get mad at," Jenkins said. "We played it just the way we knew we had to. Played hard. Handled the conditions. Battled on defense. Got drives on offense when we needed. Just the last minute of the game kind of lost it there.
"We've just got to take this loss and go back to work because we've still got all our dreams and plans in front of us. It just might be a different road than we expected."
December, 22, 2013
12/22/13
4:35
PM ET
CHARLOTTE, N.C. -- A few thoughts on the
New Orleans Saints
'
17-13 loss
to the
Carolina Panthers
, which moved them to 10-5 on the season and put the Panthers in the driver's seat to win the NFC South.

What it means:
A disastrous loss for the Saints. Losing would have been gut-wrenching in any fashion -- but especially the way they did it, blowing a 13-10 lead in the final minute. The Saints' defense played great for almost the entire game before completely breaking down on a five-play, 65-yard touchdown drive that lasted just 32 seconds. The final dagger was a 14-yard touchdown pass from
Cam Newton
to
Domenik Hixon
to burst a failed blitz.
Once again, the Saints' offense struggled mightily on the road (though it did nearly pull it out with a terrific 97-yard touchdown drive midway through the fourth quarter). Now the Saints will almost certainly have to hit the road for the playoffs as a wild-card team.
Carolina (11-4) can clinch the NFC South title and No. 2 seed with a victory next week at Atlanta -- or with a Saints loss at home to Tampa Bay. The Saints still need to win or have the
Arizona Cardinals
lose one of their final two games to officially clinch a playoff spot.
Under pressure:
Once again, the Saints' offense proved to be a completely different unit on the road. After scoring 31 points and throwing four touchdown passes against these same Panthers in New Orleans two weeks ago, they nearly got shut out of the end zone Sunday. Quarterback
Drew Brees
was sacked six times, tied for his most in a Saints uniform. He also threw two interceptions.
Stock watch:
Rookie left tackle
Terron Armstead
didn't fare much better than his predecessor,
Charles Brown
. Armstead could be credited for allowing four of the sacks -- at least two of which he was badly beaten by
Greg Hardy
. He settled in a bit during the second half, but it was clearly a problem for the Saints all day. Most of the sacks were a result of good downfield coverage by the Panthers. Even when Brees had time to throw, he struggled to find open receivers and settled for underneath throws.
Up next:
The Saints likely won't bench their starters at home against Tampa Bay -- even if they do clinch a playoff spot later Sunday. The Saints need to hold out hope that the Panthers might suffer an emotional letdown and lose at Atlanta. Stranger things have happened.
December, 22, 2013
12/22/13
4:09
PM ET
CHARLOTTE, N.C. -- A few thoughts on the
Carolina Panthers
' 17-13
victory
over the
New Orleans Saints
:

What it means:
The Panthers (11-4) clinched their first playoff berth since 2008 and have a chance to win the NFC South and first-round bye with a victory at Atlanta next week. It happened on a day when the defense played spectacular and the offense made just enough plays to get by. It extended the team's home winning streak to seven straight and gave the Panthers their 10th win in their past 11 games overall. Their magical season continues.
Stock watch:
Quarterback
Cam Newton
was having his absolute worst home game of the season. Then he completed three of four passes in the final minute, including a game-winning, 14-yard touchdown pass to
Domenik Hixon
with 23 seconds left. It was the third last-minute, winning drive of the season for the first pick of the 2011 draft. It made the rest of his miserable day forgotten.
Stock watch II:
Usually this is for a player, but this goes to the league's second-ranked defense that played like it. On a day when it was forced to stay on the field way longer than normal, it kept the powerful Saints offense that had blistered it for four touchdown passes and 31 points two weeks ago out of the end zone until a fourth-quarter touchdown pass from
Drew Brees
to
Jimmy Graham
.
Davis for Pro Bowl:
Outside linebacker
Thomas Davis
showed yet again why he should be voted into the Pro Bowl, constantly coming up with big plays. None was bigger than his interception of a Brees pass late in the first half that completely swung momentum in a half gone bad. Carolina scored on a 43-yard run by
DeAngelo Williams
on the next play to go into halftime up 7-6.
Bringing the heat:
If the Panthers learned anything from the first meeting between these teams, it was that Brees was less effective under pressure. So they brought it early and often, sacking Brees five times in the first half and six for the game.
Third-down woes:
Carolina had been successful on third-down conversions 45.7 percent of the time coming into the game. It went 0-for-9.
Smith outlook:
The initial report on wide receiver
Steve Smith
was a sprained knee. Smith suffered the injury in the first quarter on a slant pattern. He wasn't hit on the play. He tried to return after a trip to the locker room but couldn't. His status moving forward will be key for an offense that counts on him for big plays.
What's next?
The Panthers are at Atlanta for the regular-season finale against the Falcons. Carolina won the first meeting between these teams 34-10 on Nov. 3 at Bank of America Stadium.
December, 22, 2013
12/22/13
4:00
PM ET
A few thoughts on the
Tampa Bay Buccaneers
' 23-13
loss
to the
St. Louis Rams
on Sunday.

What it means:
The Bucs are 4-11. The bright spot is that they remain in position for a prime first-round draft pick in 2014. But the downside is that the Bucs lost a very winnable game. Their defense played well. But the offense sputtered almost all day. A loss like last week's to San Francisco is understandable, but a loss to a mediocre team like St. Louis does not bode well for coach Greg Schiano's future. He'll head into the final week of the season with all sorts of speculation about his job.
Stock watch:
Falling: Safety
Dashon Goldson
, who is under the league's microscope for his aggressive play, could be facing a fine or another suspension. Goldson was flagged for a helmet-to-helmet hit. The hit didn't look particularly flagrant, but the standards are stricter for Goldson, who already has served a one-game suspension.
No running game:
Rookie quarterback
Mike Glennon
, who was sacked seven times, will take most of the heat simply because he's the quarterback. Glennon was far from perfect. But he wasn't Tampa Bay's biggest problem. The Bucs are supposed to be a run-first football team. Running back
Bobby Rainey
had 37 yards on 20 carries. The Bucs have to run the ball better than that to have any chance to win.
What's next:
The Buccaneers close out their season next Sunday at New Orleans.