NFC South:

2013 Week 17 CAR at ATL
December, 29, 2013
12/29/13
9:10
PM ET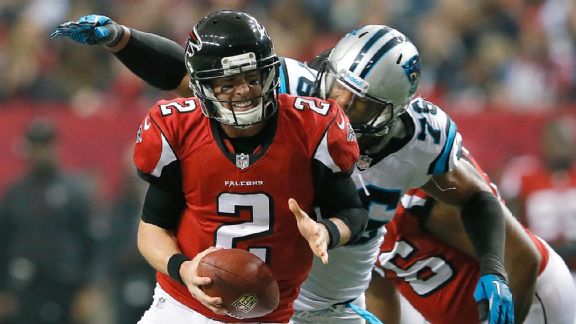 Kevin C. Cox/Getty ImagesPro Bowl defensive end Greg Hardy racked up four of the Panthers' nine sacks of Matt Ryan.
ATLANTA -- If you're in search of that key moment that turned the
Carolina Panthers
' season around, here you go:
The date was Oct. 13, 2013.
The place was the visitors locker room at the Metrodome in Minneapolis.
Left tackle
Jordan Gross
was frustrated. The Panthers were 1-3 and he felt they were better than that. So before the team took the field, he asked coach Ron Rivera if he could say a few words.
Gross began with an analogy from the 1986 film "Highlander," depicting the climax of an age-old battle between immortal warriors.
"A dad tells a kid how you become a man," Gross said Sunday after Carolina clinched the NFC South title and a first-round playoff bye with a
21-20 victory
over the
Atlanta Falcons
. "He said you have a wolf on both shoulders. One's good, tells you to work hard, believe, trust, commit. The other one's bad, tells you to doubt, cheat, laziness, whatever.
"And the kid says, 'Well, which one wins?' And the dad said, 'Whichever one you feed.' So it was in the middle of some choice words and some yelling and other things. So that became part of our battle cry this season, was that we're a wolf pack and we feed the wolf."
The Panthers defeated the Vikings
35-10
that day. Then, they beat the
St. Louis Rams
30-15
in a game filled with a few on-the-field scuffles in which Carolina players kept their poise but stood up for each other.
Next thing you know, they'd won eight straight.
Sunday's win was the 11th in 12 games, making Carolina the NFL's hottest team entering the playoffs, guaranteed a home game in two weeks.
From free safety
Mike Mitchell
to center
Ryan Kalil
, players pointed to Gross' speech as the turning point.
"Jordan really expressed how everybody was feeling, that the time is now and we've got to make a choice and stop waiting for somebody to make it for us," Kalil said. "It's on the players."
The win against Atlanta was a microcosm of that speech. In the final minutes, in a stadium where Carolina had a 4-14 overall record, the Panthers made the plays to secure the victory instead of giving up plays to give it away.
They did the little things that they seemingly couldn't during the first month of the season, which included two losses by a touchdown or less.
They did it in an unselfish manner. Defensive end
Greg Hardy
, who had four sacks to tie the team's single-season sack record (15) held by
Kevin Greene
, wasn't even aware of his total until somebody told him.
"

I don't know what the odds were when we were 1-3 that we'd end up winning the division and getting a [first-round] bye. But we believe, and that's a powerful thing.

"

-- Panthers left tackle Jordan Gross
"I don't know what the odds were when we were 1-3 that we'd end up winning the division and getting a [first-round] bye," Gross said. "But we believe, and that's a powerful thing."
Having the league's second-ranked defense, a unit that sacked Atlanta quarterback
Matt Ryan
nine times and hurried him another 14, doesn't hurt. Neither does having quarterback
Cam Newton
, who when his arm let him down was able to lift the offense with his legs to the tune of 72 rushing yards.
Having unsung heroes such as cornerback
Melvin White
, who returned an interception 7 yards for a touchdown with Atlanta leading 10-0 in the second quarter, also doesn't hurt.
"It was kind of indicative of the whole season," Rivera said. "We have had to come back. We have won four games or five games now with last-second scores and stuff like that. It just shows that we can handle those situations and circumstances."
Gross knew that when he gave his emotional speech. But until Sunday, nobody had pinpointed the speech as a key moment.
"At that point, everyone knew," Gross said "We were better than 1-3 and we let teams beat us rather than [losing] to them. Sometimes the right mood strikes you to say something that is believable, authentic.
"But that's not what turned the season around. What turned the season around was believing in ourselves."
That belief doesn't end with winning the division title. There was no wild locker room celebration. There was the same focus and workman-like attitude the Panthers have shown all season.
Even team owner Jerry Richardson told the players they have much more to accomplish.
"It means we won the NFC South championship, but we know we still have unfinished business," outside linebacker
Thomas Davis
said as he put the victory into perspective. "We can't get excited over this win.
[+] Enlarge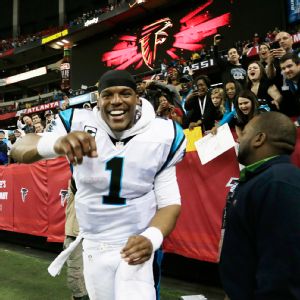 AP Photo/Dave MartinCam Newton and the Panthers will be back in action in two weeks.
"We believe bigger and better things could happen."
Perhaps the greatest symbol of this team's unity was wide receiver
Steve Smith
. He could have stayed in Charlotte, rehabbing the sprained knee that kept him from playing.
Instead,
he stood on the sideline and offered advice
and motivation wherever he could. When Newton threw a second-quarter interception because of yet another high throw, the oft-excitable Smith came to him and said, "Calm down."
Newton did. He went on to complete 15 of 27 pass attempts for 149 yards and two touchdowns. Couple that with his running and it was an efficient effort from a player who desperately wanted to beat the Falcons in his hometown for the first time.
"Our guys fought and did the things we needed to do," Rivera said. "This wasn't pretty, but it was well-earned."
This 12-4 season has been well-earned. It happened after a start that had Rivera's future in doubt and players such as Gross frustrated because they knew they were better.
"People wrote us off," Davis said. "People started talking about Coach Rivera being on the hot seat. For that to happen, it falls back on the players. Once you start replacing coaches, you start replacing players as well.
"We started doing whatever we had to do so everybody would keep their jobs."
It began in Minnesota. It began with a speech by a 10-year veteran who'd had enough of losing.
"It worked out well because we won the game, so it's memorable," Gross said. "If we had lost, nobody would have remembered anything."
Now they won't forget.
Key moments seldom are.
December, 29, 2013
12/29/13
8:47
PM ET
ATLANTA --
Carolina Panthers
wide receiver
Steve Smith
had the option to stay at home on Sunday and rehabilitate the sprained knee that put him on the inactive list.
He didn't.
Smith
The team's all-time leading receiver wanted to be with his teammates and do whatever he could to help beat the
Atlanta Falcons
in the Georgia Dome and clinch the NFC South title.
If that meant carrying a clipboard or being a cheerleader or telling quarterback
Cam Newton
to "calm down" after throwing a first-half interception, he'd do it. He just wanted to continue to be a part of a season that he predicted could be special when few others imagined it possible.
"To encourage those guys, to be around them," Smith said after the
21-20 victory
over the Falcons. "These guys, they want me on the field. I want to be on the field. I could have chose to be at home, but that's not where I need to be. I need to be here.
"Also, as you get a little older, you start to know that in times like this, if you kind of be by yourself, you go into that woe is me. I didn't want to go there, and I knew these guys would help me feel good about it."
The Panthers (12-4) made it a worthwhile trip, earning a first-round bye that will turn out to be huge for Smith. He admitted that as much as he might want to play next week if the Panthers had lost and dropped to a wild-card game, he probably couldn't have.
The odds of him being ready for a home playoff game in two weeks are much greater.
"The longer the better," Smith said. "A short turnaround, you can't do it. All the medicine, all the stuff you take, all the treatment, your body is only going to move at the pace you want to move at.
"I feel it is coming along, but you can't go from being not able to run, to now I'm able to walk without a limp, to all of a sudden I'm running these routes full speed. That's unrealistic."
But Smith didn't think it was unrealistic for Carolina to be in this position. He said after a 12-7 loss to Seattle in the opener that the Panthers would face the Seahawks again deep into the playoffs.
If Carolina and the Seahawks win their playoff games in two weeks, that meeting would happen for the NFC Championship in Seattle.
"Sometimes the outcome of a game doesn't dictate how that team is going to be for the remainder of the season," Smith said. "It's just a hiccup.
"I felt like we could be and we are, a pretty good team."
December, 29, 2013
12/29/13
8:25
PM ET
ATLANTA -- The past seven days have been huge for
Carolina Panthers
defensive end
Greg Hardy
.
It began a week ago with three sacks against New Orleans, followed by a selection to his first Pro Bowl on Friday, followed by a team single-game record four sacks in Sunday's
21-20 victory
over Atlanta that gave him 15 to tie
Kevin Greene
for the team's single-season record.
That should make for a huge paycheck for the fourth-year player, who is a free agent after the season.
[+] Enlarge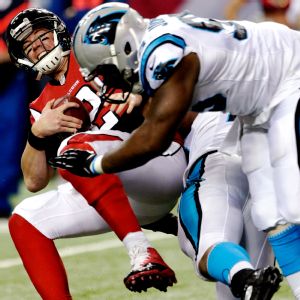 AP Photo/Dave MartinGreg Hardy has 7 sacks in the past two games, including 4 in the season finale against Atlanta.
But that's not his focus.
"I'm talking about championships right now," Hardy said. "They pay a whole more for that."
He paused.
"You know I like the money," he continued. "I won't lie to you."
Hardy does like the money. He often talks about having enough to buy an expensive, fancy car to park in the team's parking lot. He should get that and more, whether it's from the Panthers or another team.
And while his first choice is to return to Carolina (12-4), to the point Hardy recently said he'd take less money than another team might offer to stay, that could change with his recent hot spell.
As he told one reporter on Sunday, "I'll go anywhere they pay me more money."
But Hardy knows that will come if he continues to collect sacks in bunches like he's done the past two weeks. His primary concern is on helping the Panthers win a Super Bowl.
He wasn't even aware of his sack total or the team record until reporters told him.
"It's not about individuals. It's about the team," Hardy said after helping Carolina clinch the NFC South title and a first-round bye. "I know we got the team record and that's all that matters. Consistent pressure from everybody. That's what wins games, and that's what is big around here.
"That's what is going to keep us winning. Continuing to be a team that wants to win."
As a team, the Panthers sacked quarterback
Matt Ryan
nine times, the most given up by the Falcons since 2001. That was key on a day when the Falcons showed some of the offensive explosiveness they were expected to have all season before injuries to key players such as wide receiver
Julio Jones
.
Hardy was a big part of that. He had two in each half, and added eight quarterback hurries.
"It feels good to be part of a unit that's this good and has this much potential," Hardy said.
Hardy's potential in many ways is untapped. Until this two-game breakout, he spent most of the season playing in the shadows of end
Charles Johnson
, who in 2011 got his big paycheck in the form of a six-year, $72 million deal.
Now Hardy is in the spotlight.
"It's like I couldn't do anything wrong," he said.
And he has a hunger to excel and keep this momentum going. This is unchartered territory for him in more ways than sack records.
"If I had the words, I'd give them to you," he said when asked to put the day into perspective. "I've never been here before. I'm dumbfounded."
So are quarterbacks that face him.
December, 29, 2013
12/29/13
4:15
PM ET
ATLANTA -- A few thoughts on the
Atlanta Falcons
' 21-20
loss
to the
Carolina Panthers
on Sunday at the Georgia Dome.
What it means
: A miserable season finally ended, although the Falcons went down swinging. A team that finished 13-3 a year ago and was within one game of the Super Bowl suddenly plummeted to 4-12. At least the Falcons will have a high draft pick in order to address noticeable weaknesses along the offensive and defensive lines. They entered Sunday sixth in the draft order.

End of an era
: Sunday marked the final game in the illustrious career of
Tony Gonzalez
. The Falcons tight end caught a pass to open the game, closing his career with 211 consecutive games with a catch. The Falcons sent Gonzalez out as the only captain for the coin toss, and they honored him with a special video-board tribute and presentation at halftime. The 37-year-old Gonzalez will leave as the best tight end to play the game. Panthers receiver
Steve Smith
said it best pregame: "Is he a guy who has changed the game? Absolutely."
Stock watch
: The stock of the offensive line, as a group, continued to fall, as it allowed quarterback
Matt Ryan
to get beat up the entire day. The line's inability to block contributed to Panthers defensive end
Greg Hardy
setting a franchise record with four sacks. And every member of the offensive line had issues, from steady left guard
Justin Blalock
to surprising center
Joe Hawley
to struggling left tackle
Lamar Holmes
. Ryan got sacked a season-high nine times and appeared to be hobbled after each one. The Falcons probably should have pulled Ryan in favor of
Dominique Davis
, based on the beating Ryan absorbed. It emphasized how much the Falcons need to address the offensive line in the offseason either via free agency or through the draft.
Dropping the ball
:
Roddy White
stepped up his game late in the season, as he finally recovered from some early injuries. But White would be the first to say he took a step back after dropping at least three passes on Sunday. It was an uncharacteristic performance for the sure-handed White.
What's next
: The Falcons will go through their evaluations this week to figure out what type of coaching and personnel changes are needed going into next season. It wouldn't be a surprise to see a change at defensive coordinator, although Mike Nolan has tried to do the best with the group he has. Offensive line coach Pat Hill might be under fire, too, although he doesn't have much to work with, either. Whatever happens in the coming weeks, the Falcons have significant strides to make in order to become a contender once again, especially with Gonzalez no longer in the fold.
December, 29, 2013
12/29/13
4:04
PM ET
ATLANTA -- A few thoughts on the
Carolina Panthers
'
21-20 victory
over the
Atlanta Falcons
:

What it means:
The Panthers (12-4) win the NFC South title and a first-round bye for the playoffs. They are also the hottest team entering the playoffs with 11 wins in their past 12 games. The time off will give wide receiver
Steve Smith
, who missed this game with a sprained knee, to return at full strength. It will give a team that had its bye week after its third game a much-needed rest.
Stock watch:
Cam Newton
was horrible for much of the first half. Then he settled into a groove, and his legs were a big reason. He ran three times in the second quarter for 41 yards after gaining 4 yards on two runs in the first quarter. His completion rate took a sudden rise after a 1-for-4 first quarter. He finished 15-for-27 for 149 yards and two touchdowns. He ran for 72 yards on 12 carries to give him his first win against Atlanta in his hometown in three starts.
Stock watch II:
In the summer, defensive end
Greg Hardy
predicted he would have 50 sacks. He'll fall well short, but he's starting to play at that pace. A week after collecting three sacks against New Orleans, he had four more against Atlanta two days after being selected to his first Pro Bowl. Hardy finishes with 15 sacks, a career best. He had 11 a year ago. His price tag in free agency is going up.
Sack party:
The Panthers followed a six-sack performance against New Orleans with nine against Atlanta. For the most part they did it with the front four, which has been their staple all season.
Big play by rookie:
Rookie cornerback
Melvin White
came up with the play that changed momentum in this one. With the Panthers trailing 10-0 in the second quarter, he intercepted a
Matt Ryan
pass and returned it 7 yards for a touchdown. It was the fourth defensive touchdown of the season for Carolina and first for the undrafted rookie.
What's next?
The Panthers will have a first-round bye and host a playoff game in two weeks.