NFC South:

2013 Week 3 ARI at NOR
September, 22, 2013
9/22/13
10:00
PM ET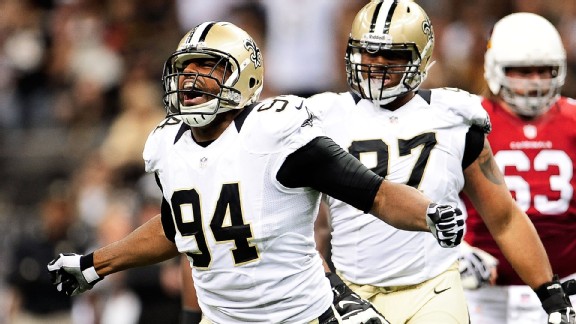 Stacy Revere/Getty ImagesCameron Jordan notched two of the Saints' four sacks Sunday versus Arizona.
NEW ORLEANS -- At some point, we've got to stop asking whether or not what we're seeing from the
New Orleans Saints
' defense is for real.
The defense has been the driving force behind all three victories by the unbeaten Saints, including a dominant
31-7 win
against the
Arizona Cardinals
on Sunday. New Orleans has already blown open a two-game lead in the NFC South.
How much more real does it have to get?
"It's nothing to get super excited about, other than the fact that we show a lot of promise, and that's what we've got to keep doing," cautioned defensive end
Cameron Jordan
, who has been the breakout individual player of the bunch with a team-high three sacks so far, including two on Sunday.
"You always want to have that hungry attitude of just straight grinding and building on each game," Jordan added. "I don't ever want to be like, 'This is the defense that we are.' I just want to keep going and keep getting better."
After a disastrous defensive performance last season, in which they set the NFL record for yards allowed in a season (7,042), the idea was that the Saints could get back to being playoff contenders if they could just find some way to get their defense back to being a "middle-of-the-pack" unit.
[+] Enlarge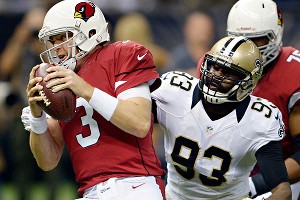 AP Photo/Bill FeigJunior Galette and the Saints kept pressure on Carson Palmer all game long.
Consider that goal already surpassed.
Of course, the Saints' defense is still a work in progress after making drastic changes this offseason -- both intended (hiring coordinator Rob Ryan, signing free-agent cornerback
Keenan Lewis
and drafting safety
Kenny Vaccaro
) and unintended (losing veterans
Will Smith
,
Jonathan Vilma
,
Victor Butler
and
Kenyon Coleman
to summer injuries).
But they've been thriving behind a youth movement, especially on the defensive front. Jordan, 24, and pass-rush specialist
Junior Galette
, 25, have been terrific on the edges, while
Akiem Hicks
,
Tyrunn Walker
,
Glenn Foster
and
John Jenkins
-- all first- or second-year pros -- have taken turns doing damage up the middle.
Their performance up front has gone hand in hand with improved play on the back end, where veteran cornerbacks Lewis and
Jabari Greer
have done an outstanding job against top receivers like Arizona's
Larry Fitzgerald
, Atlanta's
Julio Jones
and
Roddy White
and Tampa Bay's
Vincent Jackson
and
Mike Williams
.
"I think that's the bright side of our defense is that we really don't have any stars, if you talk about big-name guys. We've just got a lot of young guys with talent who are building confidence not only in themselves, but in each other," safety
Malcolm Jenkins
said. "So we really don't know how good we are or how good we can be. It's just all about going to work every day and getting better.
"Obviously, with each win and each performance, we gain more confidence. But we really don't know where the ceiling is for this defense, so we go to work every week and treat every week like it was Week 1 versus Atlanta."
The Saints had a total of four sacks Sunday (two by Jordan and one each by Galette and Foster). Everyone on the Saints' defensive front took turns abusing a suspect offensive line to hit and hurry Cardinals quarterback
Carson Palmer
throughout the afternoon. They eventually forced interceptions by Vaccaro and Lewis in the fourth quarter.
After the Cardinals opened the game with an 11-play, 80-yard touchdown drive, they punted on their next eight possessions and threw interceptions on the final two.
"They can rush the passer," Palmer said. "There's two very good pass-rushers that people don't know a whole lot about. You hear a lot [about] Will Smith and Jonathan Vilma, but Cameron Jordan is really good. He showed that today. Junior Galette is really good. They're physical guys. They stop the run, and they rush the passer. A really good combination of strength and speed."
Jordan is starting to get that respect around the country. Pro Football Focus highlighted him this past week, pointing out that his 12 quarterback disruptions led all 3-4 ends through two weeks (though, to be fair, the versatile Jordan is lining up as a traditional 4-3 end in many pass-rushing situations).
More importantly, Jordan is making his mom proud. He said she gave him grief after he went sackless in Week 1.
She wasn't the only one, though. The Saints' defensive line is clearly a competitive group.
While Jordan was talking to a group of reporters Sunday, Walker yelled over that he stole one of his sacks. After Week 1, Jordan was beside himself that he didn't have any sacks against the Falcons while Hicks already had one.
And while crediting Galette for having tremendous speed on Sunday, Jordan admitted that he is more of a "power" guy. But he said that makes for an interesting race between the two to get to the quarterback.
"I've been claiming the strength of our D-line is just how much youth and talent is on the D-line. It definitely showed today," Jordan said Sunday. "From the outside to the interior, I was highly pleased. Whether it be Tyrunn Walker or big Akiem or Glenn Foster, it was all just pressure everywhere. You couldn't really locate just one spot where we were getting pressure.
"And when you're part of a D-line like that, it's a party."
September, 22, 2013
9/22/13
6:12
PM ET
NEW ORLEANS -- Observed in the locker room after the
New Orleans Saints
' 31-7 victory over the
Arizona Cardinals
.
Welcome, Vaccaro:
As expected, rookie safety
Kenny Vaccaro
's teammates tried to keep him humble after his first career interception in the fourth quarter. "Everybody said I've got to work on my return skills," said Vaccaro, though he did manage to gain 29 yards on the runback. "I'm just glad I got the first one out of the way. So the next one I can get fancy with it, maybe."
Second-year cornerback
Corey White
did mob Vaccaro on the field to celebrate his accomplishment, but that was news to Vaccaro after the game. "Is that who that was?" Vaccaro said. "I was like, ''Who is on top of me?' I thought it was an Arizona guy congratulating me [since] he tackled me."
Meachem
Welcome back, Meachem:
Receiver
Robert Meachem
's 27-yard touchdown pass in the first quarter wasn't really anything new, since it was his 25
th
career TD catch as a Saint, including the playoffs. But Meachem admitted it was a terrific feeling for him. He had a tough 18-month stretch after leaving as a free agent last year to sign with the
San Diego Chargers
, where he struggled and was eventually cut this summer. And he said he's felt like he's "home" since re-signing with the Saints in Week 1.
Quarterback
Drew Brees
said coach Sean Payton actually foreshadowed Meachem's touchdown on Saturday night when they were reviewing the game plan one last time. "Obviously there were a couple of shot plays in the game plan for Meachem," Brees said. "And [Payton] said, 'Hey, Meachem, when's the last time you scored a touchdown? We've got to break the seal and get you back in the end zone.' And sure enough, it happened on the first drive."
Tough to watch:
All-Pro guard
Jahri Evans
had to watch Sunday's game from the sideline -- for the first time in his eight-year career. Evans was active, but only as an emergency option. He did not play because of a hamstring injury, ending his streak of 114 consecutive starts (which was tied for the third longest in the NFL). Evans said he's hoping to return to the field as soon as next Monday night against the
Miami Dolphins
.
"It was good while it lasted," Evans said of the streak. "But a win is more important. And playing as many games as I can in a season and over a career is more important. The question is, 'Do I miss one or do I miss four?'"
Positive spin:
Nobody was too down about the Saints' run-game troubles against the Cardinals. In fact, there was some optimism about the way they finished the game with 76 rushing yards in the fourth quarter when they were trying to run out the clock. The Saints had a total of minus-6 rushing yards on four carries in the second half. But Payton said he's not concerned. The Saints coach said that was a conscious choice to adjust to the heavy fronts they were seeing from the Cardinals.
Nevertheless, the Saints had five rushes that went for negative yardage Sunday (not including kneel-downs). And primary tailback
Pierre Thomas
gained just 17 yards on his first 10 carries. So the run game clearly remains a work in progress.
No Ingram:
Saints tailback
Mark Ingram
, who was inactive Sunday with a toe injury, was not available in the locker room to address a pregame report that he may seek a trade in the coming weeks.
September, 22, 2013
9/22/13
4:22
PM ET
NEW ORLEANS -- A few thoughts on the
New Orleans Saints
' 31-7
victory
over the
Arizona Cardinals
, which moved the Saints to 3-0 on the year.

What it means:
It's pretty much official now that this Saints defense is truly new and improved. Three dominant performances is enough of a sample size to take this young unit seriously. It brought the pressure all day long against a suspect Cardinals line (four sacks, including two by end
Cameron Jordan
). It held up great on the back end, with surging rookie safety
Kenny Vaccaro
and veteran cornerback
Keenan Lewis
clinching the game with fourth-quarter interceptions.
It's hard to believe, but through three games the Saints have been carried by their defense. The Saints' offense started rolling a bit on Sunday, too (well, the passing offense, anyway).
Stock watch:
Apparently Saints tight end
Jimmy Graham
is trying to reset the NFL record for receiving yards by a tight end that was snatched away from him by the New England Patriots' Rob Gronkowski in the final seconds of the 2011 season. Graham caught nine balls for 134 yards and two touchdowns Sunday. He's now up to 14 catches for 224 yards and two scores on the year.
Last year, Graham had a "down year" by his standards, thanks to a season-long wrist injury and too many dropped passes (though he still had 982 yards and nine touchdowns). And he was stunningly left off of the NFL Network list of the top 100 current players, as voted on by players around the league. Graham, however, is quickly reminding everyone just how dominant a weapon he is.
Run game still grounded:
The Saints' run game was the only unit that did not join in on the fun Sunday. In fact, it actually regressed. The Saints had a total of minus-6 rushing yards on four carries in the first half. To be fair, one of those carries was a kneel-down by quarterback
Drew Brees
. But that actually made Brees the team's leading rusher at that point in the game. Brees later scored the team's only rushing touchdown of the season on a 7-yard scramble in the fourth quarter.
The Saints finished with 104 yards on 24 carries Sunday. It didn't help that they were playing without All-Pro guard
Jahri Evans
and tailback
Mark Ingram
(who reportedly may seek a trade because he hasn't been a good fit in the Saints' offense). But the Saints' run game problems are widespread. It was already a top priority throughout the offseason, but it has not been fixed yet.
What's next:
The Saints should be the favorites to move to 4-0 since they'll be playing at home again in the Mercedes-Benz Superdome in prime time (where they're especially dangerous) next Monday night on ESPN. But they'll be facing one of their stiffest defensive tests to date against a
Miami Dolphins
team that has been off to a strong start itself (2-0 heading into a Sunday afternoon game at Atlanta).