NFC South:

2013 Week 3 Upon Further Review NFC
September, 23, 2013
9/23/13
12:30
PM ET
An examination of four hot issues from the
New Orleans Saints
' 31-7 victory over the
Arizona Cardinals
:
Legit D:
Safety
Malcolm Jenkins
didn't want to go too far in declaring the Saints' defense as "legit." But he did say that it's doing a better job of creating pressure with just a four-man rush than in any of his five years with the team. "They're doing a phenomenal job, even in the run front," Jenkins said. "I think I've made one open-field tackle in three games, which is a lot different than last year."
The Saints' coverage on the back end has been equally impressive. Through Sunday, the Saints rank fifth in the NFL in yards allowed (295.7) and points allowed (12.7). The defense has allowed only 10.3 points per game, since one of the opponents' touchdowns came on an interception return by the
Tampa Bay Buccaneers
in Week 2. The Saints have also forced six turnovers and eight sacks.
[+] Enlarge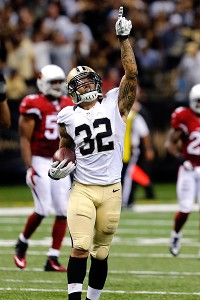 AP Photo/Bill HaberKenny Vaccaro recorded his first career interception in Sunday's win over the Cardinals.
Obviously there will still be some growing pains to come with this revamped unit. But it's clear that the Saints have bona fide young talent, and their confidence continues to grow under new coordinator Rob Ryan's energetic approach and versatile schemes.
Back in the red:
The Saints' offense cleaned up its red zone problems on Sunday, scoring touchdowns on three of its first four trips inside the 20. And their 31-point outburst was by far their best offensive showing to date. Quarterback
Drew Brees
said it still wasn't perfect, because they lagged for a long stretch in the middle of the game. But he was especially happy with the way they finished strong, scoring two fourth-quarter touchdowns. Brees and go-to guys
Jimmy Graham
and
Marques Colston
were especially solid.
Run down:
The biggest issue with the offense remains the run game. The Saints finished with a season-high 104 rushing yards, nearly half of which came on the final drive, but they started way too slow. They had a total of minus-5 yards on just three carries in the first half (not counting a kneel-down by Brees). And primary runner
Pierre Thomas
had just 17 yards on his first 10 carries. Coach Sean Payton said he's not concerned, because the Saints made a strategic -- and effective -- choice to pass against a heavy Arizona front. And players said they were happy with the in-game adjustments they made. But this was the Saints' biggest offseason concern on the offensive side of the ball, and that still hasn't changed.
Rookie watch:
First-round safety
Kenny Vaccaro
continued his impressive start. Not only did he have his first career interception in the fourth quarter, but his open-field tackle against running back
Stepfan Taylor
to force a punt on the Cardinals' second drive was just as impressive and important.
On the flip side, undrafted rookie guard
Tim Lelito
struggled in his starting debut in place of All-Pro
Jahri Evans
, in both pass protection and run-blocking. Lelito has impressive potential, which earned him a spot on the 53-man roster. But the Saints need Evans to heal quickly from his hamstring injury. Evans said after the game he's hoping to be back as soon as next Monday night's game against the
Miami Dolphins
.
September, 23, 2013
9/23/13
12:30
PM ET
An examination of the four hot issues from the
Atlanta Falcons
' 27-23 loss to the
Miami Dolphins
:
Tightening up on defense:
Yes, the Falcons had five sacks, including two by
Osi Umenyiora
and 1.5 by
Akeem Dent
. Umenyiora forced a turnover that resulted in a touchdown, while
William Moore
thwarted a drive with an interception. But when the Falcons needed to tighten up the most, they allowed the Dolphins to march 75 yards in 13 plays for the game-winning score. The Dolphins converted three third downs along the way. And no play during the drive seemed more critical than when linebacker
Joplo Bartu
--
Sean Weatherspoon
's replacement -- was beaten by tight end
Charles Clay
for a 21-yard gain with Miami facing second-and-10 from the Atlanta 29. It's hard to blame
Stephen Nicholas
for surrendering the game-winning 1-yard touchdown to tight end
Dion Sims
when the Falcons shouldn't have allowed the Dolphins to drive that deep to start. Defensive coordinator Mike Nolan might get scrutinized, but Nolan wasn't the one missing tackles.
[+] Enlarge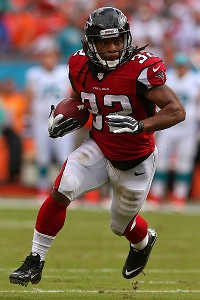 Mike Ehrmann/Getty ImagesJacquizz Rodgers led the Falcons in rushing Sunday with 86 yards on 18 carries.
Not in the zone:
Falcons coach Mike Smith emphasized how his team failed in the red zone on both sides. Nothing symbolized Smith's thoughts more than when the Falcons had first-and-10 from the Dolphins' 11 in the second quarter and couldn't punch it in the end zone. They settled for
Matt Bryant
's 20-yard field goal rather than attempting to score a touchdown on fourth-and-1 from the 2; three points instead of seven in a game decided by four. The Falcons were 2-of-5 in red zone efficiency while the Dolphins were 3-for-3. "We know when we go against a good football team like Miami, that number has to be higher,'' quarterback
Matt Ryan
said. The 3-0 Patriots are another good team the Falcons will have to be more efficient against.
In the running:
How did the Falcons respond with
Steven Jackson
sidelined by a hamstring injury? Well,
Jacquizz Rodgers
and
Jason Snelling
simply combined for 139 rushing yards on 29 carries as each averaged 4.8 yards per carry. Snelling also caught four passes for 58 yards, including a 7-yard score off a shovel pass from Ryan. More impressive was the number of yards each player gained after contact. Their production means the Falcons don't have to rush Jackson back too soon. And even when Jackson returns, the Falcons can spread carries around to preserve his body for the duration of the season.
On the line:
Left guard
Justin Blalock
promised the line was focused on keeping Ryan clean. The quarterback didn't get sacked Sunday after absorbing five sacks in the first two games. Ryan helped his own cause by getting the ball out quickly. Not to mention Dolphins pass-rush specialist
Cameron Wake
played only 13 snaps while nursing a knee injury. However, the line overall played solidly. Blalock threw a crushing block on Snelling's touchdown, and new starting right tackle
Jeremy Trueblood
overcame a rough start.
Lamar Holmes
, who shifted to left tackle after two games on the right side, had his moments. But Holmes also allowed 6-foot-6 defensive end
Dion Jordan
to get pressure on Ryan in the final moments. Jordan hit Ryan's arm, leading to game-clinching interception by safety
Jimmy Wilson
.
September, 23, 2013
9/23/13
12:30
PM ET
An examination of five hot issues from the
Carolina Panthers
' 38-0 victory over the
New York Giants
:
[+] Enlarge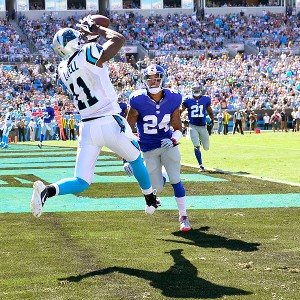 Bob Donnan/USA TODAY SportsComing in with just four catches on the season, Panthers wide receiver Brandon LaFell was a playmaker against the Giants with two touchdown grabs.
Playmakers make plays:
That was the mantra by coach Ron Rivera after the last-second loss to Buffalo. It apparently took. Defensive end
Greg Hardy
had three sacks after getting none in the first two games and the front four collected six of the team's seven sacks. The much-maligned secondary allowed a completion percentage of 52 percent after giving up 72.2 percent to Seattle and Buffalo. Quarterback
Cam Newton
rushed for a touchdown and threw for three. Wide receiver
Brandon LaFell
had two TD catches after coming in with four catches. You get the picture.
Fourth-and-what?
Rivera took a lot of grief last week for not gambling on fourth-and-1 from the Buffalo 21 with 1:42 remaining and a three-point lead. So when the Panthers went for it on fourth-and-1 from the New York 2 with 2:38 left in the first quarter of a 0-0 game, the fans cheered. What they didn't know was Rivera initially kept the offense on the field because he thought Carolina got the first down on the play before. But since the offense already was there and the defense was playing well, Rivera decided "we're going for it anyway." The Panthers not only got the first down, they got the touchdown. They also went for it on fourth-and-8 from the New York 31 with 4:02 remaining. They ran up the middle for a yard. It wasn't a gamble. It was a mercy play.
Inside the Chase:
For two weeks, linebacker
Chase Blackburn
wondered when he would get on the field for a defensive snap. It finally happened against his former team. Blackburn played 17 snaps, or 33 percent of the plays. That was good news for
Jon Beason
, who has been struggling coming off knee surgery. He played only one snap a week after playing 31. The Panthers also took advantage of Blackburn's knowledge of the Giants. "When you have a guy who knows the other team and you sit there and you listen to him when he is watching tape, before the play even happens he calls the play," Rivera said.
Don't forget DeAngelo:
Amidst Newton's four touchdowns and a stifling defense, Carolina running back
DeAngelo Williams
rushed for a season-high 120 yards on 23 carries. He's averaging 97 yards rushing in three games, which puts him on pace for 1,552 yards. The good news is he may not have to carry the load much longer. Rivera says
Jonathan Stewart
is on schedule to return from the PUP list after two more games. "Double Trouble" could be back.
Out of deep trouble:
Newton was 3-for-12 on passes of 15 yards or more before Sunday. After starting 0-for-5 against the Giants he completed his last five passes of that length for three touchdowns. Two went to LaFell, who has been criticized for not being more of a go-to guy as the No. 2 receiver. "It's great because it gets people to stop coming down on him, saying he's not doing his job," said
Steve Smith
, the No. 1 receiver.
September, 23, 2013
9/23/13
12:00
PM ET
An examination of four hot issues from the
Tampa Bay Buccaneers
' 23-3
loss
to the
New England Patriots
:
Freeman's future:
After the season-opening loss to the
New York Jets
, I laid out a
hypothetical scenario
for quarterback
Josh Freeman
to be replaced by rookie
Mike Glennon
coming out of the bye week. Well, that scenario seems to be becoming more plausible. If the Bucs lose to Arizona on Sunday, they'll be 0-4 heading into their bye week. As long as the Bucs stay winless, coach Greg Schiano is going to have to start thinking about saving his own job. His best bet to buy another season might be inserting Glennon and hoping the rookie shows some promise.
[+] Enlarge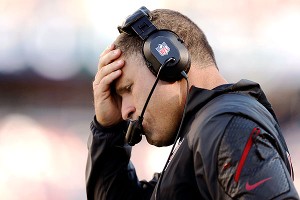 Winslow Townson/Getty ImagesFans are already calling for Greg Schiano to be fired after an 0-3 start.
Schiano's future:
During our in-game chat Sunday, a lot of fans were very vocal in saying Schiano should be fired after (and some were saying during) this season if things don't change dramatically. The thing to keep in mind is that Schiano has three more years on his contract. Unless things continue to go really badly, ownership likely will be hesitant to fire him.
A kicking dilemma:
The Bucs basically are on their third kicker and they soon could be on their fourth.
Rian Lindell
has missed a field goal attempt in each of the last two games and both have hurt the Bucs badly.
Connor Barth
was supposed to be Tampa Bay's kicker, but he suffered a torn Achilles tendon in an offseason charity basketball game. The Bucs replaced him with
Lawrence Tynes
, who came down with a staph infection and will miss the season. Lindell is a veteran who has made some big kicks in his career. But there are other experienced kickers available and the Bucs have to decide if they're going to stick with Lindell.
Nothing from the tight ends:
The Bucs got two catches for 9 yards from their tight ends against the Patriots. They need more production out of that position because it would take some of the defensive attention from
Vincent Jackson
and
Mike Williams
. But there might be some reason for hope. Schiano said
Tom Crabtree
, who probably is Tampa Bay's best pass-catching tight end, is progressing well from his ankle injury. Crabtree isn't going to fix all that ails the offense, but he can make it a little more diversified.