NFC South:

2013 Week 5 CAR at ARI
October, 6, 2013
10/06/13
9:55
PM ET
GLENDALE, Ariz. -- It was nice of
Carolina Panthers
wide receiver
Steve Smith
to take full blame for Sunday's 22-6 loss to the
Arizona Cardinals
.
He did drop a short touchdown pass on Carolina's first drive that could have set a different tone, maybe led to a different outcome, which prompted him to begin and end his postgame availability with: "Blame the loss on me. I'm the scapegoat.''
[+] Enlarge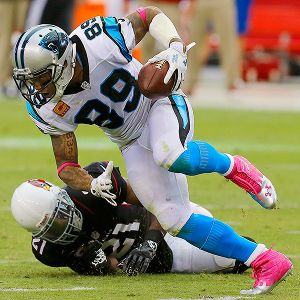 AP Photo/Ross D. FranklinSteve Smith was eager to take the blame for Carolina's latest loss, but there was plenty of blame to spread around.
But there was plenty of blame to go around with this debacle.
• Quarterback
Cam Newton
threw three interceptions, fumbled once -- it would have been twice had it not been for a quick whistle from the official -- and held the ball too long, contributing to him being sacked seven times.
He did have one more tackle than starting defensive end
Charles Johnson
, who had one. But that's not a good thing considering Newton was atoning for his own mistakes.
• The offensive line, as mentioned, gave up seven sacks, including one for a safety. The inconsistency left Newton under duress most of the day and kept the unit from developing any kind of rhythm.
• Wide receiver
Brandon LaFell
dropped a first down and potentially more on a perfectly thrown fourth-and-1 pass from the Arizona 15 with the score tied at 3-3 in the second quarter. Like Smith's drop, it could have helped change the direction of the game.
• Defensive end
Greg Hardy
, who had three sacks in his last outing and was named the NFC's Defensive Player of the Week, didn't have a sack against a second-year tackle making his first start.
I could go on, but you get the picture.
This mess was a team effort.
And Smith shouldn't be the scapegoat.
"Our inconsistency is our biggest problem, not necessarily the teams we're going against," left tackle
Jordan Gross
said. "We have trouble completing drives, blocking for the quarterback or scoring touchdowns."
And winning.
Carolina is 1-3. You've probably read this one or two times before, but it is worth noting again. Not since 2008 has the team won twice during the first four games.
The Panthers started 1-6 in 2012, 1-5 in 2011, 1-12 in 2010, 1-3 in 2009.
There is a trend here, folks.
"Unfortunately, we've been here before,'' Gross said. "The last two years have been similar to this. Then we end up winning games at the end, so I don't worry about guys quitting. We've got to figure out how to win games in October.
"Not winning now and then winning in December doesn't do you much good."
This was supposed to be, as coach Ron Rivera said the past two weeks after a 38-0 victory over the
New York Giants
, a catalyst. This was supposed to be when the Panthers turned all their misfortune into a string of wins.
Instead, it was more of the same.
Rivera likely will get blamed by many, but this wasn't his fault. The game plan was fine. The execution was poor.
As usual, the defense played well enough for the team to win, but even it made more than its fair share of mistakes.
"We gave up a couple of silly plays,'' Rivera said. "We weren't where we were supposed [to be], the running back bounces outside and goes for big yards. You can't do that. You just cannot do that. When you do, you give opportunities, and that's what happened.''
And then it got ugly.
"It'll make you tough being on this team,'' Gross said. "Man, we get so close and then we have a mishap here and there. Yeah, it is tough."
Yeah, it was nice of Smith to take the blame, but the list of scapegoats is much longer than one.
"You just have to make plays, especially in critical situations and circumstances," Rivera said. "There's a lot of things that we have to correct, and there's a lot of blame to go around for everybody."
October, 6, 2013
10/06/13
8:34
PM ET
CHARLOTTE, N.C. -- Observed in the locker room after the
Carolina Panthers
'
22-6 loss
to the
Arizona Cardinals
.
Smith
It's my fault:
Wide receiver
Steve Smith
doesn't usually drop touchdown passes or avoid answering questions after losses. He did both on Sunday. "Blame the loss on me," he said without answering questions. "I'm the scapegoat. It's all I got."
Life Savers moment:
Center
Ryan Kalil
had his arm around the shoulders of guard
Amini Silatolu
, whose right leg was wrapped and in a brace after a second-half injury that the Panthers are hoping isn't as serious as it appears.
Iceman cometh:
It looked worse than it is. Bandages were wrapped around wide receiver
Brandon LaFell
's upper torso to support a huge bag of ice on his back. He was hurting worse from a dropped first-down pass inside the Arizona 15. "It's bad, man," he said.
Lot going on:
Quarterback
Cam Newton
has a reputation for being a flashy dresser, but there was a lot to digest in travel attire that included a blue plaid jacket, blue sweater, red plaid shirt and red tie. It was kind of like his game that included three interceptions, a fumble and two tackles.
October, 6, 2013
10/06/13
7:07
PM ET
GLENDALE, Ariz. -- A few thoughts on the
Carolina Panthers
'
22-6 loss
to the
Arizona Cardinals
:

What it means:
That any momentum gained in a 38-0 victory against the
New York Giants
was wasted, that it was a catalyst for nothing. This was a poor performance against an average football team. The Panthers shot themselves in the foot more times than Arizona did, which took some doing. The defense played well enough to win -- as it has in each game -- but the offense was, to borrow a word from Cardinals coach Bruce Arians, putrid. For the fifth straight season, the Panthers have been unable to win more than one of their first four games. If general manager Dave Gettleman hasn't started looking at potential coaching candidates, as he says he hasn't, perhaps it's time.
Stock watch:
On the way down, quarterback
Cam Newton
had his most inconsistent game of an inconsistent season. He threw three interceptions, had way too many other poor throws (once hitting the official), fumbled once and held the ball too long countless times. He did have two tackles, though, which isn't a good thing. On the way down Part II -- cornerback
Josh Norman
went from being in on 63 plays in Week 2 to inactive. On the rise,
Ted Ginn Jr
. continues to prove he's more than a kick returner. The Panthers need to find a way to get him the ball more.
Dropped and drops:
Putrid begins here. The offensive line gave up seven sacks, including one for a safety. Receivers didn't do Newton any favors by dropping four passes, one by
Steve Smith
that would have been a first-half touchdown and another by
Brandon LaFell
that would have been a first down deep in Arizona territory when this was still a close game. Newton deserves some of the blame, too.
Early Pro Bowl consideration:
That would be kicker
Graham Gano
. He is 6-for-6 on field goals, including a 51-yarder to end the first half. Opponents have returned only one kickoff all season.
What's next?
The Panthers travel to Minnesota. The
Vikings
hold a 6-4 advantage in the series, last winning 24-21 in Charlotte, N.C., in 2011.

NFC SOUTH SCOREBOARD
Thursday, 9/18
Sunday, 9/21