NFC South:

2013 Week 5 NOR at CHI
October, 6, 2013
Oct 6
8:26
PM ET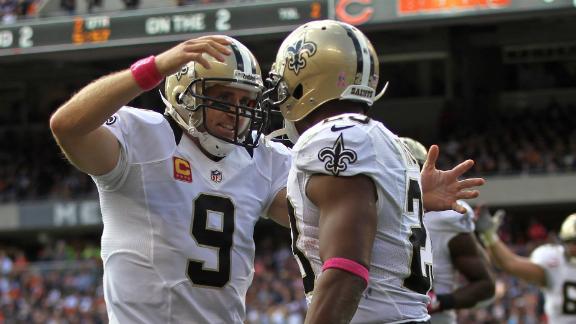 CHICAGO -- Meet the patient, methodical version of the
New Orleans Saints
.
This week's incarnation of the still-perfect Saints (5-0) relied on ball security and a ball-control offense to finally win a game in Soldier Field, 26-18 over the
Chicago Bears
on Sunday.
They're different than the Saints we saw six days earlier, torching the
Miami Dolphins
for more than 400 passing yards inside the Superdome. And they'll probably look a little different next week, too, when they face another "prove it" game on the road against the
New England Patriots
.
And that's why New Orleans might be the most dangerous team in the NFC right now.
[+] Enlarge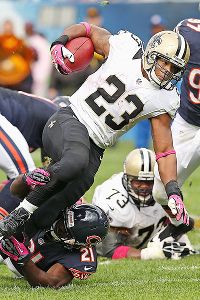 Jonathan Daniel/Getty ImagesPierre Thomas carried the load for the Saints, hauling in nine catches for two TDs and rushing 19 times.
The Saints are now the only unbeaten team in the conference because they did something the
Seattle Seahawks
(4-1) couldn't do Sunday -- win on the road, outside of their comfort zone, against a tough opponent.
The Saints are finding different ways to win every week, whether it's a goal-line stand against the
Atlanta Falcons
in Week 1, a last-second field goal in a 16-14 scuffle at Tampa Bay in Week 2, dominant offensive outbursts at home in Week 3 and 4 or a patient attack on the road at Chicago in Week 5.
"Winning teams do certain things that give them a chance to win every week," said Saints coach Sean Payton, who repeatedly credited his team and quarterback
Drew Brees
for playing "smart" on Sunday.
"It hasn't been perfect," Brees said. "But I think what we have done is we've found different ways to win each week."
This particular road game meant a lot to the Saints. Soldier Field was a place that had tormented them in the past.
The Saints lost three straight games here -- in the 2006 NFC Championship Game and during the '07 and '08 regular seasons -- mostly because of turnovers and impatience and the inability to win the battles for field position and the time of possession.
All week long, players repeated Payton's message, "To do things you've never done before, you have to do things you've never done before."
On Sunday they delivered, winning the turnover battle 1-0 against a Bears team that has led the NFL in takeaways for the past two years. And they won the time-of-possession battle, 36 minutes to 24 minutes, stubbornly sticking with the run game even though it only averaged 2.4 yards per carry.
"It's about that time," Brees said, laughing when asked about what it meant for him to finally win in Chicago after going 0-for-4 in his career at Soldier Field. "Man, we've come up here quite a few times, in some big games, and unfortunately we were never able to walk away with a victory.
"And you know what their formula is for winning. It's taking the ball away, it's getting their offense opportunities. It's making you try to get impatient. ... You've got to know the formula of the team you're playing. Where have people fallen into the trap, and how can we avoid doing that?"
Brees' NFL-record streak of nine consecutive 300-yard passing games came to an end Sunday. He "only" threw for 288 yards while completing 29 of 35 passes with two touchdowns and zero interceptions. And he didn't care.
"No, those stats don't matter one bit," Brees said. "Especially in this game."
Brees' go-to target,
Jimmy Graham
, still caught 10 passes for 135 yards -- usually against tight coverage. But the Saints' receivers were barely targeted.
Instead, they relied heavily on running back
Pierre Thomas
, a Chicago native who has thrived in Soldier Field before. Thomas caught nine passes for 55 yards and two touchdowns Sunday and ran the ball 19 times, albeit for just 36 yards.
"It showed that they have a lot of trust in me, and that's something I really appreciate," said Thomas, who made two terrific plays on his touchdowns, stiff-arming his way around the corner on a 2-yard swing pass and cruising behind his blockers on a 25-yard screen pass before halftime. "And I told myself, this is your chance to show them that you can be that guy that can carry it out till the end of the game."
The Saints' defense also mixed things up Sunday, catching the Bears off guard with frequent blitzes.
The Saints blitzed much more than they had during the first four weeks, which led to first-half sacks by safeties
Malcolm Jenkins
and
Kenny Vaccaro
and inside linebacker
David Hawthorne
. Jenkins forced a fumble on his sack, setting up a first-quarter field goal.
"I think it was just a little wrinkle we wanted to throw in this week. And it showed up big for us early in the game," said Jenkins, who thought defensive coordinator Rob Ryan's switch-up in Week 5 was "perfect timing."
"Those things, Rob is gonna come up with these blitzes, he's gonna come up with things that affect the quarterback, and it's gonna be different every week," Jenkins said. "And I think that was a good one."
The Saints also leaned heavily on their special teams in a complete effort. Kicker
Garrett Hartley
was a perfect 4-for-4 on field goals. Punter
Thomas Morstead
was outstanding as usual, booming one kick 55 yards and out of bounds at the 2-yard line, making dangerous return man
Devin Hester
a nonfactor.
"You can look at every one of our games and point to something different," Brees said. "You see constant improvement, and that's really what we're looking for at this point."
And it's looking awfully scary to the rest of the NFC contenders.
October, 6, 2013
Oct 6
4:11
PM ET
CHICAGO -- A few thoughts on the
New Orleans Saints
'
26-18 victory
against the
Chicago Bears
, which kept the Saints perfect at 5-0.

What it means:
The Saints proved they don't need to be in their comfort zone to win. They won a big game on the road, despite having to adjust to the sloppy Soldier Field turf. They relied more on their run game than ever this year. And their defense even mixed things up with more blitzes in the first half, which led to three sacks and a forced fumble.
Of course
Drew Brees
and
Jimmy Graham
still played big roles (that never seems to change). But the Saints are proving they can win games in a number of different ways this year, a great sign that they're legit.
Stock watch:
Saints running back
Pierre Thomas
relishes coming back to his hometown of Chicago, and the Saints counted on him in a big way Sunday. Thomas caught nine passes for 55 yards and two touchdowns. And he ran 19 times for 36 yards. Both of the touchdowns were terrific plays. Thomas stiff-armed linebacker
D.J. Williams
to turn the corner on a 2-yard swing pass in the second quarter. And he cruised behind great blocking on a vintage 25-yard screen pass shortly before halftime.
Blindsided:
The Saints' defense had not been blitzing much this year. They hadn't needed to, with their front four playing so well. But defensive coordinator Rob Ryan threw some new wrinkles at the Bears in the first half that worked wonders. Safety
Malcolm Jenkins
got a sack and forced fumble on a blitz. Linebacker
David Hawthorne
got a sack on a blitz. And safety
Kenny Vaccaro
got a sack when he and Jenkins both blitzed. Heading into the game, all 12 of the Saints' sacks this season had come from defensive linemen or outside linebackers.
What's next:
The Saints will have another "prove it" game on the road against the
New England Patriots
(4-1). The Patriots stole some of the thunder out of the matchup with a rain-drenched loss at the
Cincinnati Bengals
on Sunday. Not only did they spoil the potential battle of unbeatens, but Patriots quarterback
Tom Brady
's streak of consecutive games with a touchdown pass ended at 52. So he won't be challenging Brees' NFL record of 54 in the head-to-head duel. Nevertheless, it will be the biggest game of the week on the NFL slate -- and a big test for both teams.