NFC South:

2013 Week 8 CAR at TAM
October, 25, 2013
10/25/13
2:20
AM ET
TAMPA, Fla. --
Cam Newton
took the football from
DeAngelo Williams
after the running back scored a touchdown in the second quarter Thursday night and gave it to a fan in the stands. He did the same thing after
Mike Tolbert
scored a touchdown in the fourth quarter.
And when the
Carolina Panthers
quarterback scored a touchdown of his own, he made sure some fan got that one, too.
Williams joked after the
31-13 victory
over the
Tampa Bay Buccaneers
that his biggest challenge of the night was having to fight Newton for the ball in the end zone.
But the symbolism here is worth noting.
[+] Enlarge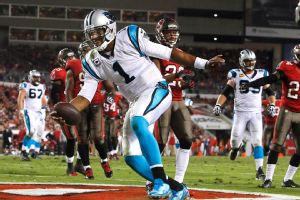 Kim Klement/USA TODAY SportsCam Newton accounted for three TDs and had his third straight game with a passer rating above 100.
This is not Newton's team, even though the first pick of the 2011 NFL draft is playing at a level higher than almost any other quarterback in the league right now. It's not Williams' team, nor is it Tolbert's.
"The beauty part about our team right now is we have a ton of guys that are leading the team, and everybody is starting to step up and enjoy that roll,'' left tackle
Jordan Gross
said after the Panthers' third consecutive win and fourth in five games.
At the same time, there's no denying it all begins with Newton. As Gross said after a 38-0 victory over the Giants a month ago, when Newton is hot, the Panthers are hot.
"That's more true now than ever,'' Gross said. "The thing that's great about him, I wouldn't even say he's necessarily been hot. He's just been good. ... He's just managing the game really, really well. He knows he doesn't have to do it all. He just does what's asked of him.''
He's doing that very well.
Newton had a passer rating of 111.6 on Thursday, completing 23 of 32 attempts for 221 yards and two touchdowns. He also ran for a team-high 50 yards and a touchdown.
Newton now has three straight games with a passer rating of better than 100 and three straight with a QBR of 85 or better that, according to ESPN Stats & Information, represent three of the best in his 39-game NFL career. And this one could have been even better had it not been for a few drops, including a deep pass to
Ted Ginn
that went right through the receiver's hands.
"You're going to win a lot of football games with your quarterback playing like that,'' tight end
Greg Olsen
said.
Newton, as he has been since this hot streak began, was at his best on passes of 10 yards or fewer. He went 20-for-24 for 171 yards and two touchdowns. He also was 11-for-15 for 84 yards and two touchdowns against five or more pass-rushers.
In other words, he really is hot.
But Newton, as he has throughout this streak, refuses to take credit. He says it's all about everyone around him playing better, and he's right about that.
"It's just up to me to make the right decision and get the ball in the people's hands that it needs to be,'' he said.
For that he does deserve credit.
He also deserves credit, or blame if you're Williams, for taking it out of people's hands after they score.
"I didn't want to keep it,'' Williams said with a laugh. "I didn't want Cam to take it, either.''
October, 25, 2013
10/25/13
1:51
AM ET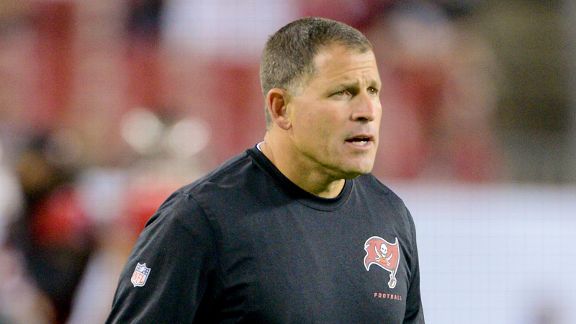 AP Photo/Scott A. Miller"It doesn't affect me," Greg Schiano said of the booing by Bucs fans after their team fell to 0-7.
.
TAMPA, Fla. – "Fire Schiano'' isn't
just for billboards
anymore.
Those two words became a chant Thursday night. In the waning moments of the
Tampa Bay Buccaneers
'
31-13 loss
to the
Carolina Panthers
, a large chunk of the remaining crowd at Raymond James Stadium began yelling for coach Greg Schiano to be fired. That came on the same day a local radio station paid for billboards with the "Fire Schiano" message.
The chant didn't stop until the game was over and the crowd near the tunnel to the Bucs' locker room started booing Schiano.
"It doesn't affect me," Schiano said. "People are certainly entitled to their opinion. Here's the thing, my whole career as a player and a coach, you get up in the morning and you work as hard and as smart as you can. It usually puts you to bed tired, and you get up and do it again. That's the way I do it."
It's probably a good thing Schiano has thick skin. He has been saying for weeks now that he's staying the course with his system and pledging that the Bucs will start winning and won't stop once they do.
But that's ringing hollow with fans because things are getting worse instead of better. In early-season losses to the Jets and Saints, the Bucs were very much in the game.
But against a Carolina team that is now above .500 for the first time since 2008, the Bucs were barely in the game at all. Carolina scored touchdowns on its first two possessions. The Bucs had to settle for two field goals in the first half, and didn't find the end zone until the fourth quarter.
The defense, which had been a bright spot early in the season, made Carolina quarterback
Cam Newton
look like a model of consistency. Newton ran for 50 yards and a touchdown and passed for 221 yards and two touchdowns.
The offense, which has been a problem all season, struggled even more than usual. With
Doug Martin
out injured and the Bucs having to play from behind, rookie
Mike James
gained 39 yards on 10 carries.
Mike Glennon
threw 51 passes. When you have a rookie quarterback throwing the ball 51 times, it's usually not a good sign.
And there aren't many good signs (we're not talking billboards here) for Schiano. His team is 0-7 and has lost 12 of its past 13 games dating to last season.
Does Schiano even make it through Friday? I don't know. The only people who do are the Glazer family that owns the team, and they're not talking. But the Glazers don't like getting embarrassed, and this game was on national television.
[+] Enlarge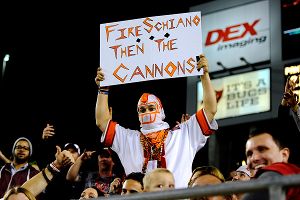 AP Photo/Brian BlancoTampa Bay fans expressed their displeasure with chants, and in case that wasn't clear, with signs, too.
My guess is the Glazers don't want to fire Schiano because he's the guy they brought in to clean up Raheem Morris' mess. Schiano has righted the ship off the field by getting rid of problem players, but the results on the field can't be sitting well with the ownership.
"I visit with our owners all the time," Schiano said when asked if he knew where he stood with the Glazers. "There are open lines of communication. We're all just trying to get better and do the things that make the organization better."
The one thing Schiano has going for him right now is that his team hasn't quit on him.
"Coach Schiano is a great coach," Glennon said. "He stands for the right things, and we're behind him."
We'll see if the Glazers decide to pull the plug and go with an interim coach before the Bucs play at Seattle on Nov. 3. Just a guess here, but I say Schiano gets at least another game. If he goes to Seattle and his team shows signs of quitting on him, then he's done.
Things just keep getting worse for the Bucs. The snowball now is rolling hard and fast, and it might be too late to keep it from running over Schiano.
October, 25, 2013
10/25/13
1:44
AM ET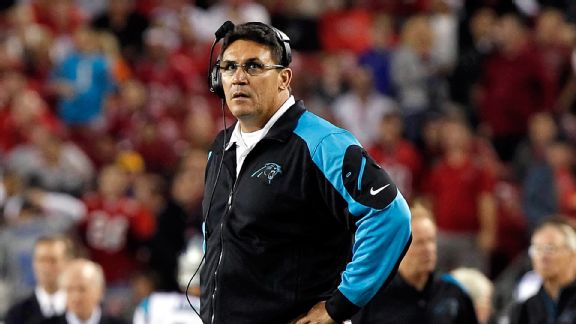 Kim Klement/USA TODAY SportsRon Rivera, whom Cam Newton called "the backbone of this team," has the Panthers above .500.
TAMPA, Fla. -- Minus the billboards that were prominent in the Tampa area on Thursday, it was only a month ago Carolina fans were calling for Panthers coach Ron Rivera to be fired in the way Buccaneers' fans are now calling for Greg Schiano's exit.
But give Rivera credit. He believed in this team, even when it was 1-3. He insisted the Panthers were close to turning the corner and playing winning football.
Now we're seeing what he meant.
The Panthers (4-3) have a winning record for the first time since 2008. The NFL's longest active streak of not being above .500, and fourth-longest over the past 25 years, ended with a workmanlike
31-13 victory
against Tampa Bay.
Not that a win over an 0-7 team should be cause for celebration. Teams that expect to win, as the Panthers apparently now do, should expect to beat opponents when they are down.
But because of the somewhat historical significance of this, because it ended 70 consecutive games of Carolina sloshing around at .500 or worse, the win is significant.
"It feels great to put three wins together and come back and show people we are relevant," running back
DeAngelo Williams
said.
Three straight wins and four in five games have made Carolina relevant to this season as it pertains to potential playoff contenders. The dominating fashion in which the wins have come, even against the lowly likes of the
New York Giants
,
Minnesota Vikings
,
St. Louis Rams
and Buccaneers, should turn a few heads.
"It's been a long time since we've been in this position," left tackle
Jordan Gross
said. "We've put ourselves in the mix."
As much as people wanted to blame Rivera when things were looking bleak, he deserves credit now.
"He's the backbone of this team, by default or by popular demand," quarterback
Cam Newton
said. "We have full faith in everything he says and everything he does."
Rivera's belief in his quarterback was key, and Newton is making him look brilliant for it. The 111.6 passer rating that included a 72 percent completion percentage and two touchdowns on Thursday was actually Newton's worst of the past three games.
Rivera saw this potential even when Newton was struggling.
He saw the potential in the entire team, which is why he continued to harp that the Panthers were close even when it didn't look like it from a distance.
"At no point did I ever doubt this group of guys," Rivera said. "Maybe because I'm an optimist, but I did believe it was just a matter of time."
[+] Enlarge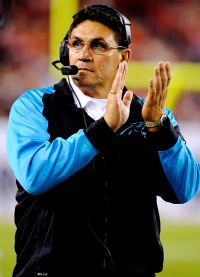 AP Photo/Brian Blanco"At no point did I ever doubt this group of guys," Ron Rivera said.
That's not to suggest Rivera or anybody believes the Panthers have arrived. They have yet to beat a team with a winning record, and they have the toughest part of their schedule ahead.
But in the past they blew games like this one, or at least let the opponent make it closer than it should have been.
Again, Rivera deserves credit. He preached against a letdown all week. He reminded his team that the Buccaneers were no different than the Panthers were at 0-2, capable of turning things around.
That this team has stayed on the gas when it's gotten the opponent down for three consecutive weeks is something that was missing in the past. But more impressive is that the players aren't satisfied.
Nobody embodies that more than defensive end
Greg Hardy
.
"Still want another win," he said. "Completely unsatisfied and unhappy."
Hardy may have been scowling on the outside, but inside he had to be happy. Winning is fun, as wide receiver
Steve Smith
noted, and the Panthers are enjoying this ride.
"We're just being a team," free safety
Mike Mitchell
said. "We're not big on talking about what we are. We know who we are. And you're starting to see it."
But are the Panthers a serious playoff contender? Starting with the season opener, when they held Seattle to 12 points, their defense has proved to be one of the best in the league. They have special teams that are among the best as well.
What was missing was an offense that could consistently put big numbers on the board and control the game. Newton's newfound confidence and consistency has supplied that.
If that continues, maybe the Panthers can meet Seattle deep into the playoffs, as Smith predicted after Carolina's 12-7 loss in the opener.
But for at least a few days, they deserve to celebrate.
Rivera deserves to celebrate.
"Are we where we want to be?" Rivera said. "Yes, we're above .500, but we can be better. You've got to continue to work that way and we can expect to win."
October, 25, 2013
10/25/13
12:50
AM ET
TAMPA, Fla. -- Observed in the locker room after the
Carolina Panthers
' 31-13
victory
over the
Tampa Bay Buccaneers
:
Johnson
Tempered excitement:
As happy as players were to be above the .500 mark for the first time since 2008, instead of celebrating they were talking about ways to improve.
Pain:
Defensive end
Charles Johnson
pulled up in a golf cart and hobbled into the locker room with a pulled groin that never would have happened had the Panthers not botched a late onside kick by Tampa Bay.
Hunger:
Defensive end
Greg Hardy
was upset he wasn't credited with more than one sack, arguing he should have had at least one more when he got to the quarterback after a bad snap. Another sign this team isn't satisfied with where it is.
It's Tampa, dude:
Tight end
Greg Olsen
was wearing a toboggan hat with the outside temperature still in the 60s.
Three men and a cellphone:
Quarterback
Cam Newton
, center
Ryan Kalil
and left tackle
Jordan Gross
-- all three shirtless -- got a laugh out of a video one of Kalil's friends shot and sent him from the stands. You probably don't do that if you lose.
October, 25, 2013
10/25/13
12:12
AM ET
TAMPA, Fla. -- Observed in the locker room after the
Tampa Bay Buccaneers
'
31-13 loss
to the
Carolina Panthers
.

Schiano
In his own world:
For the second straight home game, coach Greg Schiano was met with boos as he walked off the field. Even before the game was over, the crowd was chanting "Fire Schiano.'' The coach said he was unaware a local radio station had purchased billboards saying it's time to dump him.
No comment:
Team co-chairman Joel Glazer, one of the few people who can make a decision on Schiano's future, silently got into a vehicle in a stadium tunnel and left very quickly after the game ended.
Left wanting:
Quarterback
Mike Glennon
said the Bucs have to get better at finishing drives. Tampa Bay made it into the red zone just twice Thursday night, and the end zone just once.
October, 24, 2013
10/24/13
11:27
PM ET
TAMPA, Fla. -- A few thoughts on the
Carolina Panthers
' 31-13
victory
over the
Tampa Bay Buccaneers
:
What it means:
The NFL's longest active streak with a record not above .500 is over at 70 consecutive games. Carolina improved to 4-3, the first time it has had a winning record since the end of the 2008 season. That is big for a team trying to establish itself as a playoff contender. That the Panthers were able to take care of the winless Buccaneers in business-like fashion also was big. This is the type of game they might have lost in the past, but they took the lead early and stayed in control. It also means Carolina is 1-0 in the NFC South.

Stock watch:
Quarterback
Cam Newton
continued to play at an unbelievably high level of consistency. After going 35-for-43 (81.3 percent) in the past two games, he went 23-for-32 (72 percent) for 221 yards and two touchdowns. One of his best throws of the night, a deep pass to
Ted Ginn
Jr., went through the receiver's hands to cost him a potential third touchdown. Newton finished with a passer rating of 111.6, his third consecutive game of that or higher, which is his best streak as a pro. But this wasn't all about Newton's arm. He had his best rushing performance of the season, carrying nine times for a team-high 50 yards and one touchdown.
Shot of Ginn:
Despite letting a touchdown pass go through his arms in the first half, Ted Ginn Jr. continues to be a receiving threat. He had three catches for 69 yards in the first half and finished with a team-high five catches for 80 yards. He has been particularly effective on slants and crossing routes.
A first in the first:
Tampa Bay's 47-yard field goal was the first time this season Carolina's defense gave up points in the first quarter. The only other first-quarter points the Panthers surrendered came on a safety.
Changing stripes:
Coach Ron Rivera really has changed his stripes when it comes to going for it on fourth down. Up 14-6 in the third quarter when a field goal would give Carolina a two-score lead, he gambled and made it for the fourth time in his past six tries after being criticized for not going for it late at Buffalo.
What's next?
The Panthers play host to the
Atlanta Falcons
in an NFC South game. These teams split last season with each winning at home.
October, 24, 2013
10/24/13
11:27
PM ET
TAMPA, Fla. -- A few thoughts on the
Tampa Bay Buccaneers
'
31-13 loss
to the
Carolina Panthers
at Raymond James Stadium:

What it means:
The Bucs are 0-7 and appear to be making a strong pitch for the No. 1 overall pick in the 2014 draft. This loss is only going to bring more calls from fans to fire coach Greg Schiano. We'll see if ownership feels the same way. Going with an interim coach is far from ideal, but things are getting really ugly in Tampa. With a national audience watching on television, there was a lot of booing, and a good chunk of the crowd left long before the game was over.
Stock falling:
Rookie quarterback
Mike Glennon
had shown some progress in each of the last two games. But not this time. Glennon appeared to regress, and he wasn't able to get the Bucs into the end zone until the fourth quarter. Give Carolina's defense credit because it played very well, but the Bucs' offense looked inept much of the night. Glennon finished 30-of-51 for 275 yards and a touchdown.
Stock rising:
Second-year linebacker
Lavonte David
continues to have a very nice season. He had 12 tackles and a sack in this game. David looks every bit a Pro Bowler, but it might be difficult for him to make it given his team's lack of success.
What's next:
The Bucs play at Seattle on Nov. 3.
October, 24, 2013
10/24/13
7:35
PM ET
TAMPA, Fla. --
Josh Thomas
, who started five of the first six games at left cornerback for the
Carolina Panthers
, is inactive for Thursday night's game against the
Tampa Bay Buccaneers
.
Thomas
Thomas lost his job to rookie
Melvin White
after allowing a 63-yard completion that was called back because of a penalty and a 73-yarder that wasn't in last week's 30-15 victory over the
St. Louis Rams
.
Coach Ron Rivera indicated on Wednesday that White would get the start, but not that Thomas would go from starter to inactive.
"Melvin White has done a really nice job,'' Rivera said. "JT (Thomas) is struggling with it right now.''
White was signed as an undrafted rookie out of Louisiana-Lafayette. He had an interception and forced fumble in Week 3 against the
New York Giants
when Thomas was out with a concussion suffered against Buffalo.
Thomas, fifth on the team in tackles, had been solid against the run but susceptible in the passing game.
Also on the inactive list for Carolina: DT
Dwan Edwards
, DT
Sione Fua
, TE
Brandon Williams
, RB
Armond Smith
, WR
Marvin McNutt
, WR
Tavarres King
.