NFC South:

2013 Week 9 Upon Further Review
November, 4, 2013
11/04/13
8:00
AM ET
A review of five hot issues from the
Atlanta Falcons
' 34-10
loss
to the
Carolina Panthers
:
Matty iced:
It's unusual to see
Matt Ryan
put together consecutive poor performances like he did against Arizona and Carolina. Ryan had three interceptions Sunday after throwing four in a loss to the Cardinals the week before. Some might blame unproven receiver
Drew Davis
' route running for Ryan's pick-six on Sunday, but Ryan probably shouldn't have thrown it. On the other two, Ryan tried to squeeze the ball in with multiple defenders covering his target. It looks like Ryan is trying to overcompensate without
Julio Jones
and
Roddy White
in the lineup. "Really, all three of the interceptions, I think, are a case of being aggressive and trying to get the ball in spots," Ryan said. "But I don't see it as pressing. I think that, [I'm] trying to give our guys opportunities. I didn't put the first one in a very good spot. And the second one, the ball kind of just bounced around. ... I've just got to be more efficient with what I'm doing and know that, at the quarterback position when you're playing in tight games, if you turned the football over, it's going to be tough to overcome."
[+] Enlarge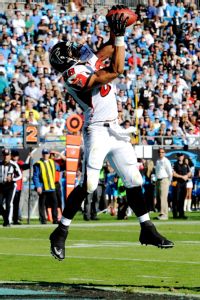 AP Photo/Mike McCarnTony Gonzalez had five catches for 77 yards and this touchdown in the first half.
Future on the line:
The Falcons made a statement by sliding
Lamar Holmes
back over to right tackle upon left tackle
Sam Baker
's return to the lineup. Holmes had started on the left side in place of Baker the previous three games but supplanted veteran
Jeremy Trueblood
on Sunday. It was Trueblood who took Holmes' starting job at right tackle in Week 4. The Falcons firmly believe Holmes has Pro Bowl potential despite his noticeable mistakes, which included being flagged for illegal formation against the Panthers. The line actually did a solid job pass protecting Sunday while allowing just one sack. But the Falcons' running blocking still needs much work. Holmes, who needs work in both areas, talked about being back on the right side. "I welcome any opportunity they give me to play," he said. "I played decent, for the most part. But I really won't know until we get in there and watch the film."
Foul play:
Speaking of Holmes' illegal formation penalty, the Falcons finished with seven penalties for 59 yards on Sunday. The most costly were a holding call on guard
Garrett Reynolds
that wiped out a
Steven Jackson
touchdown run and a 12 men on the field penalty whistled against the defense on a third-and-1 play during the drive that ended with
Cam Newton
's 8-yard touchdown run. "The penalties were critical," coach Mike Smith said. "Those things are unacceptable."
Third downer:
Once again, the Falcons failed themselves on third down. Defensively, they allowed the Panthers to convert 8 of 14 third downs (57 percent). The Falcons let Newton be "Superman" on a third-and-12 play when Newton avoided pressure from
Osi Umenyiora
,
Paul Worrilow
and
Asante Samuel
and completed a pass to
Steve Smith
for 23 yards. On a third-and-8,
Desmond Trufant
was whistled for pass interference to keep a drive alive. And on a third-and-6, the Panthers picked up 30 yards on that strange play in which Samuel gave up a big gain to receiver
Brandon LaFell
then caused a fumble that fell into Lafell's hands after
Robert Alford
couldn't corral it. Offensively, the Falcons were 4-of-10 on third down.
Holding on:
Falcons tight end
Tony Gonzalez
, who caught a pass in his 203rd consecutive game, torched the Panthers for five receptions for 77 yards and a touchdown in the first half. Gonzalez had just one catch for 4 yards in the second. The Panthers threw every look they could at Gonzalez, but nothing compared to the way middle linebacker
Luke Kuechly
scored a takedown of Gonzalez in the end zone early in the game. Gonzalez, who later beat Kuechly for a touchdown, had no complaints about the initial play. "I was pushing off a little bit, too," Gonzalez admitted. "Just two pros going at it. And they're going to get physical, too. And the way I feel about it, yeah, they better get physical. Otherwise, I'm going to eat you up." Gonzalez was more concerned about how the offense performed as a whole. "Well, I think I had optimism for good reason because I thought we came out and played pretty well up until the fourth quarter," he said. "The fourth quarter for us was not the way we play football. It was a disaster."
November, 4, 2013
11/04/13
8:00
AM ET
An review of four hot issues from the
New Orleans Saints
' 26-20
loss
to the
New York Jets
on the road in MetLife Stadium:
Missing Ivory?
I focused my postgame stories on the Saints'
inability to stop
former running back
Chris Ivory
and their
inability to establish
a run game of their own. So it's hard to ignore the question: Do they miss Ivory? I still say the answer is no. If he had stayed in New Orleans, he'd certainly have some highlight moments, like he did in the past. But he would also have quiet days, like he did in the past, for a Saints team that doesn't feature the run as often or as well as the Jets.
[+] Enlarge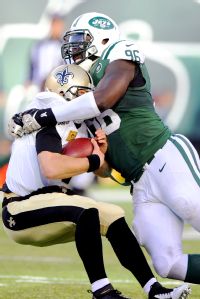 Robert Deutsch/USA TODAY SportsDrew Brees was sacked twice in the final 20 minutes.
The trade made sense for the Saints, since their backfield is still overcrowded and they got good value in return for him (a fourth-round pick). But obviously the Saints need to figure out how to establish a more consistent run game, from their play calling to their blocking to the runners themselves.
Protection breakdown:
The Saints became one-dimensional when they trailed by nine points throughout much of the second half. And the offensive line didn't hold up well under the pressure. Over the final 20 minutes, quarterback
Drew Brees
was sacked twice, guard
Jahri Evans
and center
Brian de la Puente
were flagged for holding, and guard
Ben Grubbs
was flagged for illegal hands to the face. Brees was also pressured into some incomplete passes, and the Saints failed to score a second-half touchdown.
The Jets do have one of the NFL's most disruptive defensive fronts. But the Saints' pass protection has been more up and down than usual this year, with most of the pressure coming up the gut.
Defensive breakdown:
The Saints' run defense also broke down too often Sunday, allowing Ivory to bust loose for gains of 52, 30 and 27 yards. It was obviously unsettling, since the Saints had made it their primary focus to stop the run against a Jets team that doesn't throw the ball very well. The Saints now rank 26th in the NFL in run defense this year, allowing 121.3 yards per game.
However, I still don't see this as a huge area of concern going forward. The Jets are the first team all year that really dominated the Saints with the run game. And most of their damage came on those three long runs. Ivory gained only 30 yards on his other 15 runs.
Hartley's redemption:
One of the best things that came out of the Saints' second-half offensive struggles is that it gave kicker
Garrett Hartley
the opportunity to make two high-pressure field goals from 55 and 43 yards. Before that, Hartley had missed three consecutive field goals -- including a 43-yarder wide left in the first quarter against the Jets. The two made field goals should help him settle back into a groove.
November, 4, 2013
11/04/13
8:00
AM ET
CHARLOTTE, N.C. -- An examination of five hot issues from the
Carolina Panthers
'
34-10 victory
over the
Atlanta Falcons
:
[+] Enlarge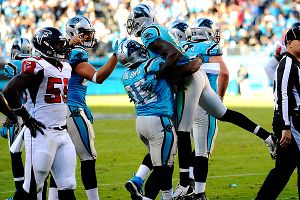 David T. Foster III/Charlotte Observer/MCT via Getty ImagesBrandon LaFell and the Panthers found the ball bouncing their way in Sunday's victory.
Lucky bounce:
When wide receiver
Brandon LaFell
fumbled inside the Atlanta 10-yard line with a 17-10 lead in the fourth quarter, Carolina coach Ron Rivera had a flashback to the season opener against Seattle. The play was eerily similar to the fourth-quarter fumble running back
DeAngelo Williams
had inside the 10 against the Seahawks with the Panthers driving for the potential winning touchdown. The difference? Seattle recovered, ending Carolina's upset bid. On Sunday, LaFell recovered when an Atlanta player knocked the ball back into his arms. Panthers quarterback
Cam Newton
scored on an 8-yard run on the next play to extend the lead to 14 points. The ball often bounces your way when things are going good, and things are going good for a Carolina team that has won four straight.
Fourth-and-1:
The Panthers are so effective on fourth-and-1 now that they have defenses totally guessing. For the second time in four games they scored a touchdown on a fourth-and-1 pass. This one was a 14-yard toss to wide-open tight end
Greg Olsen
on a rollout by Newton to make it 14-3 in the second quarter. Last month at Minnesota, Carolina scored on a 2-yard pass to
Steve Smith
. The Panthers now have been successful on five of six fourth-and-1 calls. No other team had converted more than five coming into Sunday. Carolina's opponents are 1-for-7 on fourth down.
Lockdown on Gonzalez:
Carolina intercepted the first pass intended for tight end
Tony Gonzalez
because
Matt Ryan
threw into triple coverage. For the rest of the first half it appeared the Panthers forgot to cover the future Hall of Famer as he caught five passes for 77 yards and a touchdown. On most he was wide open. But the Panthers got more physical with Gonzalez coming off the line in the second half and defensive coordinator Sean McDermott made some coverage adjustments to hold Ryan's favorite target to one catch for 4 yards over the last two quarters.
Fresh legs:
Without
Jonathan Stewart
the Panthers were averaging 3.99 yards per carry and 130 yards through seven games. With the team's No. 2 all-time leading rusher on Sunday, they averaged 4.0 yards per carry for a total of 131 yards. They averaged 32.57 rushes a game without Stewart and 33 with him. In other words, the Panthers didn't alter their approach just because they added another piece to the puzzle. But they did keep fresh legs in the game, which over the course of a 16-game schedule should help.
How far is too far?
That's what Rivera is trying to determine when it comes to kicker
Graham Gano
. The coach didn't hesitate to attempt a 55-yard field goal early in the third quarter, and Gano rewarded him with a successful line-drive kick. "He said he over-swung and hit it right in the middle of the ball, which is kind of scary,'' Rivera said. What's scary is Gano is 12-for-12 on field goals, including 4-for-4 from 50 yards or longer. He also is perfect on all 24 extra-point kicks.
November, 4, 2013
11/04/13
8:00
AM ET
An examination of four hot issues from the
Tampa Bay Buccaneers
' 27-24
overtime loss
to the
Seattle Seahawks
:
[+] Enlarge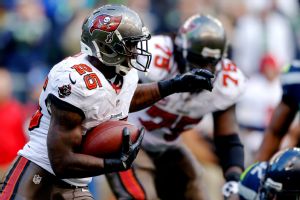 Otto Greule Jr/Getty ImagesTampa Bay rookie Mike James rushed for 158 yards on 28 carries in the loss at Seattle.
The hottest seat in the NFL:
That belongs to Tampa Bay coach Greg Schiano, who is 0-8 this season and has lost 13 of 14 games dating back to last year. Current ownership never has gone with an interim coach. But the exception could be coming soon. Although the team still is playing hard, the Bucs aren't winning. We've heard rumblings since he was hired that Schiano isn't a favorite of the players. I can't imagine that morale is very high right now.
The second-half woes continue:
The Bucs scored three points in the second half against Seattle. That's not surprising. They've been collapsing in the second half all season. Think back to the losses to the Saints and Jets. If this team wasn't so bad in the second half, it could be in playoff contention.
The second-hottest seat in the NFL:
General manager Mark Dominik doesn't get talked about all that much, but you have to start wondering about his future. Since Dominik took over in 2009, the Bucs are 24-48. Yes, there are eight guys on the current roster that have been to Pro Bowls and Dominik has given the Bucs a roster that's more talented than the record reflects. But when things turn really bad for a franchise, sometimes the coach isn't the only one to go.
The bright spot:
It became pretty obvious the Bucs found something in rookie running back
Mike James
. He filled in for an injured
Doug Martin
and rushed for 158 yards while also throwing a touchdown pass. Martin's job is safe, whenever he gets healthy. But I'm thinking it might be wise for the Bucs to let Martin sit the rest of the season. Bring him back healthy next year and he and James can give the Bucs a pretty deep backfield.