NFC South:

2014 Divisional Round NO-SEA
January, 12, 2014
Jan 12
12:46
AM ET
Joe Nicholson/USA TODAY SportsDrew Brees and the Saints trailed 16-0 through three quarters on Saturday in Seattle.
SEATTLE -- The story of the
New Orleans Saints
' 2013 season can be told in one succinct sentence: They couldn't win at Seattle.
They call this place the Emerald City. But it might as well be made of Kryptonite as far as the Saints are concerned. Their season came to a screeching halt here Saturday with a
23-15 loss
to the
Seattle Seahawks
in the divisional round of the playoffs.
And really, there could not have been a more fitting place for the Saints' season to end.
For the second time in six weeks, the Saints were done in by the two elements that caused them the most problems all season long: a stifling pass defense and some nasty weather conditions.
Drew Brees
and New Orleans' prolific passing offense were nonexistent in the first half. And by the time they finally showed up in the second half, they were already down 16-0. Their late rally was exciting -- but ultimately, too little, too late.
"In the end, against a team like this, in their place, in this situation, you gotta play closer to perfect than we did," Saints offensive tackle
Zach Strief
said.
So now the Seahawks move on to the NFC Championship Game. And the Saints move into the 2014 offseason, where their top priority has to be figuring out a way to make sure they play more of these January games inside the Mercedes-Benz Superdome next year.
That's where the Saints make opponents look this hapless and hopeless. That's where the Saints force their opponents to play perfect -- just like Seattle does in this stadium that looked like a life-sized snow globe for much of the first half, with sheets of rain blackening the sky.
Brees didn't love the notion that the Saints need to play at home to reach the Super Bowl. But he also couldn't deny the basic truth of the situation.
"If you're saying what's the difference between being on the road here today versus had we been back in New Orleans in the Dome, obviously it's quite a bit different," said Brees, who threw for 34 yards in the first half and 275 in the second half. "I think we can beat anybody, anywhere, anytime. It just hasn't happened for us the times that we've come here. But, yeah, obviously there's a huge advantage to home-field advantage. I mean, we were 8-0 at home this year."
I've covered this Saints team since the beginning of the Brees-Sean Payton era, and I don't think I've seen a combination of opponent and elements that have caused more fits than the Seahawks inside of CenturyLink Field.
"I'd say it is [the biggest challenge we've faced]," Brees said. "The conditions have a lot to do with that. And they're a very stout defense, in all regards -- front four, linebackers, secondary. As complete a defense as there is in the league. I mean, there's a reason that they were top-ranked in so many categories.
"And playing here at home, with that crowd, there's a lot of reasons why they're one of the best."
Last week at Philadelphia, the Saints finally proved they could indeed win a playoff game on the road.
But winning at Seattle proved to be a whole other challenge that they couldn't overcome this year. This one wasn't quite as ugly as the
34-7 shellacking
on "Monday Night Football" last month. But it was awfully close for the first 30 minutes.
The Saints were actually happy with their game plan afterward, and I don't really disagree. They stayed patient throughout the first quarter, when the weather was at its nastiest and the wind was in their face. And they were down only 6-0 in the second quarter when they had the ball with the wind at their back.
But then running back
Mark Ingram
fumbled on the first play of the second quarter -- the game's only turnover and by far the costliest moment of the night. Seattle's
Marshawn Lynch
scored on a 15-yard touchdown run for a 13-0 lead two plays later.
"Every time I carry that football, I'm carrying the team's dreams and aspirations. And I let them down at a critical moment in the game. And that's unfortunate," Ingram said. "But I worked my butt off, fought hard, and it just wasn't enough today."
That's kind of how the whole team felt. They just weren't good enough on this day.
The Saints' offensive performance was ugly at times. Brees' first pass attempt down the field to a receiver in the second quarter sailed about 10 yards over
Lance Moore
's head; Brees said it got "caught up in the jet stream." A few of his other early passes were off target while the ball was slick and he was wearing gloves. Receivers dropped several passes.
Brees eventually started getting the ball downfield, but the Seahawks' defense took away both tight end
Jimmy Graham
(no catches until the final minute) and the Saints' screen passing game throughout the day.
The Saints deserve credit for their resilience, though. The defense was outstanding for most of the second half, forcing five consecutive punts, which allowed the offense to creep within 16-8 and actually get down to Seattle's 25-yard line with 4:09 remaining.
But then those imperfections crept up again. A delay-of-game penalty. A missed 48-yard field goal attempt by
Shayne Graham
(his second miss of the day). A breakdown by the defense on Lynch's 31-yard touchdown run.
Even when the Saints had one last miracle chance left after an onside kick in the final seconds, receiver
Marques Colston
threw a
forward lateral instead of just running out of bounds
to stop the clock.
A fitting finish on a day when the Saints were so far out of their comfort zone.
"Obviously, we planned on playing it differently. At the end of it, we weren't able to make enough plays," Payton said. "But I'm proud of the way our guys competed. We weren't able to get it done, and we just go from here. It's tough. It's always tough when you get this far and you're not able to finish.
"Obviously, it wasn't enough for what we aspire to do."
January, 12, 2014
Jan 12
12:45
AM ET
SEATTLE --
New Orleans Saints
tight end
Jimmy Graham
and the
Seattle Seahawks
got into a couple of shouting matches before Saturday's playoff game. But the Seahawks got the last word, holding Graham to one catch for eight yards in the final seconds of a 23-15 victory.
Afterward, Seahawks players offered some biting criticism of Graham. Defensive end
Michael Bennett
repeatedly referred to Graham as "overrated." And according to Bleacher Report's Mike Freeman, Bennett also called Graham soft.
[+] Enlarge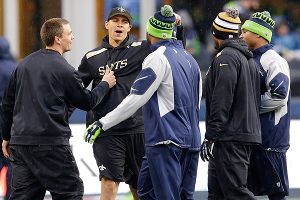 AP Photo/Ted S. WarrenJimmy Graham, second from left, is pulled away from Seattle players before Saturday's game.
Both Bennett and cornerback
Richard Sherman
ripped Graham's inability to block -- which often led the Saints to take Graham off the field when they wanted to run the ball.
"If he doesn't get a chance to get the ball, that's all he can do," Bennett said. "He doesn't help in the blocking game. I think he's overrated, and I'm not afraid to say it on TV."
Graham led the NFL in touchdown receptions with 16 this season, while catching 86 passes for 1,215 yards. However, he was held to a total of four catches for 52 yards in the playoffs while both the Seahawks and
Philadelphia Eagles
obviously made it a priority to kep him quiet. Graham faced several double teams and chip blocks in both games.
"I'm not sure if it was something that they did. Drew [Brees] is going to throw it to the open guy, and if you've got people on you, he's not going to throw you the ball," Graham said.
Graham was not asked about the Seahawks' postgame comments, but he was asked if he was frustrated by his lack of production Saturday.
"I like to do a lot more to help this team win, obviously," said Graham, who was targeted six times. "That's the type of player I am. I want to help put us in the right position. It's just the way it is. If this team wants me to go out there and catch 10 balls, I will, or block or whatever. I will do it for this team, because that's what I'm here for. Tonight wasn't one of those nights."
As for the pregame confrontations -- one of which included Graham ripping the hat off linebacker
Bruce Irvin
's head before being held back by team staff members -- Graham said, "He tried to disrespect me, and I'm not going to let anyone disrespect me. I don't want to talk about it."
Irvin explained that he told Graham to get out of the Seahawks' warm-up area, and Graham yelled back, "I'm Jimmy." Then Irvin said he responded, "Who's Jimmy?" and admitted to kicking Graham's ball out of the way.
Obviously it was a frustrating way for Graham's season to end. But make no mistake, he will be a huge priority for the Saints to re-sign this offseason as an unrestricted free agent, when he will certainly become the highest-paid tight end in NFL history, despite the Seahawks' criticism.
Graham was asked briefly about his pending free agency Saturday night.
"Well, I have to figure out what's going to happen. We'll see," Graham said. "Obviously this is a great city, a great team. I love
Drew Brees
. I told them I would like to retire with him. Hopefully it will happen."
January, 12, 2014
Jan 12
12:15
AM ET
SEATTLE -- The
New Orleans Saints
missed several opportunities in a
23-15 season-ending loss
to the
Seattle Seahawks
on Sunday. But one that stood out among the most inexplicable was the last play of the game -- receiver
Marques Colston
's forward lateral.
Colston could have stepped out of bounds at the Seahawks' 38-yard line with about four seconds remaining. Instead, he turned toward the middle of the field and fired a forward lateral toward running back
Travaris Cadet
. The penalty came with an automatic 10-second runoff.
Afterward, Colston declined to speak with the media. And coach Sean Payton didn't offer an explanation, saying only, "We'll look at the film. Next question."
It's unclear if Colston lost track of the clock or if that was the play that was called when the ball was snapped with 11 seconds remaining. Either way, nobody was about to pin the Saints' mistake-filled loss on that one play.
January, 11, 2014
Jan 11
7:46
PM ET
SEATTLE -- A few thoughts on the
New Orleans Saints
' season-ending
23-15 loss
to the
Seattle Seahawks
in Saturday's divisional-round playoff game.

What it means:
There's no coming back from this one. The Saints' season officially ended in the second round of the playoffs at Seattle -- though it was probably doomed last month when the Saints came here and were blown out in the first meeting. It's not that the Saints can't win away from the Superdome. But it sure ain't easy for them to win here.
The combination of weather conditions and Seattle's stifling defense rendered New Orleans' passing offense virtually useless -- especially in the first half, when Seattle built a 16-0 lead.
Brees grounded:
It's hard to criticize the Saints' game plan too much, since they were so patient and conservative early, with the run game working well while the weather was at its worst. But then
Mark Ingram
's second-quarter fumble was an absolute dagger (the only turnover in the game). And when the Saints did try to throw the ball in the first half, they had very little success.
Drew Brees
and the passing attack managed two second-half touchdown drives (one in the final minute). But early in the game, balls were either slipping out of Brees' hands or being dropped by receivers -- or Seattle's defense was living up to its reputation as a physical shut-down unit. Tight end
Jimmy Graham
was held without a catch until the final 20 seconds. And Seattle repeatedly shut down the Saints' screen passes.
Beast mode:
The Saints' defense was outstanding for much of this game -- the main reason they still had a chance in the second half. Seattle gained a total of just 52 yards over its first five possessions in the second half, punting every time.
But the Saints ultimately couldn't stop Seattle running back
Marshawn Lynch
-- who burned them for a 15-yard touchdown in the first half and a game-clinching 31-yard touchdown late in the fourth quarter. Lynch finished with 140 yards on 28 carries.
Up next:
The Saints have to feel pretty good about how they're set up for 2014 -- but this won't be an easy offseason. They're already projected to be over the salary cap even before re-signing unrestricted free agent Graham. So they'll have to make some tough cuts and won't be able to spend freely in free agency.
However, the core of players like Brees, Graham and rising young defensive standouts like
Cameron Jordan
,
Junior Galette
,
Keenan Lewis
and
Kenny Vaccaro
will keep this team a Super Bowl contender again next season. ... They would just rather be playing at home in the playoffs.
January, 11, 2014
Jan 11
6:15
PM ET
SEATTLE -- History has been repeating itself so far in the first half at Seattle. The
Seattle Seahawks
are dominating the
New Orleans Saints
on both sides of the ball, just like they did six weeks ago. Seattle is leading the game
16-0
and winning the turnover battle 1-0.

Here are a few thoughts on the action so far:
Costly fumble:
The biggest moment of the game was Saints running back
Mark Ingram
's fumble on the first play of the second quarter (forced and recovered by Seattle end
Michael Bennett
). It was a momentum-killer in more ways than one. For one thing, it gave Seattle the ball at New Orleans' 24-yard line and set up a 15-yard TD run by
Marshawn Lynch
two plays later that put Seattle up 13-0.
For another thing, that was the moment the Saints had been waiting for. After patiently running the ball throughout the first quarter, waiting to get the heavy wind at their back in the second quarter, they wasted the opportunity immediately. ...The Saints' run game has been effective for most of the day (15 carries for 79 yards). But that fumble nullified all the positives. And the passing game has been non-existent.
Weather a factor:
The rain and wind (not to mention Seattle's defense) has conspired to completely shut down New Orleans' passing offense.
Drew Brees
completed just 5 of 12 passes for 34 yards -- and only one of them to a non-running back. When Brees finally started airing it out with the wind behind him in the second quarter, his first pass sailed out of his hand, way over the head of receiver
Lance Moore
. Two other passes were slightly off target, and one was dropped by tight end
Josh Hill
. Ingram also dropped a screen pass in the first quarter.
Saints kicker
Shayne Graham
also missed a 45-yard field goal attempt, slightly off to the left -- which could have been weather-related (though video showed the laces were turned in). And both punters have hit poor punts into the wind (once after Saints punter
Thomas Morstead
dropped the snap).
The weather isn't expected to let up in the second half.
Defense decent:
The defense broke down once -- on Lynch's 15-yard touchdown run through at least three missed tackles. Other than that, they've tried their best to keep New Orleans in this game, forcing Seattle to settle for field goals despite some good field position.
They haven't made the kind of game-changing big play, however, that New Orleans desperately needs in this matchup. Quarterback
Russell Wilson
is 7 of 9 passing for 68 yards. He has been sacked twice. Lynch has 69 yards on 15 carries.
January, 11, 2014
Jan 11
10:00
AM ET
SEATTLE -- This is the simplest What 2 Watch 4 of the entire season. Everything the
New Orleans Saints
did in their first meeting with the
Seattle Seahawks
last month, they need to just do the opposite Saturday.


Specifically, though, there are a few areas that stand out more than others as we break down this divisional round playoff match. Earlier this week, I focused on two of the big ones:
Here are four more things to watch for:
Wet and windy:
Last week, the Saints proved they could win a game outdoors in cold weather at Philadelphia. But today's elements will be an entirely different beast. Forecasts are calling for a high percentage of rain throughout most of the day (though down from the previously-forecasted 100 percent chance) and wind speeds around 25 mph.
The Saints did their best to expose themselves to the elements this week, practicing outdoors in windy weather in Metairie that was actually colder than it will be in Seattle. And they did "wet ball" drills throughout practices -- (a common practice around the NFL, including tactics like dunking balls in water between snaps and even spraying water in players' faces as they ran).
Receiver
Lance Moore
was the most blunt, however, in describing that there's no getting around the elements.
"Rain sucks for receivers, quarterbacks, anyone who has to handle the ball," Moore said. "Luckily both teams have to play in it."
Naturally, the Saints should be affected more by the elements since they rely more on their passing attack. But the Saints did prove last week at Philadelphia that they're capable of running the ball, too. And the good news for both teams is that Seattle's artificial field turf drains well and doesn't puddle up.
Pass interference:
No team in the NFL is as physical and aggressive when it comes to disrupting receivers' routes than the Seahawks. Both
ESPN analyst
Trent Dilfer
and an
interesting piece
in the Wall Street Journal pointed out this week that Seattle pushes the envelope as far as possible when it comes to interfering with receivers -- playing the odds that officials won't throw an abundance of flags.
That's obviously a huge challenge for a Saints offense that thrives on timing and rhythm in the passing game. Defenses that are able to get physical with the Saints in pass coverage have always had the most success against them. And that's a big reason why Saints quarterback
Drew Brees
threw for only 147 yards against Seattle in Week 13.
Both Saints coach Sean Payton and offensive coordinator Pete Carmichael Jr. talked this week about needing to find ways to get receivers open -- through formations and routes and quick throws, etc.
"They do a great job," Payton said. "They play a lot of bump and run. They are very confident corners. They have a deep position group, but three of the starters are [All-Pro and Pro Bowl] players. [Safety]
Kam Chancellor
is extremely physical. He has size, range, and you see that on tape. ...
"[Cornerback Richard] Sherman has great -- they all have great ball skills. So they all can catch a ball that is not just right. [Safety Earl] Thomas is the same way. He is 100 miles an hour on the back end. He is very sudden and quick to key in diagnosis and very smart. They are extremely good."
The best news for the Saints is that linebacker
K.J. Wright
is out with an injury. He was athletic enough to cover tight end
Jimmy Graham
quite a bit in the first meeting, so the Seahawks will have to turn to Plan B.
Running strong?
Considering each of those factors above, it would obviously be nice if the Saints could manage a repeat performance from last week, when they ran for 185 yards against the Eagles. But as guard
Jahri Evans
warned this week, "This is not the
Philadelphia Eagles
. This is Seattle. A bigger, stronger, better team."
Saints running back
Pierre Thomas
is questionable with a chest injury. But New Orleans has depth with
Mark Ingram
(off his 97-yard performance),
Darren Sproles
and
Khiry Robinson
. NFL analyst Greg Cosell suggested this week that the Saints could continue to have success with the three-tight end formation they used heavily for the first time last week, since it makes their offense more unpredictable.
Special concerns:
The wind and rain cause problems for kickers and punters, too. So it will be big for both teams to handle those elements while battling for field position. Saints punter
Thomas Morstead
also said Seattle punt returner
Golden Tate
is an underrated threat.
"I think he's the best in the league right now," said Morstead, who pointed out that Tate had two returns of 12 and 11 yards in the first meeting (while the Saints did a good job in coverage on his other three returns).